Scouting report: UCLA men's basketball vs. Akron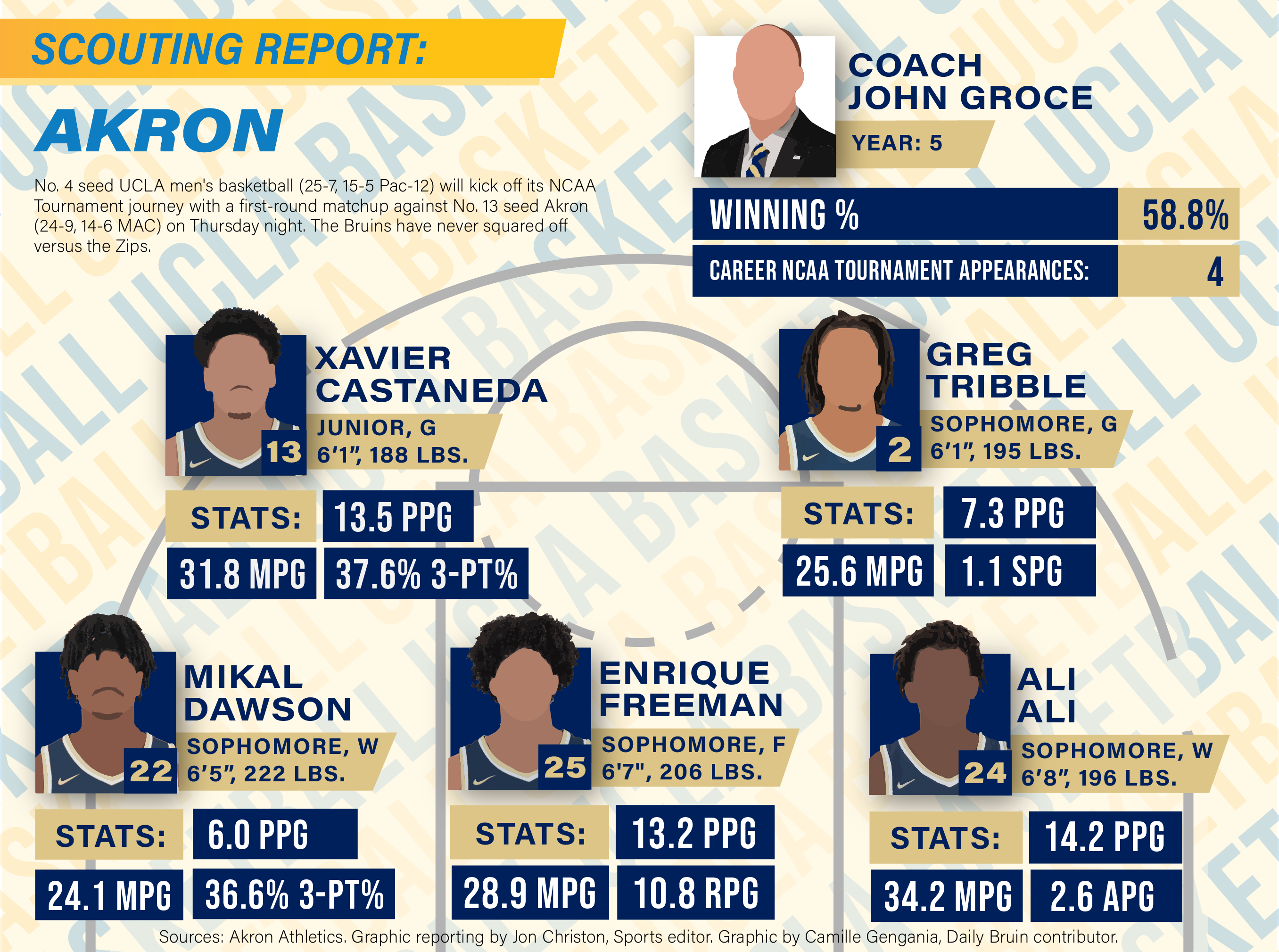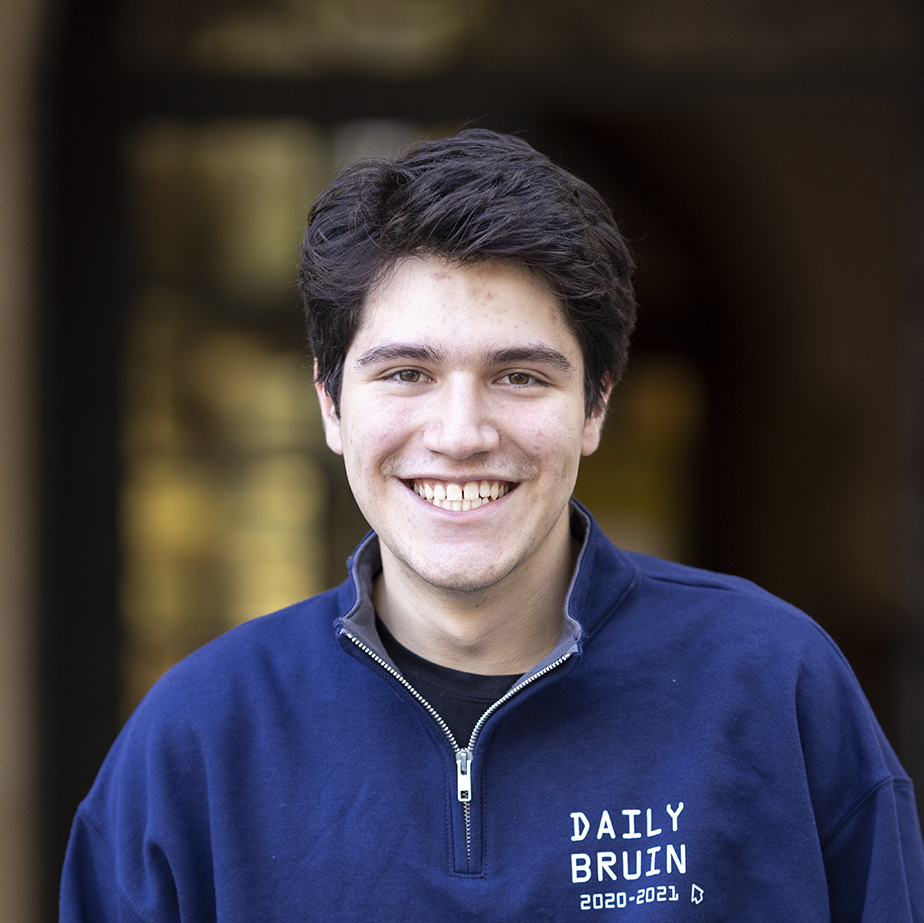 No. 4 seed UCLA men's basketball (25-7, 15-5 Pac-12) will start NCAA Tournament play with a matchup against No. 13 seed Akron (24-9, 14-6 MAC) on Thursday night in Portland, Oregon. The Bruins enter the contest as 13.5-point favorites with a 93.2% chance to win, according to ESPN's Basketball Power Index. Here is this matchup's scouting report from Sports editor Jon Christon – who loves Powell's Books but is indifferent about Voodoo Doughnut.
Personnel:
Coach: John Groce
Starting Lineup: G Greg Tribble, G Xavier Castaneda, W Mikal Dawson, W Ali Ali, F Enrique Freeman
Best Player(s): W Ali Ali/F Enrique Freeman
X-Factor: W Mikal Dawson
On Feb. 22, Akron was fifth in the Mid-American Conference standings and lumbering through a stretch of three losses in its previous four games.
With usual starting guard Bryan Trimble Jr. starting a "leave of absence" the game before and a matchup against Bowling Green on the horizon, coach John Groce decided it was time for a shakeup in his starting five.
The results of that decision speak for themselves.
Since placing wing Mikal Dawson alongside the team's four other usual starters, Groce and the Zips have gone 7-0 with an average margin of victory of 10.3 points per game. Akron rose up to No. 3 in the conference standings by the end of the regular season and won three straight contests in the MAC tournament to clinch the team's first NCAA Tournament appearance in nine years.
Dawson has averaged 10.6 points per game over the seven-contest stretch while looking the part of an elite marksman, knocking down 47.1% of his shots from beyond the arc on nearly five attempts per game.
For comparison, the nation's best shooter on that kind of volume – Jacksonville State guard Demaree King – shoots 46.2% from deep.
Sure, this is a small sample size. But it's representative of a lineup starting to find its stride just at the right time.
Each member of the new starting five has increased their scoring averages since the game against Bowling Green, with four of the five starters averaging double figures.
This starts with wing Ali Ali, the Zips' leading scorer.
An All-MAC Second Team selection, Ali averaged more than 16 points per game in his team's last seven matchups. The wing is Akron's tallest starter, standing at 6 feet 8 inches, and uses his size to be a true three-level scorer. His 41.2% 3-point percentage paces the team, and he makes nearly half of his shots from inside the arc.
Although Ali does little besides score – averaging just three rebounds and fewer than a block and a steal each per game – his frontcourt mate Enrique Freeman more than makes up for his deficiencies.
A fellow conference second-teamer, Freeman is the sixth-leading rebounder in the entire country at 10.8 boards per game. The forward blocks over a shot per contest, and his 13.2 scoring average makes him one of a select handful of players in the nation who averages a double-double. In fact, Freeman leads the nation in field goal percentage, shooting 66.2% from the field entering the tournament.
The MAC Defensive Player of the Year, Freeman is also the anchor of Akron's defense, guarding the other team's tallest player and manning the middle when Groce goes zone.
But for as effective as Freeman has been in MACtion, his 6-foot-7 frame provides a definitive advantage for UCLA come Thursday.
The Bruins struggle against size, with Arizona and Oregon – a pair of Pac-12 foes that each boast two players 6 feet 11 inches or taller in its respective rotations – the only teams to take down the blue and gold multiple times this season.
Facing Freeman, UCLA should be able to get to the paint at will against Akron – good news for redshirt senior forward Cody Riley, redshirt senior center Myles Johnson and junior guard/forward Jaime Jaquez Jr.
If the Bruins can contain the speed of the Zips' minuscule backcourt – with both Greg Tribble and Xavier Castaneda measuring at 6 feet 1 inch tall – they should be able to pound their way into the second round.
Stat Profile:
KenPom ranking: 135
Adjusted offensive rating: 106.0 (118th)
Adjusted defensive rating: 102.8 (170th)
Adjusted tempo: 62.1 (351st)
John Groce is not your typical mid-major coach.
In his 14th year manning a Division I sideline, the coach has been around the block a few times, to say the least.
Groce has now made the NCAA Tournament four times, and has five years of Big Ten coaching experience at Illinois on his resume after a four-year stint at Ohio. Amid all of this experience, Groce has primarily been known as a defensive-minded coach.
So far with Akron, he's continued to use these defensive principles that landed him the job with the Illini back in 2012.
This starts with the Zips' defensive ball pressure, utilizing a man-to-man defense that extends well past the 3-point line. Akron has pumped up this pressure even more as of late, sending trap after trap against Kent State with its season on the line in the MAC championship game. The increased pressure proved successful, with 12 steals and 19 opponent turnovers – both season highs for the Zips in conference play.
Expect Groce to throw out similar traps and pressure against the Bruins, though with one simple wrinkle.
Akron will occasionally play a 2-3 zone, and I would be willing to bet we see it a bit Thursday given the height and talent disparity between the two teams.
The Bruins' starting wings – Jaquez, junior guard Johnny Juzang and senior guard Jules Bernard – will have a definitive height advantage against their first-round opponent, and I doubt Groce will let his players get picked apart with isolation after isolation by coach Mick Cronin and Co.
But while their defense can be characterized as aggressive, the Zips play much more laid back on the other side of the ball.
Akron plays at the eighth slowest tempo in the entire country, according to KenPom, with only 62.1 possessions per 40 minutes. Almost like a professional offense, the Zips slow the pace and repeatedly run pick-and-rolls.
Ali is the primary ball-handler on the vast majority of these pick-and-rolls, as Akron relies on its leading scorer to get most of its offensive penetration.
If someone other than Ali gets a paint touch, it is typically Freeman. In addition to being on the dive end of the frequent pick-and-rolls, the nation's most efficient scorer will also see the ball in the paint often due to his sheer rebounding tenacity, with over 30% of his rebounds coming on the offensive end.
With Ali and Freeman getting to the paint, another key to the Zips' offense comes from those who don't have the ball. The catch-and-shoot ability from Dawson and Castaneda are imperative to keeping opposing defenses honest, as the duo combines for nearly half of Akron's shots from beyond the arc.
UCLA has the capacity to limit the paint touches between Ali and Freeman, and if it does, it will assuredly avoid a first-round upset.
Christon is currently a Sports senior staff writer. He was previously the Sports editor on the men's basketball and football beats and the assistant Sports editor on the women's basketball, softball, men's tennis and women's tennis beats. Christon was previously a contributor on the women's basketball and softball beats.
Christon is currently a Sports senior staff writer. He was previously the Sports editor on the men's basketball and football beats and the assistant Sports editor on the women's basketball, softball, men's tennis and women's tennis beats. Christon was previously a contributor on the women's basketball and softball beats.