Track and field caps off indoor season with All-American honors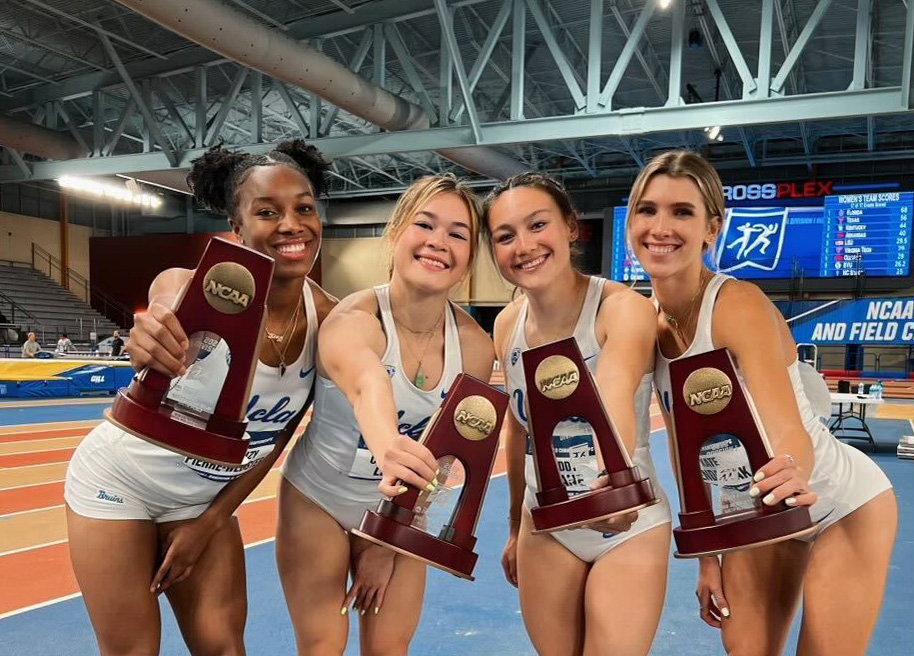 (Left to right) Junior sprinters Makenzy Pierre-Webster, Catherine Leger, Maddy Doane and sophomore sprinter Kate Jendrezak pose with their hardware Saturday at the NCAA Indoor Championships in Birmingham, Alabama.(Courtesy of UCLA Athletics)
The Bruins concluded their indoor season by competing against the nation's top programs.
UCLA track and field concluded its indoor season in Birmingham, Alabama, for the NCAA indoor championships, which took place Friday and Saturday. The team also competed in its first official outdoor event – the Ben Brown Invitational in Fullerton over the same two days.
The women's 4×400-meter race was the lone event featuring UCLA athletes at the indoor championships. A squad consisting of junior sprinters Catherine Leger, Maddy Doane and Makenzy Pierre-Webster and sophomore sprinter Kate Jendrezak placed sixth with a time of 3:33.32 seconds.
With its performance Saturday, the team earned All-American honors for the relay. Coach Avery Anderson said the four athletes have had an impressive season thus far as both individuals and a team.
"The women's run was excellent," Anderson said. "They all stepped up and ran better than anticipated. The work they put in to get to an All-American level despite the limitations this year, … there's not a lot we didn't do or didn't accomplish."
Doane said the meet capped off an overall successful indoor season for the team as it was again able to outperform expectations.
"The All-American status was definitely was something we were aiming toward," Doane said. "Coming into the meet ranked 10th, we knew we wanted to improve in that ranking and performance. It was about just trying to perform the best and get a ranked position. We managed to get sixth, way beyond our expectations."
Across the country in Southern California, the rest of the Bruins kicked off their outdoor campaign.
At the Ben Brown Invitational, UCLA put together multiple top-five performances and personal records. Junior sprinter Chinyere Okoro finished in first place in the 200-meter race with a time of 24.00 seconds.
On the field side, Bruin discus throwers achieved personal bests. Sophomore Aidan Elbettar tossed a distance of 55.46 meters (181-11) for third place, while freshman Ugonna Ikejiofor placed fourth with a throw of 53.74 meters (176-3) and sophomore Dayne Gordien took a fifth-place finish with a 52.32-meter (171-8) throw.
Rounding out the discus lineup, freshman Lyvante Su'emai took third overall with a toss of 53.26 meters (174-9). Junior Natalie Ramirez placed fifth with 45.67 meters (149-10).
For the jumping team, senior Sean Lee cleared two meters (6-06.35) in high jump for fourth place overall, while sophomore Sophia Hartwell competed in the long jump and triple jump, achieving fifth place overall in both events.
The Bruins will next compete in the UC Riverside Multi Events on March 24 and 25.
Freeman Sacker is currently a Sports contributor on the men's golf and track & field beats.
Freeman Sacker is currently a Sports contributor on the men's golf and track & field beats.