Men's basketball coaches Darren Savino, Mick Cronin continue friendship at UCLA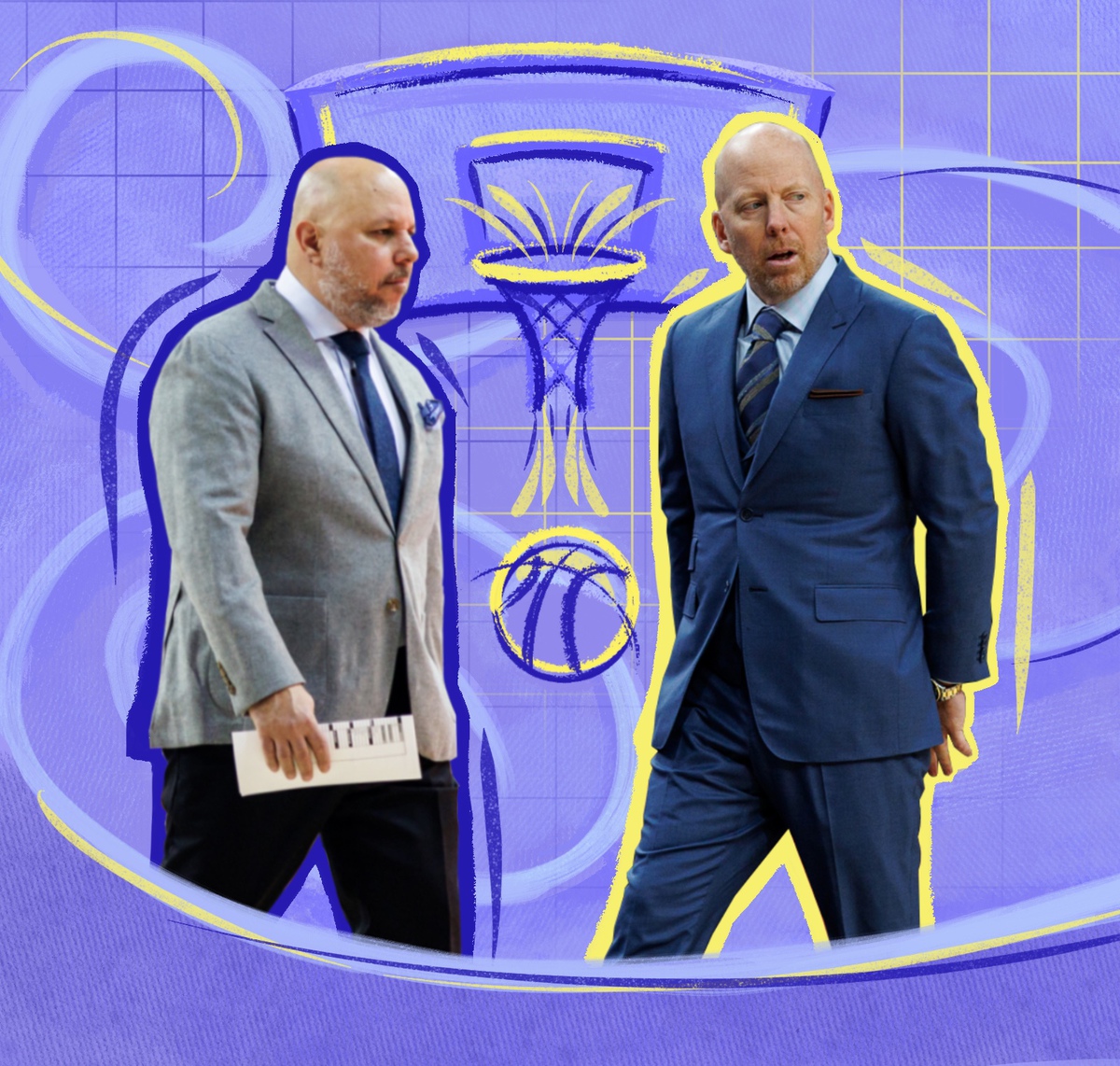 UCLA men's basketball associate head coach Darren Savino (left) and coach Mick Cronin (right) have coached together at the collegiate level for 14 years, making 12 NCAA Tournaments. (Illustration by Christopher Kha/Daily Bruin, photos (left to right) by David Rimer/Assistant Photo editor and Christine Kao/Daily Bruin staff)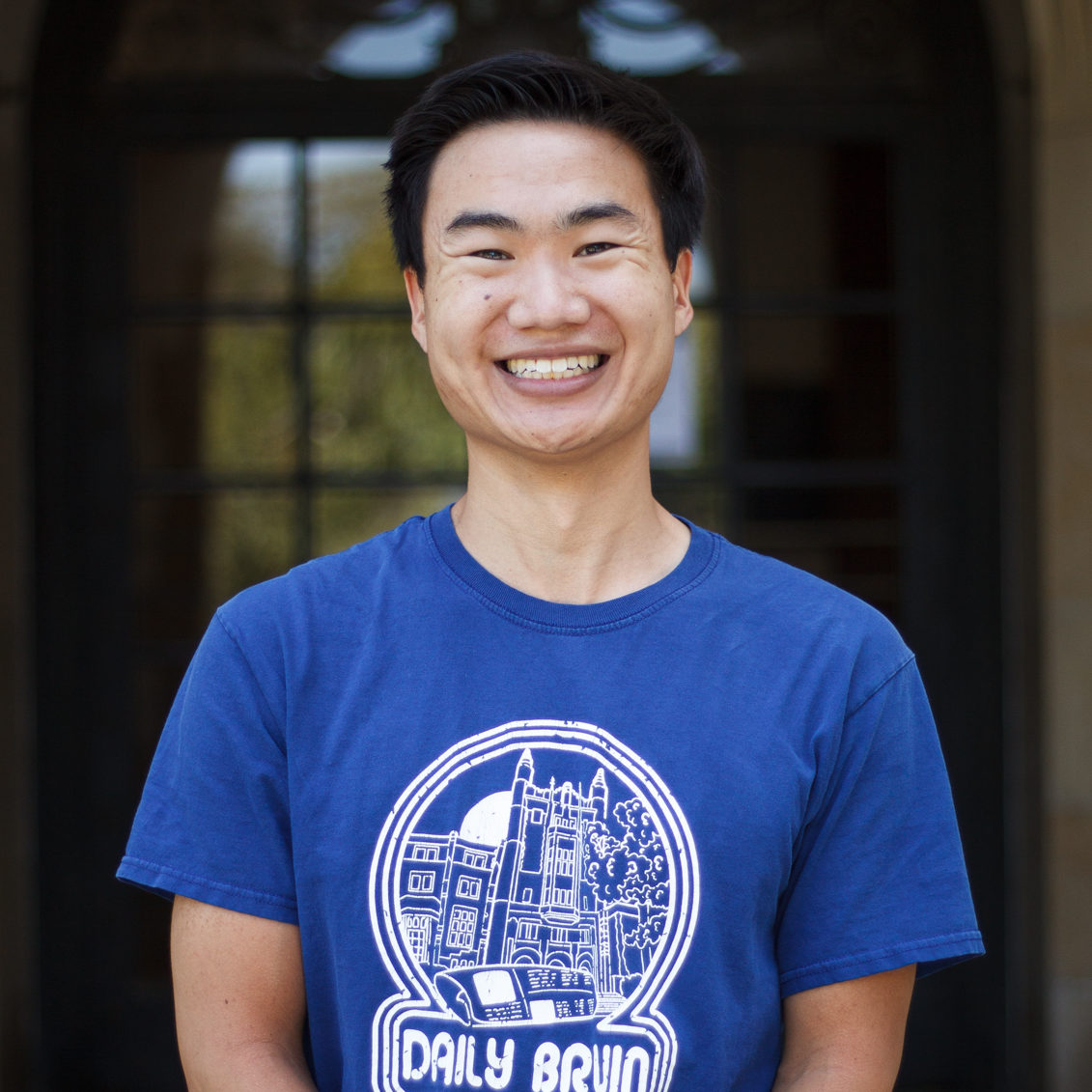 The day was over, and Darren Savino nestled himself into the couch.
A bowl of dry-roasted, unsalted peanuts was perched in one hand. In the other rested a remote for controlling the film of his team's next opponents. The now-associate head coach for UCLA men's basketball began to watch.
Then, a petite hand reached over from his side to grab a handful of the snack.
The hand belonged to Samantha Cronin – a 4-year-old at the time – who was tucked between Savino on one side and her father, coach Mick Cronin, on the other. Together, the three sat on Cronin's living room couch, eyes glued to the television.
It was getting late, the clock on the wall ticking past 8 p.m. It might have been time for Savino to head home.
But he was already home.
The year was 2010, and the then-assistant coach was living in Cronin's basement. Savino had recently packed his bags to join Cronin's Cincinnati program in the middle of the summer, and the New Jersey native was scouring the city for a place to live.
"Nothing really stood out," Savino said.
That's when Cronin offered him a solution. The head coach was recently divorced, having visitation with his daughter for half of the week but otherwise alone in an expansive, suburban home in Cincinnati. His basement was fully furnished, complete with its own bedroom. The basement was Savino's if he wanted it.
Savino said Cronin may have thought the offer was just a temporary fix.
"It ended up being the whole season," Savino said. "I was Coach's Kato Kaelin. I lived in his basement for eight to 10 months almost."
Over the course of Savino's inaugural season in Cincinnati, there were many nights where he and Cronin came home and collapsed on the living room couch, poring over scouting reports together. They were often joined by Cronin's daughter, who happily sat between the two men.
"It was two men and a baby," Cronin said.
Savino, unmarried with no children of his own, said he used to try and make Cronin's daughter laugh while singing songs. His most vivid memory, though, was snacking on peanuts with the toddler.
"Who feeds a 4-year-old girl dry-roasted peanuts?" Savino said. "Two men and a baby do. We had a lot of laughs. It was cute."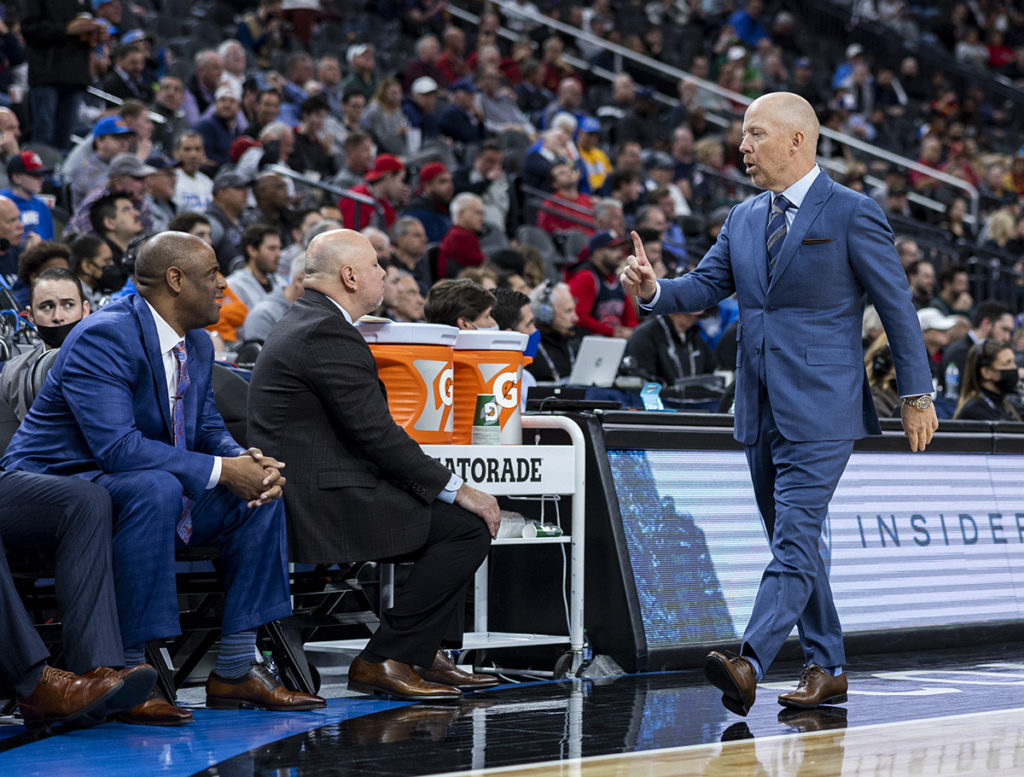 There were times that something other than basketball was on the television. In the rare moments Cronin and Savino had a break, they occupied that same living room couch, indulging in their favorite movies. For Savino, an East-Coast-born Italian American, these were classic mafia films – Martin Scorsese's "Goodfellas" and "Casino" and Francis Ford Coppola's "The Godfather" trilogy.
It didn't matter whether they were watching basketball or movies. Many nights concluded the same way.
"We were falling asleep with the remote control on our chest," Savino said.
It was a living arrangement that couldn't last forever. To the disappointment of Cronin's daughter, Samantha, Savino moved out of the head coach's basement at the end of the season. Savino said living together pulled the two men closer together, strengthening a friendship that was already years in the making.
The two met while coaching high school basketball, both working at Sonny Vaccaro's ABCD Basketball Camp held at Fairleigh Dickinson University in New Jersey. From there, they transitioned to college coaching and often exchanged scouting notes with one another.
Outside of basketball, their friendship sparked during a golfing getaway during one offseason.
Despite being friends and professional acquaintances, the two didn't coach the same team until 2005. Cronin secured a head coaching position at Murray State, and when he had an opening for an assistant coach, he was on the phone recruiting Savino to join him in Kentucky.
"I think he wanted somebody new but also somebody he was comfortable with," Savino said.
When he arrived at Murray State, Savino was captivated by Cronin's ability to motivate his players. His intensity and knowledge of defense reminded Savino of his prep days at St. Anthony High School – where he played for coach Bob Hurley Sr., who also demanded near-perfection on that end of the floor.
Together, the duo would lead Murray State to two conference titles and an NCAA Tournament appearance in 2006.
The partnership would be put on pause, though. After the 2005-2006 season, Cronin was hired to be the head coach at Cincinnati.
Back in New Jersey, Savino's mother was ill. He decided to move back home, taking an assistant coaching job at Rutgers. There, he could be closer to his family. His parents could even come and watch his games.
After four years at Rutgers, a change in coaching staff meant Savino was without a job for the following year. The same offseason at Cincinnati, an opening arose on the sidelines, and Cronin came calling.
Savino didn't turn him down this time.
"It just goes to show what kind of person he is, that he didn't hold a grudge or be angry that I took the opportunity to go to Rutgers to be with my family," Savino said. "He understood that."
Through nine seasons with the Bearcats, Savino and Cronin led the team to a 235-79 record. Side by side, they lifted two American Athletic Conference regular-season titles and squared off against some of college basketball's most storied programs in nine consecutive NCAA Tournament appearances.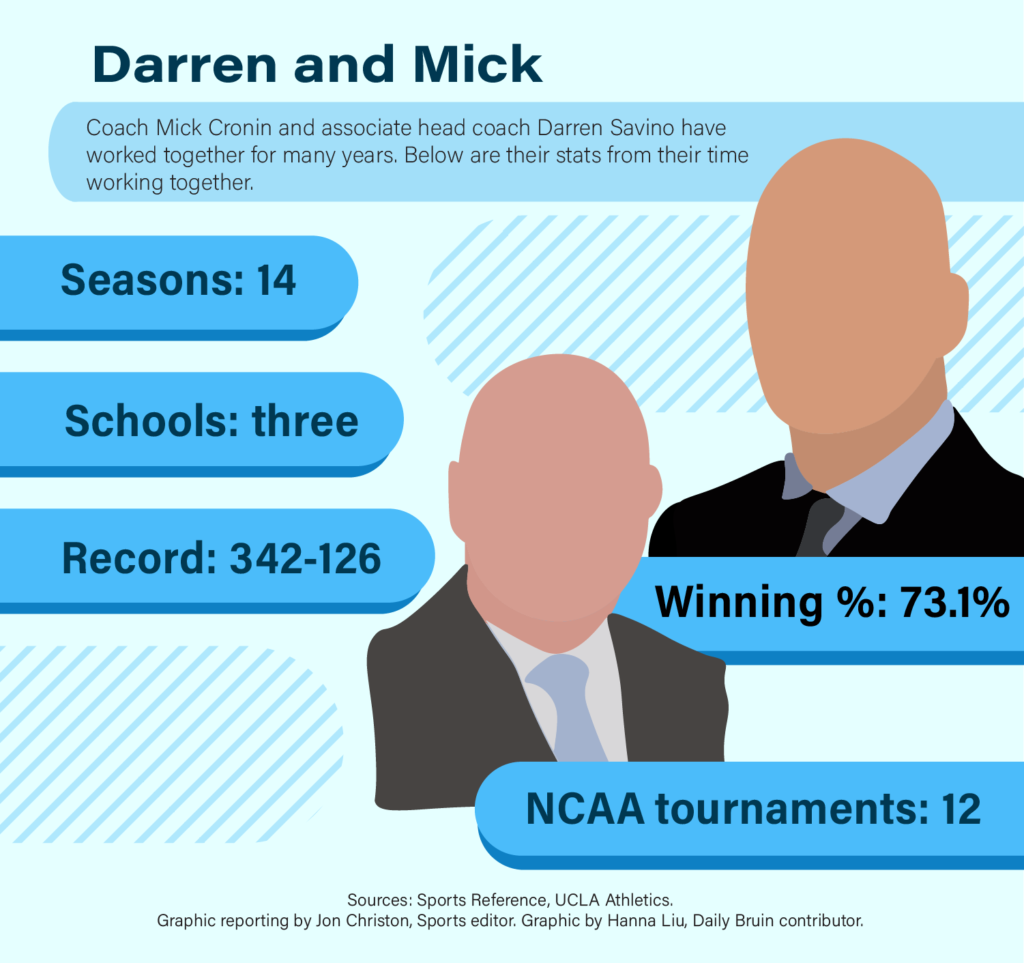 Then Cronin was offered the job at UCLA. For a brief time, Savino's name was thrown around as the potential successor to Cronin in Cincinnati. He didn't get the job.
"I think everybody, when they want something and they don't get it, there's a level of disappointment," Savino said. "But I don't have time to be disappointed. I had to move on to the next thing."
He packed his bags one more time.
"There was never a doubt," Savino said. "There was no question on my part that I was coming."
Their tenure now in Westwood is already three years in the making. In 2019, they inherited a UCLA roster with nine underclassmen. They weathered a global pandemic through the last two years and an injury-riddled squad in 2022.
Despite the ups and downs, they've had each other to lean on.
"It's great to have your best friend on the staff," Cronin said. "It keeps your sanity. It's nice to have somebody on your staff that's as committed as you are. It's a luxury for me to have him."
Savino's work with the Bruins' frontcourt this year has manifested itself in 6-foot-10 center Myles Johnson. The redshirt senior, who transferred from Rutgers last summer, has played in every game for the blue and gold.
The Bruins' leading total rebounder and best shot blocker in the paint, Johnson has played at least 10 minutes in every game and has seen his time on the court steadily increase in the latter half of the season. He's started seven of 14 games in the months of February and March after starting none in January.
"Coach Savino has been huge for me," Johnson said. "I remember I was struggling early in the season, and he helped me with film, helped me wedge and get in better position for offensive and defensive rebounds."
Savino knows he's ready for a head coaching role. He's never been at the helm of his own program in more than two decades of collegiate work. When the time is right and if he gets picked, he said the knowledge he's gained from Cronin over the years will make him successful.
"I always say, 'You never say never,'" Savino said.
For now, Savino's work will remain in the shadows. He is never in front of the media. The television cameras don't give him close-ups.
His clandestine behind-the-scenes work was on display hours after Cronin and the team vacated the court Thursday following their quarterfinal win in the Pac-12 tournament. Savino chose to stay late, scouting the Bruins' next opponents in Las Vegas.
Out of sight, at the far end of the table that ran along the sideline, he jotted a few notes down. He whispered a few words to assistant coach Michael Lewis, and before the second half of the next game began, he was gone.
"The spotlight should always be on the players and the head coach," Savino said. "I never want it to be on me. My recognition comes from players being successful, the team being successful and Mick being successful."
That success has spanned three separate programs. Savino and Cronin have taken their teams to 12 NCAA tournaments, two Sweet Sixteen appearances and one Final Four run.
Their professional success rests on a personal friendship that has prevailed for two decades and counting.
Together, they are one inseparable pair.
Tay is currently a Sports senior staff writer on the men's basketball beat. He was previously an assistant Sports editor for the baseball, men's soccer, men's tennis, cross country and women's tennis beats. Tay was previously a contributor on the men's tennis beat.
Tay is currently a Sports senior staff writer on the men's basketball beat. He was previously an assistant Sports editor for the baseball, men's soccer, men's tennis, cross country and women's tennis beats. Tay was previously a contributor on the men's tennis beat.