UCLA swim and dive to send 4 members to compete in NCAA championships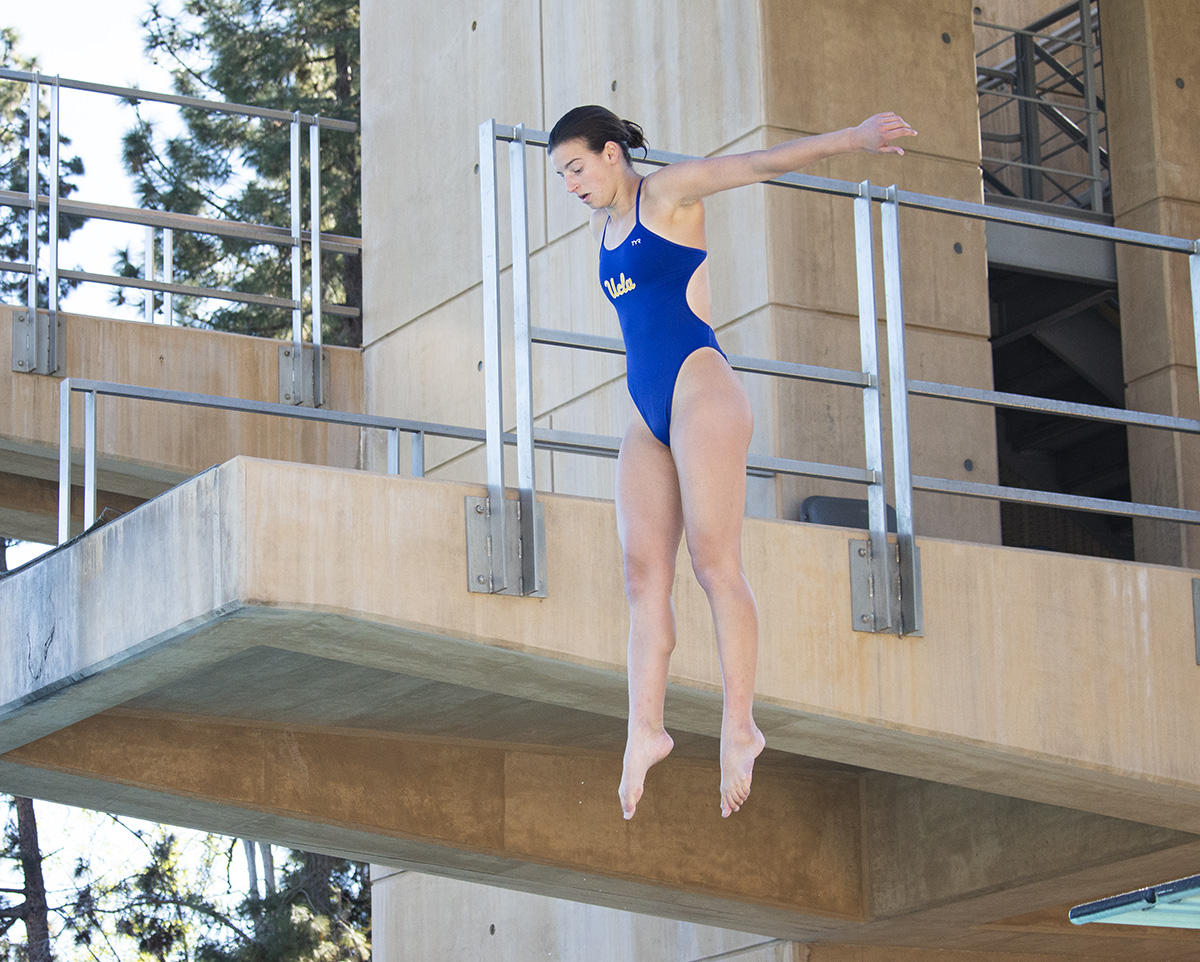 Junior diver Hannah Butler performs a 3-meter dive in UCLA swim and dive's dual meet against USC on Feb. 11. Butler will be competing in her second NCAA championships starting Wednesday. (Megan Cai/Daily Bruin)
Swim and Dive
---
NCAA championships
Wednesday-Saturday
Atlanta
No TV info
This post was updated March 14 at 7:31 p.m.
The Bruins are sending four competitors to the national championships.
UCLA swim and dive (3-5, 1-5 Pac-12) will send three swimmers and a diver to Atlanta to compete in the NCAA championship meet. Each student-athlete will compete in multiple events over the course of the four-day meet.
Senior swimmer Claire Grover, junior swimmer Gabby Dang, freshman swimmer Paige MacEachern and junior diver Hannah Butler will travel east to represent the Bruins at the championships.
Coach Jordan Wolfrum said the team has been working on its confidence and mindset outside of the pool in preparation for the competition.
"We've had a couple of good conversations about what it takes at this meet and what these couple of weeks of training look like on the swimming side," Wolfrum said. "We've done mindset training in the terms of self-talk and where we want to be heading into each of these events."
Butler is coming off a fifth-place finish in the 3-meter dive at the NCAA Zone E Diving Championships, which secured her bid to compete at the NCAA championship meet. This is the third consecutive year the junior has qualified for the championships.
Butler said it will be beneficial having previous experience at the event.
"I wasn't able to compete at (the championships) my freshman year because it was canceled due to COVID," Butler said. "But having been once before, last year, is really helpful in knowing how it feels to be at the meet and the caliber of the competition."
MacEachern will be competing for the first time at the NCAA championships, where she will swim in the 400-yard individual medley, the 500-yard freestyle and the 1650-yard freestyle.
The freshman said she has received guidance from both Dang and Grover, since they have competed at the meet before.
"They both mentor me and help me," MacEachern said. "They tell me that it is kind of scary because these girls will be fast, but it is a good environment since everyone will be going fast. (They told me to) just embrace it and live in the moment."
Wolfrum said the team goal is to score points at this meet.
"We've been sending a team to the NCAAs for the past few years, but we haven't scored swimming points," Wolfrum said. "All three of our swimmers and the diver we are taking all have the capacity to score in the finals of the events they are competing in. We are excited to see them compete on a national stage."
The championships will kick off Wednesday at the McAuley Aquatic Center.
Baker is currently a Sports contributor on the swim & dive beat.
Baker is currently a Sports contributor on the swim & dive beat.