UCLA rowing falls to USC in season-opening dual meet despite varsity eight win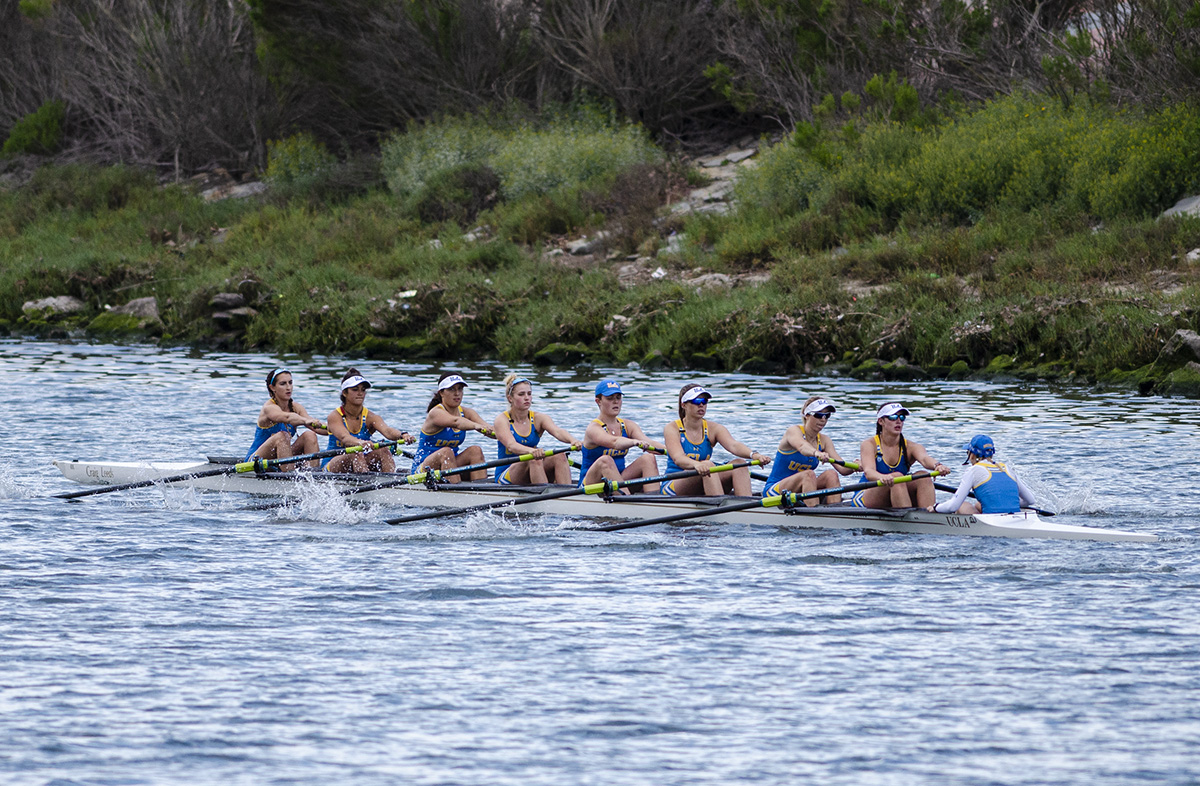 Members of UCLA rowing row down the creek. The Bruins fell to the Trojans in their first race of the season Sunday. (Kanishka Mehra/Daily Bruin senior staff)
The Bruins were unable to pull out a victory in their first race of the year.
UCLA rowing (0-1) lost 3.5-3 to crosstown rival USC (1-0) at the Marina Aquatic Center on Sunday morning. The varsity eight boat claimed the team's only victory of the day, narrowly defeating the Trojans' boat by 1.44 seconds.
"(The varsity eight boat has) been working hard and looking sharp, and we knew they had something," said interim head coach Previn Chandraratna. "They executed well today."
The varsity eight team was able to defeat a USC boat that had secured a victory against No. 3 Washington's varsity eight boat March 6.
​In the second varsity eight race, the Trojans finished almost six seconds clear of the Bruins, coming in at 6:35.45, while the blue and gold finished the race with a time of 6:41.21. The third varsity eight race race saw USC finish with a time of 6:48.23, while UCLA completed the race with a time of 6:57.38.
In the varsity four race, the Trojans' boat finished ahead of the Bruins' by over 14 seconds.
Chandraratna – who oversaw his first meet as interim head coach Sunday – said he had many positive takeaways from the day.
"Being back out on the water gives us a tremendous sense of gratitude after missing so much time," Chandraratna said. "We have a lot of high school rowers that have joined UCLA and collegiate rowers who have missed most of their career, so to be able to get into a regular rhythm is a valuable experience for them."
Chandraratna added that with injuries the Bruins are currently facing to their more experienced rowers, UCLA had to adjust to sending out younger teams onto the water against USC.
"The other boats are full of very young rowers, so we knew that it would be an uphill battle this early in the season because it's going to take some time to get them up to speed," Chandraratna said.
After the race, the team celebrated Senior Day, honoring their five seniors in starboard Sarah Coufal, port/starboard Danielle Hoekstra, starboard Lucy Holgate, port Paula Jaramillo and port Tasha Strudwick for their contributions to the program.
"This team is definitely my family," Coufal said. "Rowing is very hard on your body, and the reason I keep going is the culture, my team, and everyone is out there for each other. It's an amazing thing to be around everyday."
Redshirt freshman starboard Emily Sutherland, who made her first appearance in the blue and gold Sunday, said the seniors have had a significant impact on the team.
"Our seniors are a truly special bunch," Sutherland said. "They're all very unique, which allows everyone below them to unapologetically be themselves, creating this culture of love and support around the clock."
The Bruins will next compete at the San Diego Crew Classic from March 26 to March 27.