UCLA softball opens Stacy Winsberg Memorial Tournament with perfect game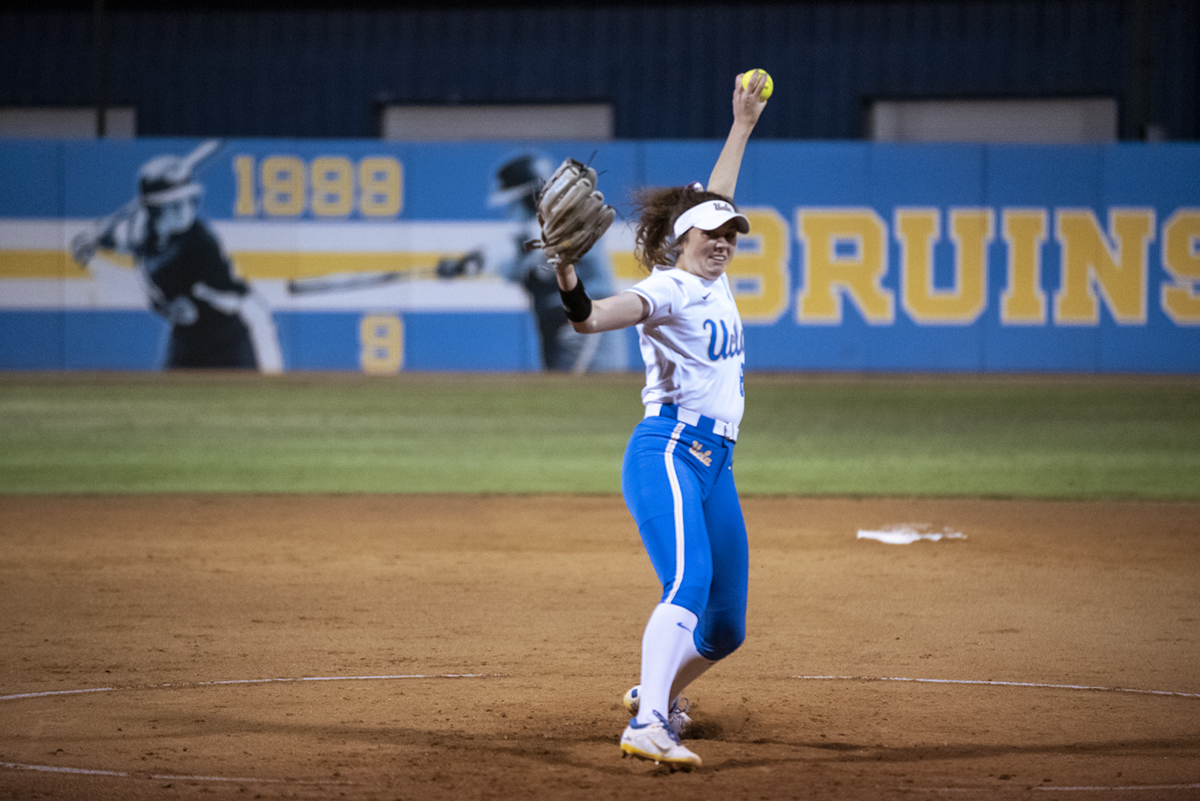 Graduate student pitcher Lauren Shaw throws a pitch against Pennsylvania on Thursday. Shaw received the win in No. 5 UCLA softball's combined perfect game. (Bryan Palmero/Daily Bruin senior staff)
softball
---
| | |
| --- | --- |
| Pennsylvania | 0 |
| No. 5 UCLA | 13 |
For the second time in seven days, the Bruins secured a perfect game.
This time it was spearheaded by two pitchers – graduate student Lauren Shaw and redshirt junior Megan Faraimo – and it started with a pep talk.
Though Shaw started in the circle, 10 of her 11 previous outings as a Bruin came in relief. To get her pitching counterpart in the right mindset, Faraimo gave Shaw a speech.
"You're not starting this game," Faraimo said. "You're coming into relief. It's just the first inning and the first batter, but you're still relieving. Just tell yourself that."
Playing at Easton Stadium for the first time in nearly a month, No. 5 UCLA softball (18-3) began the Stacy Winsberg Memorial Tournament with the 21st perfect game in program history in a 13-0 five-inning victory in its first-ever matchup against Pennsylvania (2-13) on Thursday night. The mercy-rule win marks the ninth such triumph and second off a perfect game this season for the Bruins, which came as recently as last week in the Judi Garman Classic.
A diving catch by redshirt junior utility Anna Vines near second base kept the perfect game alive from the first pitch of the game. Coach Kelly Inouye-Perez said Vines' early web gem to retire the Quakers' batter was instrumental in the record-setting contest.
"It's pretty awesome to be able to make history in such a historic program," Inouye-Perez said. "Right off the bat, the ball was hit. They came out swinging, and Anna made a great play."
While Vines started off the Bruins defensively, redshirt senior infielder Kinsley Washington started the offense with a leadoff double into right center field. Shortly after, freshman utility Savannah Pola drove in Washington with a single into center, adding to her team-leading 25 RBIs.
Following the second out of the inning, UCLA strung together five consecutive hits to tack on five more runs, including a redshirt senior infielder Briana Perez triple – her third on the year – that drove in two baserunners.
After Shaw retired three Quakers in the second, the Bruins extended their lead in the bottom of the inning. The first six batters to step up to the plate reached base, with Pola, redshirt senior infielder Delanie Wisz and redshirt sophomore utility Seneca Curo all driving in runs. By the end of the second frame, every Bruin starter had reached base via either a walk or a hit.
In relief of Shaw, Faraimo struck out the side to begin her night. In her three innings of action, Faraimo fanned eight out of nine Pennsylvania players she faced.
"I'm Megan Faraimo's biggest fan," Shaw said. "When she comes in, it's just a relief. You just know she's going to get it done every time. She's unstoppable."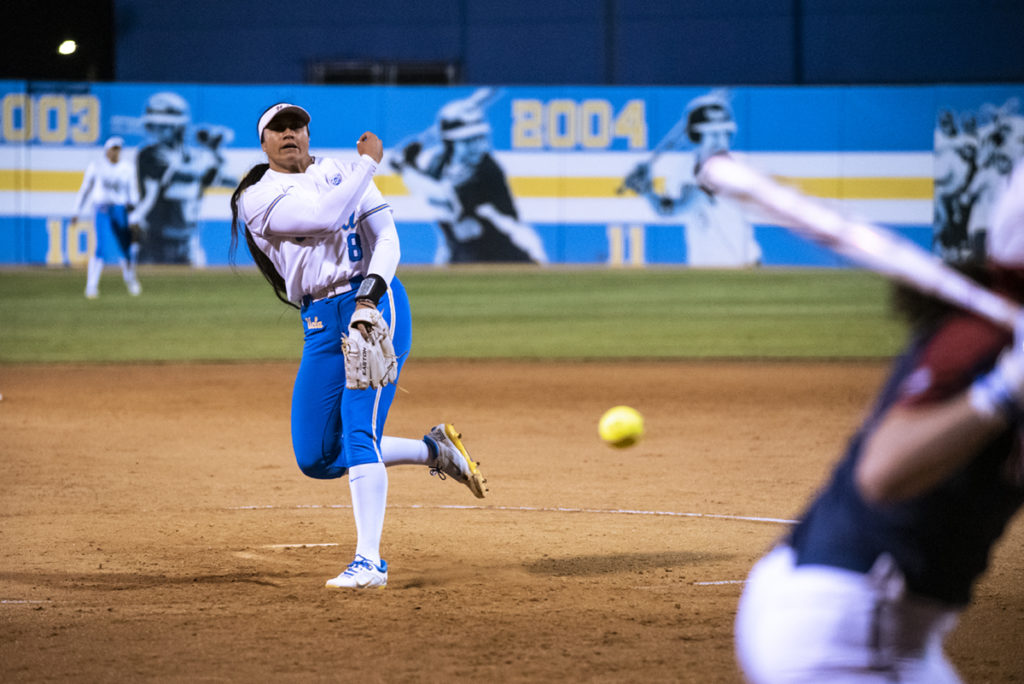 Redshirt sophomore utility Maya Brady capped off UCLA's scoring with a two-run home run in the third inning, her seventh long ball of the season.
Faraimo struck out two in the fourth inning before striking out the side in the fifth to complete the perfect game.
"This perfect game is a testament to our relationship in the bullpen and how hard we've been working as a staff," Faraimo said. "I just feel like it was bound to happen."
UCLA continues the tournament with matchups against CSU Bakersfield and Fresno State on Friday. First pitch against CSU Bakersfield is set for 4:30 p.m.
Farinha is currently a Sports staffer on the softball beat. He was previously a reporter on the women's soccer beat.
Farinha is currently a Sports staffer on the softball beat. He was previously a reporter on the women's soccer beat.