Los Angeles City Council District 5 candidates discuss policies at public forum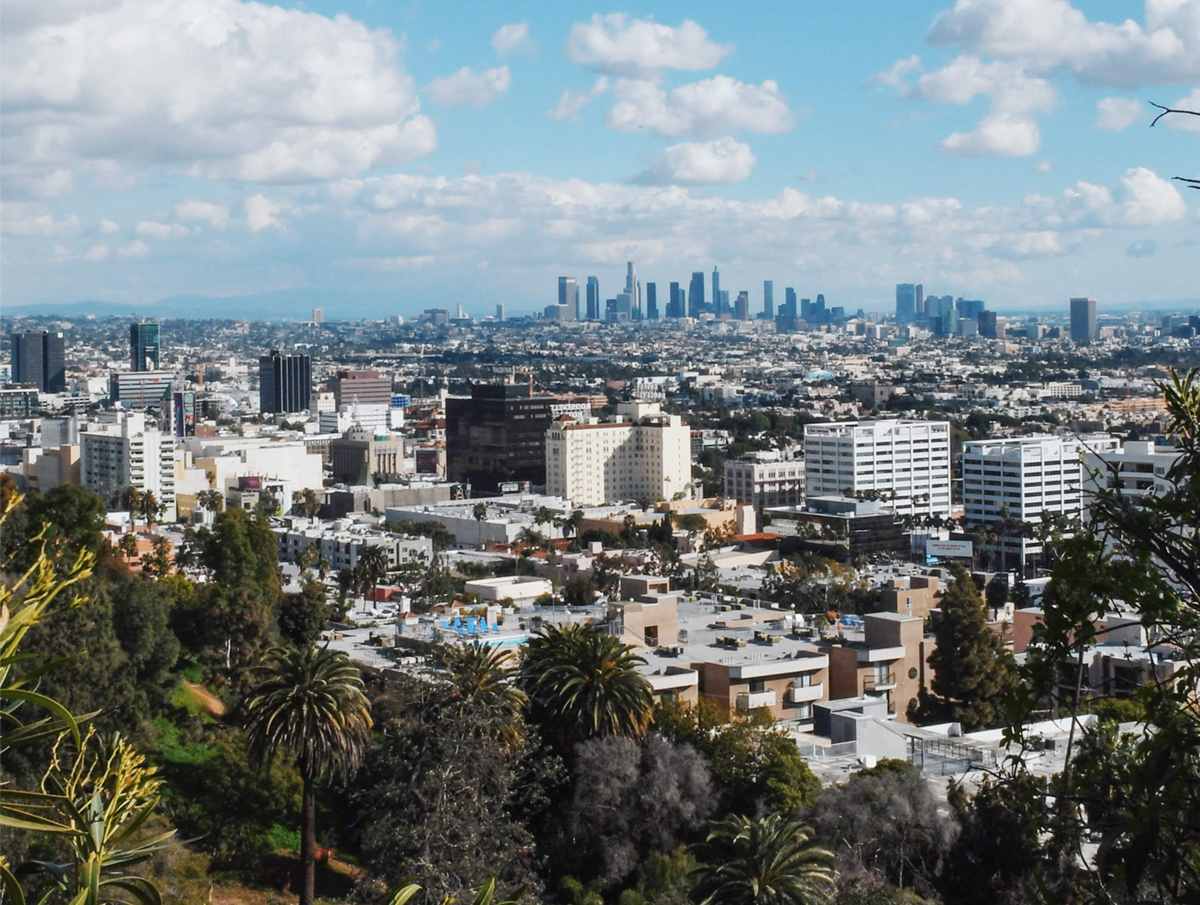 A view of the Los Angeles city skyline. Multiple Los Angeles City Council District 5 candidates spoke about their platforms at a forum Wednesday. The candidates addressed questions about homelessness, housing in LA and governance, among other topics. (Lauren Man/Daily Bruin senior staff)
This post was updated March 14 at 9:19 p.m.
Los Angeles City Council District 5 candidates discussed their policy platforms during an online public forum Wednesday.
The Mid City West Neighborhood Council hosted the six-candidate forum to allow each candidate to give their proposals addressing issues in LA, from housing prices to crime.
City council District 5 represents areas including UCLA, Westwood and Bel-Air. The election to replace current Councilmember Paul Koretz will be Nov. 8, with the primary taking place June 7.
The six candidates present included Scott Epstein, Sam Yebri, Jimmy Biblarz, Katy Young Yaroslavsky, Molly Basler and Kristina Irwin.
After candidates provided opening statements on themselves and their policies, they answered questions about housing, encampments, crime, economy, public engagement in government, governance and the environment.
All six candidates said increasing housing supply would help curb both high housing costs and large unhoused populations.
Epstein, Basler, Biblarz, Yaroslavsky and Yebri added they believe providing housing and social services for people experiencing homelessness should be a priority above enforcing the ban on encampments.
The LA County homeless population was 66,436 in 2020, a 12.7% rise from the previous year, according to the Los Angeles Homeless Services Authority website.
The city government should provide targeted outreach programs and quick temporary housing for the homeless, said Epstein, the former Mid City West Neighborhood Council chair and founder of the Midtown Los Angeles Homeless Coalition.
Irwin, an LA real estate agent, said law enforcement should be more involved in reducing homelessness, in disagreement with the other five candidates.
Biblarz, Epstein, Yebri and Yaroslavsky said LAPD should respond less to homelessness and mental health crises to better focus on other crimes.
More police officers will be necessary to address crime in LA, Yebri added.
Basler, a former actress and founder of several LA programs for addiction and mental health, said she proposes cleaning streets and reducing encampments to make shopping at local businesses more appealing to residents.
The six candidates also said they would focus on reducing regulations, including zoning rules and required permits, to help local businesses continue operating.
Yaroslavsky said the city government should keep certain COVID-19 practices that help local businesses, such as allowing dining on sidewalks.
LA governance was another topic discussed during the forum.
Epstein, Basler, Irwin and Yebri said they support increasing the size of the city council to promote citizen representation and diversity in government.
Yaroslavsky, a former policy advisor in LA County and UCLA School of Law alumnus, said while she does not oppose increasing the size of the council, creating additional resources and encouraging more collaboration among city council members would better address important issues.
Biblarz, a UCLA School of Law lecturer, said the city council should shift more government power to professionals such as urban planners. Additional policies should be passed to increase democracy in city council elections, such as ranked-choice voting, Biblarz added.
Epstein and Yebri said the council should reform redistricting to decrease partisan bias in elections.
Basler, Biblarz, Epstein, Yaroslavsky and Yebri said they would not make changes to an independent commission's redistricting map if in office during the next census.
The Mid City West Neighborhood Council will host another city council candidate forum in early May ahead of the June primary.