UCLA gymnastics champions teamwork over high-marked scoreboard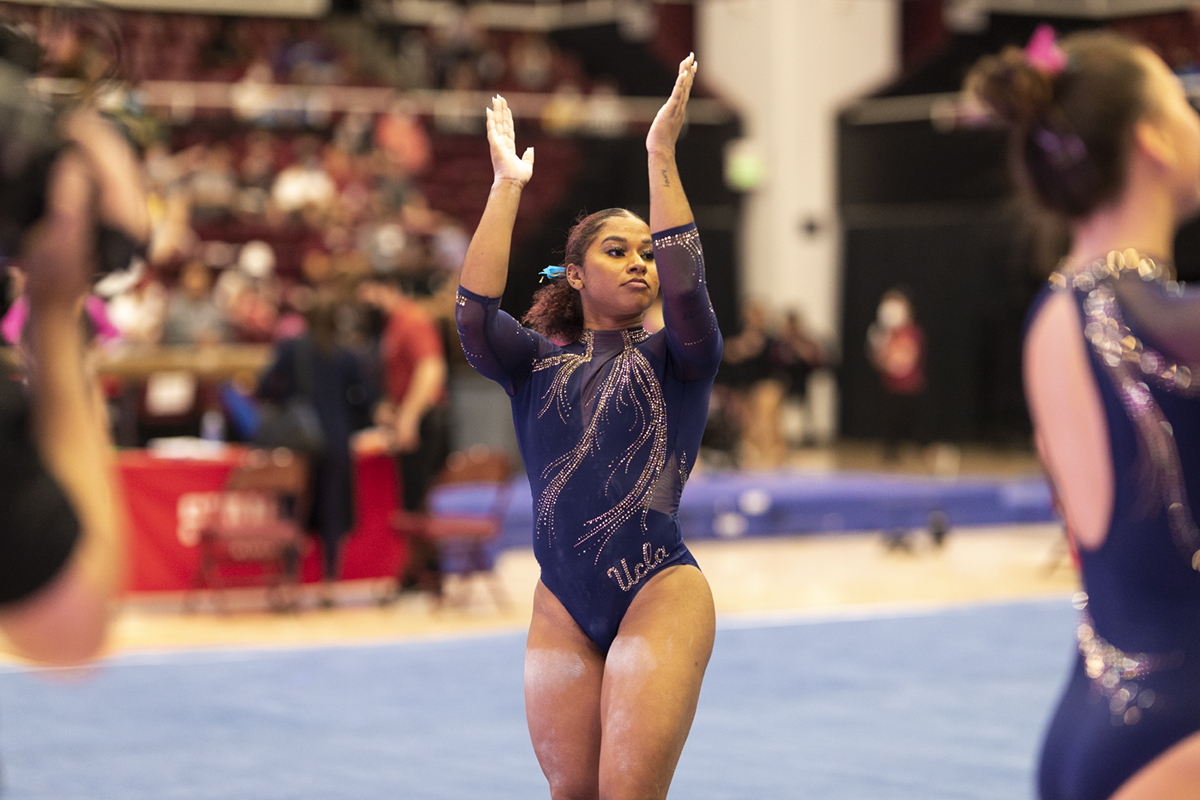 Freshman Jordan Chiles earned the third perfect 10 of her career in a win over No. 10 California on Sunday, as No. 17 UCLA gymnastics posted its best team score since 2019. (David Rimer/Assistant Photo editor)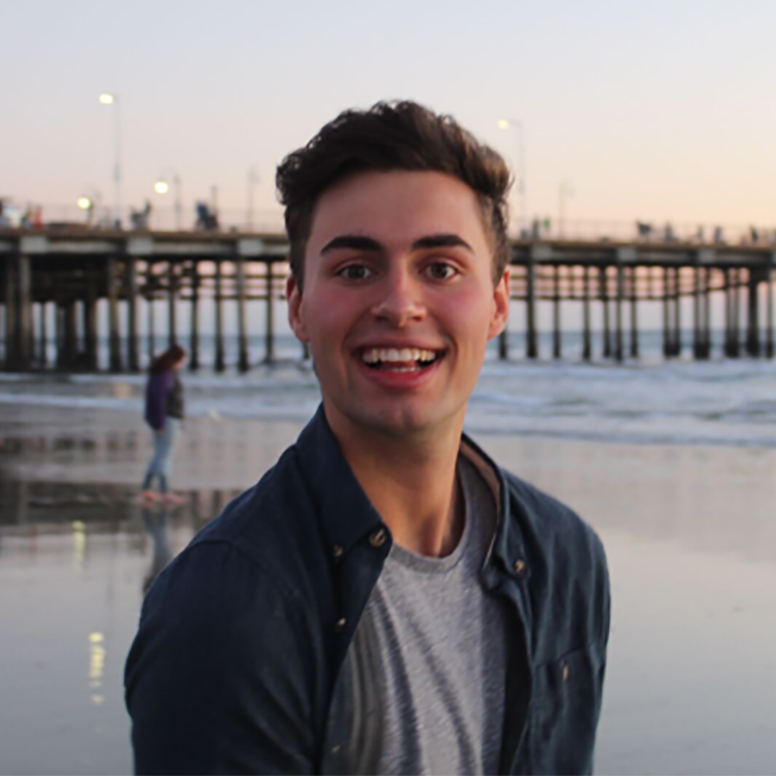 March 10, 2022 12:34 p.m.
Despite receiving their highest team score since 2019, the Bruins aren't scoreboard watching, according to Jordan Chiles.
"I don't really pay attention to the scores at all going into each routine or the all-around in general because we aren't perfect every single day or every single competition," the freshman said.
No. 17 UCLA gymnastics eclipsed the 198 plateau for the first time since the 2020 season in a victory against No. 10 California on Sunday, with the team having 16 routines earning scores of 9.900 or higher – including one perfect score – and setting 10 season highs.
Chiles, senior Norah Flatley and sophomore Chae Campbell all scored at least a 39.700 in the all-around, and Chiles' 39.800 marked the highest all-around score for UCLA this season.
UCLA registered nine scores of 9.950 or higher against the Golden Bears after registering seven such scores in its first seven meets of the season. The Bruins also set season-high event scores on vault, beam and floor.
The 49.775 on floor marked UCLA's highest floor since February 2020 while the 49.475 on vault tied for the team's second-highest score on the event in its last 49 competitions.
While Chiles acknowledged the Bruins' success in competition, she said the result was a tribute to the work the team has brought to practice.
"I just have to say kudos to everybody that was working really hard in practice," Chiles said. "I can tell in their eyes that they are very eager and wanting to go win a natty."
Flatley's beam routine garnered a season-high 9.950, one of three 9.950s on the afternoon for the three-time All-Pac-12 honoree, as the Bruins recorded their seventh-highest beam score in school history.
Three other Bruins scored 9.900 or higher in the rotation as all six gymnasts hit, and the lowest score counted was Campbell's 9.875. Coach Chris Waller said he wasn't surprised to see his team break out on the event.
"We've trained beam like this in practice, and we've been seeing bits of this throughout the past four weeks," Waller said. "It was an incredibly confident expression of their ability."
Freshman Emma Malabuyo also checked in with a season-high beam routine in the anchor spot, as she received a perfect 10 from one judge for the second time this season en route to a 9.975.
While Flatley and Chiles both said the performance should have been the freshman's first perfect 10, Flatley added that finding ways to carry the momentum to the floor rotation was more important.
"It definitely deserved a 10, and I was like, 'What did they even find in there?' There was no deduction," Flatley asked. "But afterwards we said, 'Let's get this party going no matter what.' The judges are going to go to whatever the judges are going to do, and we can still keep our party going."
Malabuyo has scored 9.900 or better on the apparatus five times this season, including in four straight meets. Waller said he is anything but surprised by the freshman's success.
"We recruited Emma as a beam queen," Waller said. "There is a steadiness and a rhythm about her, especially when she jumps and lands. The noise in her head has gone away, and she is just being herself out there."
While Chiles set her career best with a 9.925 on beam as well, her performance on floor stole the show as she scored her second perfect 10 of the season on the event.
The Olympic silver medalist is now averaging a 9.929 on UCLA's top-ranked event after three straight 9.950-plus scores but said scores and rankings don't cross her mind on meet day.
"It's an amazing thing to say I did win the all-around," Chiles said. "But at the end of the day, … we just want to continue on what we have because we're not done."
Flatley added that the team aspect of gymnastics often gets lost among the individual successes.
"For me personally, it's never about the scores," Flatley said. "It's just doing what I want to do for the team and whatever is needed from me."
Edgar is currently a Sports staffer on the gymnastics beat. He was previously a contributor on the men's tennis beat.
Edgar is currently a Sports staffer on the gymnastics beat. He was previously a contributor on the men's tennis beat.