Out of Bounds: Basketball Postseason Predictions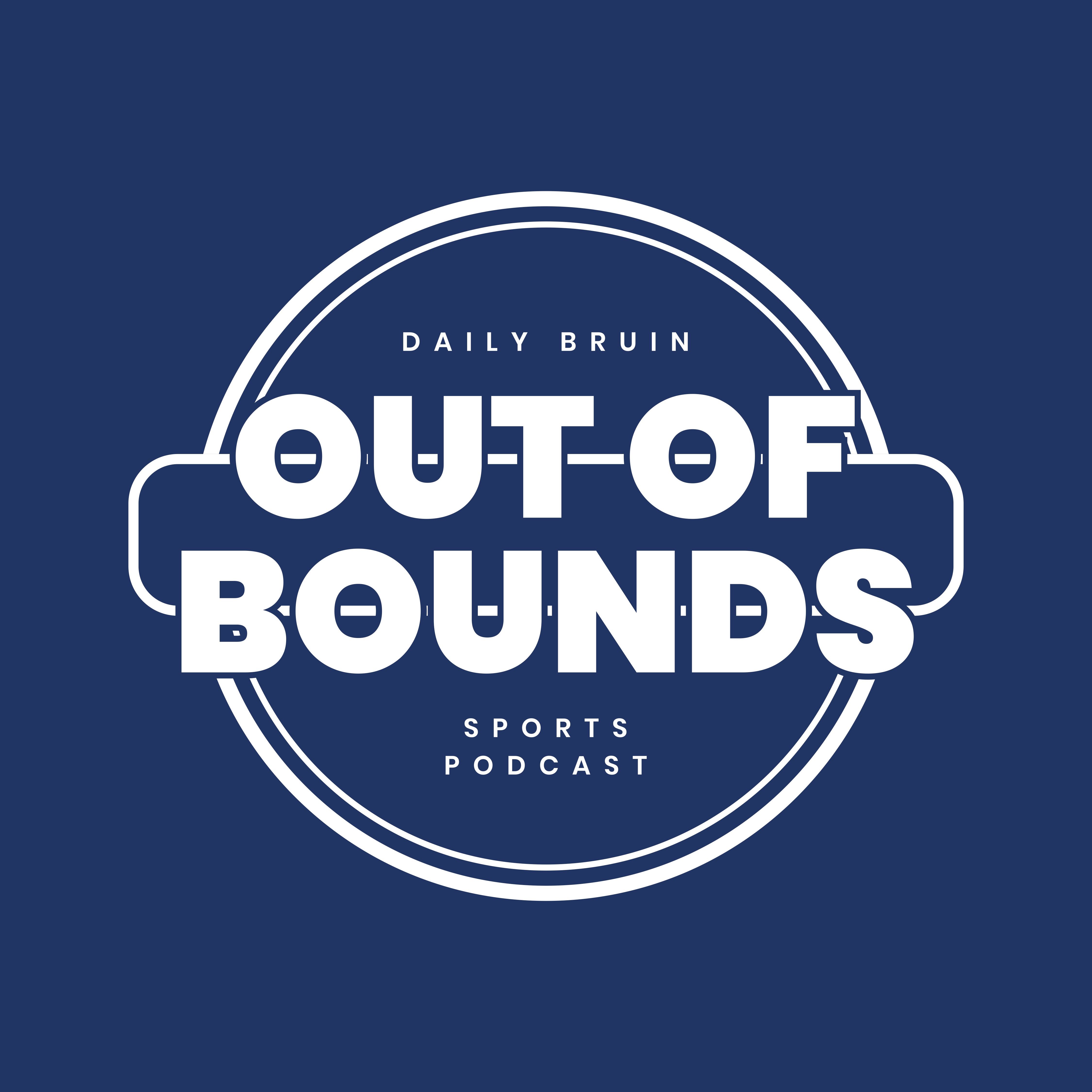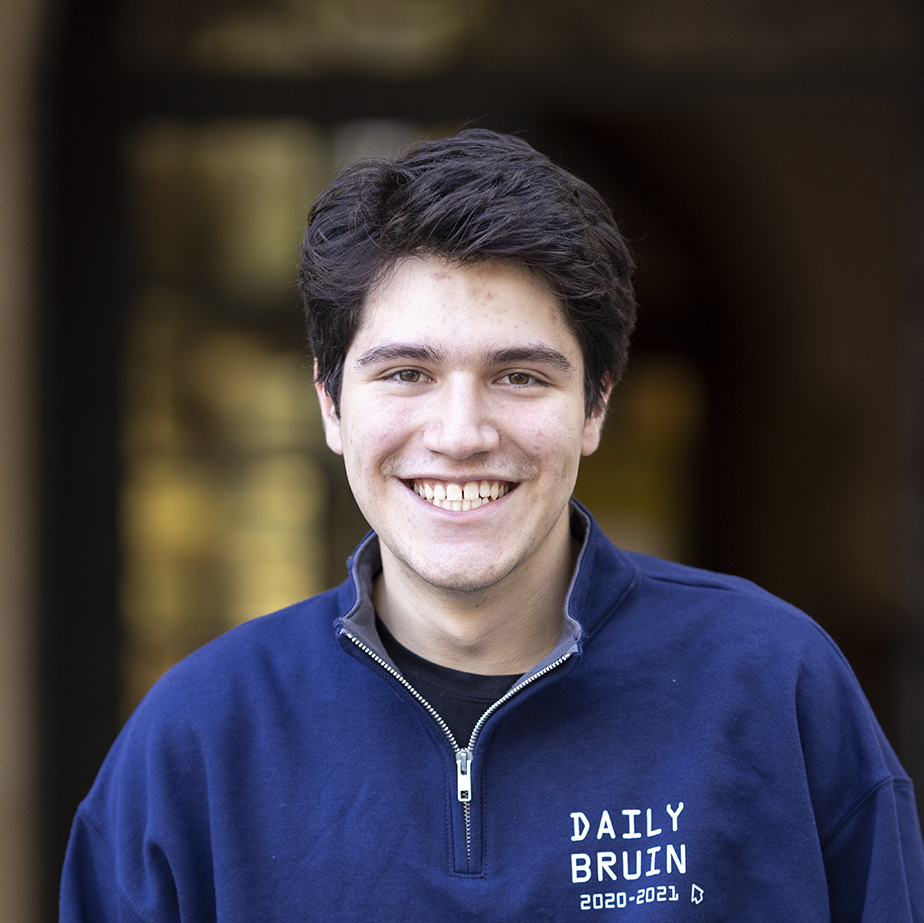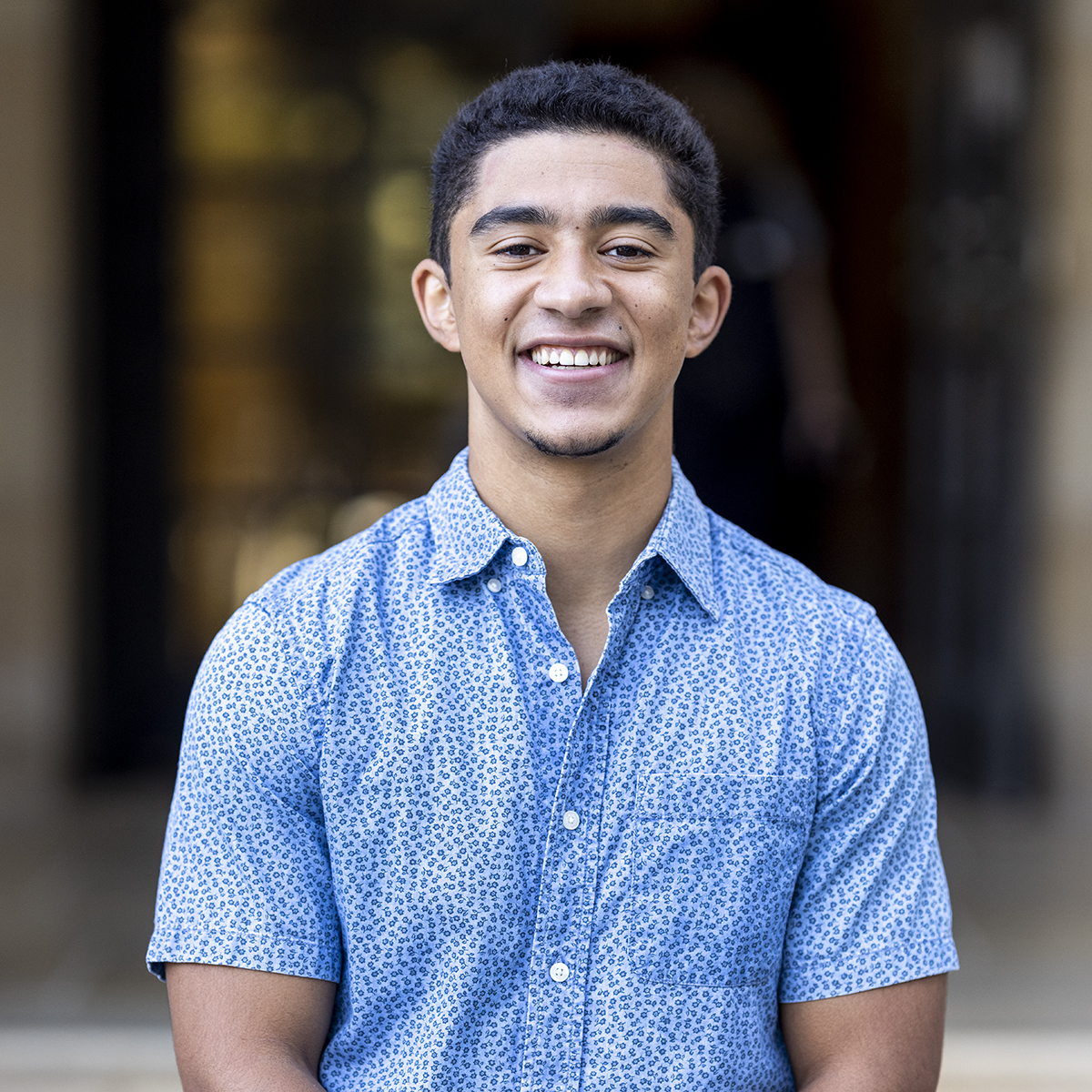 March 10, 2022 11:20 a.m.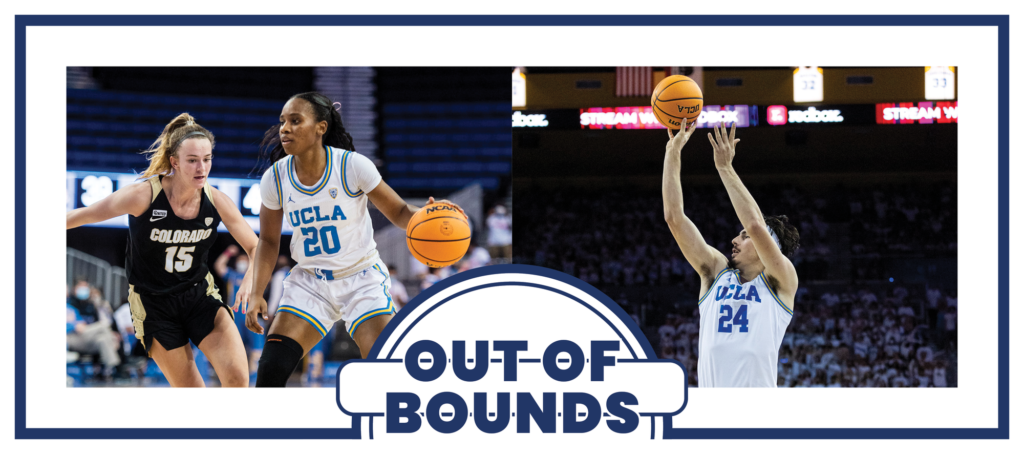 In this episode of "Out of Bounds," Daily Bruin's sports podcast, Sports editor Jon Christon talks with Gavin Carlson, a Daily Bruin staff writer on the women's basketball and softball beats, about their thoughts on UCLA men's and women's basketball's seasons thus far and their predictions for tournament runs.

Jon Christon: Hi, my name is Jon Christon, and this is "Out of Bounds," Daily Bruin's sports podcast.
JC: Hello. Welcome back, everyone, to "Out of Bounds." Again, my name is Jon Christon. I'm the Sports editor here at the Daily Bruin. It's been a few weeks since our last episode. We've all been busy with school, watching different sports, but I'm happy to be back to preview some basketball and to look back at the women's basketball season. Today, I'm joined by Gavin Carlson. Gavin, how are you?
Gavin Carlson: I'm doing great. I'm really excited to be here. Thanks for having me.
JC: Yeah, Gavin is a second-year here at UCLA. He's been on the women's basketball beat two years now, also the softball beat. Yeah, Gavin, have you ever been on a podcast before?
GC: No, first time on a podcast. I really like what you guys are doing over here. And so I'm excited to, you know, take my crack at it.
JC: Yeah, I'm excited to have you on. It's a little harder than it looks at first, but you'll get the hang of it. I believe in you. I was Gavin's editor last year on women's basketball and on softball so happy to be talking to him today. So I think we're going to start off with some women's basketball talk. Women's basketball just wrapped up the Pac-12 tournament. They lost to Oregon on Thursday in the quarterfinals before winning— or after beating USC in the first round. Gavin, you were at those games. You guys made the trip to Vegas for that. How was going to Vegas, and how was the Pac-12 tournament overall?
GC: Yeah, it was a great experience. You know, obviously, anytime you can go to Vegas, it's a lot of fun. You know, never know what you're going to see while you're out there on the Strip. But in terms of the tournament itself, Pac-12 women's basketball is among the best in the country. So it was really fun to be able to see those high-intensity games up close and personal and, you know, especially as a sort of relatively new journalist, just to see a lot of out-of-market journalists and sort of how they approach their craft and everything, so it was a lot of fun. And, obviously, they didn't extend the trip as much as we wanted with a couple more wins but it was great to be there for sure.
JC: Yeah, and then just take me back to this whole— obviously women's basketball's season's not done yet, but this is your second year on the women's basketball beat. How was it? Was it fun? Like you said, the Vegas trip was fun, but just overall how was the, how was your second year on the women's basketball beat?
GC: Yeah, it's been a lot of fun. It's definitely a lot different from last year. You know, last year with COVID and everything. All the games we were just watching them on TV and then the press conferences would be over Zoom. So it's a completely different experience this year being, you know, courtside for the games and physically in the press conferences after the games, being able to look the players in the eye not across computer screens and Wi-Fi. So, definitely a lot of fun. The whole Daily Bruin team makes it a great experience for sure.
JC: Yeah, I bet. Yeah, it was different more ways than one. Obviously, they were in the top five for a few weeks last year. This year, only 14-12, 8-8 in conference. It's going to be their worst season since 2014-2015. They're pretty firmly on the NCAA tournament bubble there right now. First Four Out in Charlie Creme's bracketology as of yesterday. Last time they didn't make the tournament was also 2014-2015, so it'd be a pretty big deal. It's been a bit. It's been really since I've started watching basketball that UCLA hasn't made the tournament, UCLA women's basketball hasn't made the tournament. So, how would you characterize the season, Gavin? Would you think it's a disappointment? Or do you think it's not fair to say that because of all the injuries?
GC: Well, I mean, of course, it's a disappointment, but you can't talk about this year without not mentioning just the ridiculous amount of injuries that this team faced. I mean, like you said, last year, this team only had seven players, and yet they kind of overachieved and were in the top 10 for a lot of the year. And this year was supposed to be about having a deep roster. You bring in all these transfers and yet half of them didn't even contribute to the team that much. Gina Conti was supposed to be the team's starting point guard and she didn't play a single game. Angela Dugalić comes in from Oregon, misses the first 19 games. And then that USC game, has 13-12 and kind of reminds you of what you're missing out on all year with her. Emily Bessoir misses the whole year. Jaelynn Penn misses time, Dominique Onu only misses time. I could literally spend the entire podcast just listing all the injuries for this team. And, you know, obviously, Coach is going to say, "You know, we don't want to make excuses," but it's hard not to when, you know, they didn't have even half of their roster together for most of the season. So, you know, disappointing that they won't make it to the big dance most likely. I don't think they will. And it stinks because I think most people know that this is a tournament-level team when healthy.
JC: Yeah. And that kind of brings me to my next question. I know I listened to Cori after the game. I read the wrap that you guys wrote out in Vegas. Lauryn Wang, another women's basketball writer for us wrote that one. And the last quote was Cori saying, kind of just pleading with the NCAA tournament committee saying, "Look, this is, this team is playing like an NCAA tournament team." Do you think that's true, what they showed in Vegas? Obviously, they were— they beat USC and then they're up against, they were winning for a lot of the game against a really good Oregon team. So, do you think what they showed in Vegas that— forget the resume, forget the early season losses. Do you think right now this team is playing well enough to be a tournament team?
GC: Yeah, I mean, and even looking before the Vegas tournament, you know, they knock off Arizona. You know, mind you, it's without Cate Reese, probably the best team— or best player for that team. But they beat Arizona, and pretty handily. Then they go to ASU and win that game as well, heading into the tournament. So, you could tell that this team was getting healthy playing their best basketball at the end of the season. And like you said, Coach literally said, "You know, get rid of all the spreadsheets. Ignore the first half of the season. Just look at us right now in the way we're playing." And, yeah, they— not only did they, you know, push Oregon to the final buzzer. You know, Charisma Osborne had her worst game of the season. And you know, that's the third-leading scorer in the Pac-12. I think if she's healthy and playing at her best and scores anything more than five points, they win that game and really make a run at the title for that Pac-12 tournament. So, I do think that this is a tournament team based on how they're playing and, you know, you can only hope that they get in.
JC: Yeah. And then you mentioned Charisma Osborne there. I think she's been, she's had an interesting season, to say the least. Obviously, like the rest of the team, she's dealt with a ton of injuries. I think she also is playing a little bit out of position. Obviously, they recruited Gina Conti to come and play point guard so she wouldn't have to. And then Gina Conti misses the whole season. I know I didn't have you prepare on this, but just give me your thoughts on what Charisma's season, how you would characterize Charisma's season this year.
GC: It's a rollercoaster. There's no other way to say it but that, and it really doesn't have to do necessarily with her play, but I feel like every single time you watch a UCLA women's basketball game this year, there was a 50-50 chance that she was going to end up down with an ankle injury, a knee injury, get carried off the court. And every time it happened, it sucked the air out of the arena. The whole team didn't know if this was finally the one that was going to keep her out for an extended time. And, you know, she only missed, I think, two games officially. But like I said, she was in and out of a lot of games. And, you know, it went from an ankle injury to a knee injury. And like I said, she was able to, you know, rank third in the Pac-12 in scoring. But there was, at times, where Coach kind of questioned her leadership a little bit. And I think that's why they wanted Gina there. I mean, Charisma was the biggest recruiter of Gina because she didn't want to have that primary ball-handling responsibility. So it's a really hard season to kind of grade for her. But she's still one of the best players in the Pac-12, and I think she will be again next year.
JC: Yeah, obviously, she finished an All-Pac-12 team member, same with IImar'I Thomas. But it was just, it's just a tough, tough season for her overall. But I think the future is bright for her. Just going back to the team as a whole. Like I said earlier, the season is not done. Even if they don't make the NCAA tournament. Cori Close, I already said, that they would accept the WNIT invite should they not make the NCAA tournament. So, Gavin, how far do you think this women's team can make it in the WNIT? I know they made a run when they didn't make the tournament in 2014-2015, I believe, so what do you think the expectation should be going into that? Because really they're going to be a high seed in that if they don't make the tournament. And they're getting healthy, they're peaking right at the right time for this. So, obviously, it doesn't mean the same as making a round in the NCAA tournament, but it does show a lot about this team if they were able to make a WNIT run. So, Gavin, I want to hear your thoughts on that.
GC: Yeah, they actually won it in 2015 when they didn't make it to the big dance. And I, you know, call me biased, but I think they're going to win it again. I really do. It's ironic. Cori in the press conferences talks about how this team is the healthiest they've been all year, and they're still not at full strength, and they still have an opportunity to get even more healthy. You know, Jaelynn Penn's coming off a hand injury and is sort of finally getting back into her groove of things. I already mentioned Angela Dugalić. You know, the injuries— you know I keep talking about it. It plays such a big role in this season for this team. But, you know, like we said they're playing their best basketball right now. They just beat a top-15 team in Arizona. They probably should have beaten that Oregon team, and the Pac-12 was harder than a lot of the teams they're going to face in that WNIT. The Pac-12 is arguably the best conference every year in women's basketball. So I think this team is, you know, battle-tested and they're at the very least going to make a run. They're probably going to be a high seed. They might even host some games, and I wouldn't be surprised if they win the whole thing.
JC: Yeah, that would be exciting for the program in an otherwise pretty down year. But looking past next season. They obviously have one of the best recruiting classes in the nation. ESPN doesn't have team rankings, but they have a four-person class with the Naismith High School Player of the Year Kiki Rice headlining – No. 2 player, according to ESPN, No. 1 overall point guard. And then the other headliner, obviously, is Gabriella Jaquez, the sister of Jaime Jaquez Jr. from the men's team. She's the 19th overall recruit. So, what are your expectations for next season looking ahead? Because obviously, they have Charisma Osborne coming back most likely. They are losing a bit of talent. It's hard to say in these times if everyone, having the extra year of eligibility, who's definitely gone, who's coming back, so I'm not going to get into specifics, but it is a fair assumption, seeing seven players walked in Senior Night, that they are going to be losing a lot from this team, but they have a lot coming in the recruiting class. So do you think— next year is definitely an NCAA tournament team, but what do you think about just the overall expectations for next year?
GC: I think it really just comes down to how well the team can integrate this freshman class. I mean, you already mentioned Kiki Rice. She's going to bring this instant sort of personality and sort of swagger to this team. And she'll be that primary ball handler that Charisma Osborne was sort of looking to play with. You mentioned Gabriella Jaquez, she's the most intriguing to me. When she committed to the Bruins, she was a four-star recruit. She was only No. 64 ranked, I believe, and she sort of just skyrocketed. She's No. 19 right now, and McDonald's All-American. And so you've got those two. You've got three more recruits, potentially. And this team is going to have not only Charisma back, they're going to have Emily Bessoir healthy. They're going to have Dugalić and Onu healthy. I really think that this might be a better team than last year. They're going to be far more— there's going to be more depth than that team that made that run last year. And so I think Elite Eight is a possibility if they're able to properly integrate everyone together.
JC: Yeah, that's going to be interesting because you mentioned last year. Last year had a lot of problems this year's team had with injuries, COVID, depth issues all year round. And this was supposed to the season that they had depth coming back, and it's kind of ironic looking back at that now. But hopefully they do return some of that depth and then they add to it with this class. So I'm really hopeful for the future of the women's basketball team. And I agree, I think a chance to maybe even rival Stanford in the Pac-12 next year, rival Oregon, for the top spot in the conference is definitely in play. So we'll see. Hopefully, we have Gavin providing coverage for us next year on women's basketball again. But, yeah, now let's transition to the men's team who also had a very eventful week. They're coming off a win over USC, their first USC, first win over USC in their last six tries – the first win in the Mick Cronin era. Juniors on the team like Jaime Jaquez Jr. had never beaten USC before that. So obviously, it's a huge deal whenever you can beat your crosstown rivals. And, Gavin, you also had a busy week since you're in Vegas, and then you're in the student section front row for that USC win. What was it like being in the audience for that? Because I know from where I was sitting in the media section, way up high, it was the loudest I've ever heard Pauley, but I just want to hear your perspective from being in the student section.
GC: Yeah, I agree. I mean, it's been a funny season. There haven't been that many close games with all the fans. I feel like other than the Villanova game, the Arizona game was the only other one that kind of had that hype coming in. And you know, the Bruins kind of handled that one late in the second half. It wasn't necessarily super, super close. So yeah, this game, just from start to finish was close. The energy, of course, was the highest it would be all year with it being a rivalry game. And, you know, there was that little moment where there was some nerves in the entire crowd when the team couldn't make a free throw at the end. But, you know, it's a USC game. There was chants, there was everything you expect from a rivalry game, and it was a lot of fun to be a part of it.
JC: Yeah, definitely. You could feel the tension when Drew Peterson from USC hit that 3. I think it was Jules Bernard missed a few free throws and considering how the last few season, regular-season finale games against USC have gone on, two straight buzzer-beaters going in favor of the Trojans, it was definitely a nervous time in Pauley Pavilion. But I think a big reason that they were able to pull it off this time is because of Jaime Jaquez Jr. who is probably on his best stretch as a Bruin, or in the blue and gold. Last time against USC, or earlier in the year, he didn't have a great game. But really since then, he's really turned it on. He's had 57 points in his last two games, good enough to win Pac-12 Player of the Week. So he had 30 against Washington on Monday and then 27 against USC on Saturday. Both of those would be— or 27 would have tied his career high if he had not broken it against Washington earlier in the week. He's shooting 64% during that stretch, and I think the most remarkable thing is he's only made one 3 in those two games, which considering, I mean, in this day and age the score nearing 60 points across two games without being hot from behind the arc is just incredible. He's getting to the paint at will, and he's doing it against towering players too. It was fun to see— definitely, the first half really felt like it was Isaiah Mobley versus Jaime Jaquez. And just Jaime was going at him and he's the shorter guy and he was still getting in the paint whenever he wanted to and getting to the free-throw line with that pump fake, that patented pump fake that seems to always get his defender off balance. Gavin, what are you seeing from Jaime Jaquez so far these last two games that has made him so successful?
GC: Yeah, you mentioned him only hitting one 3. You know, the biggest takeaway for me is he just seems like he's really comfortable getting to a spot like you said, and you know that back-to-the-basket game is such a big part of his game offensively. But I guess my concern was always what happens when he is playing a taller defender, like you mentioned. When he's playing an undersized guard, he can get to that low post with ease and kind of always either finish or get fouled. But he, like you said, he was able to do it against some taller opponents against USC and he just seems to be comfortable. He only took a couple 3s. He had that kind of ugly miss, and I think that kind of talked him out of shooting any more 3s, and he just went right back to that high post, pump fakes and all that. And I mean, he couldn't miss. Even when he leaned in and didn't get the foul, he was throwing them in. So you know, sometimes players just have those nights, and he just seems like he's really comfortable and really confident right now.
JC: Yeah, I think that word you just used, "comfortable," is the key with him. He was talking about, before the game actually, that he grew up playing, he was always taller than the other kids, so he grew up in the paint. So he's just used to being down there. And you can definitely tell out there. He looks comfortable going against taller guys, and I think it's going to be key when we're going up against Big Ten teams in the NCAA tournament with tall centers, with three centers. I think that's kind of— you saw it against Michigan last year. You saw it against Gonzaga, obviously, that team was kind of small last year with Cody Riley as their only playable big. So it's definitely nice to get those paint touches from someone other than Cody Riley and now other than Myles Johnson this year. But taking a step back looking at this season from big picture, they're likely to be a four or five seed, potentially a three seed, in the NCAA tournament, according to Joe Lunardi, ESPN's bracketologist. Obviously, they started the season as No. 2 overall. So they're projected to be a one seed at the start of the year. So, falling down, it could be seen as a disappointment. I think it's about where I expected them to be. They've won 23 games. It's their best record since the 2016-2017 season, which obviously had Lonzo Ball. And that year, they finished 28-3 in the regular season. So they've had the most success they've had under Mick Cronin. But obviously starting so high as they did, Gavin, how would you characterize— would you characterize the season as a disappointment? Or is it about where you expected them to be?
GC: It's actually where I expected. I was, maybe you could call me a doubter coming into the season, I was a little bit worried that that Final Four run was making expectations a little too high. Obviously, this team has a lot of experience because of that. And I was also one of those people that got tricked and, you know, saw how they played against Villanova and said, "Wait a second, this is one of the best teams in the country." I actually flew out to Vegas for that Gonzaga game as a result. Obviously, that one didn't go as planned. But, you know, this team, I think that they rely a little too much on this isolation basketball offensively. And I feel like it gives them an opportunity to get beat on nights where their best players just aren't scoring. So, you know, I think that I kind of expected them to be, you know, a top-10 team. And that's kind of where they're at after this USC win, maybe high teens, low teens, but definitely some room to improve if they want to make it to the Elite Eight or the Final Four again.
JC: Yeah, totally agree with you on that. I think they're No. 13 nationally right now in the new AP poll that dropped. Again, we're recording this Monday night, so it dropped this morning. But yeah, they, that win over USC secured the No. 2 seed in the Pac-12 tournament coming up. It's going to start this Wednesday. UCLA has a first-round bye, so they're not going to play until Thursday. On Thursday, they're going to take on the winner of Washington State and California in their first-round game. UCLA has already beaten those teams this year by a pretty wide margin. The first game in January against Cal, they only won by eight, but then when they beat, played them in Pauley Pavilion, they beat them by 24, and then they beat Washington State by 20 in February. So I don't think— I think you can reasonably assume that UCLA is going to get past that opponent. Obviously, Washington State is shooting it well. They beat Oregon. They could give them some troubles. But if I had, if I was a betting man, I would definitely, I would say it's very likely to get into this, pass the quarterfinals and into the semifinals. So that's where it gets interesting because there's a looming rematch with USC, who finished No. 3 seed because of their loss to UCLA. So I think that's where the tournament really starts, really in that semifinal round with a potential matchup against USC. So not to put you too much on the spot here, Gavin, but what are your predictions for this Pac-12 tournament, men's tournament this year?
GC: I've been thinking about this one for a while. I do think they beat USC in the semifinal. I think sort of the nerves at the end of the game and sort of the way it ended actually might help this team. I think if they ended up winning by 12 or 13, kind of ran away with things, maybe they get a little comfortable and don't think about changing some things. But because the game ended how it did, and you know, they're never going to take this USC team lightly, but I just think the way it ended kind of remind them that they need to be careful. And you know, if they do face Oregon— or Arizona, excuse me, in the championship game, coin toss game, but I do think they lose. I think Arizona is just a little too efficient. I think, know that that game that they won was kind of a fluke in terms of the shooting from their two best players in that backcourt for Arizona. I think they play a better game. They obviously did once UCLA went into their building. And you know, this team has not been good outside of Pauley Pavilion, and sure, it will be a neutral site, but that's still not in front of, you know, a majority UCLA crowd. I think Arizona fans will travel extremely well for that game, better than UCLA fans, and so it'll be a semi-road game. And because of that, I think they will lose in the Pac-12 championship final to Arizona.
JC: Yeah, I think you hit the nail on the head right there. I agree with the home-road splits. I think it's the most alarming part about this team. They went on a stretch there where they lost four or five road games, including that USC loss earlier in February. And then they followed that up, they beat Stanford but then they lost to Oregon the next game in Eugene. So really, it kind of does worry me that this team, we haven't really seen them beat anyone too good on, away from Pauley Pavilion. The biggest wins of the year – USC, Arizona, Villanova – all came at Pauley Pavilion, all came with the rocking home crowd. So I'm actually a little more pessimistic than you in the potential rematch in the semifinals against USC. I think USC fans will travel— or UCLA fans will travel better, so I think they will have that advantage. But they did not play well in T-Mobile Arena. The first time they played here in that Gonzaga game, which you and I were both at, I was there as media, that was a very disappointing game. It, there was just no life in that arena, and they got destroyed by Gonzaga. And that, obviously that was a very hyped-up game. So I'm kind of more worried about them. If I had to guess, I would say they probably get past USC, but Arizona is just a buzzsaw. They're going to have fans. But I wouldn't count out Arizona. They've got a tough draw with Arizona State, probably, in the second round. And then Colorado or Oregon, who has given him fits. They almost lost to Oregon and they did lose to Colorado. So Arizona obviously has to get past their opponents. But if they do, I think they're going to be too much for UCLA to handle, and I honestly don't think that game would be close. But we'll see. And then our last thing I just wanted to check in on is the NCAA tournament. I said already that they're probably going to be a three or four seed right now, or as of Sunday afternoon. Joe Lunardi had them as a four seed in the West region, which would have them starting out in Portland with a matchup against Towson in the first round. I think this is really interesting that they have Gonz— Alabama as a five seed in the second round, and then Gonzaga as a one seed in the Sweet 16, all in the West region. So it could be a few rematches from last year's NCAA tournament. Coming off the Final Four run, I think fans are going to have reasonable expectations. Maybe not fans, but the casual observer who sees UCLA is probably going to pick them as a trendy upset pick to get back as the UCLA brand. But Gavin, what is your prediction for how far they'll make it in the NCAA tournament, to put you on the spot again?
GC: Yeah, I think they get to the Sweet 16 not relatively easy, but I think they get there. Sweet 16 is going to be a coin toss, but I do see them losing. I just feel like this team, like I said, they rely a little too much on the isolation ball offensively. And if, you know, at least two of the three iso scorers in, you know, Jaquez, Bernard and Johnny Juzang, if, they need two of those three guys to play well to beat elite teams. And I just, you know, I think Johnny's kind of been in and out with injury, Jules has had a weird year and obviously Jaime's playing really well right now, but I think against elite teams, it's still going to be difficult for him to get to his spot all the time. So I just see this team against elite talent, not playing at home, kind of struggling a bit like they have, like you mentioned, when they're on the road or a neutral site, and I think it's going to be a disappointing end to the season for a lot of people after that Final Four run last year. I see them getting eliminated in the Sweet 16.
JC: Yeah, a lot of it depends on who, what their matchups are and whatnot. I think the Johnny Juzang injury scares me a little, makes me a little hesitant. He missed a few games with his ankle injury, came off the bench against USC, really didn't look himself. I don't have his numbers up in front of me, but I know he did not shoot the ball well. He was inefficient from the field. He was taking bad shots. He just looked out of rhythm. So that makes me hesitant to pick them far in the Pac-12 tournament and then also in the NCAA tournament because he's had ankle problems in the past. So we'll see about that. I think the big thing is if they can make a run in the Pac-12 tournament and secure a three seed, I think that would be huge getting out and not playing a one seed until later because the four seed plays the one seed in the Sweet 16. The three seed doesn't have to play them until the Elite Eight. I think that'd make all the difference because the one seeds are looking pretty strong this year with Gonzaga probably going to get the No. 1 overall seed again. So it depends on that. Assuming that they just stay right where they are as a four seed, I would probably say Sweet 16 exit as well. I think the one seeds are just too talented, too good right now. And I want to say UCLA can still reach another level this year. Wins over Arizona and Villanova, the USC win kind of showed what gear they can hit when they're engaged, when they have fan support. But we'll see. We'll see if when they're facing a one seed with a bigger home crowd and they get down and they have their backs against the wall, will they be able to pull out magic like they did last year? But I wouldn't put it past them losing earlier than that or even making it further. It's a total guess at this point with everything that's happening with other teams. Obviously, conference tournaments are starting this week, so we'll have to check back in on that. But yeah, if I had to guess, I would be right with you with a Sweet 16 exit, would be, not knowing who the opponents are, not knowing where they're playing, all that. But yeah, I think that's going to wrap it up for this episode. I want to thank Gavin for coming on. Gavin, you made it through your first podcast episode. How was it?
GC: It was a lot of fun. It makes it easy, talking with Jon. We talk about basketball a lot. We need to talk about it more. But yeah, I think it was a lot of fun, and we'll see – hopefully these teams can make runs in whatever tournaments they're in.
JC: Yeah, you definitely have not heard the last of Gavin on this podcast. He will be a regular guest, I hope. But yeah. So again, shoutout to Zoe Willoughby for producing this podcast as always, getting it up before the Pac-12 tournament games, or UCLA's Pac-12 tournament game, as always. And yeah, so "Out of Bounds" is brought to you by the Daily Bruin, UCLA's student newspaper. You can listen to this show and others by the Daily Bruin on Spotify, Apple Podcasts and SoundCloud, and a transcript for this show is available at dailybruin.com. See you, everyone.
Christon is currently a Sports senior staff writer. He was previously the Sports editor on the men's basketball and football beats and the assistant Sports editor on the women's basketball, softball, men's tennis and women's tennis beats. Christon was previously a contributor on the women's basketball and softball beats.
Christon is currently a Sports senior staff writer. He was previously the Sports editor on the men's basketball and football beats and the assistant Sports editor on the women's basketball, softball, men's tennis and women's tennis beats. Christon was previously a contributor on the women's basketball and softball beats.
Carlson is currently a staffer on the women's basketball and softball beats. He was previously a reporter on the men's golf beat.
Carlson is currently a staffer on the women's basketball and softball beats. He was previously a reporter on the men's golf beat.