Students hold candlelight vigil for victims of mosque attack in Pakistan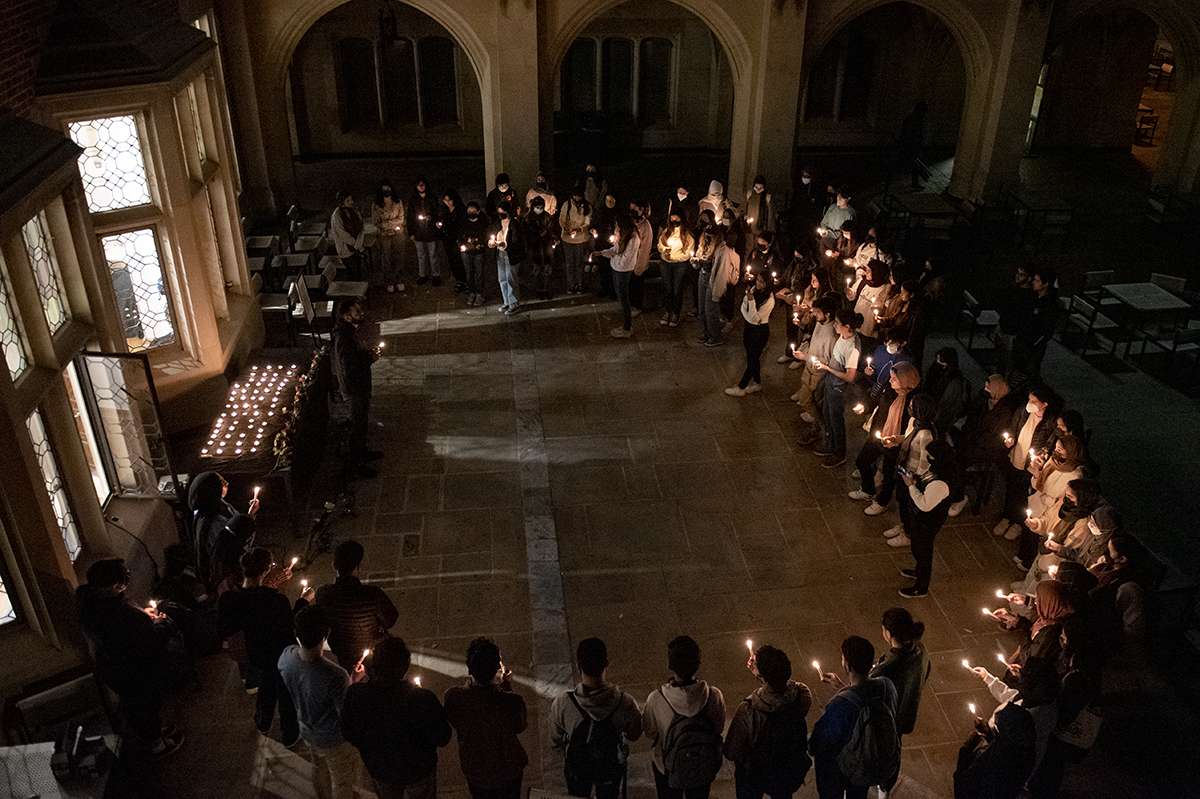 Students and community members gather by Kerckhoff Hall in memory of the victims of an Islamic State affiliate bombing in Peshawar, Pakistan. (Lauren Man/Daily Bruin senior staff)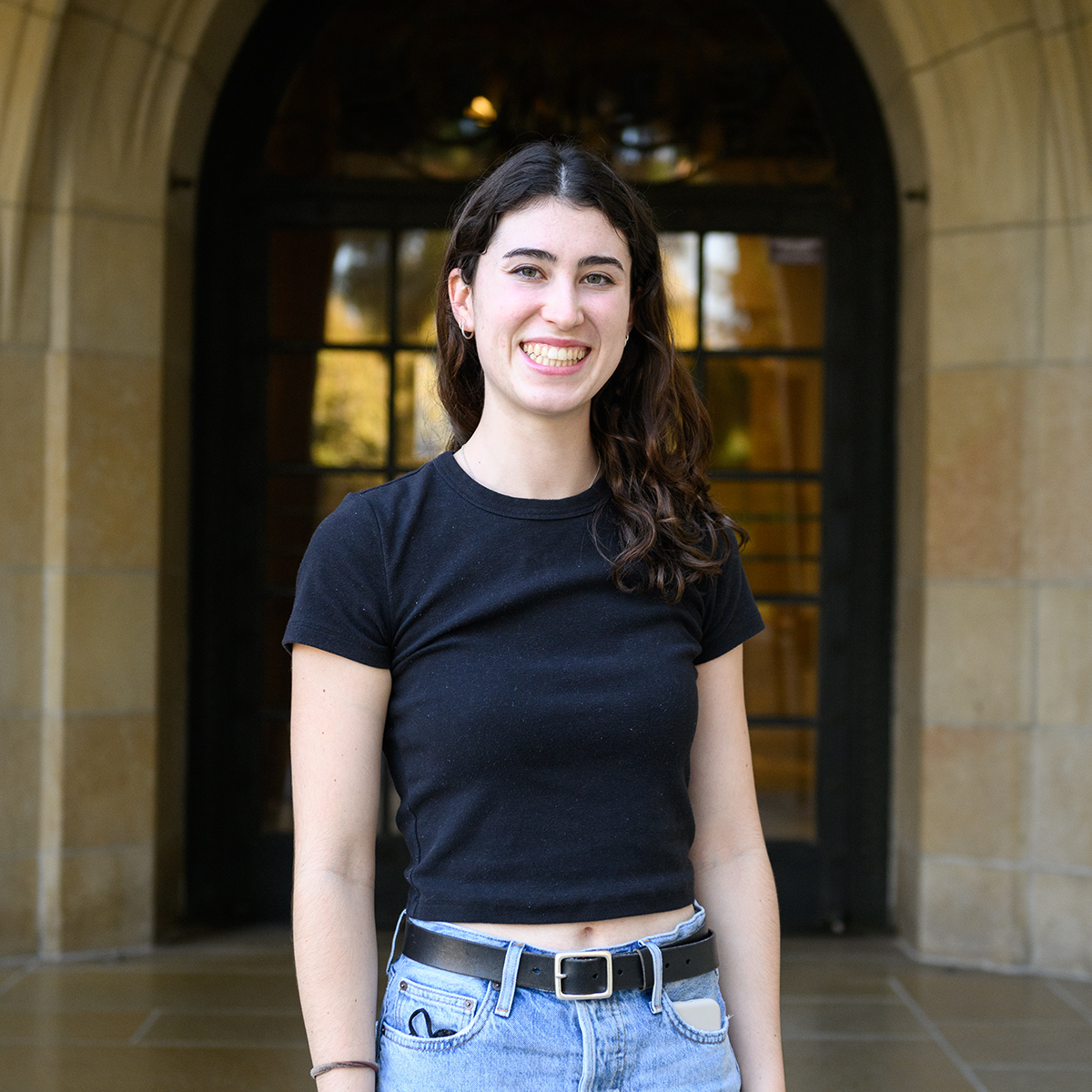 Editor's note: The terms "Shia" and "Shiite" are used interchangeably based on sources' preferences.
Dozens gathered in a vigil Monday in remembrance of the victims of the recent Islamic State affiliate attack in Peshawar, Pakistan.
On March 4, an IS suicide bomber opened fire and set off explosives in a Shiite mosque during the morning prayers, according to The New York Times. At least 63 people have died and almost 200 were wounded as of March 5, according to The Times.
The religious division between the two sects of Islam, Shiite and Sunni, dates back nearly 1,400 years, according to the Pew Research Center. IS, a Sunni militant group, has a history of targeting Shiites, who are a minority in Pakistan, according to the Pew Research Center.
The Muslim Student Association organized the vigil to show solidarity for Shiite Muslims, spread awareness about the attack and condemn the violence, said Mohammed Mortada, the MSA Shia student representative and a fourth-year political science student.
Students attended the vigil to show respect and offer prayers for the victims.
At the vigil, Mortada spoke about the long history of violence against Shia Muslims, which some scholars have said amounts to attempted genocide against Shia Muslims, he said.
"This is the fifth attack on a Friday prayer in a Shia mosque in 2022 alone," he said.
Shia Muslims are often targeted simply because of their Shia identity, he said. In Pakistan, there is a graveyard that has hundreds of graves marked with red flags to signify the people who were killed for being Shia, he added.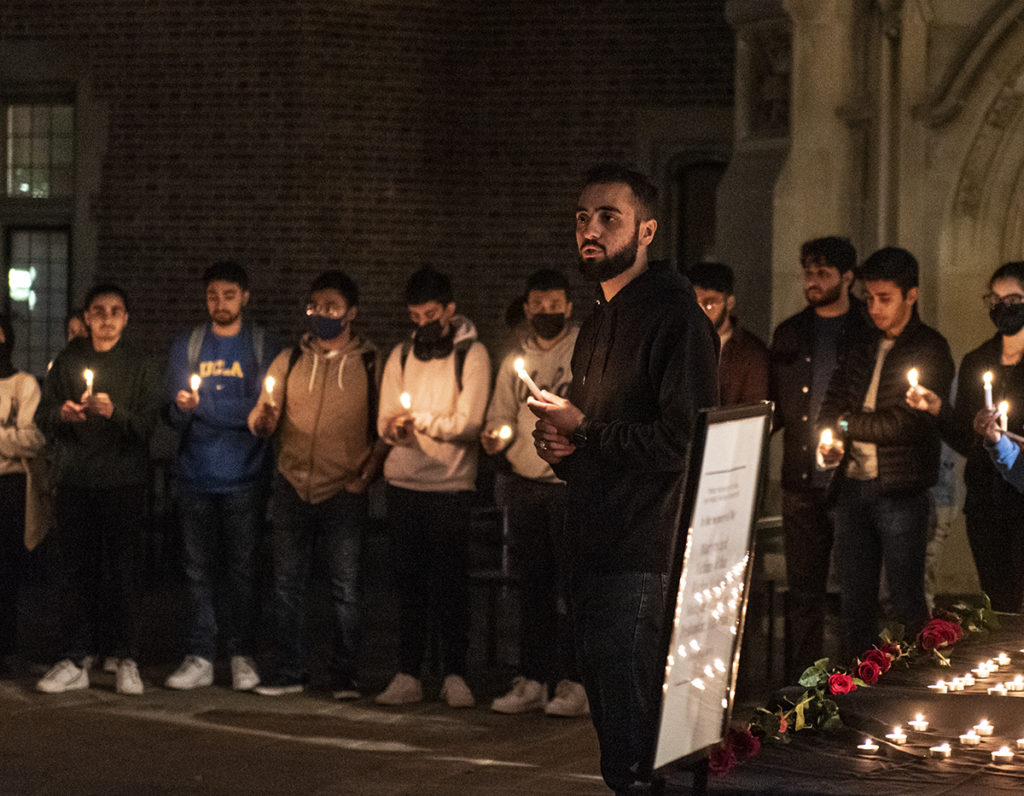 Since her parents are Pakistani, the attack hit close to home, said Ayesha Aslam-Mir, a second-year pre-human biology and society student. She said it was important to show up as a community to support the victims.
"It's a tragedy that strikes all of our hearts," she said.
This year, MSA created the Shia student representative position to represent the interests of Shia students, Mortada said. At UCLA and worldwide, the majority of Muslims are Sunni, so the new office helps bridge gaps for Shia students, Mortada said.
Khalil Dewji, the president of the Shia Muslim Council of Southern California, spoke at the vigil and called on the government of Pakistan to apprehend those who organized and supported the attack. Dewji also denounced acts of violence, especially against those who are in the midst of praying or worship.
"It is imperative that we stand united and speak against all these atrocities, irrespective of where it takes place," Dewji said. "Whether it is Shia, whether it is Sunni or the Christians or the Jews, we must unite and speak against all these atrocities under one umbrella – with one voice."
Unfortunately, acts of terrorism have become the norm, he said, with attacks on synagogues and churches occurring around the world, including in the United States.
"It's really important to show solidarity with minorities of any kind," said Maham Khawar, a third-year cognitive science student who attended the event.
Khawar's relatives live near the location of the attack, so she said it was important for her to show her support and respect. Khawar added that small actions can make a positive difference.
"There's power in numbers," she said.