Health club at UCLA partners with nonprofit End Overdose to address drug overdoses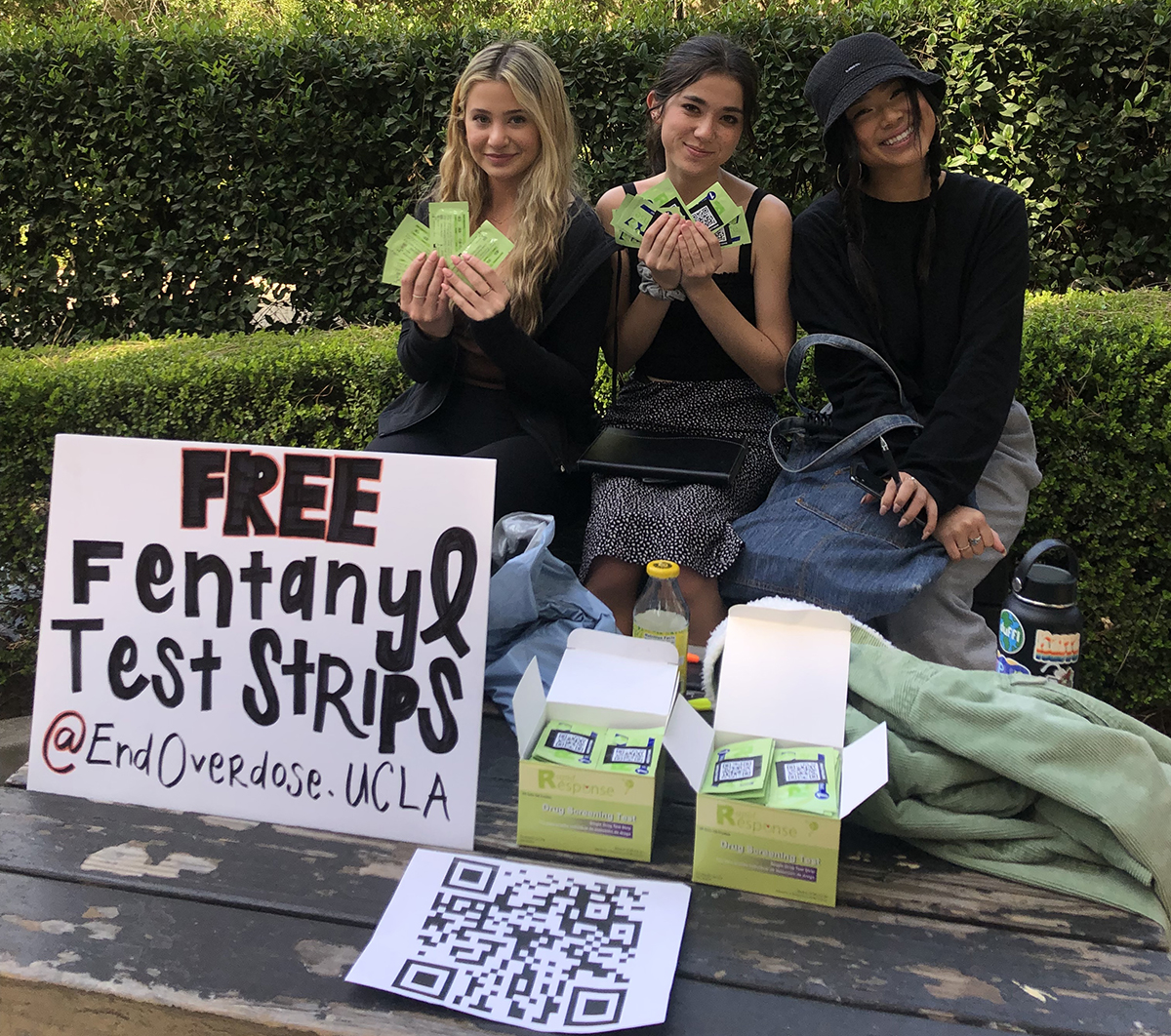 UCLA Universities Allied for Essential Medicines officers and End Overdose's UCLA chapter co-presidents Maddie Ward (center) and Gianna Uy (right) participate in handing out fentanyl test strips to the campus at an event by End Overdose's recently formed chapter at UCLA. (Courtesy of Emma Nguyen)
A UCLA club that seeks to widen health care and medical access across the world is collaborating with a nonprofit organization to address the issue of drug overdoses at UCLA.
Universities Allied for Essential Medicines, an international organization with more than 100 student-run chapters, and End Overdose – a nonprofit organization working to reduce deaths from drug use – have teamed up to provide easily accessible resources and education on opioids and the proper, real-time responses to a drug overdose.
End Overdose provides a number of services such as online deliveries of naloxone, a medication to treat opioid overdoses, and fentanyl test strips, as well as overdose response training.
In 2011, 7.3% of adults in Los Angeles County ages 18-29 reported that they had misused prescription drugs in the past year, according to the LA County Health Survey.
Theo Krzywicki, the CEO of End Overdose and a paramedic, said he founded the organization in order to improve people's access to medicinal services and resources in relation to drug use and overdose response.
The collaboration between End Overdose and UCLA UAEM began after Krzywicki met with the organization to discuss expanding access to overdose response resources on campus.
Gianna Uy, co-president of UCLA's End Overdose chapter and an events director for UCLA UAEM, said recent talk about drug overdoses at UCLA has led to many students asking about where they could get resources to learn about and respond to the issue. With this in mind, members of the End Overdose and UCLA UAEM collaboration have prioritized the communication of accurate information regarding drug usage and the risks that come with it.
Maddie Ward, co-president of UCLA's End Overdose chapter and external relations board member of UCLA UAEM, said many people at UCLA and other college campuses are likely not aware that many recreational drugs can be laced with fentanyl.
Krzywicki said a large proportion of drug overdoses occur among people under 35 years of age, and this motivated him to choose a college campus as a focal point for the expansion of End Overdose.
The opioid epidemic began in the 1990s, and there have since been more than 500,000 deaths from opioid-induced overdoses from 1999 to 2019, according to the Centers for Disease Control and Prevention.
The CDC has also stated that in recent years, the crisis has worsened because of the development of synthetic opioids such as fentanyl. Fentanyl is a potent prescription painkiller, but many deaths occur when fentanyl is mixed with recreational drugs like heroin, according to the United States Drug Enforcement Administration.
In 2019, more than 70,000 people died from drug overdoses – a 5% increase from the previous year – with fentanyl among other opioids being responsible for more than half of these deaths, according to the CDC.
Thus, educating the public on the nature of fentanyl and how to respond to drug overdoses has become far more pressing, Krzywicki said.
"For us, a chief strategy is … focusing on the at-risk populations by age and demographic," Krzywicki said.
UAEM was motivated to work with Greek life at UCLA to provide overdose response training because those who are involved in nightlife, partying and college life are often at greater risk, Krzywicki said.
"We're hoping to eventually expand into doing new member training so that we can ensure that every new member entering Greek life has this overdose response training," said Ward, a second-year cognitive science student.
UCLA's End Overdose members have trained around 630 people for overdose crisis response at UCLA, Ward added. They have also handed out more than 4,000 fentanyl test strips along with 99 naloxone treatments to those involved in Greek life at UCLA, she said.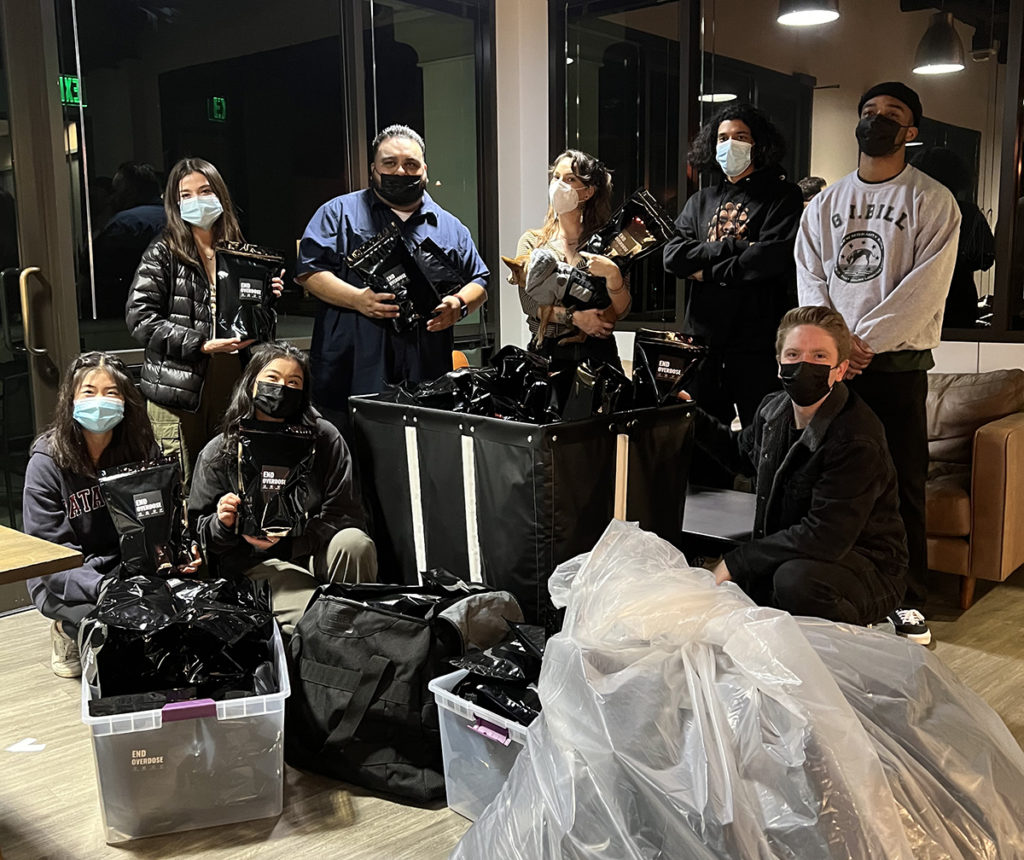 Ward and Uy added that members of Greek life have shown genuine interest in drug overdose response training and wish to learn more about the issue.
Uy, a fourth-year psychobiology and public affairs student, said the ultimate goal is to expand overdose response training and education to the rest of the student body outside of Greek life.
The hope of End Overdose is that people will become more knowledgeable in responding in real time should someone experience an overdose, Krzywicki said.
"There is no worse feeling on the face of the planet than not knowing what to do –than not knowing how to respond to the crisis," he said.
Emma Nguyen, a fourth-year human biology and society student, said handing out flyers on Bruin Walk and answering questions from students have helped more people become aware of the resources and services available to tackle drug overdoses.
Uy added that social media has effectively helped UAEM highlight its work to students.
For members of End Overdose, communication also involves creating an understanding atmosphere and embracing open dialogue with the topic of drug use.
"We're hoping to destigmatize the conversation and get people talking so that they can ask questions and feel comfortable," Uy said.
Krzywicki added that normalization is key to connecting people to the resources that they need. Hearing from peers of similar standing can also help promote open discussion on topics such as drug use, which served as another motivation for End Overdose to team up with a college campus, he said.
The End Overdose and UCLA UAEM collaboration has also drawn attention from people hoping to improve access to response training and resources to prevent drug overdoses at other campuses as well, Uy said.
Ward added that pharmaceutical companies also need to be held accountable for their failure to protect people from addiction.
The End Overdose and UCLA UAEM collaboration is an example of how student-driven efforts can become beacons of success and optimism, especially for younger generations, Krzywicki said.
"If you start in the colleges and give a voice to the people that are going to inherit the world, … you're going to create the world that you want," he said.