The Quad: Considering harms, social positives associated with Greek life in college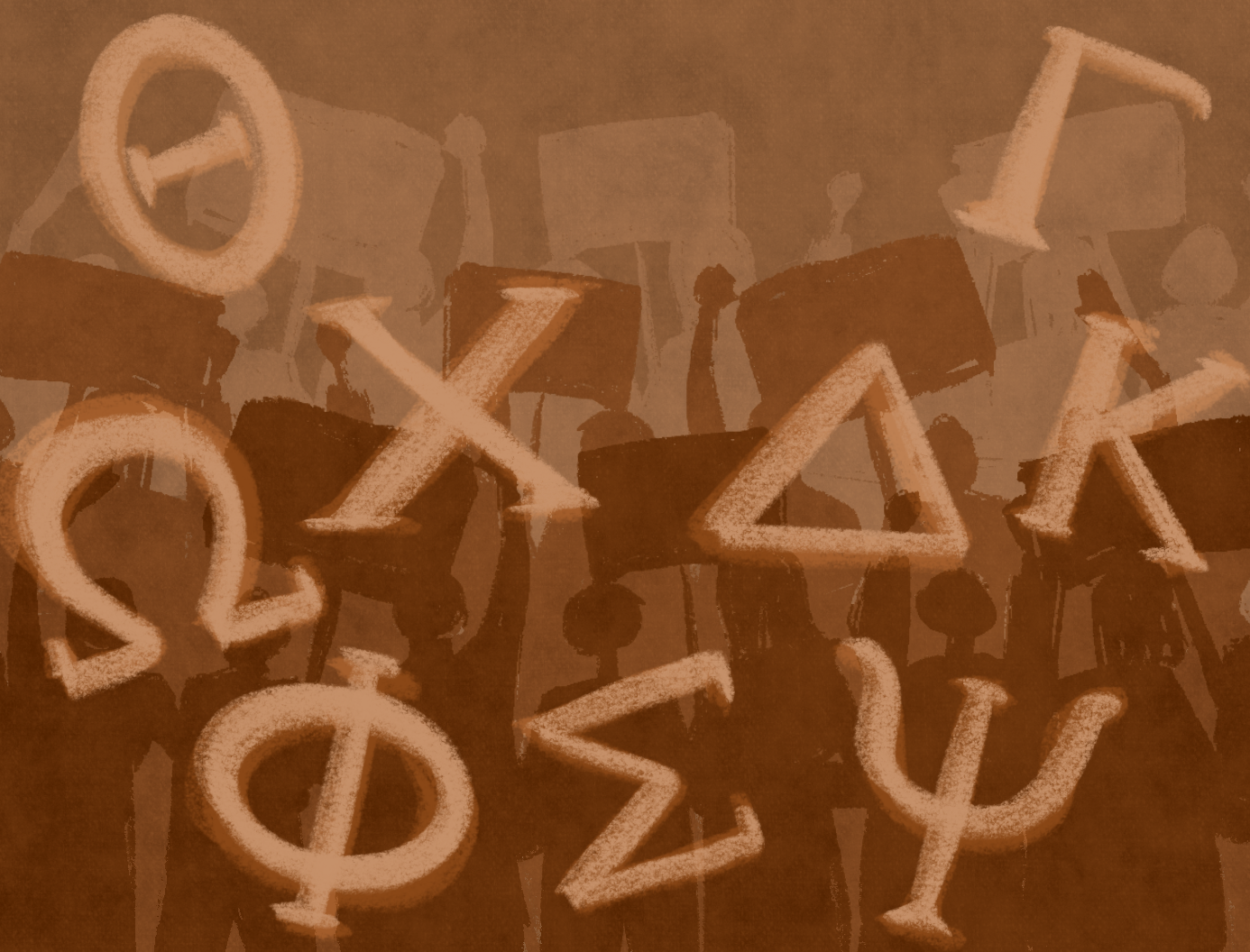 (Katelyn Dang/Illustrations director)
Editor's note: This article contains mentions of sexual assault that may be disturbing to some readers.
Music, drinking and dancing – these words encapsulate the Greek life that many Bruins have come to witness and characterize as the quintessential college experience.
However, while much of Greek life boasts an environment where one can network and socialize, the normalization of party culture among many of these organizations has contributed to infamous headlines within various colleges.
According to a Los Angeles Times article, USC received six reports of drugging at fraternity Sigma Nu in September with one report including sexual assault. Consequently, USC fraternity row was flooded with protesters carrying signs that reprimanded fraternities' growing sexism and dangerous environment.
This incident is reflective of similar patterns commonly associated with fraternity culture, even at UCLA. According to a HuffPost article, accusations against a UCLA fraternity surfaced after members hosted a "Kanye Western" party with alleged blackface and "gold digger" themes in October 2015.
Sachi Sengupta, a second-year neuroscience student, said she takes extra precautions when entering the party scene.
"I will always take a group of friends if I go to frat row or anywhere near that area to go to a party or something, just because in the past there have been a lot of assaults that have occurred on UCLA's campus," Sengupta said.
Bella Garcia, a second-year English student, said the administration can do more to increase safety measures.
"I guess what the school can do is just keep frats more accountable for stuff like that and maybe have a way that a lot of the victims can record and report (crime) to someone," Garcia said.
Many colleges in America have taken steps to curb incidences and the influence of fraternities on campus culture, including banning Greek life as a whole. According to Vox News, Greek life has officially been suspended at universities such as Swarthmore College, Williams College and Colby College.
USC recently announced new protocols for the resumption of social events, such as the presence of guards on staircases and in front of room doors. However, the general response to the new safety rules has been skepticism, given that the extra security does not target the underlying misogyny of frat culture, according to The Guardian.
"I think a lot of the frats need to be taught about sexual assault," Sengupta said. "Because a lot of the times they don't realize. It's just not in their head."
On the other hand, advocates argue that abolition takes away from the Greek life culture many people enjoy. According to an article by The Hechinger Report, Greek life can give students a sense of community, help them make connections and ease the college experience.
Peter Jivotovski, a second-year music history and industry student, said fraternities can help people get closer and feel at home within a large college campus.
"I think there is a good sense of the community that comes from them. People definitely get a lot closer to the people they meet, and they form a lot of new social connections," Jivotovski said.
As the nation's top-ranking public university, some Bruins feel that UCLA would benefit from reforming its system to help students better enjoy Greek life culture and feel safe within its communities.
Linda Thao, a third-year psychobiology student, said fraternities make it easier for students to find friends and build their social circle, but the culture is something that pushes people away from acquiring these benefits.
"You do get to build friendships, and it's easier to build up because now you have a cohort to do it with. But I think some of the drawbacks is they do have a toxic culture," Thao said.
Some fraternities are notorious for their harsh hazing process that may discourage people from joining Greek life. Students may be expected to be a part of pranks, drinking games or public stunts as a recruitment ritual. According to a study by the University of Maine, 73% of fraternity members experience hazing.
For many Bruins, a safer frat row would mean a much safer UCLA.
"You obviously don't want it to happen to yourself," Sengupta said. "So you take the proper precautions like pepper spray, taking group of friends, sharing your location, what not. But even then, a lot of the times it still might occur, which is quite the injustice."