UCLA men's volleyball sweeps home series against Grand Canyon University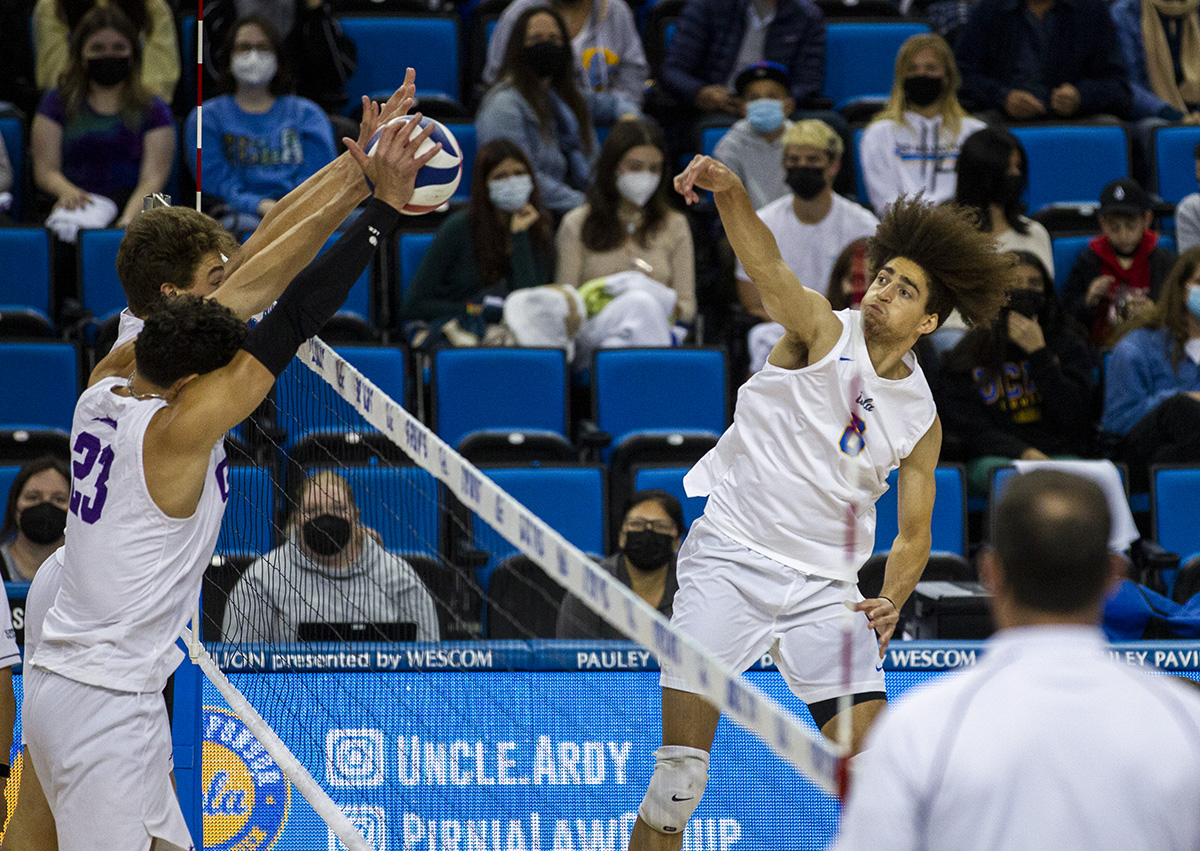 Redshirt junior Kevin Kobrine goes up for an attack against No. 8 Grand Canyon on Friday. Kobrine paced No. 1 UCLA men's volleyball with 14 kills in the victory. (Joseph Jimenez/Daily Bruin)
men's volleyball
---
| | |
| --- | --- |
| No. 8 Grand Canyon | 0 |
| No. 1 UCLA | 3 |
The Bruins swept the Antelopes for the second time in as many days.
No. 1 UCLA men's volleyball (12-2, 4-0 MPSF) defeated No. 8 Grand Canyon (9-8, 3-3) for the second night in a row at Pauley Pavilion on Friday night. The series sweep marked the Bruins' last home contests of March before a five-match road trip.
The blue and gold started off with two straight points from redshirt junior opposite Kevin Kobrine. With one service error, Kobrine led the Bruins with a .889 hitting percentage and eight kills in the first set alone.
"He played really well tonight," coach John Speraw said.
Kobrine, who made his second consecutive start at opposite, finished with 23 kills in the series – his most of any two-match stretch this season.
UCLA won the first set 25-18, the largest single-set margin of victory Friday.
Kobrine said the Bruins' first-set performance set up the victory in ensuing frames.
"Our philosophy was, 'Go out hard, play hard in the beginning and try to shut them down'," Kobrine said. "We did that. We went out, played hard, destroyed them in the first set and that kind of carried our momentum to the end."
The Bruins couldn't close out the Antelopes as quickly in the second set, but Kobrine kept up his performance with a service ace and a pancake receive midway through the frame en route to a 25-20 victory.
Starting alongside Kobrine was redshirt sophomore middle blocker Merrick McHenry. McHenry maintained a hitting percentage of 1.000 for nearly two sets, tallying two kills in the first set and three in the second.
The redshirt sophomore middle blocker said he studied his opponent's tendencies in the film room.
"I did a lot of preparation that helped me a lot tonight, and also just having Miles – he put me in a lot of great positions," McHenry said. "Having the passers that we have, great passes and great sets, honestly helps me put the ball away."
Grand Canyon out-served UCLA with five aces at the line, but Speraw said his team's passing handled the pressure well, mentioning sophomore outside hitter Ethan Champlin, junior outside hitter Alex Knight and redshirt senior libero Cole Pender.
"We put a good passing lineup," said Speraw. "Champ and Knight and Pender, those are three really good passers, and so I have a lot of trust in their ability to handle some really tough serves."
After alternating between Pender and freshman Matthew Aziz for four consecutive matches, Speraw returned to the senior to fill the sole libero role during the series against the Antelopes.
A block assist from McHenry – one of his five for the match – sealed the second period. McHenry said his favorite part of being a middle blocker is being able to block the ball, with his set winning block giving him a confidence boost.
"I love blocking the ball – it's like my favorite part about being a middle," McHenry said. "Being able to do that and finish off the set and kind of bring that momentum into the third was super nice."
After playing to five total ties across the first two sets, the third period saw 13 such moments. Kobrine and McHenry churned out three and two kills, respectively, to close out the match with a 25-21 victory.