Opinion: Ketanji Brown Jackson would bring important new perspectives to Supreme Court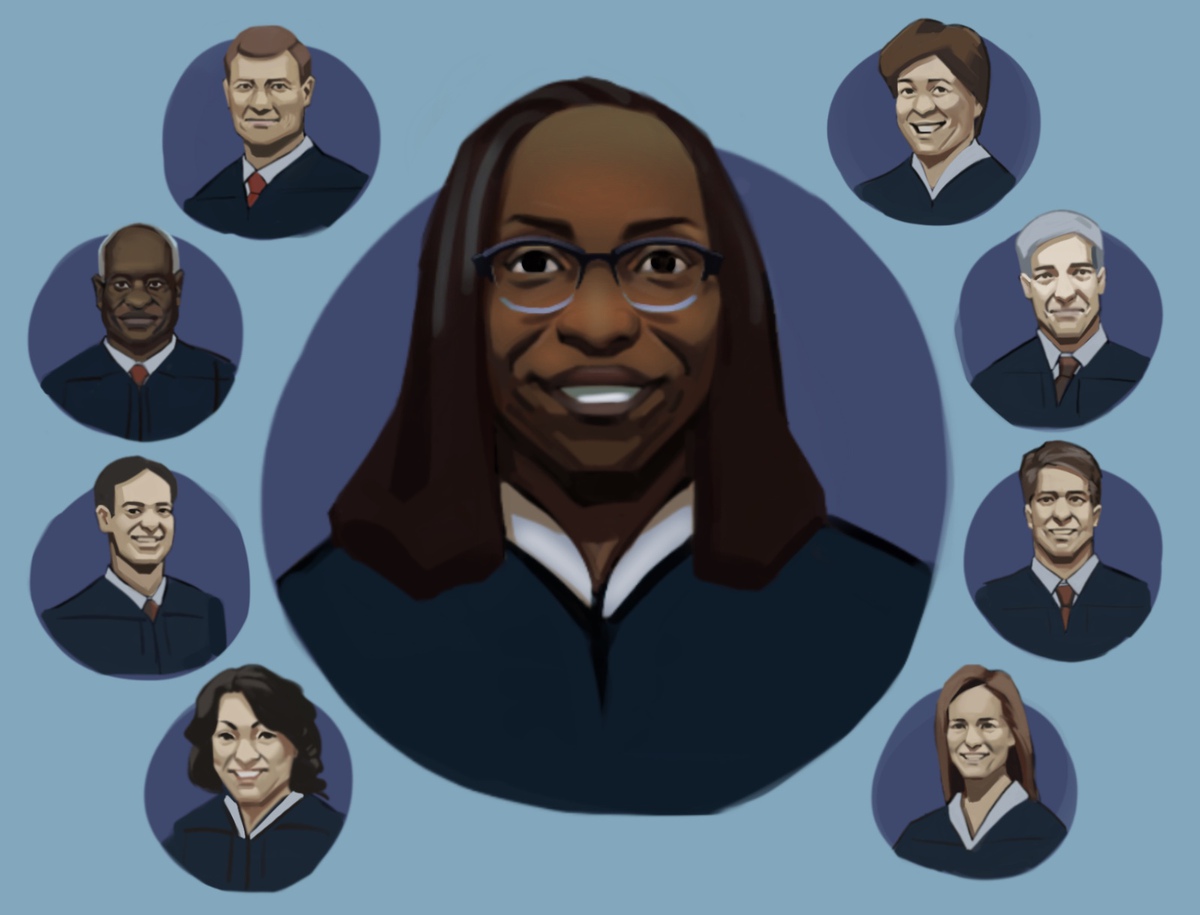 (Christopher Kha/Daily Bruin)
Correction: The original version of this article incorrectly stated that there is currently a vacancy on the Supreme Court. In fact, there's an expected vacancy on the Supreme Court.
This post was updated March 6 at 9:11 p.m.
There's an expected vacancy on the Supreme Court.
For the first time in the court's nearly 250-year history, there is a historic opportunity to have that vacancy filled by a Black woman.
Justice Stephen Breyer recently announced his decision to step down from the Supreme Court. The appointment of a replacement justice is a significant and complex process, but it starts with the sitting president's nomination and ends with the Senate's confirmation through a simple majority vote.
On Feb. 25, President Joe Biden made good on his pledge to nominate a Black woman for the Supreme Court when he selected Ketanji Brown Jackson. Now, it is crucial for Congress to confirm the nomination of Jackson, who would be the first Black woman on the Supreme Court.
As the first potential justice to have been a federal public defender, Jackson will bring a fresh perspective, which the court desperately needs. Most lawyers who hope to one day become judges typically serve as prosecutors; Jackson worked on the opposite side of the spectrum. As an assistant public defender for more than two years, Jackson defended Guantanamo Bay detainees along with other defendants in criminal cases.
Jackson also has experience adjudicating cases. In addition to being a graduate of Harvard Law School, Jackson is a former clerk for Breyer himself and a current judge on the United States Court of Appeals for the District of Columbia Circuit. Her past record has shown her commitment to equality for underrepresented communities. In one of her most notable cases, Jackson temporarily blocked the expansion of expedited deportations of undocumented immigrants, demonstrating empathy for people and their lived experiences.
If Jackson is appointed, she would bring a new set of experiences to the court that can help make the highest judicial court in the land more just.
Olivia Warren, who clerked for Jackson, said in an interview with Slate Magazine that all opinions Jackson writes can be read and understood by anyone. She believes that, in part, Jackson's intention to make her opinions accessible is rooted in her experience in public service, which is a quality that Jackson will transfer to the Supreme Court.
Since the Supreme Court's creation, the U.S. has become one of the most racially and socially diverse nations in the world. However, out of 115 total Supreme Court justices, 108 have been white men, indicating just 6% of all justices have been a woman, a person of color or both. The composition of the Supreme Court should reflect the people it makes decisions for – not just the nation's most privileged group.
"Our country is filled with a lot of people with a lot of different experiences," said Jasmine Robinson, a second-year law student and co-chair of the Womxn Of Color Collective at UCLA. "I do think that a Black woman would bring a very different perspective to the law and to the court than a white man. (White men have) had the power for centuries. … They can shape the law in the ways that suit them, and I think that it has definitely come at a price and a cost to a lot of individuals and a lot of people's rights."
Having Jackson on the court would be an inspiration to young women, especially young Black women, across America.
A Washington Post study conducted from 2016 to 2018 on 997 American teenagers between the ages of 15 and 18 demonstrates the importance of this so-called "role model effect." In 2016, 37% of respondents who identified as Democratic-leaning girls believed in the political system's ability to help people. In 2017, the number fell by 20 percentage points, and in 2018, it increased to 30%. The study's authors attributed this rebound of belief in the U.S. political system to the historic number of women who ran for office in 2018.
Seeing someone like themselves in a position of power can deeply affect the way people perceive themselves and their communities.
"It's always good when you can see yourself reflected in the times and the zeitgeist," said Shannon Morton, founder of Black Women Lead, a Los Angeles-based nonprofit. "For young people to see … women, progressive and of color (in power), it's just inspiring, don't you think?"
Second-year law student Charles Watkins, who is a member of the Black Law Students Association, said that by being surrounded by powerful Black women his whole life, he has noticed these women work hard but oftentimes that work goes unnoticed. This can be especially true for those in the legal field, he added.
"It's just going to be very rewarding to finally see a Black woman getting recognized for something that she has done," Watkins said. "A lot of times, women are second-guessed for their positions, not put in the same rooms as men. … So I'm always going to be happy to see that a Black woman is going to be able to get that kind of recognition."
Some politicians have disapproved of Biden's decision to consider his nominee's race and gender in the selection process, arguing that he may overlook candidates who do not happen to be Black women.
Although diversity for the sake of diversity is counterproductive, we cannot ignore social characteristics and the important consequences they have. In a country steeped in systemic racism, representation in the highest court in the land is crucial to ensuring the voices, stories and lived experiences of all people are heard.
Selecting Jackson as the Supreme Court's first Black woman justice is an important step in the country's road to racial equity. There has been a considerable lack of diversity in the court for centuries, with it yet to see an Asian, Pacific Islander or Native American justice. Given America's image as a melting pot of cultures and identities, it is long overdue for the Supreme Court to diversify.
2022 is the perfect time to do exactly that.
Wang is the 2023-2024 Enterprise editor. Previously, she was the 2022-2023 Opinion editor, and prior to that, an assistant Opinion editor. She is Quad staff and also contributes to Arts, News, Sports, Photo and Video.
Wang is the 2023-2024 Enterprise editor. Previously, she was the 2022-2023 Opinion editor, and prior to that, an assistant Opinion editor. She is Quad staff and also contributes to Arts, News, Sports, Photo and Video.