Women's golf takes silver at The Gold Rush but trails rival USC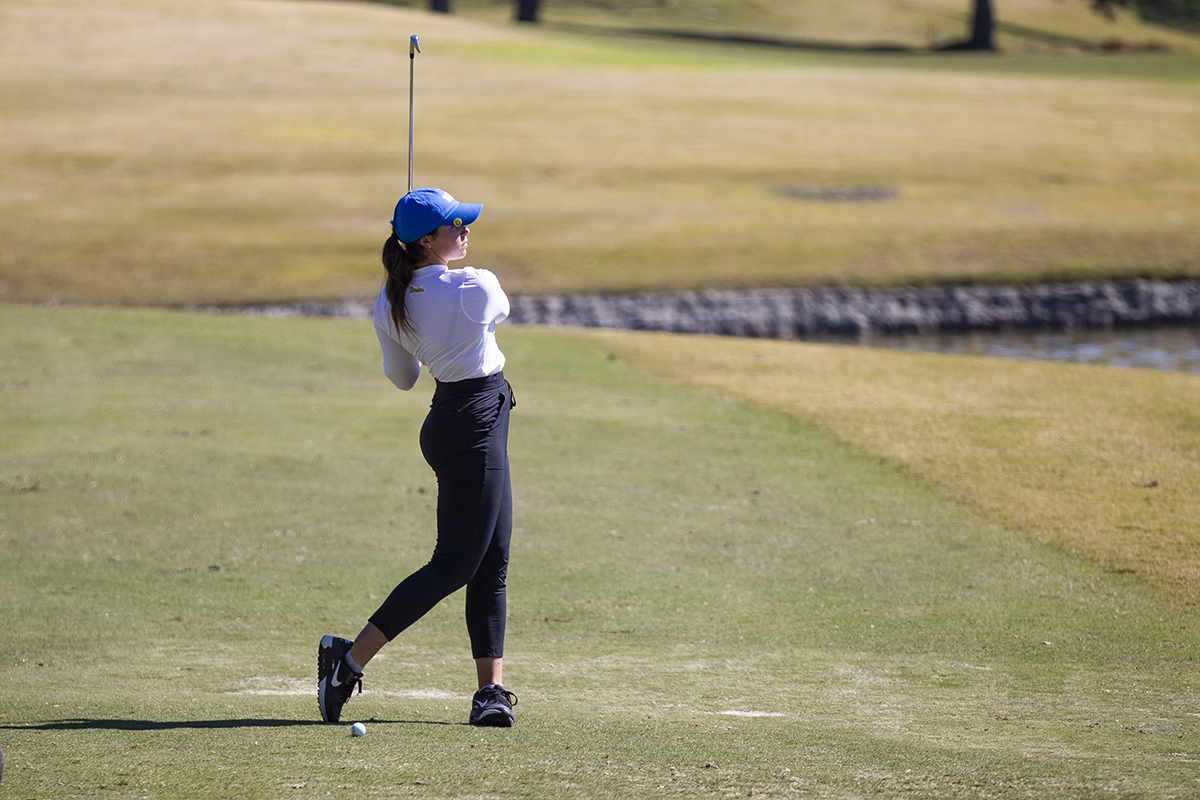 Redshirt freshman Alessia Nobilio led No. 15 UCLA women's golf alongside freshman Caroline Canales at The Gold Rush Tournament, with both posting a 5-over 221 en route to a tie for fifth place. (Joseph Jimenez/Daily Bruin)
WOMEN'S GOLF
The Gold Rush
2nd place (+35, 899)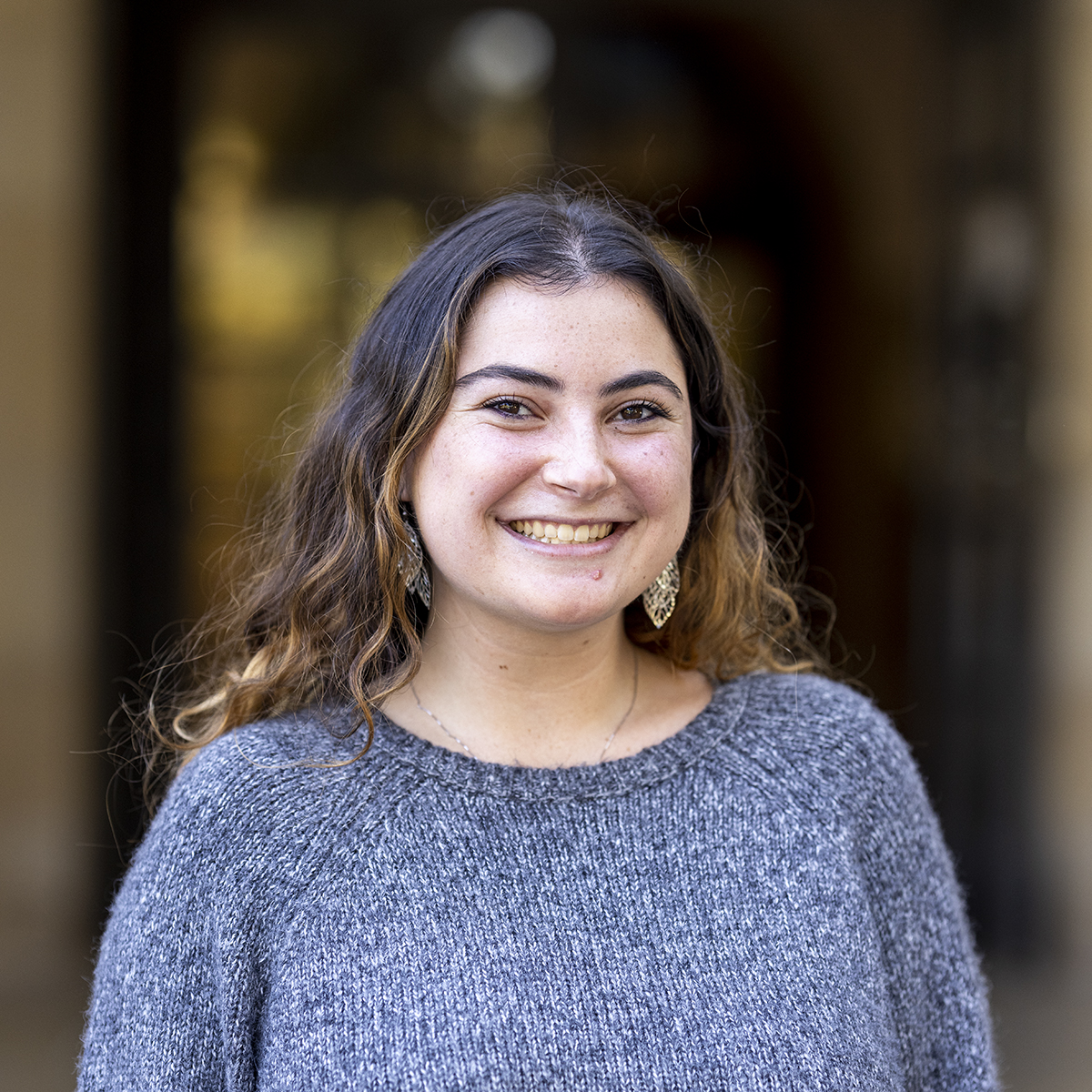 SEAL BEACH — Thirty-six miles down Interstate 405, the Bruins struck silver.
No. 15 UCLA women's golf took home second place at The Gold Rush in Seal Beach, California, on Tuesday. The Bruins finished the two-day tournament with a 35-over 899 and were led by freshman Caroline Canales and redshirt freshman Alessia Nobilio, who both ended in a tie for fifth individually with a pair of 5-over 221s.
Despite the second-place team performance, UCLA finished 36 strokes behind its crosstown rival, No. 10 USC, in a field of otherwise unranked opponents.
Coach Carrie Forsyth said the discrepancy could be attributed to her team's struggles with its short game.
"Our short games … relative to what we saw from USC today was greatly lacking," Forsyth said. "Ball-striking wise, I think we hit it almost as good as they did. But we didn't back it up when we missed greens getting up and down or making those birdie putts."
With nine players taking the course Monday and Tuesday, Forsyth said the competition's proximity to Westwood allowed the Bruins to send nearly their entire roster to the Old Ranch Country Club to compete. The Gold Rush marks the first time this season that UCLA has sent more than six players to a tournament.
Forsyth said the competitive environment was great practice for the players who don't always get the chance to travel to tournaments.
"I really wanted to give some of our girls who haven't been able to travel as much an opportunity to play in a tournament because the tournament environment is so much different than even what we can replicate in team qualifying," Forsyth said. "I just think it's really important for their development as a player to give them a motivation to practice and a reason versus just trying to make the traveling team."
The Bruins played two rounds the first day of competition, finishing Monday in third place. Canales and Nobilio each posted a 4-over 148 through two rounds and held a tie for sixth, with redshirt sophomore Ty Akabane's 8-over 152 landing her tied for 14th. Junior Yuki Yoshihara's 12-over 156 and freshman Zoe Antoinette Campos' 16-over 160 rounded out the team lineup for day one.
Despite their near-home-turf advantage, the course proved difficult for the Bruins to adjust to on the first day, according to Nobilio.
"It wasn't a long course, and we had a lot of short irons to the green, Nobilio said. "But the fact that the greens were so firm, and while we're putting, the greens were so fast and make everything very, very difficult."
Among the individuals competing, senior Simar Singh, junior Annabel Wilson and junior Emilie Paltrinieri all scored 8-over 152s through the first two rounds to land them in a tie for 14th alongside Akabane. Senior Phoebe Yue – making her first appearance of the season – finished the day tied for 45th place with the same day-one score as Campos.
Tuesday, however, marked the Bruins' best round of The Gold Rush, with the team making a 7-over 295. Canales and Nobilio moved up one spot each by scoring equal rounds of 1-over 73.
Canales' previous career-best placing was a tie for 10th at The Match in the Desert in January, but the freshman said rankings don't always reflect the whole picture.
"I felt like I played better in Arizona, where I got the tie for 10th," Canales said. "That tournament had a stronger field, so I think that kind of evens the two results out. … This was a good grind but definitely need to make improvements going forward."
Akabane landed a 2-over 74 on Tuesday, with her scoring trending downward over each round of the tournament. The redshirt sophomore left Seal Beach, California, with her third top-15 finish of the season after leading the team in birdies.
Yoshihara, in her second tournament appearance of the season, ended The Gold Rush in the top half of the rankings courtesy of a 17-over 233. Campos' best round of the tournament, a 3-over 75, elevated the freshman to a tie for 38th-place.
Forsyth said that, with UCLA's intramural fields under construction this year, access to practice facilities has been limited.
"We have to be good around the greens, and I think part of it has just been our limitations with some of our facilities lately," Forsyth said. "We just haven't been getting enough reps in. … We just got our facility on campus back, so that will really help."
Paltrinieri, Singh and Wilson all fell down the leaderboard Tuesday. Yue's 5-over 77 marked her best round of the tournament and pushed her up three places on the final day of The Gold Rush.
Although this was the Bruins' third second-place team finish of the season, their 36-stroke margin behind the title winners was the highest of any of their runner-up claims.
Forsyth said the Old Ranch Country Club exposed weaknesses in the team, both physically and mentally.
"We need to grow, and sometimes you got to get beat up a little bit before you actually … can embrace that," Forsyth said.