UCLA women's water polo works on defensive consistency after loss to Stanford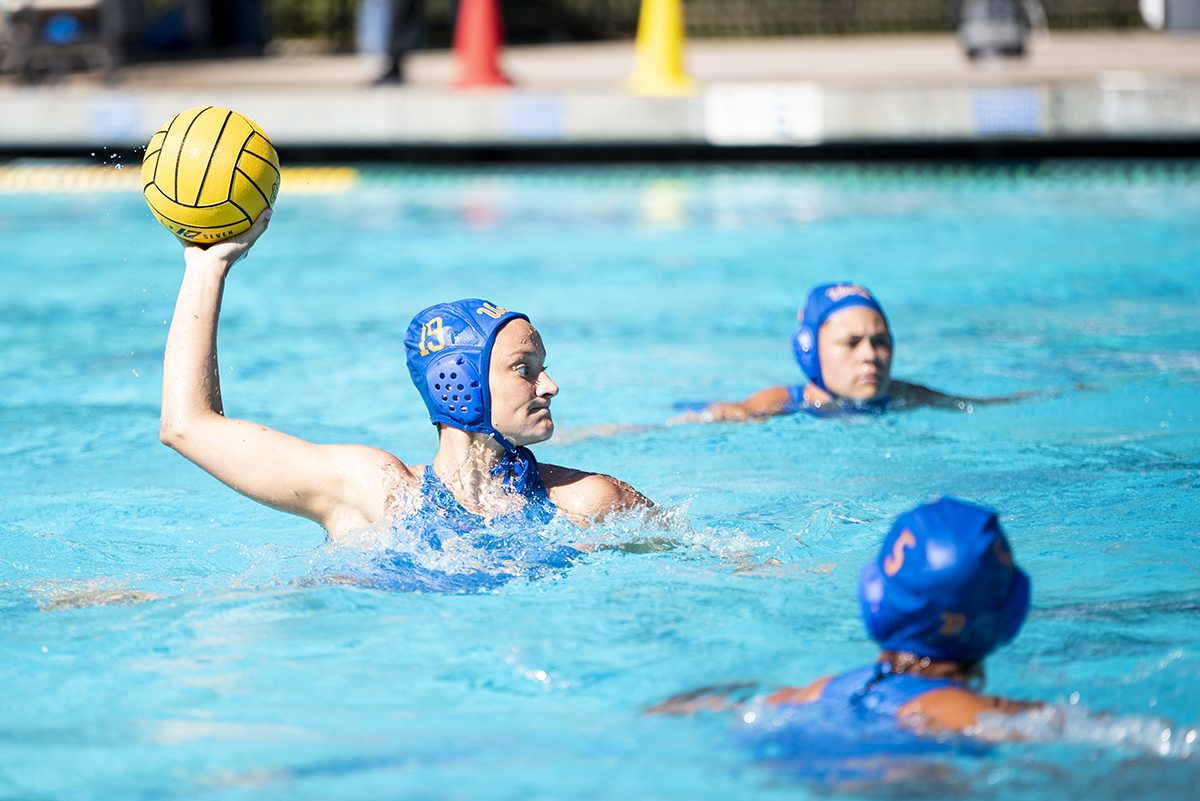 No. 2 UCLA women's water polo senior utility Katrina Drake eyes the pool. Drake said the Bruins need to improve on the defensive side of the pool. (Jeremy Chen/Daily Bruin staff)
The Bruins are a defensive minded team, according to coach Adam Wright.
"A staple of programs that I coach is our defense," Wright said.
No. 2 UCLA women's water polo (18-1, 2-0 MPSF) was riding an 18-game winning streak, its longest season-opening winning streak since 2008, before losing to No. 1 Stanford (11-1) in the finals of the Barbara Kalbus Invitational on Sunday.
The Bruins led for most of the contest before allowing the Cardinal to score six of the final seven goals. Stanford's run in the final minutes of the matchup allowed it to make a five-point turnaround and ultimately down UCLA by three points.
Senior attacker Val Ayala said the Bruins struggled with defensive consistency.
"We need to nail down the defensive side of the ball, which was a problem in the second half," Ayala said. "Our defense is fueled by our (offensive) attack, and we let their defense force us to make decisions that were not great, leading to counterattacks."
In addition to conceding a season high in goals in the contest, UCLA also tallied 17 exclusions. The Bruins gave up goals in both man-up and man-down situations over the course of the matchup, allowing the Cardinal to shoot 53.8% on power-play opportunities.
The 17 ejections represented a season high and nearly doubled UCLA's season average of 8.4 exclusions per game coming into the game.
Senior utility Katrina Drake said the team's defense is usually a strength, but it slipped against Stanford.
"(Seventeen ejections) is something we never want to have happen again," Drake said. "It's a lot of exclusions, and we as a team and a program really pride ourselves on defense."
The Cardinal capitalized on the Bruins' ejections, scoring nine of their 12 points on seven converted power plays and two penalty goals.
Drake said ejections are inevitable, but game awareness can help the team limit the total number of exclusions it is called for.
"There are times when you need to take an exclusion to prevent a goal," Drake said. "But 17, plus the four penalties, is something that we need to recognize. If that's the way the referees are calling the game, then adapt and try to make changes in the moment, so things like that don't happen throughout the game."
Over the course of the matchup, 31 ejections and five penalties were called, and two players from each team fouled out. While the Cardinal found success in six-on-five opportunities, UCLA could not match Stanford on the power play.
The Bruins converted 2-of-13 power-play opportunities, with seven goals coming at even strength.
Wright said the team struggled to capitalize on man-up scenarios.
"There are reasons behind missing or not catching a ball," Wright said. "There were three or four six-on-fives in a row where we were wide open. If you want to be the best, you have to put those down. … This group has to learn to finish under tough circumstances."
UCLA is next scheduled to match up with Stanford on March 26 before potentially facing off again in the postseason. While Wright said while the road to title No. 8 for the Bruins will be long, he has faith in his team.
"It all comes back to the little things," Wright said. "Can we win when we are in a tough environment? Can we stay strong and keep going?"
Lizar is currently a Sports contributor on the women's water polo beat. He was previously a contributor on the men's water polo beat.
Lizar is currently a Sports contributor on the women's water polo beat. He was previously a contributor on the men's water polo beat.