UCLA men's tennis falls to rival USC in third shutout loss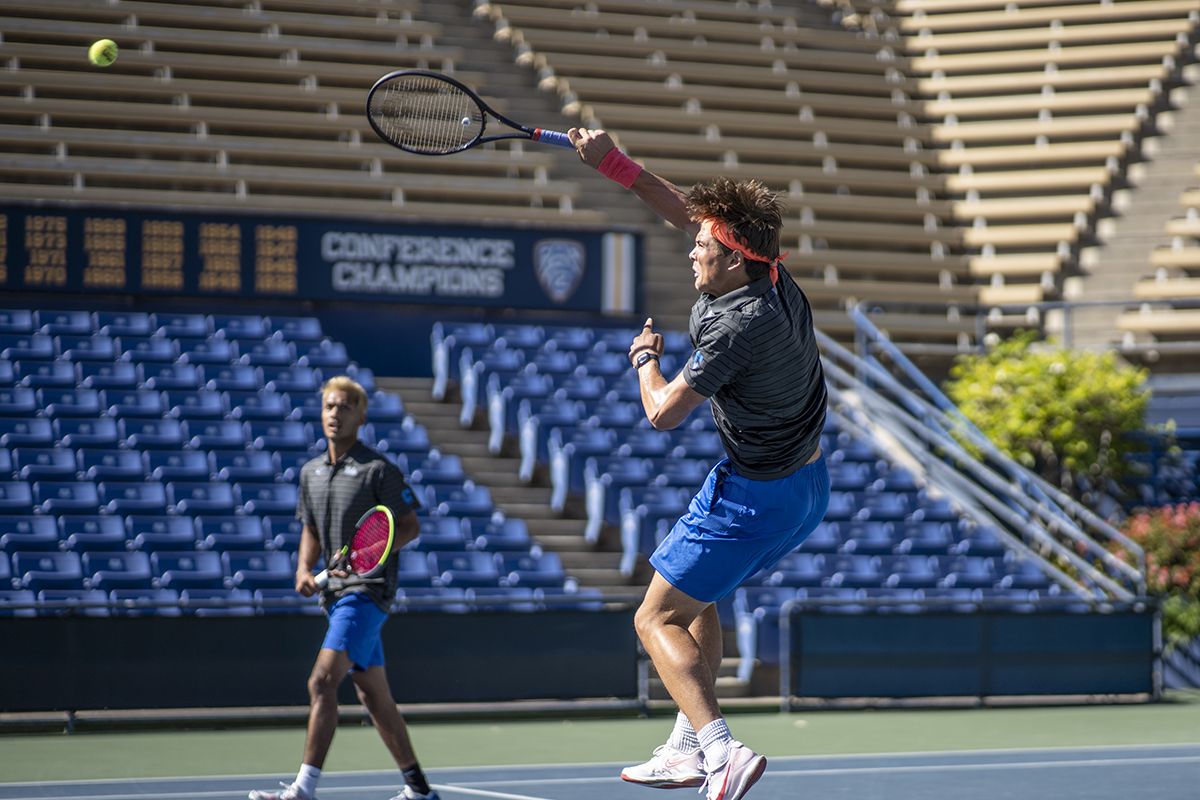 UCLA men's tennis senior Patrick Zahraj and redshirt senior Bryce Pereira play together in a doubles match against UC Santa Barbara on Feb 18. Zahraj and Pereira defeated the No. 10 ranked doubles team in USC's Stefan Dostanic and Bradley Frye during the Bruins' loss to the Trojans on Tuesday. (Patrick Shao/Daily Bruin)
The Bruins failed to register a point against their crosstown rival in a nonconference match.
UCLA men's tennis (4-5) fell to No. 10 USC (9-3) by a score of 4-0 on Tuesday at Marks Stadium. The loss marked the Bruins' third shutout loss of the season.
Despite the final score, the Bruins started off the match with a win in doubles. Redshirt senior Bryce Pereira and senior Patrick Zahraj scored a 6-1 victory on court one over the No. 10 ranked doubles pairing of Stefan Dostanic and Bradley Frye.
"Our games really compliment each other and we are great friends off the court," Pereira said. "We played as clean and solid as we could, stayed positive with high energy and just helped each other up."
The two remaining UCLA doubles pairings kept the score within two games on their courts but ultimately faltered near the end of their matches to surrender the doubles point to USC.
Coach Billy Martin said the court three pairing of freshmen Karl Lee and Giacomo Revelli, who were playing in their sixth match together, put themselves in a good position to win the match but were unable to convert their break-point chances.
"It was a little inexperience from our freshman that was the separator," Martin said. "The spotlight was on them, and I felt them lose a little bit of confidence, (so) they had a minute of self-doubt."
Martin added that playing in a hostile environment at USC is always a big adjustment for freshmen and requires a steep learning curve.
Freshman Alexander Hoogmartens said the college tennis environment, particularly playing in a rivalry match, is drastically different from his experience playing junior tournaments throughout Europe.
"The crowd is a little more intense and louder than what I'm used to," Hoogmartens said. "Sometimes it's crazy, … they try to get the best of you and root against you, not just root for their own team."
The Bruins went into singles play needing to win four out of six matches to beat the Trojans, but with Zahraj retiring from his match on court three with a persistent injury, the Trojans inched closer to victory.
Junior Drew Baird managed to keep it close after early deficits in both sets on court one, but could not overcome No. 4 Stefan Dostanic in a 6-3, 6-4 loss.
UCLA dropped all but one first set, with Hoogmartens winning his by the score of 7-6 on court two.
"The courts are different from UCLA, and the windy conditions made it tough," Hoogmartens said. "I tried to make a lot of balls today and fight my way through it but managing different courts and conditions is a part of tennis, so it was a huge learning experience."
Hoogmartens led 4-2 in the second set before the match was decided on court five, as fellow freshman Lee lost in straight sets to Ryder Jackson by the score of 7-5, 6-4.
Despite the defeat, UCLA's team co-captain Pereira said the high-pressure match will be important leading into conference play.
"We got some tough matches coming up these next few weeks so to have this one to start is a good tease," Pereira said. "The guys get to reset after this one, but it keeps the competitive juices flowing."
The Bruins will have the chance to bounce back in another road match against San Diego on Monday.
Diamantopoulos is currently a Sports contributor on the men's tennis beat. He was previously a contributor on the beach volleyball beat.
Diamantopoulos is currently a Sports contributor on the men's tennis beat. He was previously a contributor on the beach volleyball beat.