UCLA softball continues run of invitationals with Judi Garman Classic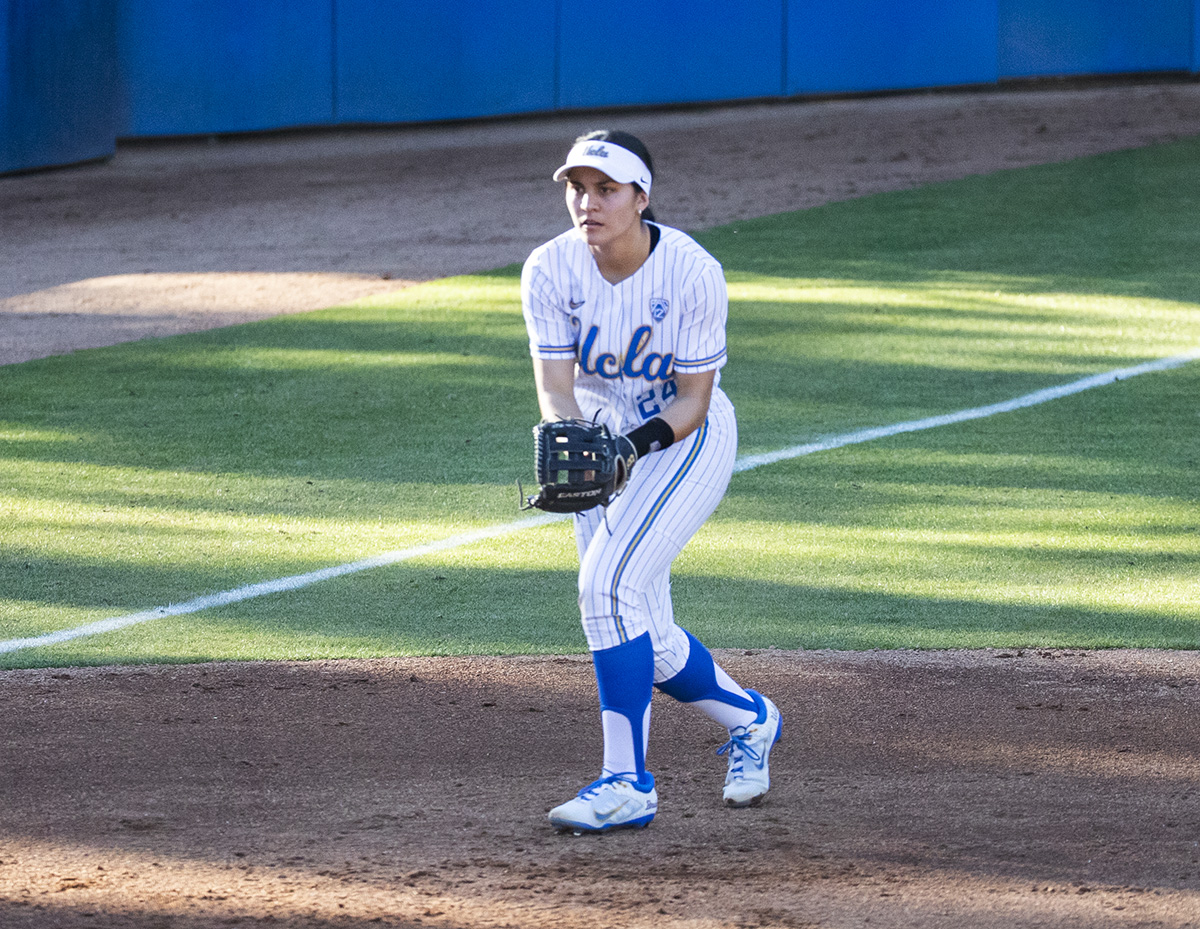 Sophomore infielder Thessa Malau'ulu assumes a defensive stance in UCLA softball's matchup against UC San Diego on Feb. 11. Malau'ulu has seven hits on the season while primarily batting eighth in the Bruins' order. (Kaiya Pomeroy-Tso/Daily Bruin senior staff)
Softball
---
Cal Poly
Thursday, 10 a.m.
Anderson Family Field (Fullerton, California)
No TV info
---
Fresno State
Thursday, 12:30 p.m.
Anderson Family Field
No TV info
---
Kansas
Friday, 2:30 p.m.
Anderson Family Field
No TV info
---
Weber State
Friday, 5 p.m.
Anderson Family Field
No TV info
---
Texas A&M
Saturday, 5 p.m.
Anderson Family Field
No TV info
The Bruins have a short trip south for another five-game slate.
No. 5 UCLA softball (12-3) will hit the diamond for five matchups in Fullerton, California, this week in the Judi Garman Classic. The blue and gold will take on Cal Poly (0-10) and Fresno State (1-12) on Thursday before playing Kansas (7-6) and Weber State (13-2) on Friday. UCLA will then close out the tournament against Texas A&M (12-2) on Saturday for its 10th game in nine days.
The Bruins have faced the Mustangs and Bulldogs more than 90 times altogether. The Saturday slate breeds less familiarity, though the blue and gold hold a combined 16-1 record against the Jayhawks and Wildcats. On Sunday, UCLA faces a historically difficult opponent, as its 0.542 win percentage against Texas A&M is sixth-worst among nonconference teams it has played more than three times.
Sophomore infielder Thessa Malau'ulu said the consecutive tournaments to begin the campaign are different from the start to the 2021 season.
"The grind is definitely real," Malau'ulu said. "We're playing five games every weekend as opposed to two or three last year, so we're getting a lot more opportunity to showcase what we have this year than we did last year."
At the Mary Nutter Collegiate Classic in Cathedral City, California, over the weekend, the Bruins showcased their skills by rattling off five straight victories, including two over ranked opponents. UCLA combined small ball and home runs to string together wins, with the 3-0 triumph over Iowa State being its only win without an extra-base hit this season.
Redshirt senior infielder Delanie Wisz said her team's performance speaks to the skill set of her teammates, including redshirt senior infielder Briana Perez.
"Our team is so versatile," Wisz said. "Someone like Perez can hit a home run one at-bat and then lay down a bunt. … It's about finding the right balance between the small ball and hitting home runs."
Malau'ulu – who has hit in the eighth spot for most of the season so far – said she understands her role is to get on base for the top of the order to drive her in.
"Our job is not to be hitting these home runs – our job is to get on base," Malau'ulu said. "So finding any way, whether it be bunt or slap, that's pretty much my job and what I focus on in the box."
So far this year, the sophomore has been driven home five times out of her seven hits, including the deciding run in the victory over Iowa State.
Malau'ulu has also made an impact on the defensive side of the ball this season, making a highlight diving catch on Feb. 19 in an eventual 2-1 win over Texas.
UCLA starts the tournament with a 10 a.m. first pitch against Cal Poly on Thursday.
Farinha is currently a Sports staffer on the softball beat. He was previously a reporter on the women's soccer beat.
Farinha is currently a Sports staffer on the softball beat. He was previously a reporter on the women's soccer beat.