Opinion: California students cannot characterize out-of-state peers with stereotypes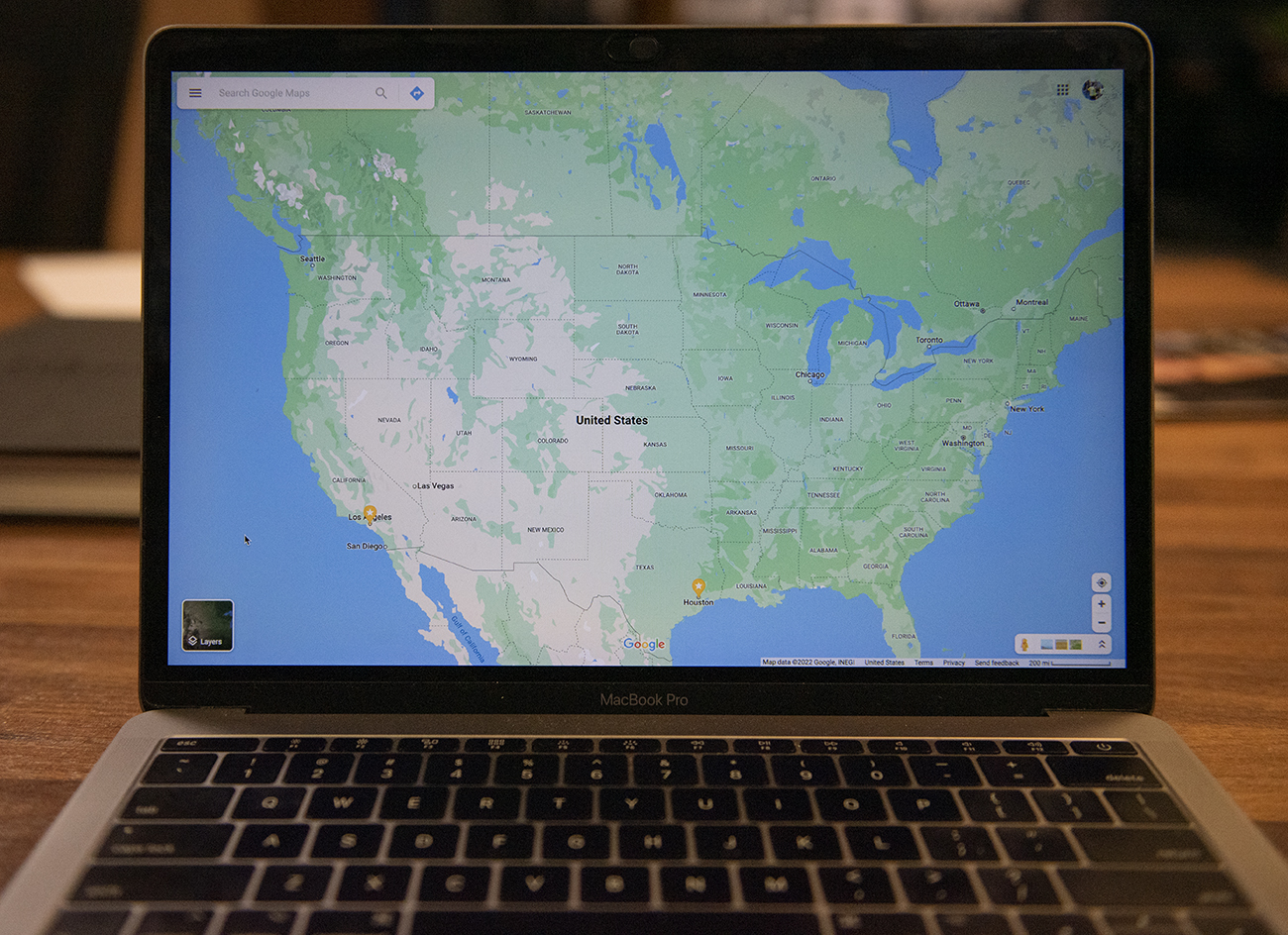 An open laptop shows a photo of a map of the United States. Californians must do more to understand out-of-state students without stereotyping, argues Diego Rivera. (Joseph Jimenez/Daily Bruin)
This post was updated March 2 at 8:35 p.m.
Five months into living in California, I'm proud to say that I can finally find San Jose on a map.
Unfortunately, I'm not having as much luck finding Californians who put effort into understanding other states beyond the surface.
For the majority of my life, I lived in an affluent suburb of Houston, where I was among only 6.8% of people who were Asian. My decision to attend UCLA was largely motivated by the fact that Asian and Pacific Islanders make up the largest percentage of the undergraduate student body. At a time when I feared for my safety as an Asian person, the thought of joining a community that shared my experiences brought me comfort.
However, I did not get to experience this change in my first year at UCLA. The school year not only greeted me with a pandemic, but also a winter storm that was disastrous for the many Texans who suffered the consequences of a dead power grid. My household had no electricity for a week, and I remember enrolling for spring classes at a friend's house with power several miles away, then immediately rushing home after learning one of our water pipes had burst from the cold.
Instead of support from those unaffected by the storm, I remember seeing comments online making fun of Texans' hardship because the state elected Republican leadership. I was beyond disappointed to experience similar sentiments at UCLA, hearing remarks rooted in partisan politics that degraded the residents of conservative states, particularly those in the South or Midwest.
I do not aim to victimize myself or other out-of-state students, but I urge Californians to pay more attention to and be more understanding of those from different states, especially red ones. Beyond governments lie regular people who feel the effects of policies like insufficiently regulated power grids and anti-LGBTQ+ legislation.
The negative reaction that Californians, who typically vote blue, may have upon learning someone is from a red state such as Texas is based on assumed differences in political beliefs or stereotyping, said Lynn Vavreck, a professor in the political science department.
"It's a way that people think they understand people's social identities, and then they use that as a shortcut for all sorts of things," Vavreck said. "'Oh, you're from Texas? You must be a conservative Republican.'"
Stereotypes rarely show the entire picture, and some people from a particular region defy that image. Take the South, for example, which was home to over half of the nation's Black population in 2019. The Black community historically votes Democratic, which differs from the common political stereotype of the South.
Moreover, infringement on voting rights such as voter ID laws and gerrymandering runs rampant in Southern states and disproportionately affects Black and Latino populations. It's insensitive to judge Southern areas with high minority populations for their state politics considering there are systemic obstacles in place that prevent underrepresented voices from being heard.
It's better to engage in conversation about one's home state or origin instead of making assumptions. You can never start truly understanding a person until you have a discussion with them.
"The whole point of being on a college campus is the exchange of ideas and … to expand the real estate of your mind," Vavreck said. "If there is ever going to be a time in people's lives to do away with shortcuts and stereotyping, this would be that time."
You don't have to agree with someone politically to care about what happens to them.
Students from out of state vary in ways other than politics as well. Kaili Nguyen, a third-year statistics student, said her experience growing up in Oklahoma – and often being the only Asian girl in her grade – influenced her decision to move to California.
"It definitely motivated my longing to move to California, and LA specifically, to experience a little bit more diversity and get in touch with my culture or people who share similar cultural identities," Nguyen said.
As the second-most ethnically diverse state in the country, as well as having policies that support the LGBTQ+ community, California and, by extension, UCLA, will continue to be safe havens for those who belong to minority groups which are persecuted elsewhere.
"You could go (to) lots of different places in the state (of California) and really feel at home and not (feel) persecuted if you're not a straight white person," said Nellie Kamenitsa-Hale, a third-year public affairs student from the Chicago area.
Of course, not every Californian contributes to these stereotypes, but I, along with other out-of-state students, have met far too many who don't try to understand the people of other states in a complex way.
The least that Bruins could do is learn the stories and backgrounds of their out-of-state peers.
I recognize my own privilege in attending this school as a nonresident. While I lost power during the Texas winter storm of 2021, I still had food in my pantry. While I never contracted COVID-19, other Texans fell victim to flimsy lockdown regulations and were forced to work service jobs throughout the pandemic just to pay the bills. Out-of-state Bruins may not represent everyone in the nation, but UCLA is home to people from all backgrounds and walks of life. Making judgments based on preconceived stereotypes does not help anybody.
The most that I can ask for is for Californians – or anyone in general – to pay more attention to the things that happen outside their bubble. The people close and far from you are diverse and complicated, with their own unique struggles and backgrounds.
I hope you learn more about them.