UCLA men's tennis prepares for nonconference away match against USC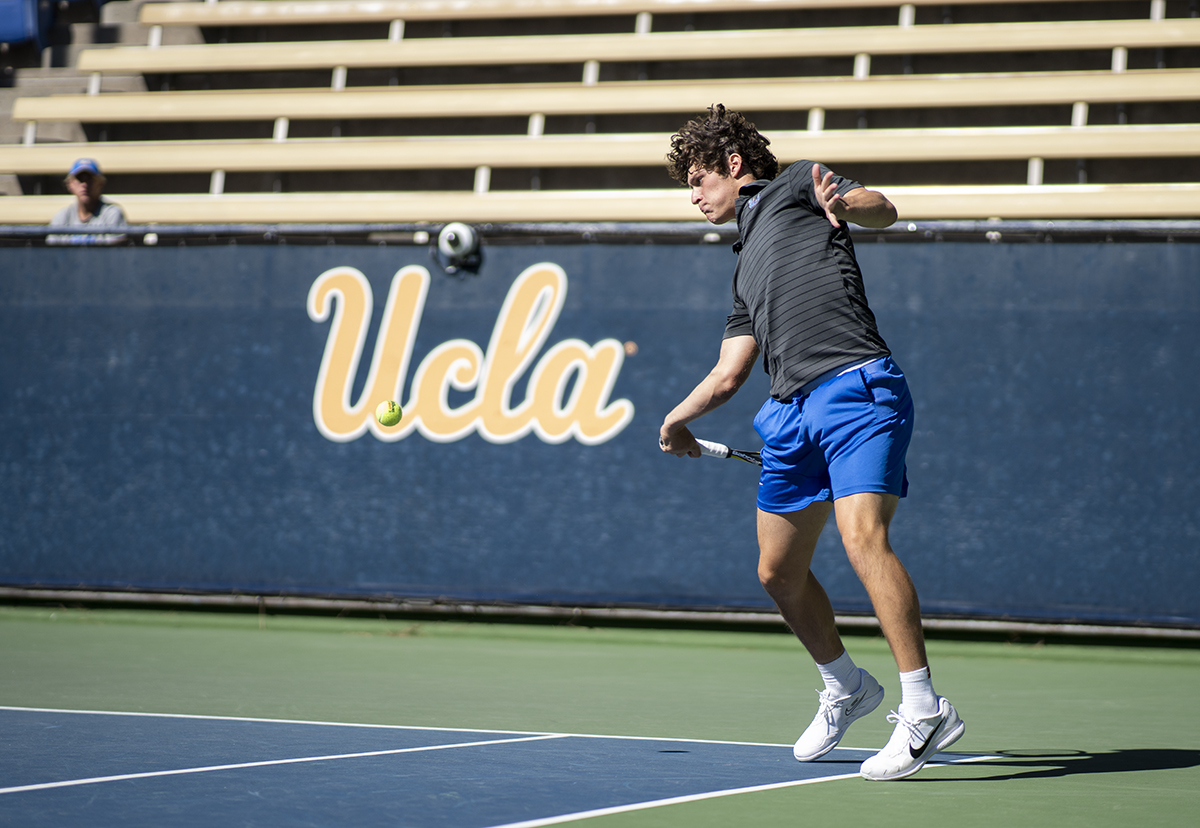 UCLA men's tennis freshman Giacomo Revelli prepares to hit the ball. Revelli holds a 3-3 singles record and will have the opportunity to break .500 in the Bruins' match against USC on Tuesday. (Patrick Shao/Daily Bruin)
Men's tennis
---
No. 5 USC
Tuesday, 3 p.m.
Marks Stadium
No TV info
The Bruins will have a chance to bounce back from a road loss with an away match against their crosstown rivals.
No. 47 UCLA men's tennis (4-4) will take on No. 5 USC (8-3) in a nonconference matchup at the David X. Marks Tennis Stadium on Tuesday. The match comes after both teams endured a loss to Pepperdine on the road over the weekend, putting the Bruins' two-match winning streak to an end.
Coach Billy Martin said the match against the Trojans will be a good opportunity for his team to gain experience against top-ranked opposition.
"I don't think we have a lot to lose," Martin said. "We are not ranked high right now and we don't deserve to be ranked high. But we've got everything to win, nothing to lose in my opinion, so we can go out and play a little bit more relaxed."
The Bruins hold an 84-53 record against the Trojans dating back to 1967 but dropped all three of their matches against their crosstown rivals last season. UCLA has not recorded a win against USC since April 2019 and has not picked up a victory at the David X. Marks Tennis Stadium since April 2018.
The Bruins will be matched up against a top-five Trojans team that features the No. 10 doubles duo of Stefan Dostanic and Bradley Frye and three top-50 singles players, including No. 4 Dostanic. UCLA, on the other hand, does not boast any ranked doubles teams and has one player ranked in the top 100 in singles, No. 59 freshman Alexander Hoogmartens.
Martin said the match will be one of the more exciting contests of the season.
"If you come to play at UCLA, there can't be a more exciting match than to play USC – I don't care if it's at home or away," Martin said. "This is a great, great rivalry, great, great traditions and boy, this is what I hope you come to play on our team for."
Despite being 1-4 against opponents ranked in the top 50 this season, the blue and gold see Tuesday's match as an opportunity to show off its talent to a national audience, according to junior Drew Baird.
"Everyone's super excited and ready to get out there and show the whole country how talented and good we are," Baird said. "I think it could set the tone for the season."
After the Bruins fell out of the top 25 in the ITA Division I Men's National Team Rankings, Baird said they are looking to earn their way back into the national spotlight. UCLA is currently ranked No. 47 with three matches left before the start of Pac-12 play on March 18.
Freshman Giacomo Revelli is 3-3 in singles play this season but said he is looking to make an impact in his first career match against the Trojans. The freshman said the team's bond will help propel them through their tough matchup Tuesday.
"We've all got each other's backs," said Revelli. "I feel that we can set the tone for sure by showing them what a compact group we are, that we're going to fight till the end."
The match between the crosstown rivals is set to begin Tuesday at 3 p.m.
Chesney is currently a Sports contributor on the men's tennis beat.
Chesney is currently a Sports contributor on the men's tennis beat.