Op-ed: 'Rose, thorn, bud' exercise can foster mindful connections across generations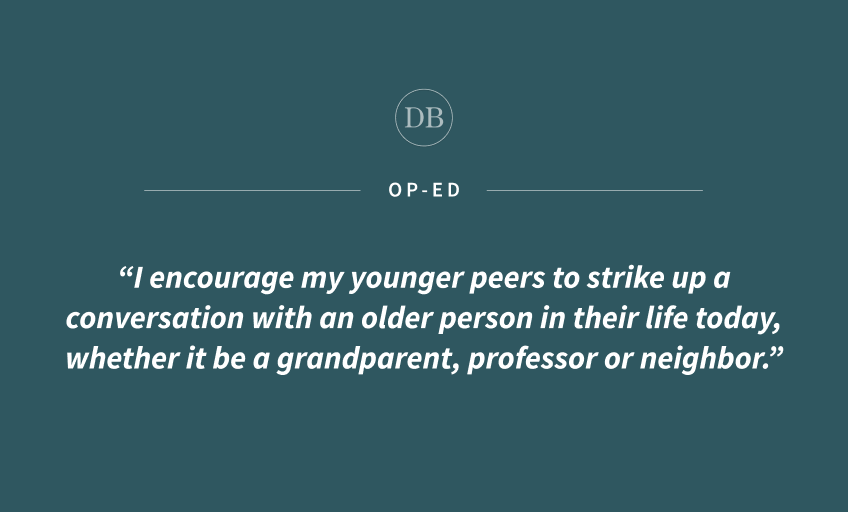 I first engaged in the "rose, thorn, bud" exercise during my first year at UCLA with my UCLA Residential Life team, reflecting on the past quarter of community building in our dormitory. RTB involves sharing a highlight or something that has gone well (rose), a setback or challenge (thorn) and something to look forward to (bud). After my first exposure to RTB in this group setting, I incorporated the activity as a self-reflection exercise in my personal life. RTB sparked my practice of gratitude and introspection during the uncertain months of college during a pandemic.
As UCLA transferred back to in-person living and learning in fall, I took on the role of a resident assistant, welcoming more than 100 student residents to the Hill. RTB was my go-to activity at floorwide meetings. Everyone from the entrepreneurial second-year jock to the anthropology-loving, bookworm fourth-year transfer student could connect with one another by sharing pieces of their multifaceted identities and experiences. RTB enabled my residents to voice their stresses and wins alike. Test scores were a common theme: one person's rose, "I got an A on my history midterm!" followed another's thorn, "I completely bombed my physics quiz – I got a 62." By showing vulnerability, my residents opened dialogues with each other, offering advice or simply affirming one another's emotions – both positive and negative.
RTB allows people to be met where they are and to build a connection from there. The pandemic has highlighted our cravings to be seen and heard. In fact, researchers have found that the long-term negative health effects of loneliness are comparable to smoking 15 cigarettes daily. When COVID-19 cases first skyrocketed in the U.S. in spring 2020, I was concerned for the senior center in my hometown where I had volunteered during high school. I feared residents would get infected, but I also worried they would suffer from social isolation. I began hosting a weekly Zoom trivia program throughout the pandemic for the older adult residents. After months of Zooming, we met in person last December and engaged in RTB. Like my diverse college-aged residents, these older adults were not a monolith. Besides differences in age (ranging from 59 to more than 100 years old), they varied in their physical and cognitive abilities. The thorns they openly shared were sobering – recent deaths of spouses, moving from home after 45 years and experiencing chronic and debilitating illnesses with no cure. Despite the gravity of their thorns, participants shared their roses and buds with vigor.
RTB is an accessible way to spark intergenerational connections that can combat ageism. Erasure of older adults was exemplified systemically through the under-reporting of COVID-19-related deaths in nursing homes in New York. Everyday actions taken throughout the pandemic also unveiled collective neglect for the older population. For instance, some young people refused to refrain from social activities, unabashedly endangering older adults who are more likely to contract COVID-19. These recent COVID-19-related events underscore the pervasive ageism that underlies our culture. Sociology studies have revealed that younger people perceive older adults as frail and dependent. The lack of intergenerational interaction contributes to older people's loneliness, which increases the risk for other mental and physical conditions such as accelerated cognitive impairment, depression and weakened immune systems, among others.
By 2034, thanks to medical and technological advancements, the number of people aged 65 years and older is predicted to approximately equal those aged 18 years and younger. Old age can seem scary for college students. Many of us prefer to limit our interactions with older adults, perhaps because of a generational gap. Some of us rarely engage with older adults unless obligated by familial or academic ties. However, we will one day become older adults – a group we may see as "other" from ourselves – when we are only separated by time.
Through practicing mindfulness by using RTB with my college-aged student residents and older adults at my local senior home, I realized that connecting with people, regardless of their age, is threaded by empathy – sorrows and struggles shared were opportunities for connection. I encourage my younger peers to strike up a conversation with an older person in their life today, whether it be a grandparent, professor or neighbor. Don't know where to start? Ask them to share a rose, thorn and bud about their day. That's all it takes to re-center ourselves while making room to see through another's lens. One conversation could sow the seeds for a friendship ready to blossom.
Bu is a fourth-year molecular, cell and developmental biology student who is double minoring in biomedical research and gerontology.