The Quad: UCLA organizations maintain campus presence through student initiative, support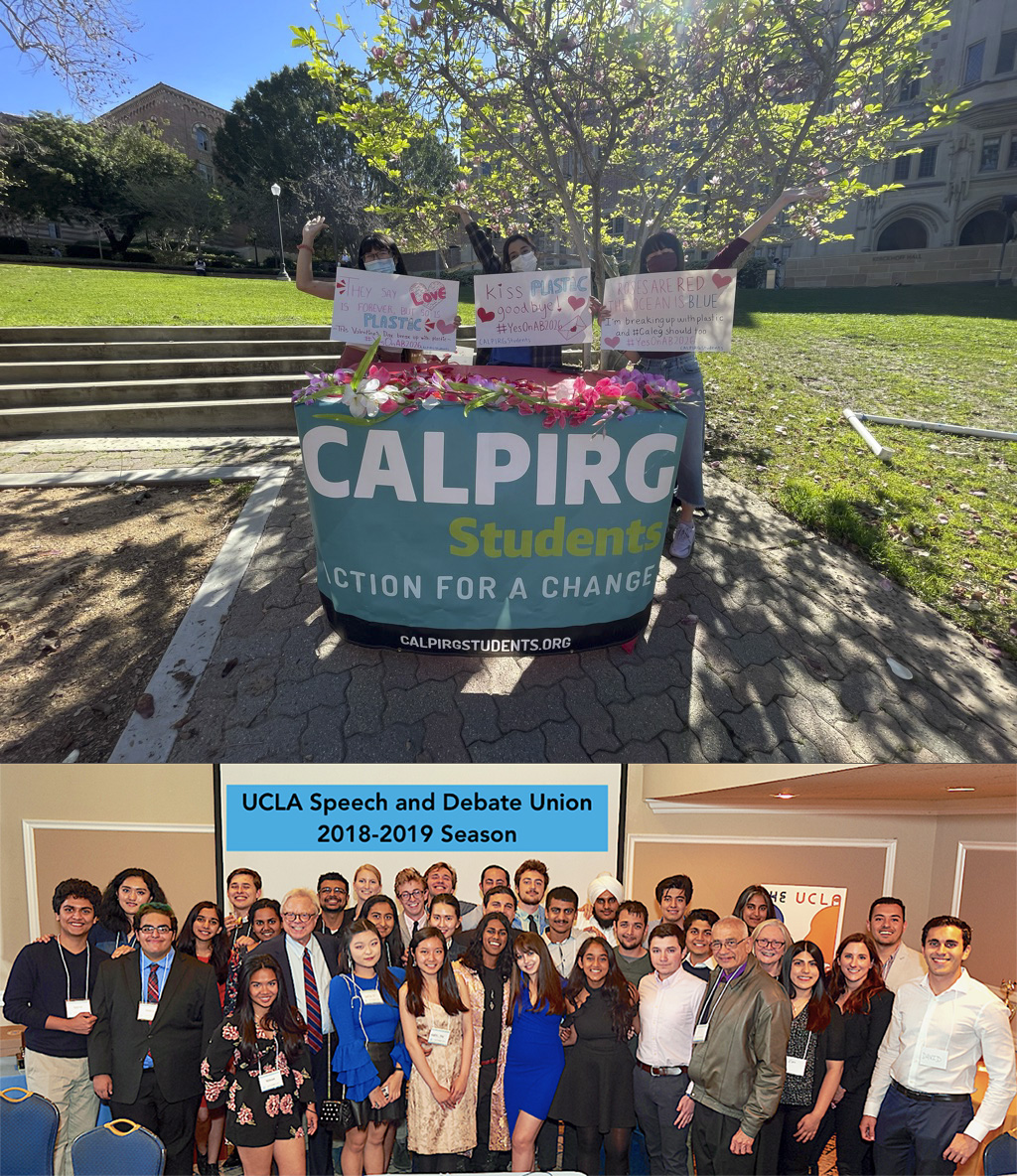 CALPIRG (top) and the UCLA Debate Union (bottom) are examples of student-led clubs at UCLA. Many Bruin leaders said maintaining student-led clubs can be a challenging, but eventful experience. (Top to bottom: Courtesy of Zach Wong and Kathryn Gonzalez-Valle)
Ever wondered what it's like to run an organization at college? While a handful of students may have experience with clubs, organizing and recruiting at the college level can be an entirely different feat.
With over 1,200 clubs and organizations at UCLA, it is not only difficult to stand out and build an established repertoire, but it is also challenging to keep an organization going beyond graduation.
While it may seem that more highly-funded organizations tend to be more active on campus, many Bruins feel that student initiative is crucial to an allied and active organization.
One of many student-led clubs on campus includes the UCLA California Public Interest Research Group, which has been up and running for over half a century.
Kathryn Gonzalez-Valle, a UCLA graduate and campus organizer for UCLA CALPIRG said that the group started as a student advocacy organization for social change.
"CALPIRG was started in the '70s by students at UC Berkeley who wanted to just advocate about issues that most students cared about," Gonzales-Valle said. "They pulled their resources together to hire professional staff who were able to then teach them how to run these big campaigns to make change."
Other student-led clubs include the UCLA Debate Union, which has been on campus for over a century with the help of continued endowment from alumni and active students.
Third-year global studies and communication student Jingyi Pan is the co-captain of the UCLA Debate Union and said that they are one of the oldest student-led organizations on campus, being founded in 1919.
"How active the club is, is entirely based on the students. Like what competitions they want to go to, whether or not we want to organize socials and stuff like that," Pan said.
Fourth-year mechanical engineering student Zachary Wong is a co-captain of the Debate Union and said that it is open to all students as long as they have the heart for debate.
"We're a place to compete, but we also try to teach people general speaking skills," Wong said. "You don't need to have any previous debate experience to join."
Similarly, Gonzalez-Valle attributes CALPIRG's success as a student-led club to their ambition and commitment to their goals in student advocacy.
Many student-led clubs rely on the ability to gather passionate students who are unafraid to assume responsibility in leading clubs. Gonzalez-Valle said that it is easy to get people who care involved in the organization.
"We also just run campaigns that the majority of people care about and want to be involved with, and so signing folks up is usually not super difficult," Gonzalez-Valle said.
Gonzalez-Valle added that it is bittersweet to see people graduate, as it leads to both continuity and change for the organization.
"I think a difficult part – kind of for any club – is that people graduate … you can work with a group of people for so long but ultimately, you're always bringing in … all of these brand-new activists," Gonzalez-Valle said.
Pan said members of the Debate Union feel pressure to continue its legacy because it is affiliated with the communication department and contains a long lineage of alumni.
"There's definitely pressure put on the students to keep going," Pan said. "So I think it's more pressure than a regular student club."
Beyond high hopes, the members of student-led clubs said they were concerned about financial sustainability, despite being long established. Wong said that operational costs like competition fees, transport and training can be quite costly, and thus, harder to maintain.
Gonzalez-Valle said that because the organization is student-led, it is student-funded and dependent on student support. Gonzalez-Valle added that CALPIRG has set up initiatives for students to help fund these campaigns as part of their funding contract with UCLA.
"We're funded by a $10-per-quarter fee that students can opt into adding … that just allows us to run these campaigns, hire professional staff (and) have the resources to actually run and win these campaigns," Gonzalez-Valle said.
Even with the challenges and pressures of the pandemic, many student-led organizations have been relentless in their operations. Gonzalez-Valle said that there is a learning curve in recovering from operating remotely and in having to reach out to individuals to speak one-on-one.
Similarly, Pan said that the direction and activity of the Debate Union depends on students.
"Leadership cannot make students go to competitions … if you don't want to go, we don't pressure you," Pan said.
No matter their future, these long-standing student-led organizations are a testament to what it means to create and continue a legacy on campus.
"We hope to make social change, to make the world a better place," Gonzalez-Valle said. "And to train students on how to do that."