UCLA swim and dive looks forward to competing in Pac-12 championships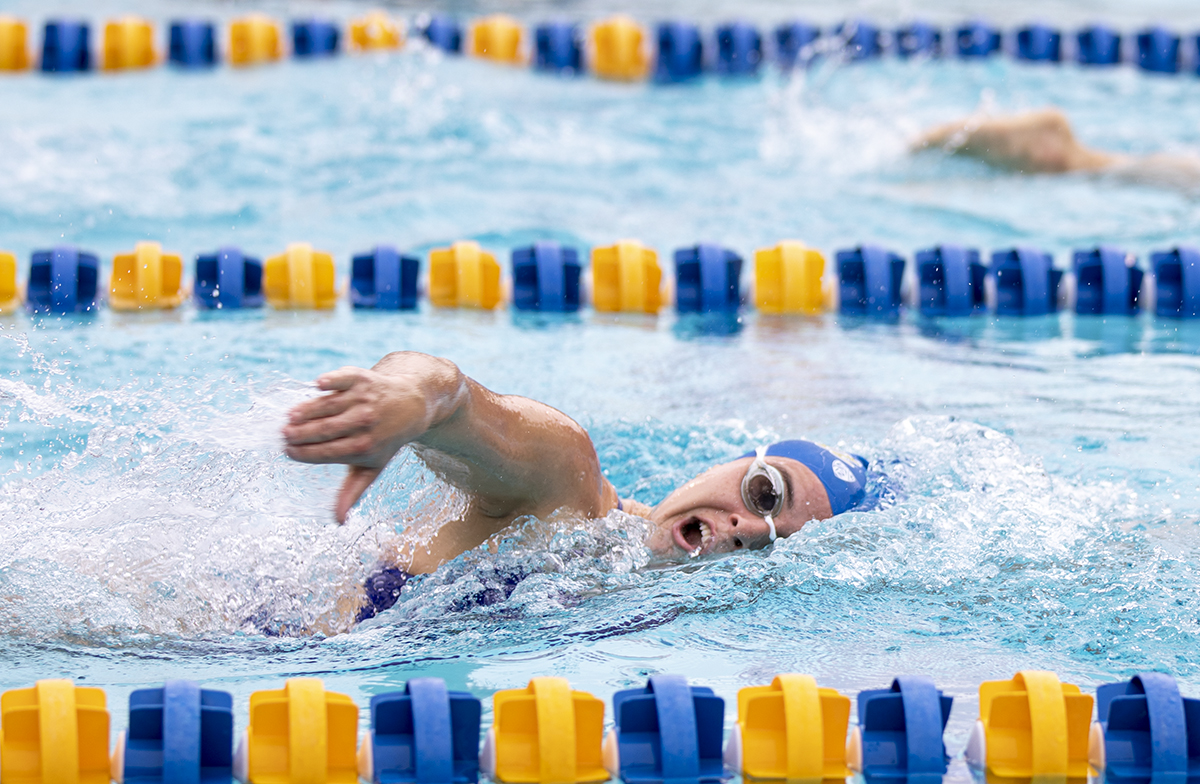 Junior swimmer Brooke Schaffer takes a breath in the middle of her freestyle stroke. Schaffer will be competing in her third Pac-12 championships starting Wednesday. (Ashley Kenney/Photo Editor)
Swim and Dive
---
Pac-12 Championships
Wednesday-Saturday
Federal Way, Washington
No TV info
The Bruins are headed to Washington to start the postseason.
UCLA swim and dive (3-5, 1-5 Pac-12) is set to compete in the Pac-12 championships in a four-day event in Federal Way, Washington, that kicks off Wednesday. The championships, which athletes must qualify for throughout the season, will consist of the best-performing athletes across the conference.
Coach Jordan Wolfrum said she believes the team is well prepared for competition.
"Our whole season has built toward this point," Wolfrum said. "We've been shifting toward this meet. Our swimmers are tapered, and our divers are nice and sharp, so we are very much prepared for this one."
Despite losing five of its six conference meets this season, UCLA has managed to earn multiple top-five performances in recent meets against No. 8 California and No. 5 Stanford.
The Bruins are also coming off a competition against No. 11 USC held on Feb. 11-12, in which multiple school records were broken.
"We had a great meet against USC a couple weeks ago, set a couple school records and qualified a couple women for the NCAAs," Wolfrum said. "We are in a really strong position and really excited for the team races, especially at Pac-12s."
Freshman swimmer Mia Chang will have the opportunity to build off her performance against the Trojans at the championships after she placed fifth and earned a season-best time in the 100-yard backstroke event.
Chang said the team has tried to prepare with its usual routine while also adding some more rest in its preparation.
"We've done a really good job in preparing for the meet," Chang said. "We haven't done much differently, we've been training the same. We've also rested a little this week to prepare ourselves."
Junior swimmer Brooke Schaffer, who previously made an appearance in the Pac-12 championship A final in 2021, said this year's competition will be fierce.
"The competition this year is probably the fastest I've seen in my three years," Schaffer said. "Everyone is excited to be competing, and there are a lot of fast girls and fast times."
UCLA will compete in the Pac-12 championships from Wednesday to Saturday, which will be its final meet before the NCAA Zone E Diving Championships.
Hallum is currently a contributor on the track & field and swim & dive beats.
Hallum is currently a contributor on the track & field and swim & dive beats.