UCLA baseball secures 1st series win of season with victory over CSUN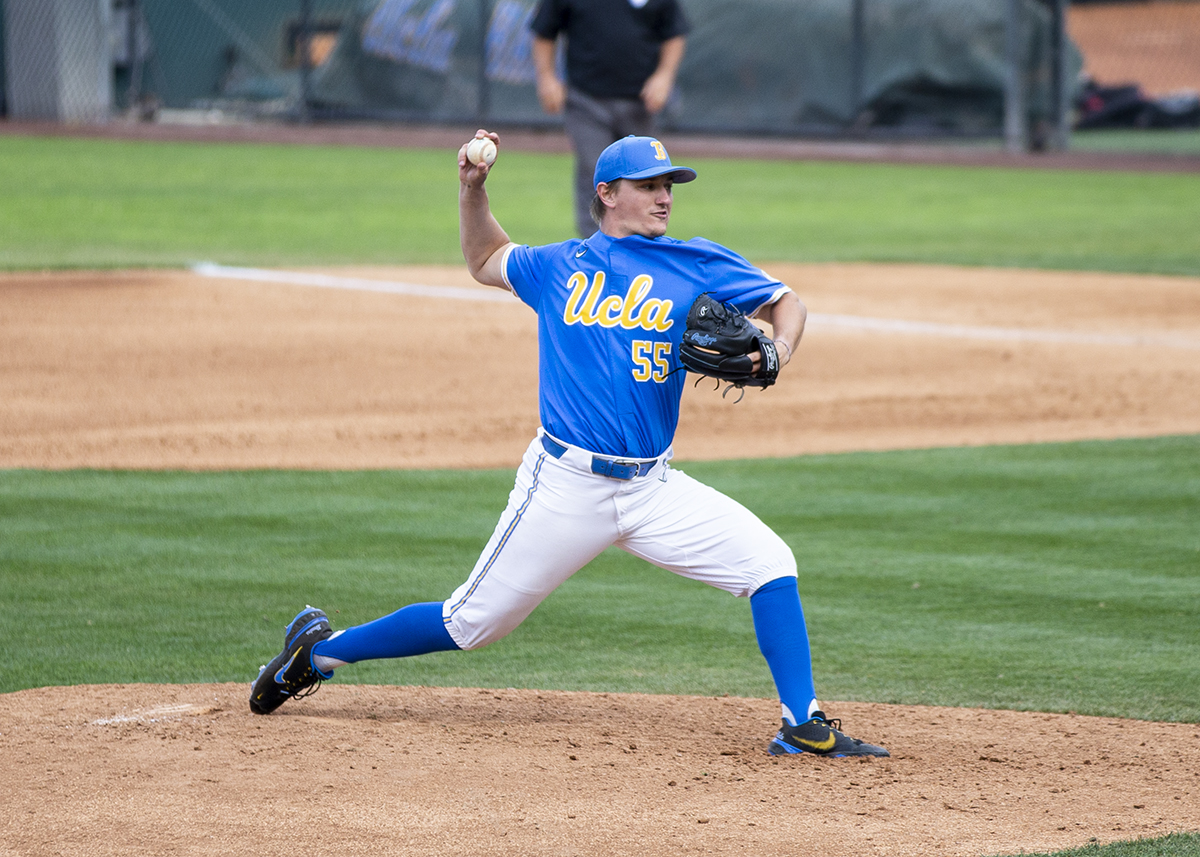 Redshirt sophomore Kelly Austin throws a pitch. The UCLA baseball right-hander made his debut as Bruin after transferring from Orange Coast College and threw six shutout innings against Cal State Northridge on Sunday. (Joseph Jimenez/Daily Bruin)
Baseball
---
| | |
| --- | --- |
| Cal State Northridge | 3 |
| UCLA | 5 |
This post was updated Feb. 22 at 12:40 a.m.
Nine months ago, Kelly Austin was pitching at Orange Coast College.
On Sunday, the redshirt sophomore right-hander made his UCLA debut in front of 805 fans and threw a six-inning shutout.
"Kelly was outstanding," coach John Savage said. "This guy competes like a Bruin pitcher. It's really encouraging."
Behind Austin's debut as a Bruin, UCLA baseball (2-1) defeated Cal State Northridge (1-2) by a score of 5-3 to claim its first series win of 2022. The Bruins emerged victorious off the bat of freshman second baseman Ethan Gourson, who launched a walk-off, two-run home run in the 13th inning.
Austin finished his first three innings of work with six strikeouts while allowing two CSUN hits. After throwing 60 pitches in the first three frames, the redshirt sophomore retired the Matadors in order on eight pitches in the fourth.
Austin said although he was proud of how his first start for the blue and gold went, there are still things he needs to work on.
"I felt solid about (my start). I made pitches when I needed to," Austin said. "I wish I could have been a little more efficient at the start, but that's about it."
UCLA got the party started early in the first inning. Graduate student first baseman Jake Palmer notched his first career hit for the blue and gold to drive in junior right fielder Michael Curialle for the first run of the game and put the Bruins up 1-0.
The Bruins added another run in the fifth when graduate student left fielder Kenny Oyama manufactured a run on his own. After reaching on a fielder's choice, Oyama advanced to second on an errant pickoff attempt, then scored when he tried to steal third, and the ensuing throw sailed into left field.
The blue and gold struck again in the sixth when freshman center fielder Malakhi Knight drove in freshman infielder Alex Fernandes to put UCLA up 3-0.
Austin continued to roll through the sixth, allowing one hit to pair with a strikeout in the fifth, then retiring the side in order in the ensuing frame. That was the end of the day for the 2021 Orange Empire Conference Pitcher of the Year, who finished his debut with eight strikeouts while allowing three hits and zero walks.
"Ending the day with no walks allowed is part of what I needed to do," Austin said. "I'm a high strike percentage guy. My job is to not give up free base runners."
Freshman right-hander Thatcher Hurd – also making his UCLA debut Sunday – came in to relieve Austin and kept CSUN off the board in his two-inning appearance. The No. 36 recruit from the 2021 Perfect Game recruiting rankings registered two strikeouts while allowing zero hits and no walks.
"(Hurd) is pretty electric," Savage said. "You're talking about a guy that's up to 95 (miles per hour). You can see the future is bright for him."
Junior right-hander Charles Harrison came into the game in the ninth with a chance to close it out but quickly got in trouble after surrendering two walks. Then, with two outs, the Matadors' cleanup hitter right fielder Andrew Sojka launched a ball over the center-field wall to tie the game at 3-3 and send it into extra innings.
In the 10th, senior third baseman Jake Moberg and junior designated hitter Josh Hahn were able to reach base with a single and walk, respectively. However, the Bruins' freshmen duo of shortstop Cody Schrier and Knight both struck out swinging to end the inning.
Savage said Knight, Schrier and the other freshmen have all shown their talent and the impact they can make early on, adding that they will continue to grow with the more games that they play.
"There's some ups and downs," Savage said. "You see some good at-bats, and then you see some inexperienced at-bats. There is a lot of talent there, and they just need experience."
The Matadors threatened in the 11th with a runner in scoring position, but Palmer made a diving catch at first base with one out to prevent the run from scoring. Junior left-hander Jake Saum then got Sojka to strike out swinging to end the inning.
WALK-OFF FINAL: UCLA 5, CSUN 3@EthanGourson delivers the 13-inning win for the Bruins with an opposite-field walk-off home run!! #GoBruins pic.twitter.com/WtCg0i5j7R

— UCLA Baseball (@UCLABaseball) February 21, 2022
Finally, in the bottom of the 13th, after an Oyama single, Gourson sent the first pitch he saw over the left-field wall for the game-winning home run.
The freshman said although his first home run was important to him, he values getting the series win at home much more.
"It felt good to just go out there and win a series," Gourson said. "It is huge to hit, a walk-off home run, but a win's a win."
Fenn is currently a Sports staffer on the baseball beat. He was previously a reporter on the women's soccer beat and a contributor on the beach volleyball and men's and women's golf beats.
Fenn is currently a Sports staffer on the baseball beat. He was previously a reporter on the women's soccer beat and a contributor on the beach volleyball and men's and women's golf beats.