Opinion: American students, universities cannot ignore injustices occurring in Middle East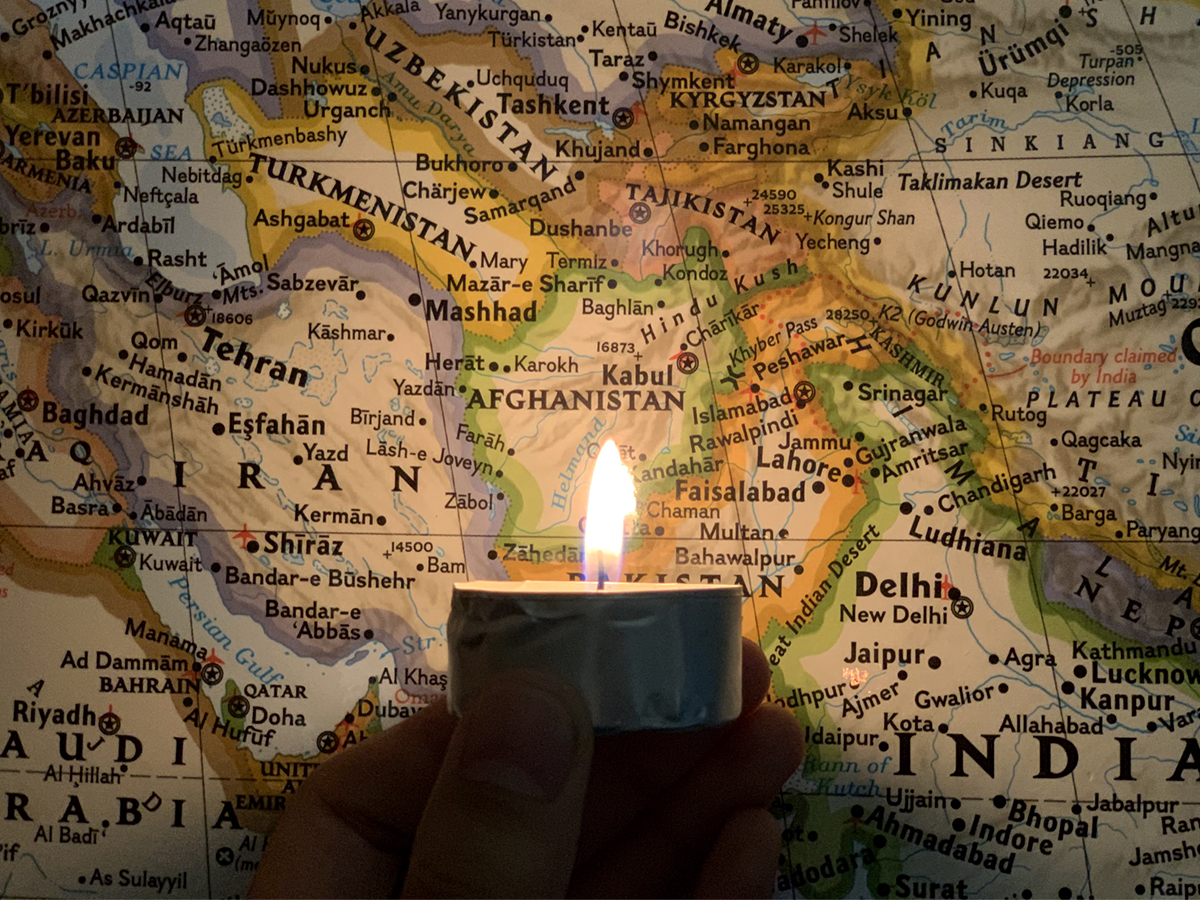 A candle is held in front of a map of Afghanistan. Students and universities cannot simply ignore Middle Eastern issues and must do their part to raise awareness. (Constanza Montemayor/Daily Bruin senior staff)
We are nearly three months into 2022, but Afghanistan is revisiting the troubled year of 1995.
The Taliban, an extremist Islamic militia, began to gain power in Afghanistan in 1995. Within three years, the Taliban would control nearly 90% of Afghanistan. Despite claiming to be guided by Islam, the group's initiatives are often contrary to Islamic values. While in power, the Taliban committed numerous human rights violations on the basis of their interpretations of Sharia, a body of Islamic religious laws, including public executions, prohibition of girls over the age of 10 from receiving an education, and more.
The Taliban's most recent advancement paired with the retreat of American forces from Afghanistan has left more than half a million Afghans displaced, malnourished and in need of assistance, according to the BBC. Additionally, the group has reintroduced many of the abominable laws that it enacted in its initial occupation of Afghanistan.
Despite all this, there doesn't appear to be a sense of urgency among Americans. The issue is not talked about enough, and even when it is, it never seems to be in the right way.
The physical distance and the security to which we are accustomed don't justify neglect of these injustices. As Americans, we are privileged with a voice, and we should use it to push our leaders to take action. Even more, as Bruins, we hold a greater responsibility to advocate for UCLA to provide greater resources to Afghan students and scholars.
Discourse around the Middle East has often been limited to a passive mention of the newest progression of war, struggle or tension. Calls to actually do something about it seem rare.
"It's almost as if war is destiny over there in the Middle East. … You just imagine desert and war and weapons," said Shintaro Ng, a first-year pre-business economics student. "I think there's this vast recognition that the problem only seems to be getting worse, but I don't think there's a lot of recognition as to what our role is in the problem."
In politics, involvement in the Middle East is often pursued solely by global powers seeking to take advantage of the area's natural resources. One of the earliest examples of this is the Red Line Agreement, which was enacted in 1928 and involved several American, French and British oil companies that worked together to divide the crude oil output of an Iraqi oil field.
The economic and political significance of exploiting the Middle East for profit has negated the region's humanity and effectively desensitized us to the greater struggle faced by civilians.
Some might think the same physical distance that enables us to dissociate from the Afghan struggle also makes it impractical for us to effect change. Ditch Day Apparel, a clothing business run by college students, does not believe that to be true.
As word of the overtaking of Afghanistan in August spread, Ditch Day Apparel launched its Save Afghanistan tote bag, which features designs resembling traditional Afghan carpets. All profits made from this tote were donated to organizations working to alleviate the crisis in Afghanistan.
"The discourse isn't very positive. We are always shown as the enemies or this broken country that the United States has to swoop in and fix and save," said Sofia Saraj, a student at UC Davis and the director of operations at Ditch Day Apparel. "There's so much beauty that's unseen. (Afghanistan is) one of the most beautiful countries in the world. … It has so much history and culture that has been erased by years of war and our people being killed."
Saraj said her parents fled from Afghanistan during the Soviet invasion in the 1980s and had to reconstruct their lives. She added that watching the recent crisis in Afghanistan unfold was heartbreaking, as her family was forced to relive some of its most painful memories.
A barrier to progress in the Middle East is the dehumanization of its cultures. Middle Eastern art, literature and beauty are rarely topics of conversation despite their beautiful and rich histories. Instead, we often hear about the war-ridden nature of the land and the need to exploit the region for economic benefits.
Domenico Ingenito, an associate professor of Persian literature in the near Eastern languages and cultures department, said he started a project to bring Afghan scholars to UCLA and other participating University of California schools in August.
"(Our goal is) to move from the idea of Afghanistan as a problematic country, as a country that can be discussed only when talking about war and social unrest and the Taliban (to) the diversity of voices that make up a cultural region as rich as Afghanistan," Ingenito said.
While tackling such a deep-rooted and complex issue may feel difficult, there is still much the general public, college students and universities can do.
"What the university can do is to waive all college fees for (Afghan) students and to create special scholarships for Afghan scholars and for Afghan students to allow them to find more resources," Ingenito said. "This is something we should recognize, and it's a moral duty that U.S. public institutions should have considering the weight of the occupation and war in Afghanistan."
Our attention is powerful. The more we talk about the people of Afghanistan and the injustices they are experiencing in a way that recognizes their humanity, the more those in power will be pressured to address the crisis.
Individual acts may seem small, but spreading awareness is like a game of dominoes: Little by little, these actions create a powerful force for change as more of us learn about the destruction in the Middle East and spread that knowledge.
It is up to us to speak up and end the cyclical exploitation of people in the Middle East.