UCLA course allows students to apply Spanish language skills in real-world setting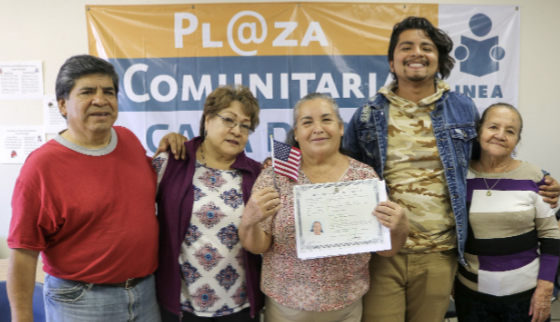 In Spanish M165XP, students are connected to opportunities to work with local communities while learning and practicing their Spanish language skills. Organizations in fields including health care, legal services and education have partnered with the course to accept student volunteers. (Courtesy of Lauro Pilar)
Books in a classroom are often not enough as Latino community members have much to share with Spanish language students, said Carla Suhr, a Spanish linguistics professor and director of the Community Engagement Program. Spanish M165XP: "Taking It to Street: Spanish in Community" takes students out of the classroom, guiding them to apply language skills under real-life circumstances.
One of three classes focusing on the Latino community in the Spanish and Portuguese department's Community Engagement Program, Spanish M165XP gives students the opportunity to apply cultural and linguistic knowledge from class to the real world by working with Los Angeles communities. The course encourages students to learn by using Spanish in a more realistic context, Suhr said.
The class includes six to 10 hours of service learning per week, as well as three-hour weekly seminars in which students reflect on their projects and learn about different aspects of the service and data, Suhr said. She added that students are required to submit reflection journals every two weeks.
Students total around 60 to 80 hours of community service per quarter, Suhr said. There are about 40 organizations students can volunteer for, including organizations in the legal industry, medical services and educational programs.
The community engagement and service learning of the class are different from traditional community service, said Delaney Ivey, a fourth-year public affairs and Spanish and community and culture student who took the course in the fall.
"Community service is a student going in a position of agency and giving something," Ivey said. "Whereas the service learning and the community engagement is like, 'I'm going into this position on equal grounds with the people I'm serving, and I'm here to learn from them as much as I am to give services.'"
Taking a focused approach on learning from the community is especially important because there can often be a power imbalance in volunteer services, especially involving people with educational and institutional privileges, she added.
Even with the switch to virtual platforms, students have been able to continue service learning with various organizations, such as the Thai Community Development Center, Latino Coalition for a Healthy California and Front Lines Tutoring.
Students have even been reaching out to survey patients who had COVID-19 early in the pandemic, analyzing survey data and providing resources such as information on eviction defense, Suhr said. She added that students also have the opportunity to work in educational programs that address issues surrounding the COVID-19 pandemic and its consequences.
School on Wheels is one such organization that has collaborated with Spanish M165XP students to provide tutoring and mentorship to housing-insecure youth throughout the pandemic.
Marla Ramirez, a fourth-year Spanish and community and culture student who began working with School on Wheels while taking Spanish M165XP, said many students needed educational assistance during the pandemic. She currently continues to work with School on Wheels.
"The people that work for it are really awesome, and they're really passionate about what they do. And the thing that I think is really good about them is that they strive to be better," Ramirez said.
COVID-19 has disproportionately impacted the Latino community, Suhr added. Great disparities exist in the Latino community in terms of homeownership, household income and access to higher education, she said.
The course's philosophy and goal are for students to become agents of social change, Suhr said.
The course partners with the nonprofit Latina Republic, she added, giving students the opportunity to help publish articles to change the narrative on immigration and immigrants.
While working with School on Wheels and virtual learning, Ramirez said one of the biggest disparities she noticed was lack of access to the internet, computers and tablets.
"A lot of the time the (organization) does actually provide hotspots and tablets or laptops for them. So that's another benefit of being involved with the organization," she added.
Spanish M165XP is being held once again this spring. As the class and the Community Engagement Program progresses, there is a hope that it will continue to create more collaborative projects to address different issues being worked on from an interdisciplinary perspective, Suhr said.
"As UCLA prepares to become a Hispanic Serving Institution by 2025, our Spanish, Culture and Community major, and in particular, classes like Taking It to Street: Spanish in Community, create opportunities for UCLA to interact with potential future Latinx UCLA students, while our Latinx students feel their social and cultural capital adds value towards building these relationships," Suhr added in a follow-up email.
Having experienced Spanish M165XP and gained a new perspective on service will impact the way she interacts with communities in any future job position or leadership role, Ivey said.
"It's going to forever change the way that I work with people that are directly affected by these equity issues," she added.