Op-ed: US agencies must ensure equitable access to drugs developed with public funds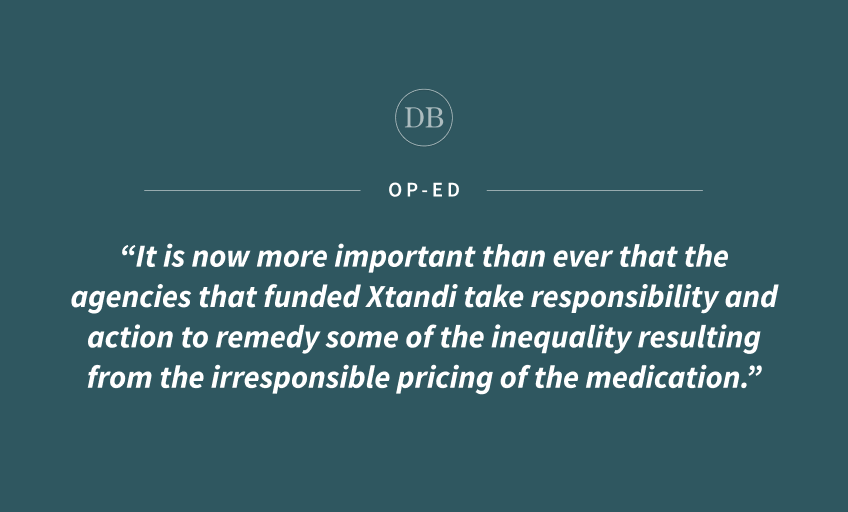 As UCLA students and future leaders, lawyers, doctors and advocates, we have successfully put pressure on our own university to amend its patenting and licensing policies to ensure that publicly funded innovations developed on our campus are responsibly sold to the public. Now, it's time for the National Institutes of Health and the United States Department of Health and Human Services to use their power and existing legislation to ensure equitable access to products they have funded.
Through the use of public funds via grants from the NIH and the Department of Defense, students and faculty at UCLA researched and developed the late-stage prostate cancer drug enzalutamide, branded as Xtandi by Pfizer and the Japanese pharmaceutical corporation Astellas Pharma Inc. As a game-changing drug in late-stage treatment, Xtandi slows the progression of prostate cancer and extends the life expectancy of patients fortunate enough to afford it.
UCLA licensed out this life-extending drug to Medivation Inc., which was partnered with Astellas, in 2005. Pfizer obtained Medivation in 2016 after UCLA sold its royalty rights for $520 million and now holds the patent with Astellas. UCLA then continued to fight the battle for Big Pharma in India to prevent the distribution of generic versions, which were being sold at much lower prices. Outraged, members of Universities Allied for Essential Medicines at UCLA organized student protests, reached out to administrators and collected signatures to address this injustice.
Despite Xtandi being funded by U.S. tax dollars, it is now being sold back to U.S. tax payers at about $189,000 a year, according to Knowledge Ecology International. Thus, Xtandi costs over $517 a day for a person living with prostate cancer in the U.S.
Shockingly, the majority of other high-income countries are paying less than half of what the U.S. pays for Xtandi in terms of average wholesale price, as patients in Japan pay slightly more than $30,000 a year, according to the Los Angeles Times. Even if U.S. patients paid around $30,000 a year, this would still greatly exceed what would be considered a reasonable price for Xtandi given that the median annual income for American households in 2020 was $67,521, according to a report based on data from the Census Bureau.
Prostate cancer is the second-most prolific type of cancer diagnosed in men worldwide, accounting for the second-highest number of cancer-related deaths in men, according to the American Cancer Society. Additionally, a 2021 study published in the journal Prostate Cancer and Prostatic Diseases finds this disease disproportionately affects Black men, who are more likely to be diagnosed with and die from prostate cancer than non-Hipsanic white men.
It is now more important than ever that the agencies that funded Xtandi take responsibility and action to remedy some of the inequality resulting from the irresponsible pricing of the medication. For the second time, people have petitioned the U.S. government to impose march-in rights on Xtandi. Under the Bayh-Dole Act, march-in rights allow for the funding institution to intercede when "action is necessary to alleviate health or safety needs which are not reasonably satisfied by the contractor, assignee, or their licensees." March-in rights, if granted, would allow for generic versions of enzalutamide, which have already been approved by the Food and Drug Administration, to be brought to market in the U.S. This change would significantly lower costs and increase accessibility for prostate cancer patients.
Considering that the World Health Organization named enzalutamide an essential medicine, access to this drug must be expanded. The U.S. government's decision on whether to grant march-in rights and rectify its previous oversight of this case will shine a light on the priorities held by those who claim to be working for Americans. If NIH and HHS leadership listen to the people and decide to grant march-in rights, allowing for distribution of affordable generic versions, enzalutamide will finally benefit the public that funded it.
Cacy is a fourth-year physiological science student and the director of internal relations for UAEM at UCLA.