UCLA skilled trades workers make progress in contract negotiations with university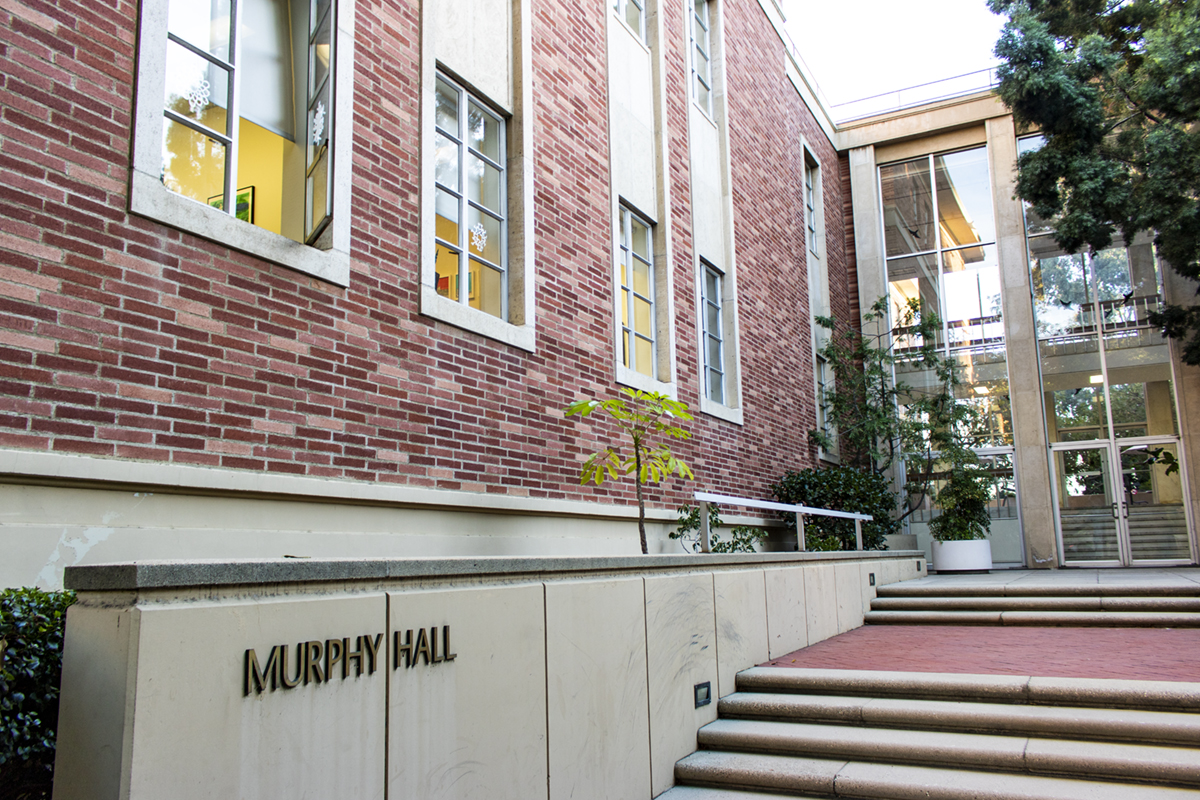 Murphy Hall houses the administrative offices at UCLA. Skilled workers at UCLA are currently negotiating with university administration for a new contract that includes improved working conditions and wages. (Daily Bruin file photo)
This post was updated Feb. 13 at 11:39 p.m.
As contract negotiations continue with UCLA, skilled workers are hoping for fairer wages and safer working conditions in light of increasing inflation and health risks posed by the COVID-19 pandemic.
Skilled trades workers at UCLA, who are represented by union members of Teamsters Local 2010, began negotiations with the university in mid-January. The union proposed a new contract designed to emphasize fairer wages, better job classifications, and working conditions that focused on the health and safety of employees. Teamsters Local 2010 represents more than 2,400 skilled trades workers, including electricians and plumbers, at University of California and California State University schools, according to its website.
In an emailed statement, university chief negotiator Anthony Solana Jr. said bargaining sessions with Teamsters Skilled Trades have been productive and the university looks forward to reaching an agreement.
"UCLA is committed to bargaining in good faith," Solana said in the statement.
Laura Newman, a member of the Skilled Trades bargaining team, said the university has been respectful, although both parties might be discussing difficult language in the contract in the near future. For labor unions, negotiations consist of a process of reevaluating the last contract after a bargaining agreement expires. The two parties negotiate to find common ground for the upcoming contract, she added.
In recent years, UCLA has made attempts to bring less-experienced workers, who are willing to accept lower pay, to replace more-experienced employees, Newman said. This results in more injuries and inadequate maintenance of campus equipment and facilities, she added.
Judith Serlin, chief negotiator for Teamsters Local 2010, said the union hopes the new proposal will provide more professional development initiatives and education for UCLA workers to excel in their work and find job stability on campus. It is also advocating for better safety training for workers in light of recent emergencies and to mitigate workplace violence, she added.
For instance, the shooting threat made toward the UCLA philosophy department on Jan. 31 was an emergency that workers are not well-prepared for, Newman said. With many employees working in areas with no phone service or in loud machine rooms, it's harder for workers to communicate during emergencies than it is for administrative employees, she added.
"The world could be falling apart around us, and we'd have no idea," Newman said.
Newman said she is disappointed with the university's response, which is currently proposing language that frames safety as the responsibility of the employee instead of UCLA. Serlin said this has been an issue they have been debating with UCLA during negotiations.
"We're looking forward to reaching agreement on (contract) language, but we're not there yet," Serlin added.
Essential workers have been working every day since the beginning of the pandemic, with many employees getting infected with COVID-19 while on duty, Serlin said. One of them was Emmanuel Gomez, an electrician for UCLA Facilities Management who passed away in 2020 after contracting the virus at work, she said.
Workers have filed grievances against the university, requesting safety equipment, sanitation products and masks to protect themselves, Newman said. She added that only after Gomez's death did the university begin to take better precautions.
Health and safety are still ongoing issues that workers face, with many employees falling ill without having sick leave, Serlin said. Although the university has increased access to masks and protective equipment, she still receives calls from workers informing her that there are not enough masks or sanitation products going around for employees, she added.
However, during negotiations on Friday, Serlin said UCLA acknowledged the role of supervisors in promoting a safe workplace and took responsibility in upholding the safety of workers.
In an emailed statement, Aimee Baror, the communications director for Teamsters Local 2010, said the union will do whatever it takes to get fairer wages and benefits for workers.
"If these workers' wages and benefits do not compare well to other workers in similar roles, UCLA is at risk of losing experienced and highly skilled workers to other employers," she said in the emailed statement.
Newman said she is hopeful they can find an agreement with the university. However, she added, workers are ready to strike if they are unable to find common ground.
Many workers do not have the option to work remotely, and there have been instances where employees brought COVID-19 back to their families at home, a reality that pushed many workers to advocate for better living standards and safety in the workplace, Serlin added.
"The bare basics is, through the contract language, we're trying to improve morale," Newman said. "We're trying to improve dignity."