UCLA men's tennis overcomes losing streak with win over UC Irvine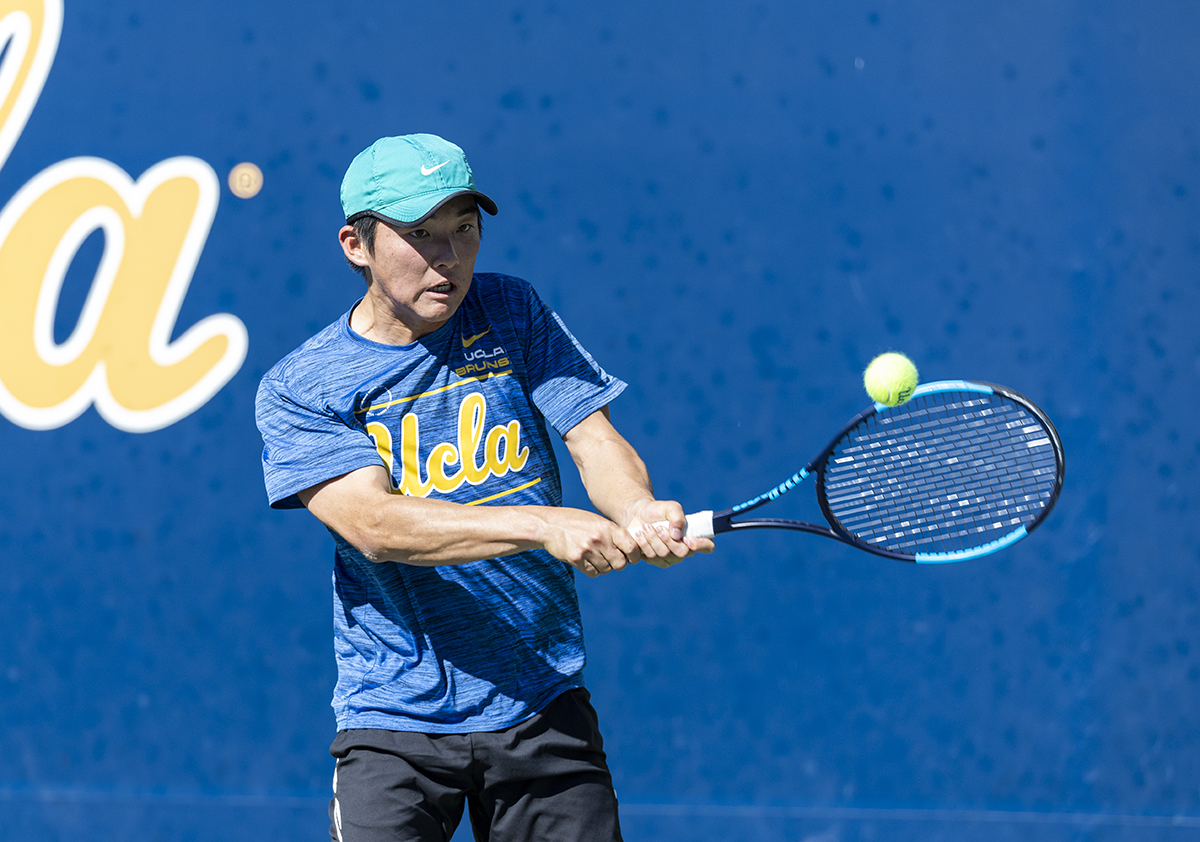 UCLA men's tennis freshman Karl Lee prepares to hit a backhand during a match. Lee clinched the first singles point of the Bruins' match against UC Irvine on Sunday. (David Rimer/Assistant Photo editor)
The Bruins swept the Anteaters in their return to Westwood.
UCLA men's tennis (3-3) faced off against UC Irvine (1-4) on Sunday at the Los Angeles Tennis Center, earning a 7-0 victory. The match was the first since the Bruins fell out of the ITA Collegiate Tennis Division I Men's National Rankings and marked the end of a two-match losing skid.
"We could not lose this match," coach Billy Martin said. "I didn't tell the team this, but I really felt our back was against the wall and that this was a must-win for us. I can't imagine it being more important than what it was from my standpoint."
The Bruins started the day by winning their first doubles match, as junior Drew Baird and freshman Alexander Hoogmartens defeated Matthew Sah and Thomas Smart 6-0. Then, on court one, the duo of redshirt senior Bryce Pereira and senior Patrick Zahraj defeated Riccardo Roberto and Lawee Sherif 6-3 to secure the doubles point and a 1-0 lead for UCLA.
Hoogmartens said it was beneficial to have a home-court advantage following the team's week away in Northern California, where it lost to both California and then-No.12 Stanford.
"Of course, it's very fun to play at home – it's a good feeling especially to have our Bruin crowd here," Hoogmartens said. "We had some tough matches in the past two weeks, so I was very happy to play at home."
In singles play, No. 72 Hoogmartens defeated Sherif 6-3, 6-4, and freshman Karl Lee defeated Mike Mkrtchian 6-2, 6-3.
Tied at three games apiece in the second set, Lee said he knew he would get the opportunity to break serve, he just had to trust the process.
"He started playing better, he started getting better, but I got a lot of great chances," Lee said. "I just trusted eventually I would get one. Once I got that one, I basically ran with it."

Sophomore Stefan Leustian defeated Sah 6-1, 7-5, to clinch the four points needed to win the match.
While the victory had already been secured for the Bruins, the rest of the singles matches were played out. Baird defeated Oregon transfer No. 60 Emmanuel Coste 6-3, 6-2, while Zahraj defeated Roberto 6-4, 7-5.
To end the day, freshman Giacomo Revelli defeated Ali Amiri in three sets 4-6, 6-3, 7-5. Martin said the wins by his underclassmen Sunday gave them much-needed experience and confidence on the court.
"We've got to get those guys believing in themselves a lot quicker," Martin said. "The learning curve can't be long – it's got to be now."
UCLA will play UC Santa Barbara next at the LA Tennis Center on Friday.
Chesney is currently a Sports contributor on the men's tennis beat.
Chesney is currently a Sports contributor on the men's tennis beat.