UCLA swim and dive sets team records in relay events despite overall loss to USC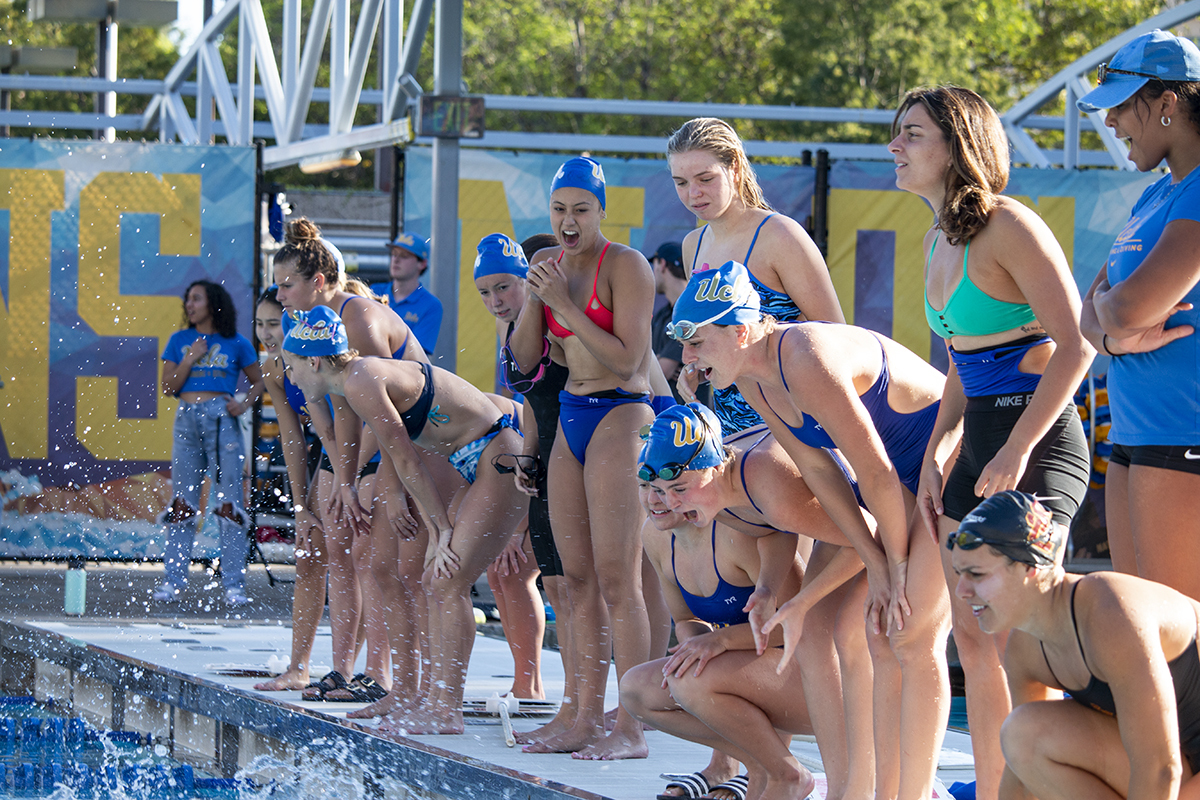 Members of UCLA swim and dive cheer on their team during its dual meet against USC. The Bruins broke several team records in the dual meet along with picking up five individual event wins. (Megan Cai/Daily Bruin)
swim and dive
---
| | |
| --- | --- |
| No. 11 Stanford | 242 |
| UCLA | 130 |
The Bruins broke multiple team records against their crosstown rivals for their last dual meet of the year.
UCLA swim and dive (3-5, 1-5 Pac-12) took on No. 11 USC (5-2, 4-2) in its final dual meet of the season from Friday to Saturday at USC, falling 242-130. Despite the loss, the Bruins broke two team records in both the 200-yard medley relay and the 400-yard medley relay.
Coach Jordan Wolfrum said she had high praise for her team's record-breaking performance.
"The team did exceptional," Wolfrum said. "We had some excellent individual events, great relays, and set two team records. It really gave us a lot of confidence heading into the Pac-12 championship."
In Friday's 400-yard medley relay, the Bruins recorded a time of 3:31.17, which beat the previous school record by 0.64 seconds. The relay, led by junior swimmer Sophia Kosturos, freshman swimmer Eva Carlson, sophomore swimmer Sam Baron and senior swimmer Claire Grover, was one of five event wins for UCLA.
This competition was the last for the Bruins before the NCAA championships in March. Wolfrum said the team practices have shifted in preparation for the upcoming tournament.
"We are doing everything to gear towards the NCAA championships," Wolfrum said. "A lot of speed and detail work, doing less total volume."
Freshman swimmer Paige MacEachern placed first in the 400-yard individual medley event while senior swimmer Ella Kirschke and junior swimmer Katrina Sommer finished second and fourth, respectively.
"I'm happy because we have Pac-12s coming up in two weeks, and I'm excited to see what I can do," MacEachern said. "I'm hoping to place top eight at the Pac-12s in the 400-yard IM."
The Bruins also placed first and second in the 1-meter dive Friday, with junior diver Hannah Butler followed by freshman diver Zoe Jespersgaard outperforming the rest of the competition.
Butler said the event helped with preparation for the upcoming NCAA competition.
"It was a good step in terms of preparation for Pac-12s and the postseason," Butler said. "Zoe did really well on the 1-meter, and we were able to get the first and second places, which was awesome."
The second day of the event was also Senior Day for UCLA, the last time senior Bruin swimmers will have the chance to compete at home. Butler said the team's seniors have been leaders all season.
"They've been in leadership roles since we even came as freshmen, helping us establish our team culture. They're going to be missed a lot," Butler said.
The Bruins will next compete in the Pac-12 championships, which will begin Feb. 23 in Federal Way, Washington.
Hallum is currently a contributor on the track & field and swim & dive beats.
Hallum is currently a contributor on the track & field and swim & dive beats.