The Quad: Lack of undergraduate-focused business education proves challenging for Bruins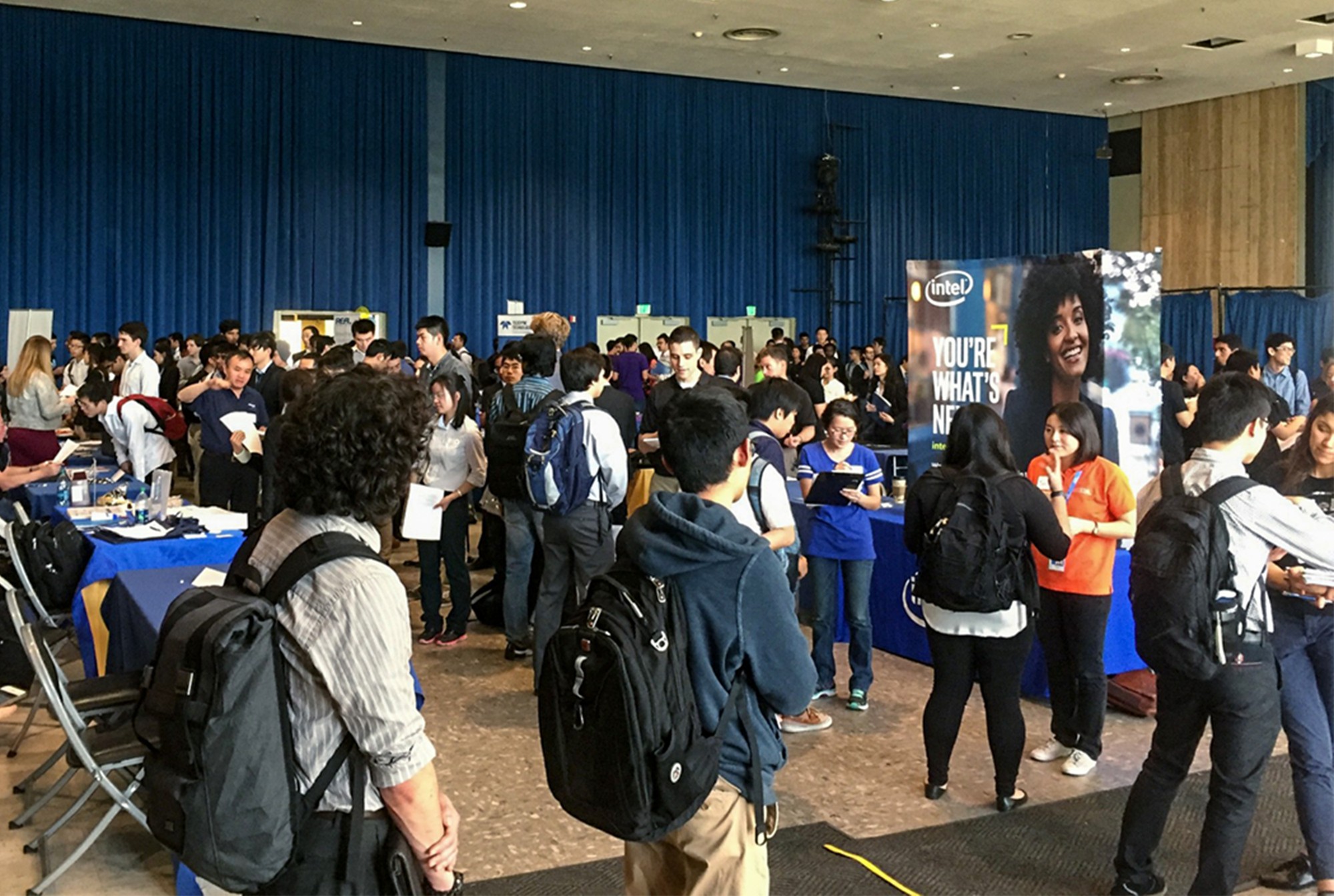 Job recruitment can be tough for Bruins interested in business, especially when UCLA is a non-target school. Job fairs, mentorship and student-led communities can help Bruins navigate the business field. (Daily Bruin file photo)
UCLA, the #1 public university in the nation, ranks in the top 10 for fields such as computer science and nursing, according to U.S. News. But what about areas outside of STEM?
Unlike its other California competitors, UCLA does not offer a business school to its undergraduates. While USC offers its Marshall School of Business and Berkeley has its Haas School of Business for undergraduates, UCLA's Anderson School of Management is devoted primarily to graduate education.
On an even broader scale, when competing with reputable undergraduate business schools across the nation for concentrated jobs in business, some students feel that UCLA seems to fall behind and put business-minded Bruins at a disadvantage.
Peak Frameworks, a platform that provides online education from professionals on private equity and finance, conducted a research project utilizing data from LinkedIn to curate a list of the top 30 schools that sent the highest number of students to major firms such as Bank of America and Goldman Sachs. Students from the top 15 schools on this list take around half of the offers from top investment banks, with the top two schools sending three to five times more students to these firms than the bottom 15 schools.
On this list, UCLA places 27.
A target school signifies the top 15 schools in the nation with direct pipelines to major firms. According to Peak Frameworks' founder Matt Ting, these schools stand high in rankings thanks to consistent campus recruiting and allocated spots at favored firms through alumni networks and reputation.
Semi-targets such as UCLA fall one tier under, where its top students may find it harder to obtain remaining offers.
Alex Messick, a third-year business economics student and president of Bruin Value Investing, said he has been able to experience the ins and outs of the business world at UCLA.
"I truly believe (UCLA being a semi-target) is not a reflection of a lack of rigor or talent in our students but just a byproduct of long-standing legacies and connections that are made concrete between top fields in finance and top east coast, Ivy-tier schools," Messick said.
Recent graduate Khoa Dang completed his job recruiting last year and landed an offer as an associate consultant at Bain & Company, one of the three major consulting firms in the nation.
"(Recruiting was) difficult," Dang said. "A lot of the resources that I got were exclusively either the research that I did by myself or through my club members."
Messick and Dang, who have experienced the business program at UCLA, said they both recognize how unsubstantial the business program is.
"The term business program might be a misnomer. … Academically, I don't think I got any formal education regarding business (at UCLA)," Dang said.
Similarly, Messick said UCLA lacks the resources many undergraduate business programs should provide its students.
"I don't typically think of UCLA having a real undergraduate business program for students. There are no finance or undergraduate business majors, nor are there many accessible, open-ended, business-focused resources tied to the university," Messick said.
According to the learning objectives and major requirements of UCLA's undergraduate business economics major, the major provides a largely economic-focused background with a handful of management and accounting, but there is an absence of industry-specific courses or resources that many other business programs in the country include.
However, both Dang and Messick said they have others to thank for their successes.
"While UCLA lacks a true university-sanctioned business program, what we do have is a thriving student-led business community," Messick said.
Messick said he had the opportunity to reap the benefits of the student-led business community.
"Without our business community and support within it, I honestly doubt I would've experienced the same results through internship recruitment and in just developing confidence in the field as a whole," Messick said.
Justin James, a first-year math of computation student and member of Bruin Asset Management, said he already recognizes the vigor of UCLA's student-led business community.
"Talking to students and alumni within my first few weeks of college made me realize how supportive and driven every student here on this campus is," James said. "UCLA is not known for finance – students and alumni recognize that, and it just means that we have to work twice, three times harder in order to break into the industry through student and alumni connections."
James said he appreciates the drive of the students and alumni that enable him to be confident with the technical training and mentorship that he receives.
Thanks to the drive of UCLA students and the supportive, growing business community, Messick said he anticipates only the best in the coming years.
"Considering five years ago, it was largely an anomaly to send UCLA students to top investment banks or consulting firms, it's definitely become much more achievable at a rapidly growing rate," Messick said. "The prospects for students in the next five to ten years are absolutely incredible."