Editorial: UCLA gymnasts deserve more comprehensive response to racism claims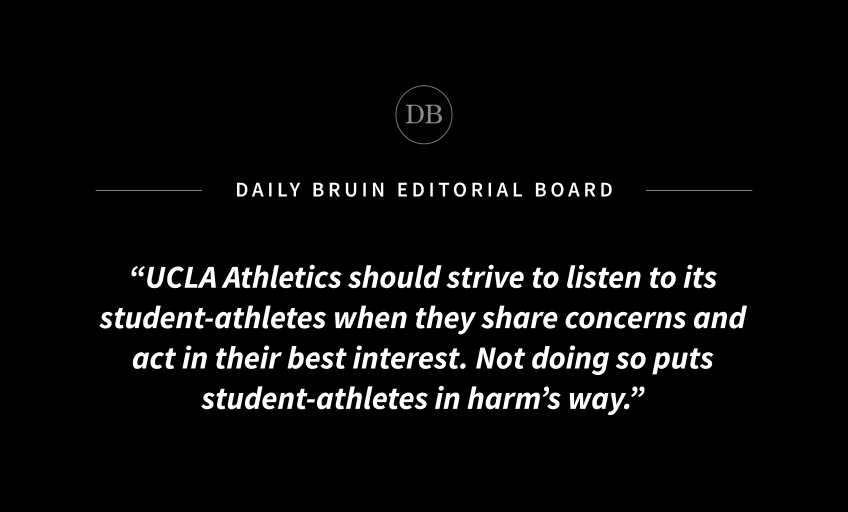 Editor's note: Editorials are intended to serve as the jumping-off point, not the conclusion, to discussion. As part of the Daily Bruin's commitment to its readers, the board hopes to present a responsible and clear analysis of relevant events and news items affecting the lives of those we serve, but our editorials are not representative of the Daily Bruin's views on issues as a whole. We encourage all readers to reach out to our board members and to respond to our editorials.
Following the killings of George Floyd and other Black Americans, UCLA promised the Bruin community that every sector of campus would tackle racism.
Less than two years later, that promise has rung hollow.
Senior gymnast Margzetta Frazier called for the firing of coach Chris Waller during a Jan. 26 appearance on the podcast "Small Doses with Amanda Seales." The appearance came as allegations of racism within the gymnastics team swirled online.
On the podcast, Frazier and fellow senior gymnast Sekai Wright talked about former teammate Alexis Jeffrey's racially insensitive behavior. They said Jeffrey ranked gymnasts based on appearance, putting Black gymnasts at the bottom, and used racial slurs while singing a song in the fall. After several gymnasts spoke with Jeffrey about the incident, she did not apologize or admit wrongdoing, they added. The team then brought the issue up with their coach and UCLA Athletics administrators.
What followed were more than three months of meetings regarding mental health, implicit bias and inclusion, according to a Twitter statement from athletic director Martin Jarmond. It was also more than three months of microaggressions that left the team in "emotional despair," Frazier said in an interview with the Los Angeles Times.
For example, the gymnasts said coaches told the team to be kinder toward Jeffrey after she threatened to harm herself but did not show the same care to Wright when she was struggling with her mental health. Coaches also told several Black gymnasts that they "intimidated" Jeffrey, according to the LA Times.
Gymnasts attempted to speak with Jarmond about racism on the team for more than three months, as stated in a Jan. 20 tweet from senior gymnast Norah Flatley. It wasn't until Jan. 25 – five days after Flatley and Frazier took to Twitter to ask Jarmond to address the issue – that the athletic director sat down with members of the team.
Jarmond's actions, or lack thereof, are disturbing for several reasons. First, gymnasts shouldn't have had to publicly call him out for his failure to act. Second, Jarmond and other UCLA Athletics administrators should have meaningfully addressed student-athletes' concerns long before members of the public were brought into the fold.
Acting on incidents of racism only when they come to light in the public domain won't solve anything.
To his credit, Jarmond acknowledged during his meeting with gymnasts that administrators could have done more, the LA Times reports. However, other appropriate steps would include owning up to one's mistakes and taking actionable steps toward preventing future harm.
Jarmond has done neither.
A meeting also doesn't erase the harm caused to Black gymnasts, who were forced to go out of their way to be heard by administrators all while their white teammate faced little to no accountability for her alleged actions. It's why the board isn't surprised that Frazier called for Waller's firing just one day after meeting with Jarmond.
What happened to UCLA's gymnasts is unacceptable and worrying. It is also indicative of a deeper problem in UCLA Athletics: Administrators seem content prioritizing the performance and compliance of student-athletes of color over their well-being.
This is the second time in less than a year that student-athletes have expressed concerns over UCLA Athletics' failure to protect its Black student-athletes.
Last February, the UCLA Black Student-Athlete Alliance released an Instagram statement condemning the athletic department for letting a former track and field and cross country student-athlete back on the team after he was suspended for using racist, homophobic and sexist language. The student-athlete was dismissed the following day.
UCLA Athletics should strive to listen to its student-athletes when they share concerns and act in their best interest. Not doing so puts student-athletes in harm's way.
The board asks that UCLA Athletics conduct a transparent, in-depth investigation into why issues on the gymnastics team were not quickly addressed and release a detailed report of its findings. We also call on the department to seriously consider student-athletes' demands, including those that urge for the removal of Athletics personnel.
Student-athletes deserve that at the very least.