Pro Bruin Rundown: Norman Powell traded to Los Angeles Clippers, Jessie Fleming scores go-ahead goal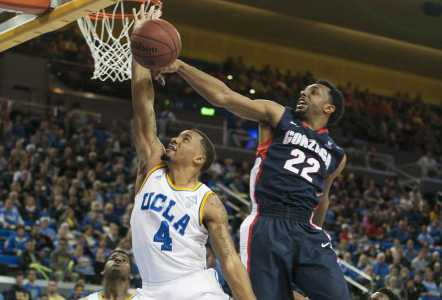 Former UCLA men's basketball guard Norman Powell rises to the basket against Gonzaga. Powell was traded to the NBA's Los Angeles Clippers in a five-player deal Friday. (Daily Bruin file photo)
Sports are in full swing all year long – from the prep level to the professional ranks. Each Monday, Daily Bruin Sports will highlight a few moments from former UCLA greats over the past week.
Men's basketball: Norman Powell, Los Angeles Clippers; Russell Westbrook, Los Angeles Lakers; Zach LaVine, Chicago Bulls
A familiar name in Westwood will be returning to Los Angeles.
As part of a five-player trade in the NBA, former UCLA men's basketball guard Norman Powell was acquired by the Los Angeles Clippers on Friday.
Powell is averaging 18.7 points per game on a 45.6% field goal percentage and 40.6% shooting from 3-point range this season. The trade makes Powell the third former Bruin currently playing for an LA-based NBA team.
Los Angeles Lakers guard Russell Westbrook did not see the court during overtime of his team's 122-115 victory over the New York Knicks on Saturday. Westbrook finished the night with five points on 1-of-10 shooting to go along with six assists and four turnovers. He finished the game with a plus/minus of -15.
Amid recent struggles and trade rumors, Westbrook has nearly matched his career averages this season, shooting at a 43.7% clip and making 30% of his shots from distance. Through 14 seasons, Westbrook has averaged a 43.7% and 30.5% shooting split.
Elsewhere in the NBA, Chicago Bulls guard Zach LaVine, who played under Steve Alford at UCLA, became the only Bruin to be selected to the 2022 NBA All-Star Game.
Averaging 24.7 points per game on 48.6% shooting alongside his backcourt partner and fellow UCLA product Lonzo Ball, LaVine earned his second career All-Star appearance. With fewer than two weeks before All-Star weekend, LaVine's Bulls currently sit in second place in the Eastern Conference.
Women's Soccer: Mia Fishel, Tigres UANL; Jessie Fleming, Chelsea FC
A brace from a former Bruin made the difference in a matchup of two Mexican clubs.
Tigres UANL forward Mia Fishel found the back of the net twice in the club's 4-2 win against Mazatlán FC on Friday. Fishel scored in the 40th and 83rd minutes, providing her team with the game-clinching goal with fewer than 10 minutes to go. Fishel's squad now sits in fifth in the Clausura table and first in the Arpetura table.
Elsewhere in world of soccer, Chelsea FC midfielder and former UCLA women's soccer player Jessie Fleming notched the go-ahead goal against Manchester United FC in the 31st minute of the semifinal of the FA Women's League Cup on Wednesday.
Men's soccer: Reggie Cannon, U.S. Men's National Soccer Team
A Bruin took part in the country's coldest game in history.
UCLA men's soccer alumnus Reggie Cannon represented the United States in World Cup qualifiers Sunday and Wednesday, playing 14 minutes in a 2-0 defeat of Canada and logging all 90 minutes in a 3-0 victory over Honduras.
The Boavista FC right back registered a 7.4 in FotMob's advanced ratings system for his play against Honduras, which took place during the coldest kickoff temperature in U.S. Men's National Team history at 5 degrees Fahrenheit.
The USMNT sits in second in its World Cup qualifying group, ahead of Mexico on goal differential and four points behind Canada. If the standings hold, the U.S. will qualify for the 2022 World Cup.
Papoutsis is currently a Sports reporter on the men's tennis beat. He was previously a contributor on the women's tennis beat.
Papoutsis is currently a Sports reporter on the men's tennis beat. He was previously a contributor on the women's tennis beat.