Men's tennis picks up losses in weekend matchups against California, Stanford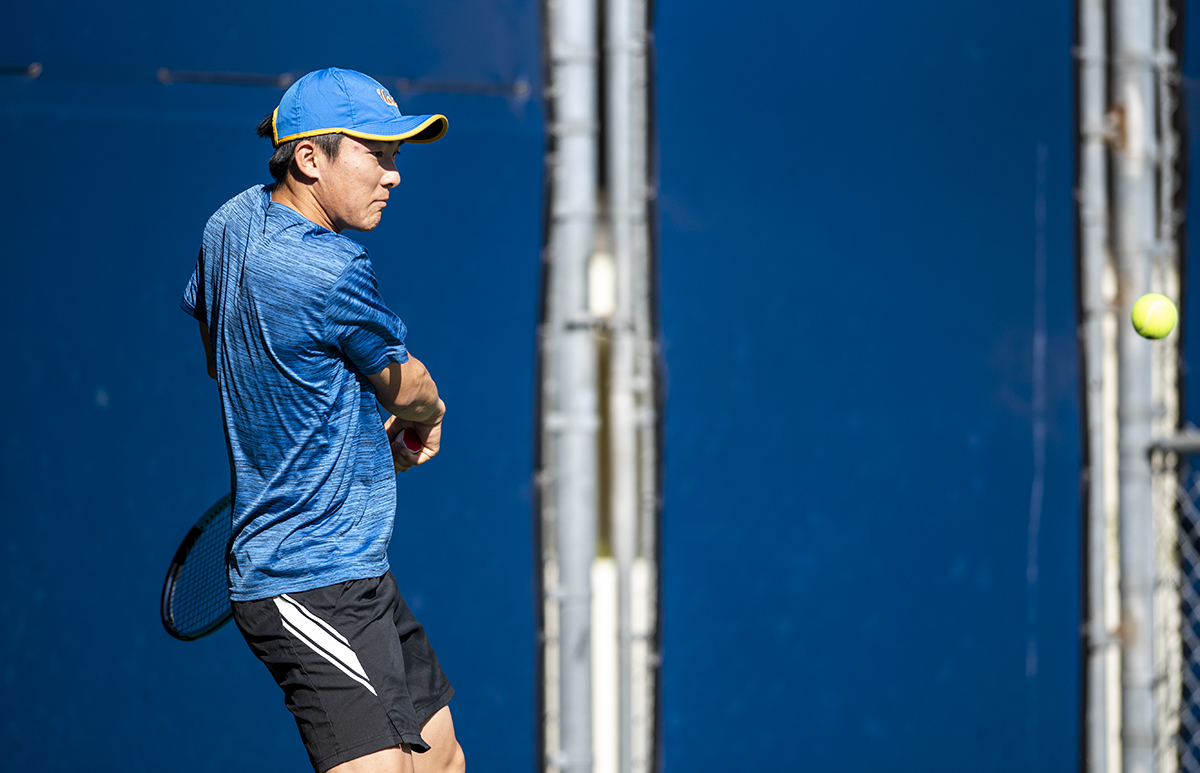 Freshman Karl Lee readies to hit the ball during a match. Lee won UCLA men's tennis' only match point over the weekend with a singles victory against Stanford on Sunday. (Marc-Anthony Rosas/Daily Bruin)
The Bruins completed their Bay Area trip by picking up a pair of losses against familiar foes.
No. 23 UCLA men's tennis (2-3) traveled north to take on California (3-2) and No. 12 Stanford (5-0) in nonconference matchups over the weekend, losing to the Golden Bears on Saturday by a score of 4-0 before ending its road trip with a 6-1 loss to the Cardinal on Sunday.
"There's obviously a lot at stake with our rivalries, and I know we all really want to win those matches," said associate head coach Rikus De Villiers. "So it's always fun to be a part of those, even if they don't always go your way."
To begin Saturday's match against the Golden Bears, the Bruins lost the doubles point with the duo of redshirt senior Bryce Pereira and freshman Alexander Hoogmartens losing 6-4 to No. 15 Yuta Kikuchi and Carl Emil Overbeck. On court two, the combination of junior Drew Baird and senior Max Wild fell to Sean Hill and Lucas Magnaudet 6-3 to give Cal its first point of the match.
In singles play, the blue and gold lost the first set in all six matches. No. 96 sophomore Stefan Leustian lost to Overbeck 6-1, 6-4, while Baird and Kikuchi competed for three sets on court one, resulting in a 6-2, 2-6, 6-4 defeat for the junior. In his first career dual match, redshirt freshman Jeffrey Fradkin lost to Magnaudet 7-6 (2), 6-0.
The following day, the Bruins traveled to Palo Alto to play the undefeated Cardinal. Baird and Hoogmartens lost to No. 8 Arthur Fery and Alexandre Rotsaert 6-3 in doubles, while on court three, the combination of freshmen Karl Lee and Giacomo Revelli defeated Timothy Sah and Sangeet Sridhar 6-4, leaving the deciding point in the hands of Fradkin and Pereira.
Despite pushing the contest to a tiebreaker, UCLA fell short and lost the decisive doubles match 7-6 (6).
"We're just going to build off the energy we had (Sunday)," Pereira said. "Even though we lost a tough one, I felt like everyone's energy improved and everyone's attitude improved since the tough loss against Cal. I think we're going to use this as a lesson and a building block moving forward in the season."
The Bruins dropped five first sets in singles play with Hoogmartens ultimately losing to Rotsaert 6-2, 6-1, Leustian falling to Sridhar 6-4, 6-0 and Revelli losing the match point to Max Basing. Despite conceding the four points needed to secure a win, the two teams played out their remaining matches, with Fradkin losing to Tomas Kopczynski 6-2, 6-7 (7), 1-0 (3) and Baird recording a loss at the hands of No. 7 Fery.
On court six, Lee was able to record the only win for UCLA over the weekend by defeating Aryan Chaudhary 6-4, 4-6, 1-0 (5).
"(There were) a lot of momentum changes throughout the match and I felt like I was in control in the second set," Lee said. "But (Chaudhary) is good enough to keep fighting back and change the tide a little bit – it was just fun."
Although the match was away from the Los Angeles Tennis Center, Lee said he felt confident against the Cardinal because he used to call the Bay Area home.
"I used to live in the Bay Area," Lee said. "My friends came out and watched me play, which was a huge pump up."
The Bruins' next match is scheduled Sunday against UC Irvine at home.
Chesney is currently a Sports contributor on the men's tennis beat.
Chesney is currently a Sports contributor on the men's tennis beat.