Weekend preview: Feb. 3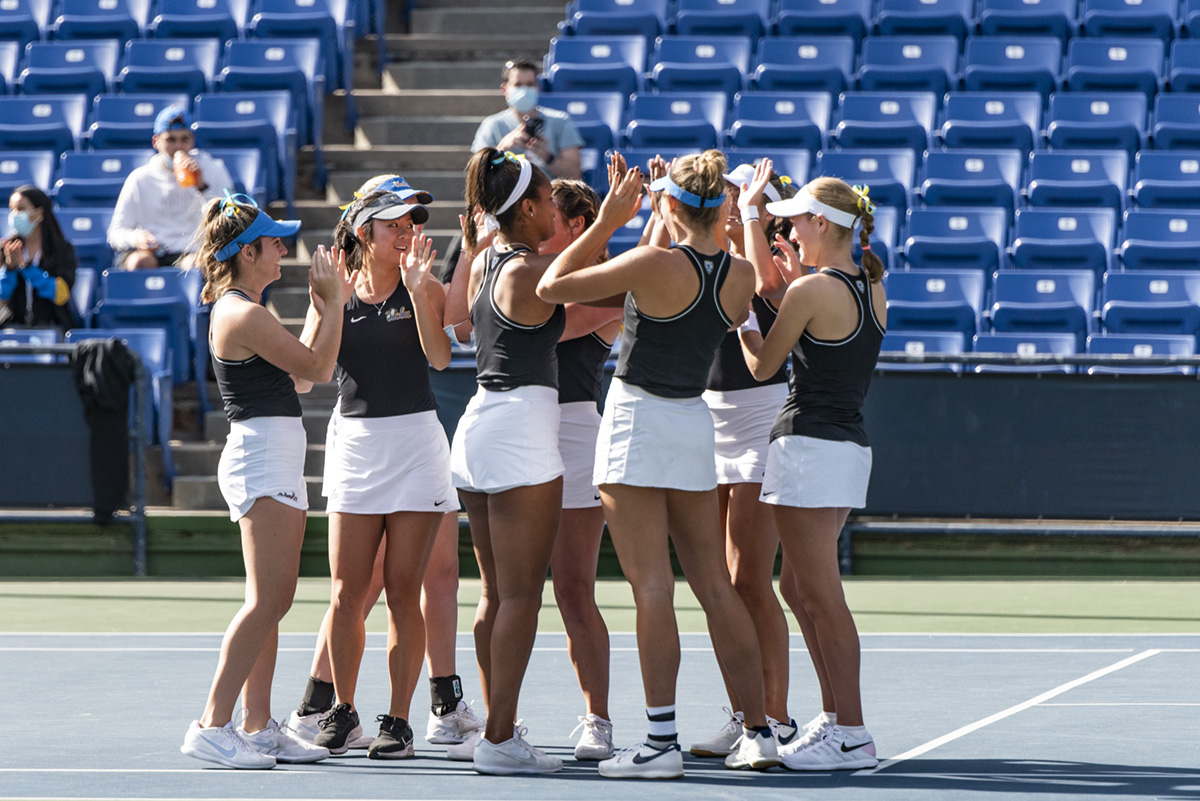 Members of UCLA women's tennis high-five before a match. The Bruins will take on UC Santa Barbara on Friday for their fourth match in a row at home. (Marc-Anthony Rosas/Daily Bruin)
Women's tennis
Amy Ionescu, Daily Bruin contributor
The Bruins are back at home for their fourth match of the season.
No. 19 UCLA women's tennis (1-2) will be hosting UC Santa Barbara (1-3) at the Los Angeles Tennis Center on Friday. The Bruins previously hosted Washington, Denver and Cal Poly for the ITA Kickoff Weekend and Loyola Marymount for their first match of the season, and they have yet to play a match on the road.
Coach Stella Sampras Webster said emphasis on the mental game has been a focus in training so far this season.
"Players are always working on their mental side and being able to maintain that high level throughout the whole match," Sampras Webster said. "On court, that's something we talk about a little bit."
UCLA split its matches in the ITA Kickoff Weekend last weekend, sweeping Cal Poly but losing to Washington 4-3.
Sampras Webster said she commended her players for their resilience in the match against Washington while stressing the importance of getting the doubles point.
"I was really proud of how the team fought back after we lost the doubles point because we don't normally lose the doubles point in this program, so I'm glad that they came out and they responded," Sampras Webster said.
The last time UCLA played UCSB, the Bruins won 7-0, and they will have the opportunity to repeat that performance at 1:30 p.m. on Friday.
Men's golf
Caleb Freeman Sacker, Daily Bruin contributor
The Bruins will head to the 50th state for the next tournament of the season.
Coming off a seventh-place finish at the Southwestern Invitational, UCLA men's golf will travel to Kamuela, Hawaii, for the Amer Ari Invitational from Thursday to Saturday. This week's contest marks its second tournament of the 2022 winter campaign.
The blue and gold will face 18 other schools, with 10 of those featured in the Golfstat top-25 rankings.
Following its previous tournament, coach Derek Freeman said his team has employed a rigorous training schedule, including in-practice tournaments, to determine its starting lineup.
"(We had) really good qualifying, intense matches within the team practices. (It's) always positive to push the guys in between the tournaments," Freeman said. "Forcing the guys to have matches on off days led to a great squad this week."
The Bruins will be rolling out a similar lineup from the Southwestern Invitational, a group featuring graduate student Devon Bling, graduate student Eddy Lai, redshirt sophomore Alvaro Muller Baumgart Lucena and freshman Pablo Ereño Perez. Redshirt senior Kengo Aoshima will make his 2021-2022 season debut Thursday.
After windy conditions affected UCLA's final-day performance in its previous tournament, Freeman said he has prepared his team for possible acclimate weather in Hawaii.
"It's been windy at home. The guys practiced in it and know what to do," Freeman said. "Hopefully an advantage heading into the tournament, and these guys feel confident."
The Bruins will tee off Thursday morning, with forecasted temperatures in the high 70 degrees and rain on Saturday.
Men's tennis
Paul Diamantopoulos, Daily Bruin contributor
The Bruins are headed north to face off against Pac-12 foes for their second road trip in as many weeks.
No. 23 UCLA men's tennis (2-1) will travel to Berkeley to face California (2-1) on Saturday and then to Palo Alto to face No. 12 Stanford (3-0) on Sunday.
The Bruins' last road trip saw them lose 4-0 against then-No. 19 Texas A&M but record a 4-3 comeback win against Texas Tech over the weekend.
"(The win against Texas Tech) gives us good confidence heading into the upcoming matches," coach Billy Martin said. "It will help us stay more focused and handle pressure in our away match against Cal and Stanford."
Senior Patrick Zahraj said he was encouraged by the team's effort on the road in Texas.
"Our freshman class is having their first nerves shook off with being on the road for the first time," Zahraj said. "It's a marathon, and everyone is hoping to improve week by week, so we're going to work on what we need to be ready this coming Saturday."
California has recorded victories over Tulsa and Saint Mary's this season but will come into Saturday having dropped doubles points in two out of three matches.
Martin said he has seen improvements from his team in doubles this season that will help it in future matches.
"We're going to have to keep working hard and get more acquainted with the partners we've chosen to go to battle with, but we played a lot better (Sunday) and that's a plus moving forward," Martin said.
Stanford holds two ranked wins under its belt over then-No. 22 Pepperdine and then-No. 20 UCF, the latter victory capping off a successful ITA Weekend where the Cardinal booked its trip to the ITA National Team Indoors Championships.
With a top-10 ITA singles player in Arthur Fery and a top-10 doubles pairing in Fery and Alexandre Rotsaert, Stanford has not dropped a point in its last two matches.
"We got to see Stanford pretty well two weeks ago at Sherwood Collegiate Cup," Zahraj said. "It's definitely a confidence booster to get a win (over Texas Tech), and the whole team will need to have their confidence up to rise to the occasion."
Track and field
Caleb Freeman Sacker, Daily Bruin contributor
Following a record-breaking weekend, the Bruins will be back in action less than a week later.
UCLA track and field will head on a road trip to the East Coast for the Dr. Sander Invitational Columbia Challenge in New York City on Friday and Saturday. The meet includes top athletes at the professional, collegiate and high school ranks from around the country.
The Bruins enter the weekend having achieved multiple individual personal records and team victories at the UNM Team Open and UW Invitational last weekend. According to coach Avery Anderson, the team is continuing to stay on par with its goal this season of winning a conference championship.
Even with many of his athletes recording personal bests to open the indoor season, Anderson said he takes it day to day and wants the team to improve with each meet.
"Coming off these performances, we want to continue seeing (the athletes) reach the plan laid out," Anderson said. "Measure where we are with performances and continue to get work in, … building toward a bigger picture of what we can do indoor and in the championship."
Last weekend's events in Albuquerque and Washington resembled the first full meet for the team, as many athletes were dealing with injuries or COVID-19 restrictions during the Cougar Invitational on Jan. 14 and Jan. 15, the team's first competition of the year.
Anderson said it was refreshing to have more of his athletes compete for the first time this season.
"We have to adjust to all kinds of things, we make (mistakes) daily and even hourly," Anderson said. "The mindset was to get those several athletes who were competing for the first time to get into competition mode and mindset."
Women's water polo
Cole Lizar, Daily Bruin contributor
The Bruins will return to Westwood for their first set of home games this season.
No. 3 UCLA women's water polo (9-0, 1-0 MPSF) will play a total of three games Friday and Saturday at Spieker Aquatics Center, facing off against No. 11 San Jose State (6-3) on Friday evening before taking on No. 8 Fresno State (3-5) and playing an exhibition match against No. 1 USC (2-0) on Saturday.
Redshirt senior attacker Maddie Musselman and freshman attacker Molly Renner earned MPSF/KAP7 Player of the Week and Newcomer of the Week honors, respectively, after helping the Bruins remain undefeated with a four-game sweep at the Michigan Invitational last weekend.
Despite UCLA's early-season success, freshman utility Nicole Struss said the team must continue to remain focused.
"There is a lot that we need to work on as a team," Struss said. "We're all working together at every practice to raise the bar, to get better and to grow together as a team in and out of the water."
San Jose State enters Friday's matchup on the heels of a seven-goal loss to No. 4 California, while Fresno State will have a chance to continue its momentum after winning back-to-back games following a five-game losing streak.
Struss said she is looking forward to playing at home this weekend after playing the first nine games of her career on the road.
"I'm excited to have a home game," Struss said. "It will be an exciting atmosphere and environment. It's going to be a fun weekend."
The blue and gold will close out the weekend with an exhibition game against its crosstown rivals. The Trojans also remain unbeaten this season, having won their first two games by an average margin of 29 goals.
First sprint between UCLA and San Jose State is set for Friday evening, with the Bruins having an opportunity to stretch their winning streak to 11 before closing out the weekend against USC on Saturday afternoon.
Men's volleyball
Johan Chua, Daily Bruin contributor
The Bruins will take on their first weekend doubleheader series of the season.
No. 4 UCLA men's volleyball (4-1) will take on No. 15 UC Irvine (3-5) in back-to-back matchups, playing this Friday at Irvine and Saturday at Pauley Pavilion.
For coach John Speraw, the Anteaters' volleyball program is not uncharted territory. As former UC Irvine head coach, he won three national titles over six seasons with the team before taking the helm at Westwood.
This weekend's game will also mark the Bruins' first opportunity to bounce back from their first loss of the season against Lewis.
After recording a season-high 19 attack errors and a season-low .210 hitting percentage in the defeat, Speraw said his team will need time to improve its performance.
"We're going to need to continue to get better offensively, but that's going to be with some experience," Speraw said.
UCLA's first serve on the road will take place in Irvine at 7 p.m. on Friday.