The Quad: Lesser-known factors that can contribute to retention of material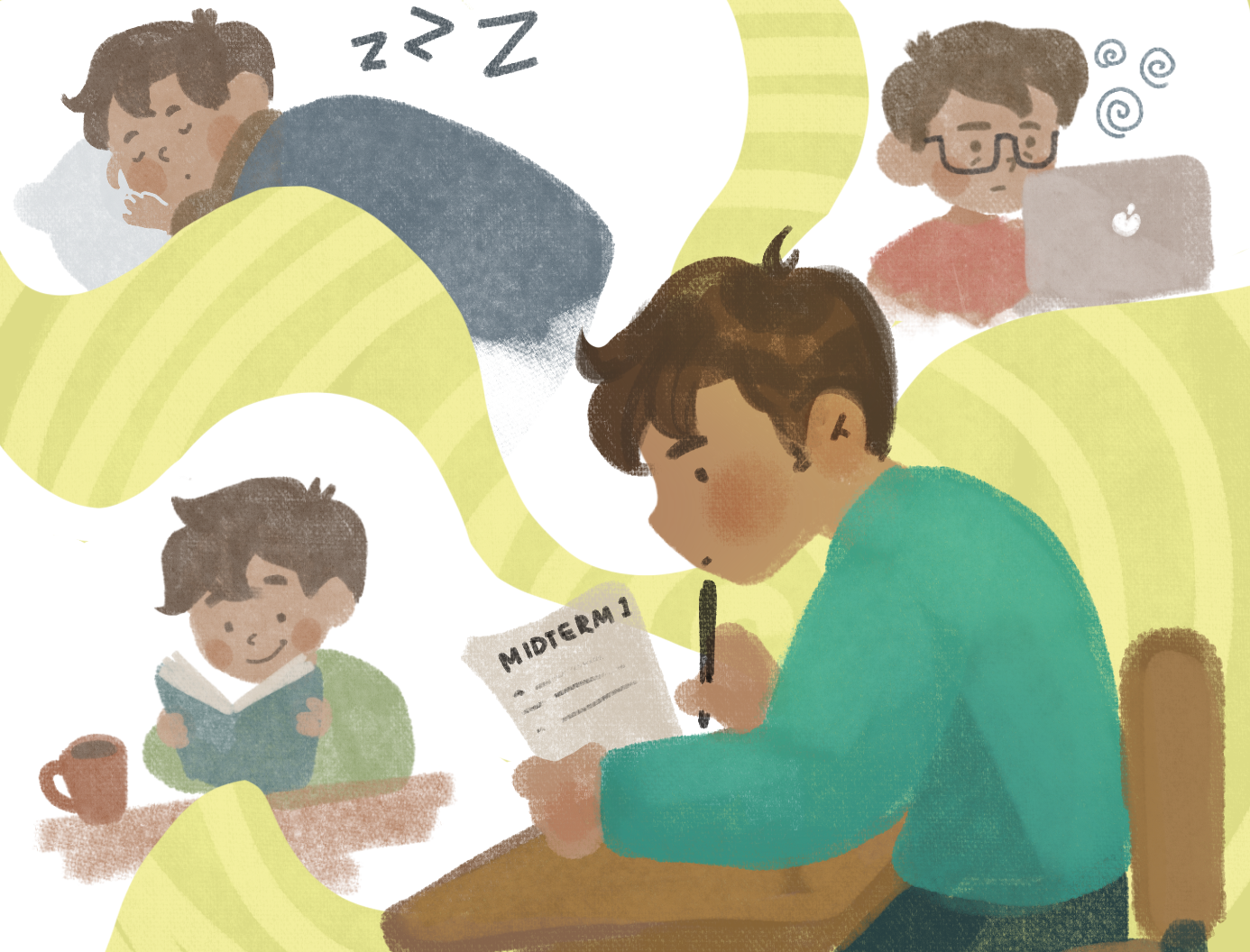 (Katelyn Dang/Illustrations Director)
This post was updated Feb. 3 at 7:22 p.m.
If you study underwater, take your test underwater. This was the discovery of a 1975 study from the British Journal of Psychology which concluded that divers who memorized words underwater recalled them better when tested underwater rather than on land.
Such studies demonstrate that beyond common study strategies, a multitude of factors, such as sleep, environment and attention, affect how students interact with and retain material.
According to a report from the American Physiological Society, over a century's worth of studies have demonstrated the significance of sleep for memory retention. During sleep, the brain is actively transforming encoded information into long-term memories, according to the report.
Psychology professor Alan Castel said that there is strong evidence for the benefits of sleep in relation to learning.
"Some process that is going on allows the information that you've attended to earlier in the day to be organized and become potentially more accessible later compared to if you don't sleep or if you have interrupted sleep," Castel said.
UCLA psychology professor Jesse Rissman said there are intricate processes in areas of the brain, such as the hippocampus and cortex, that contribute to memory consolidation during sleep.
"During sleep each night, the hippocampus is busy interacting with the cortex and reactivating experiences from your day," Rissman said. "So eventually, they'll become more durable in your cortex."
According to a report by Medical News Today, only 30% of students sleep more than eight hours a day, while 60% of students experience disturbed sleep. Furthermore, students who averaged less sleep obtained worse grades in a semester than those who got more sleep, according to an MIT study.
Rissman said that when learning, along with the information itself, the context in which individuals obtain that information is also important, whether it be involving one's environment, mood, hunger, tiredness levels or company.
A study published in Applied Cognitive Psychology found that those who studied in a noisy environment scored higher on a test when tested in a noisy environment rather than a quiet one.
"If you're tested in the same circumstances in which you learn information, you generally show an advantage because all of these contextual details serve as reminders, in essence, or reactivate aspects of the original experience and help you to access the knowledge that you encoded in that context," Rissman said.
At the same time, many Bruins may find it difficult to keep context and environmental conditions the same while studying and testing.
"We often want to learn information in a way that's not highly specific to one context … then the knowledge will become more context-independent," Rissman said.
Rissman said that context independence can be achieved by learning in multiple settings and engaging with the study material from different perspectives.
Fourth-year nursing student Jeremy Park said that he felt the benefits from studying in multiple locations.
"I feel like it's hard for me to kind of just stay cooped up in one spot and study consistently," Park said.
Rissman added that it may help students to imagine the environment in which they originally studied the material when trying to retrieve information.
According to a study on context reinstatement by the Journal of Experimental Psychology, subjects who imagined the environment in which they studied performed nearly as well as the group that was actually placed in the same environment during testing.
Similar to how memory is dependent on context, Castel said one's emotional and mental state is heavily involved in memory formation and retention.
"There can also be an emotional context," Castel said. "You were at a party and you remembered something and you were in a certain mood or state, you might then remember that information better when you engage in a similar mood or state again later."
In a study from The Quarterly Journal of Experimental Psychology, undergraduates were shown to score significantly higher if they matched their learning mood to their testing mood.
Attention, or a lack thereof, to the material being learned can also influence how well students retain the information.
A Nature study revealed that the more screen-based media individuals interacted with simultaneously while studying, the worse they performed on recall tests.
"If you're distracted while you're trying to learn … there's going to be competition; you'll be less likely to remember the information so attention is a big ingredient," Rissman said. "The things we attend to are more likely to be remembered."
From the quality of sleep to emotional state, learning can be drastically improved through seemingly inconsequential elements.
"Information we might hear briefly is quickly forgotten," Castel said. "So I think that that's kind of part of the mysteries of memory, but I think we also do have a certain amount of control over how we can use our memory."