Opinion: UCLA must improve its COVID-19 isolation policies to better protect students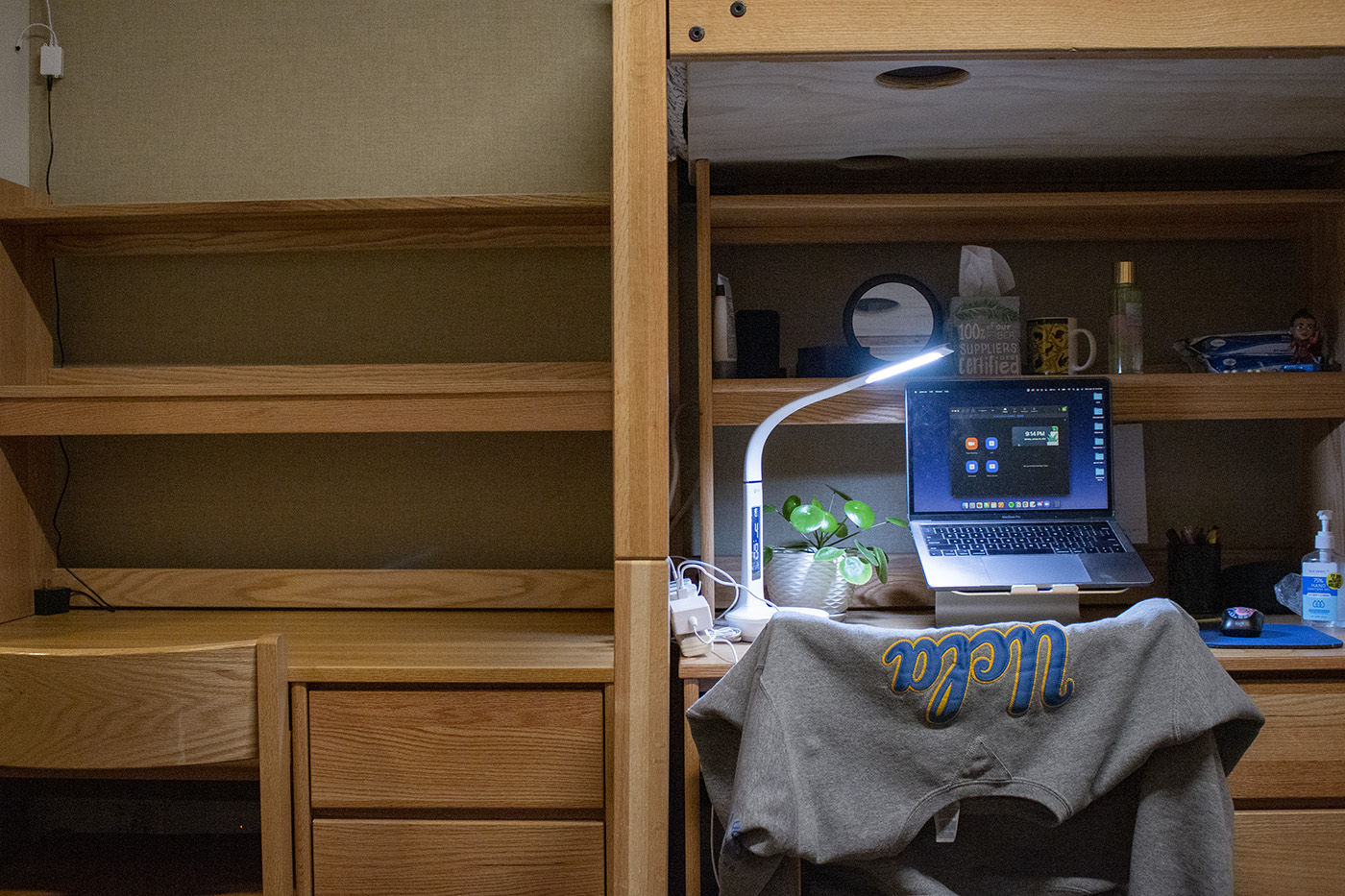 Two dorm tables next to each other, one is empty and the other has a laptop, a light and other items. UCLA's inconsistent and unclear quarantine guidelines put students in danger. (Megan Cai/Daily Bruin)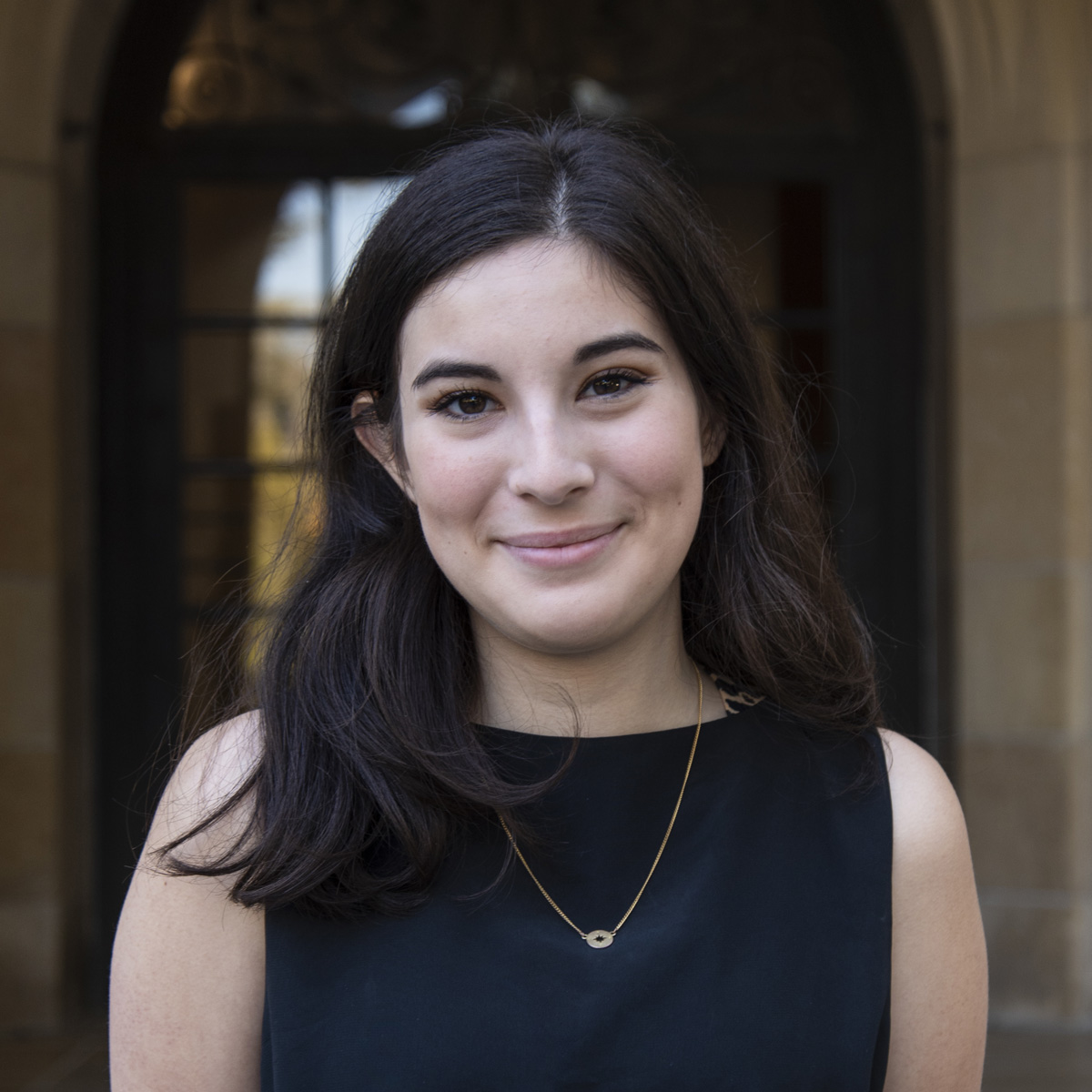 Students have grown used to the ever-changing, unclear and often alarming COVID-19 procedures from UCLA.
From not requiring weekly testing for vaccinated students, faculty and staff during fall quarter to not implementing hybrid learning options that students have been calling for, Bruins have dealt with too many policies that change with only a couple of days' notice. These policies seem to do little, if anything, to reduce risk.
In light of the highly transmissible omicron variant, students should be able to expect policies from their university that will keep them safe. Unfortunately, UCLA hasn't stepped up to the plate.
The university's current policies do not require vaccinated individuals who have been in close contact with a confirmed case to quarantine, and five-day isolation for people who test positive is scary and dangerous for students returning to campus.
The university's current guidelines state that anyone who has been in close contact with a person who has tested positive for COVID-19 does not need to quarantine as long as they have received their booster shot – which most students have – and are asymptomatic. But boosted individuals are still getting COVID-19, and many continue to be asymptomatic, causing them to unknowingly infect others. In Los Angeles County, breakthrough cases accounted for almost 8.9% of all COVID-19 cases last week, a jump of over 1.8% from the week of Jan. 17.
UCLA seeks to counter this danger by requiring that close contacts test immediately and wear a mask around others, both indoors and outdoors, for 10 days after the most recent exposure. But there is simply no way for UCLA to monitor this requirement.
The rule also doesn't apply to roommates who are classified as being part of the same household, UCLA spokesperson Bill Kisliuk said in an emailed statement.
In short, this requirement does very little to actually protect our community.
Perhaps even more alarming is the fact that in some cases, close contacts who wish to isolate aren't allowed to, while others who probably aren't infected are forced to.
Scott Anglim, a third-year political science and history student, tested positive after spending time with friends. When he went to see how to check into UCLA isolation housing, his friends requested that they also be put into isolation but were told that they weren't allowed to because their most recent test results were negative.
However, when he checked into his isolation room, Anglim had a roommate who was awaiting test results after being in contact with someone who had tested positive. This roommate had been told that he had no choice but to quarantine in an isolation room.
The scariest part of the story is that this roommate checked out two days later after receiving a negative result. But this was from a test that had been taken before Anglim arrived in the dorm. So, after two days of living in a room with somebody who had tested positive, Anglim's roommate was forced to leave because his most recent test result was negative.
"The flawed system puts him and the people that he knows at increased risk by having a totally inconsistent check-in and check-out policy," Anglim said.
If students feel like they should isolate, they should be able to.
"I would think that if you feel like you've really been exposed then you should be allowed to isolate," said Christina Ramirez, a biostatistics professor.
According to the university, there is enough housing capacity for students who choose to be in isolation. Of the 1,216 available spots for isolation, only 348 have been in use at a time, Kisliuk said in the emailed statement.
The most recent policy also states that students may leave isolation after five days as long as they have a negative rapid test and their symptoms have improved. While rapid tests are undoubtedly an important tool in determining whether a person has COVID-19, the chance of a false negative still exists, especially for people who are asymptomatic.
One way to reduce the risk of letting potentially contagious students out into the community is to have them take two tests on that fifth day.
"If you want to (be) sure, you sort of have (to have) two negative tests in a row," Ramirez said. "The probability of one bad event can be a little bit higher, but the probability of two bad events – meaning a false negative – in a row is much lower."
UCLA simply needs to decide on policies that will ensure student safety and keep these policies as consistent as possible.
Starting from the time that a person tests positive, the policies for isolation are unclear.
For Hanna Wai, a second-year political science and communication student, finding out what to do after receiving a positive test required doing her own research.
"I looked at the email that told me I was positive, but there wasn't a ton of information about (what to do) if you're positive," Wai said.
Wai added that her roommate, whom she had been in close contact with, was also very unsure what to do.
The current isolation policies are in line with the LA County Department of Public Health and California Department of Public Health guidelines, Kisliuk said in the emailed statement.
The Centers for Disease Control and Prevention said its decision to recommend a five-day isolation period is based on the fact that some data shows that most, but not all, transmission occurs one to two days before and two to three days after the onset of symptoms.
UCLA can do more than state or local guidelines. The university has the ability to decide which policies will keep its students safest.
It's not new for students to feel that the university is letting students' safety fall to the wayside. But it's time that this stops.
UCLA must implement clear and consistent guidelines for isolation and quarantine. Students' health and their trust in their university depend on it.