UCLA track and field athletes set personal, school records at indoor meets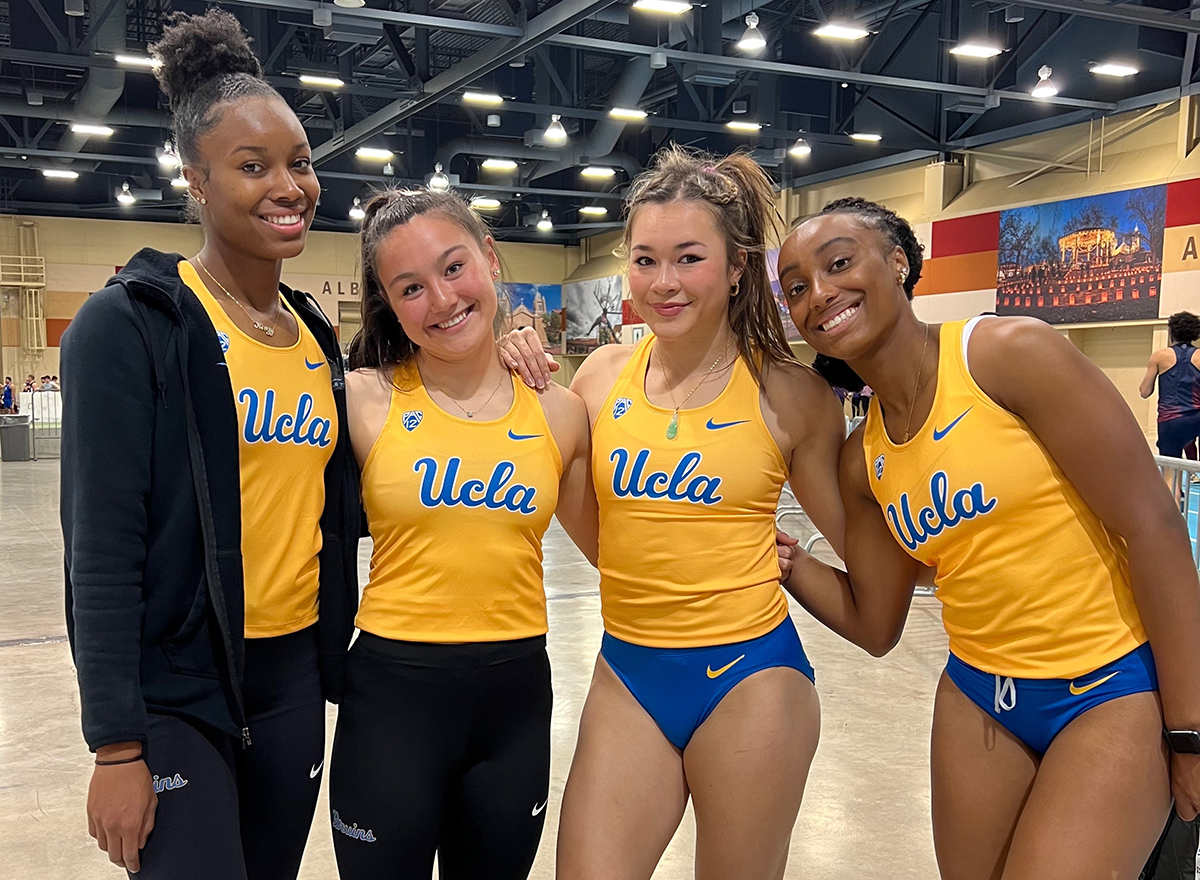 Sprinters Makenzy Pierre-Webster, Maddy Doane, Catherine Leger and Sophia Alexander pose for a picture at the UNM Team Open in Albuquerque last weekend. Pierre-Webster and Leger each surpassed the previous program record for the women's indoor 200-meter. (Courtesy of UCLA Athletics)
This post was updated Feb. 3 at 10:52 a.m.
A 20-year record is no more.
UCLA track and field achieved historic indoor sprint records when it split up for the UW Invitational in Seattle on Friday and Saturday and the UNM Team Open in Albuquerque also on Saturday. One such program record was in the women's 200-meter indoor race – a mark that has been held since 2002.
In Albuquerque, junior sprinters Makenzy Pierre-Webster and Catherine Leger recorded the first- and second-best times in UCLA history for the women's 200-meter indoor race, respectively. Monique Henderson – a former Bruin sprinter from 2002 to 2005 – held the previous best mark at 23.49 seconds.
Pierre-Webster recorded a time of 23.33 seconds, placing her first all-time in UCLA history, while Leger finished a tenth of a second slower for second place in the record books. Junior Maddy Doane also got herself in the top 10, recording a time of 24.11 seconds to place eighth overall in UCLA history.
With the Bruins dealing with obstacles over the past years because of COVID-19, Leger said the team had to adjust. The sprinter was still successful in posting a new personal record in the 200-meter event, beating her previous high by almost half a second.
"I tried my best to train at home in Canada," Leger said. "It was hard to train since everything was closed and (there was) not a lot of opportunity, … but everything has been on my side this year."
Even with the team's success, coach Avery Anderson said he still believes there is more to be achieved from both Pierre-Webster and Leger, as well as the program as a whole.
"Ideally (Pierre-Webster and Leger) keep getting faster. It's still early and they've been important for the team," Anderson said. "They are the cornerstones of that group. It's great to see them step up and it shows what we've been building as a program. It's starting to pay off."
Pierre-Webster and Leger's contributions to the team were also seen in the 4×400 relay where the quartet of Pierre-Webster, Leger, Doane and senior Dakota Stanly finished in first place among a pool of 10 teams.
Almost 1,500 miles away in Seattle, the distance team followed the same trend of record performances by the sprinters. Sophomore Anthony Stone set a new PR with an indoor mile time of 4:03.43, which also placed him at ninth all-time in UCLA history.
Despite an abnormal training regimen, Stone said the coaching staff has been instrumental in helping him get ready for the indoor season.
"Training has been interesting," Stone said. "Coaches helped take our minds off of restrictions and more on the training aspect. They've focused on making sure we are OK and staying healthy, making sure we are having a fun time – and that's what is most important."
Also in distance, junior Peter Herold became the sixth Bruin in program history to break the eight-minute barrier in the 3,000-meter race with a time of 7:59.67. Sophomore Ronan McMahon-Staggs also got himself in the UCLA record books by becoming ninth all-time in the 3,000-meter event with a mark of 8:02.89.
Anderson said the team will continue to work toward improving individually and as a team while it pursues its goal of winning a championship.
"Plan towards getting it right for as many people as we can and achieving that goal of a championship," Anderson said.
The Bruins will compete next Feb. 4 when they travel to New York City for the Dr. Sander Invitational Columbia Challenge.
Freeman Sacker is currently a Sports contributor on the men's golf and track & field beats.
Freeman Sacker is currently a Sports contributor on the men's golf and track & field beats.