UCLA student organizations lead strike against return to in-person learning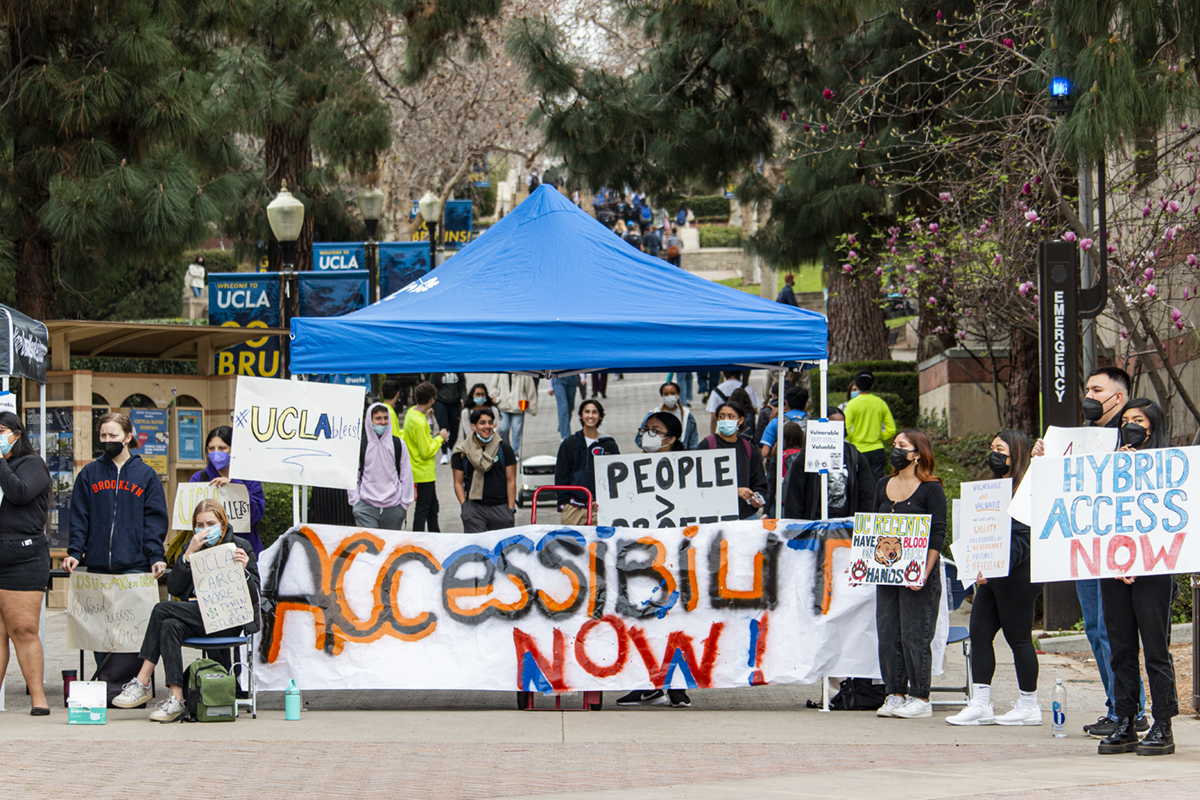 During the return to in-person learning, the Disabled Student Union, the Mother Organizations and the Undergraduate Students Association Council Office of the President held a strike to advocate for improved accessibility. (Christine Kao/Daily Bruin staff)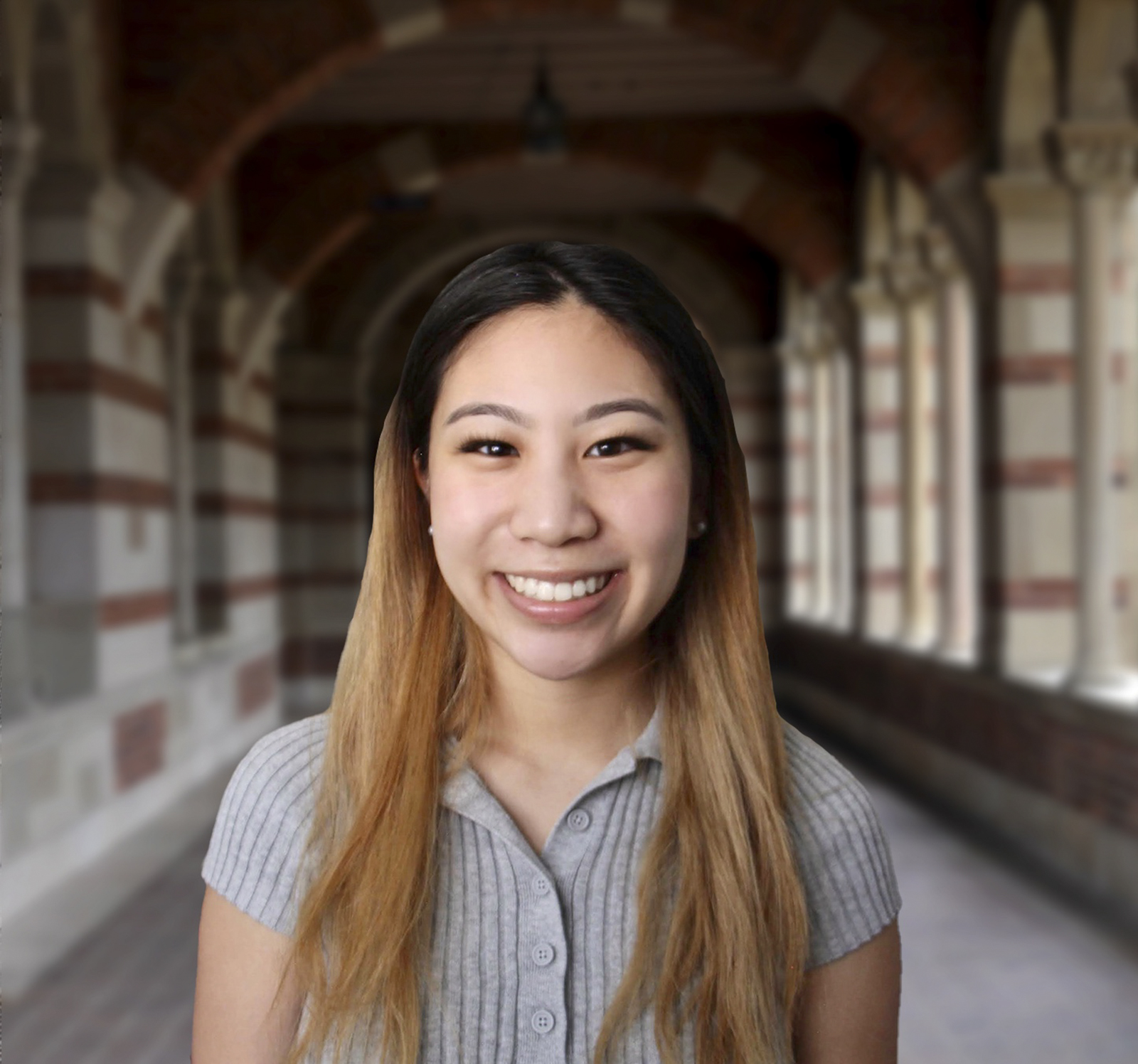 The Disabled Student Union, the Mother Organizations and the Undergraduate Students Association Council Office of the President collaborated to hold a strike about accessibility issues with regards to the return to in-person learning Jan. 31.
DSU is pushing UCLA to implement universal hybrid options, such as requiring professors to livestream their lectures, recording lectures that are in person and having them available online with proper captioning, and not penalizing virtual attendance, said Christopher Ikonomou, a third-year communications student and DSU member.
DSU said in a post Jan. 27 that if UCLA administration does not remove in-person attendance requirements and provide access remotely by Jan. 30, the organization will refuse to attend in-person courses.
Quinn O'Connor, co-founder of the DSU, said DSU demands that the administration guarantees remote options for at least the rest of the academic year. Remote access is not only a pandemic issue, but also a general student retention issue for non-traditional and disabled students, she added.
UCLA's decision to return to in-person learning on Monday is based on an assessment of the current public health situation and UCLA's commitment to providing a full educational experience, said UCLA spokesperson Bill Kisliuk in an emailed statement. Kisliuk also said the decision was an acknowledgement that four of the last five quarters were required to be taught remotely.
Janel Munguia, UCLA Department of English undergraduate counselor, said the English department is following UCLA protocols, including having instructors submit requests for online learning.
"The university was pretty clear from the very beginning that we were going to go back to in-person instruction, and all students were asked to move back by Sunday, January 9," Munguia said. "If students chose to do otherwise, that was the students' decision, not a reason to keep a class online."
Kisliuk added that UCLA asked instructors to respond to their students' needs through means such as broadcasting live lectures, recording courses, and adapting schedules for discussion sections and office hours.
Joseph Bristow, a distinguished professor in the Department of English, expressed concerns about adequate classroom safety equipment, such as air filtration systems and ventilation. He added that the procedures for the return to in-person learning are unclear.
"Are we supposed to be sitting in a lecture hall with spaces, you know, one chair apart from each other? Is that the idea in terms of social distancing, or are we past social distancing?" he said. "If someone isn't wearing a mask or is wearing a mask improperly, I mean, what kind of interventions can you make?"
UCLA has increased Center for Accessible Education's resources with accommodations to support learning for students who require them, Kisliuk said. Students who qualify for CAE services should contact CAE for academic adjustments, he added.
However, Katie Bogue, a second-year biochemistry student and DSU member, said some students are unable to get remote access accommodations because CAE does not deem their situation to be in need of it them. Some students can't go to class and expose themselves to a family member or friend who is at risk, but CAE doesn't accommodate that, Bogue said.
Ikonomou said the strike began in the morning at Bruin Plaza with protesters holding signs, calling out to students who were going to class to sign their petition and join the picket line. During the strike, another DSU member hosted virtual actions on Zoom, he added.
"We came into the second floor of Murphy Hall, which had been actually locked. They locked it in the morning in an attempt to keep us out of Murphy Hall, but we got in from students on the inside," Ikonomou said. "And we have been occupying their second level where Student Affairs … Monroe Gorden, the Chancellor's office is, and we plan on sitting in until our demands are met. So if we need to be here overnight or several days, we will be."
He added that UCLA later unlocked the building in the afternoon once strikers were inside.
Bogue attended the virtual strike on Zoom since they are high risk. They said protesters used a Google Document with action items for participants to use, such as an email template to send to departments, hashtags for Twitter bombing and in-person protesters' live streaming portions of the strike.
Ikonomou said the strike is intersectional since it protests access issues on many fronts.
"It's not only a disability issue, but it's also an issue for Black and brown students who have … kind of been neglected in terms of retention at the university and … are more likely to be hospitalized or to die from COVID," Ikonomou said.
Bogue added that they want to say thank you to the people participating in the strike in person and the sit-in at Murphy Hall.
"Being someone who is high risk, it's been incredibly isolating this past year seeing so many people just not care about my life and my well-being," Bogue said. "Knowing that there are students right now putting themselves in risk … that there are people who care about me and want people like me to have access to education, that really means a lot and is giving me the tiniest amount of oomph to get through this quarter."