Students embrace absurdity, foster arts community with their production company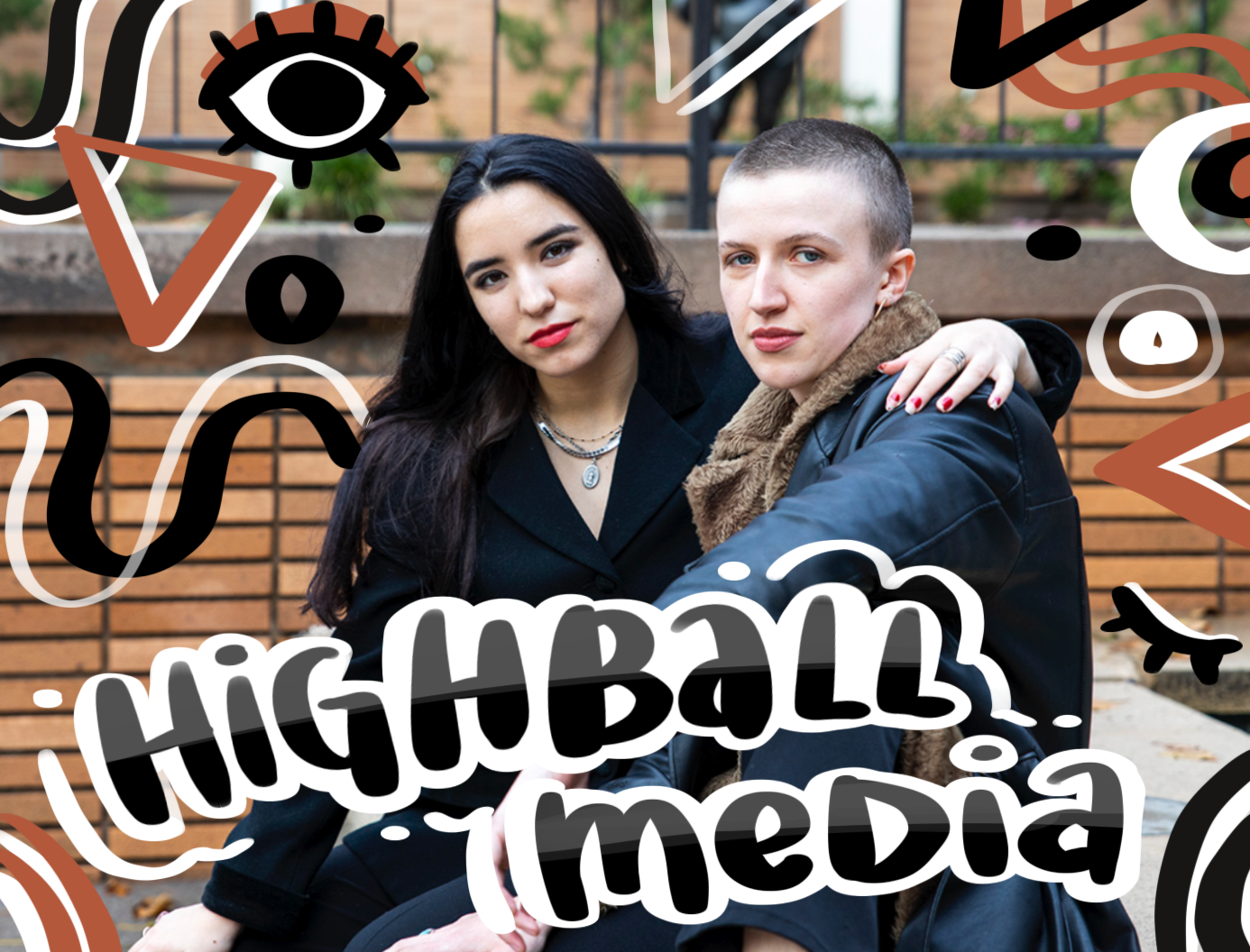 Lucy Urbano (left) and Charlie Stuip (right) are co-founders of Highball Media, a media company that specializes in creating strange and absurd art. (Photo by Ashley Kenney/Photo editor, Photo illustration by Katelyn dang/Illustrations director)
This post was updated Feb. 2 at 9:45 p.m.
Born from a childhood friendship, Highball Media is striking a balance between discomfort and laughter.
When they started the production company at the beginning of the COVID-19 pandemic, co-founder and third-year theater student Lucy Urbano said her and third-year film and television student Charlie Stuip's initial purpose was to give themselves the opportunity to make the absurd art they dreamed of creating since they were children. Since Highball's start in the summer of 2020, Stuip said it has amassed a board of producers and creatives from around the country who all have their own personal niche, from poetry to graphic design.
"We like to indulge in the grotesque and the absurd," Stuip said. "Personally, through Highball, my dream is to make art (that accesses) this visceral emotion and experience in a way that can be really intimate and sometimes make people uncomfortable."
[Related: Student film grapples with grief, heartache as homesickness in 'Fragmentation of Home']
With both of them being raised by artistic parents in rather nontraditional households, Urbano said she and Stuip felt somewhat alienated from their peers when they were younger. As a part of a multiethnic and multigenerational household that included her professional drummer father and social activist grandparents, Urbano said her parents raised her to be an artist. This upbringing could be the reason why she and Stuip felt their dream of starting a production company was within reach, she said.
"To meet (Stuip) as a kid, I was like, 'Here's this person who really gets where I'm coming from and really wants to be weird,'" Urbano said. "We found a community of people like that in art school, and finding your people is one of the most beautiful things ever. Together we've found so many other wonderful people, too."
In collaboration with other members of the board, Stuip said Highball's artistic method is to build a sense of discomfort and then break that discomfort with laughter. In an homage to Dadaism with a darker and more emotional core, Stuip said Highball is a medley of interdisciplinary artists aiming to capture a similar bohemian spirit. She said some may feel as though today's younger generation does not echo the wild community in which poets, filmmakers, photographers and actors all work together, and Highball seeks to change that.
In order to fulfill this purpose at the beginning of the pandemic, Stuip and Urbano said they hosted events that required no funding, such as remote monologue and photography competitions, as well as a virtual variety show with poetry and jazz. Despite its challenges, Urbano said working remotely has had its fair share of blessings, such as being able to work with creators who are not located in Los Angeles and having in-depth conversations about the roots of the company with Stuip.
"Being an actress, they want you to be obedient, and they want you to follow directions," Urbano said. "As much as I love being an actress and following directions, I have my own ideas. (Stuip and I) being isolated together pushed us to have those conversations in a more real way than before to realize that we were capable of starting something ourselves."
Highball has since grown a network of friends and collaborators whom Urbano said give the company a greater diversity of perspectives. Literary manager Roan Pearl said the board is heavily collaborative when it comes to crafting new projects. With her experience being trained as an actor before she learned how to direct, Pearl said she places significant emphasis on talking through what the characters are experiencing with the actors. As a director, Pearl said she prioritizes authenticity in many of Highball's productions by ensuring the actors are empathetic toward the characters they are playing.
Since theater is an in-person art form, Pearl said the company is doing its best to remain safe while composing more in-person events to maintain the authentic connection with its audience. The goal of maintaining this bond has been present since Highball began in the company's first in-person show, Stuip said, which was a production of a play she wrote and directed titled "Living Room Play." Being a young company, Stuip said it was done rather scrappily with limited resources and involved dragging a clawfoot bathtub into the dining room of someone's apartment.
[Related: Alumni's production services company finds success in entertainment industry]
In continuing to bring their thoughts to life, Urbano said the company is now working on producing its premiere short film "Goodbye Horses," where she will be the lead costume designer. When the surge of the omicron variant calms, Urbano said she hopes to host a fundraising craft fair that will include music and craft artists from UCLA and the greater LA area.
"When I was a little girl, I knew that I wanted more than anything to be an actress in LA, and I always thought it would be on somebody else's terms," Urbano said. "I can't even describe how wonderful it is to be making work that I'm passionate about amongst other people who are just as passionate, all on our own terms, which is this gift that I am so grateful for."