UCLA gymnastics wins home meet against Arizona with season-high team score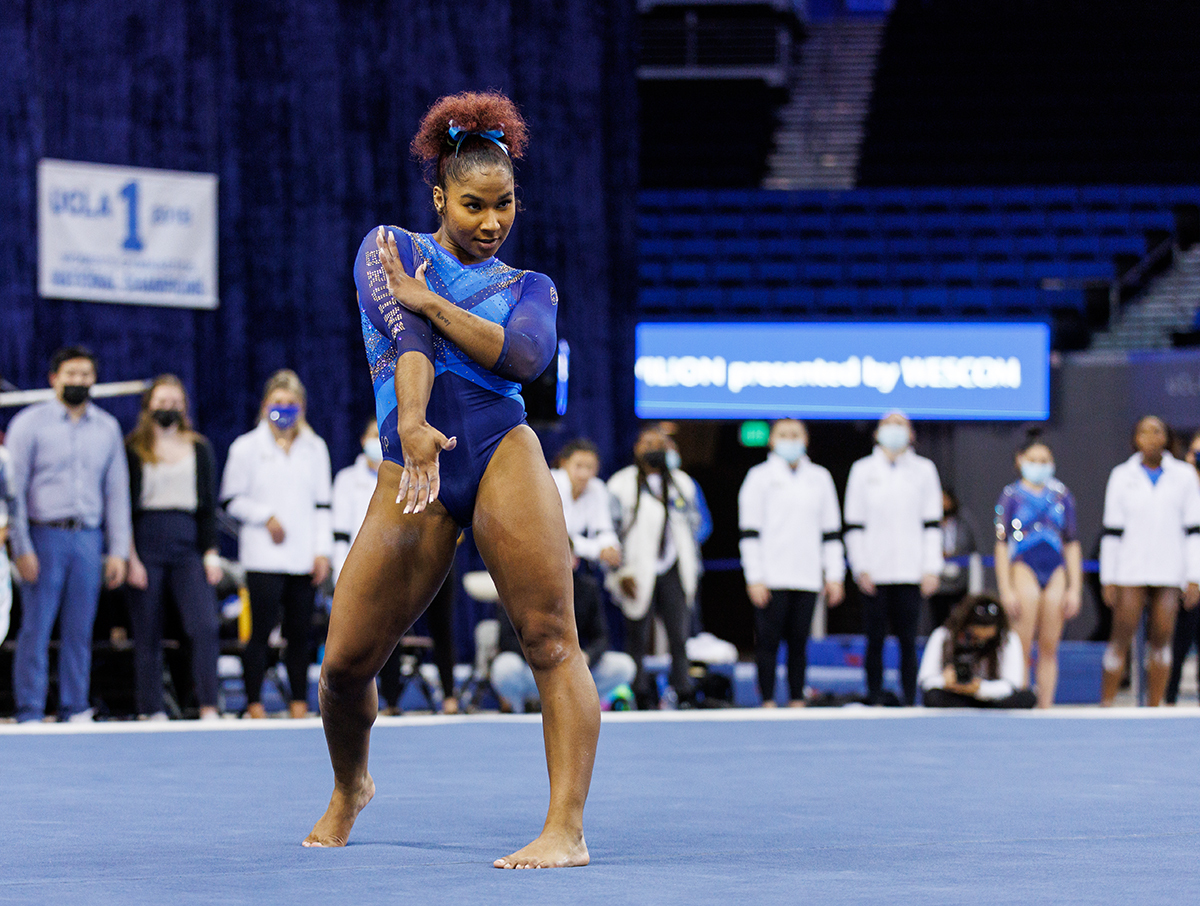 Freshman Jordan Chiles made her all-around debut for No. 24 UCLA gymnastics as the Bruins tallied a season-high team score in their first home meet of the season. (David Rimer/Assistant Photo editor)
Gymnastics
---
| | |
| --- | --- |
| Arizona | 195.125 |
| No. 24 UCLA | 196.400 |
Correction: The original version of this article incorrectly stated that this meet was the first time in 694 days UCLA gymnastics performed in front of fans. In fact, it was the first time in 694 days the Bruins performed in front of fans in a regular-season meet. The original version of this article also misspelled Norah Flatley's name in a sentence.
This post was updated Jan. 31 at 2:00 a.m.
For the first time in 694 days, the Bruins competed in front of fans in Pauley Pavilion in a regular-season meet.
"It's just the best feeling in the world," senior Norah Flatley said. "It gives me purpose to do gymnastics, and it just makes everything so much fun."
No. 24 UCLA gymnastics (1-0) bested Arizona (0-1) by a score of 196.400-195.125 on Sunday in its first home meet of the season. Four gymnasts competed in the all-around for the Bruins, including the all-around debut of freshman Jordan Chiles, as the blue and gold posted a season-high team score.
Flatley started off the meet for UCLA on vault, posting a season-high score of 9.850. The Bruins counted exclusively scores of 9.800 or higher on their first event, with sophomore Chae Campbell matching her season high of 9.900 in the anchor spot and five of six competitors matching or exceeding their season-best scores on the event.
UCLA's team score of 49.250 was almost a full point higher than its first meet and an improvement of 0.400 from the week before. The Bruins entered the competition ranked 46th in the nation on the event, their worst on any apparatus.
"Going big, no holding back is what we're focusing on," Flatley said. "That's ultimately what led us off to a great start."
Going into the second rotation, UCLA led Arizona by 0.425 after the Wildcats posted a 48.825 on bars – a lead that it never gave up.
On bars, the student section roared when the Olympian Chiles posted a team-high score of 9.900, the highest bars score of the meet. Freshman Emma Malabuyo, also competing in the all-around, contributed a career-high 9.825 on bars as UCLA once again posted a score above 49, totaling 49.050 on its second rotation.
Flatley said she has been impressed by the freshmen's contributions to the team.
"They are stellar, outstanding competitors," Flatley said. "They train so hard every day in the gym. Everyone feeds off their energy and confidence."
As the first half of the meet came to a close, the Bruins held a 98.300 to 97.575 lead over the Wildcats.
Malabuyo once again stepped up on beam, hitting her routine and scoring a 9.925 – a career best and the highest score on the event in the meet.
"I was so overwhelmed," Malabuyo said. "I've been practicing just being very confident and believing in myself, and that's how I felt like I went about it today."
Stuck routines from freshman Ana Padurariu and Flatley each scored 9.900, with Padurariu matching her career high in the leadoff position and Flatley bouncing back from a fall in the previous meet.
UCLA nearly matched its beam score of 49.275 from a week ago, posting a 49.250 on the event and giving it nearly a full point lead over Arizona going into the final rotation.
"We've been setting goals as a group," Flatley said. "Every time we go to an event, we have a purpose, and we have goals now. Every time we get into the gym, we're doing it for each other, and I think that's what's really showing too on why we're improving."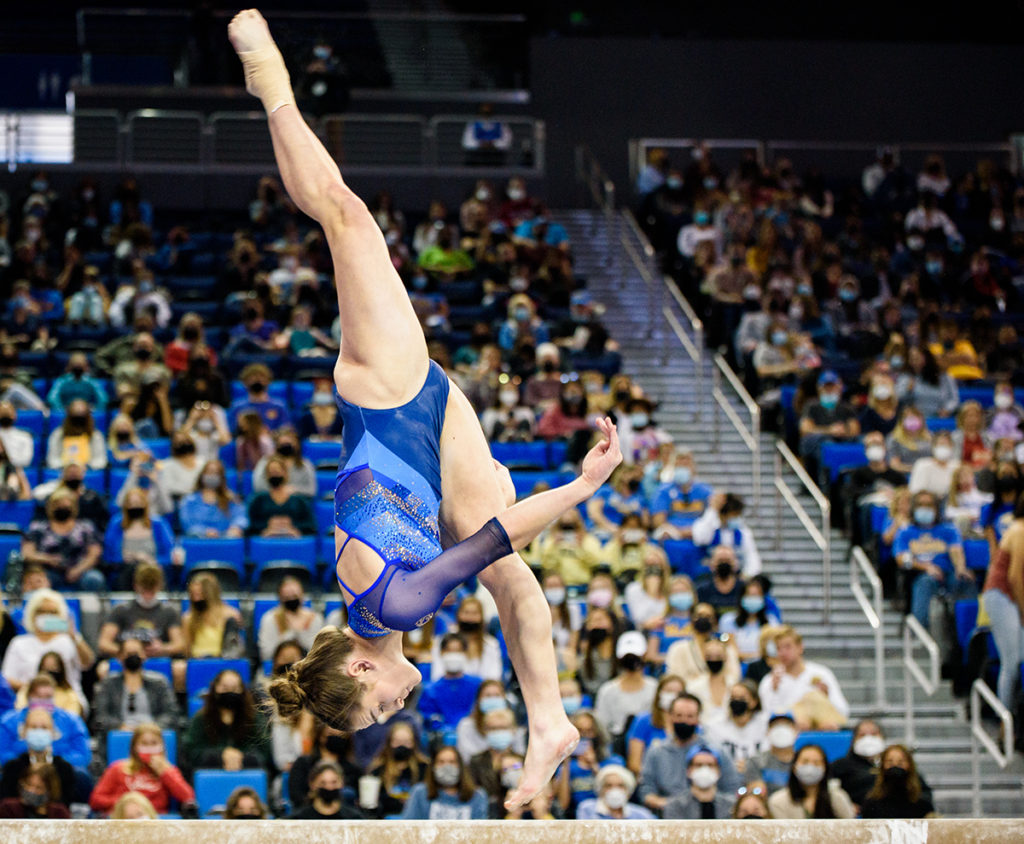 Flatley posted a 9.900 on floor, a season best and team high for the day. Chiles, making her NCAA debut on floor, posted a 9.825 with a double layout second pass for the second-highest UCLA floor score.
"Jordan wants to do every hard skill she's ever done in her life," said coach Chris Waller. "She's very inspired to keep adding difficulty. The general plan is ultimately to compete confidently on every event and to embrace the inspiration coming from the student-athletes as well."
But after freshman Brooklyn Moors, a Canadian floor champion, put a hand down on her final tumbling pass, UCLA was forced to count a 9.675 from Malabuyo and a 9.700 from Campbell after both stumbled on one of their passes.
UCLA ended its final rotation with an event score of 48.850, failing to record scores of more than 49 on every event for the third consecutive meet to open the season.
The Bruins finished with a team score of 196.400, a .100 improvement over last week, beating the Wildcats by 1.275.
"Coming into Pauley Pavilion and having fans again, there is a nostalgia about that," Waller said. "The importance of the legacy of UCLA gymnastics and Pauley Pavilion and the Den and the fans, I think that all of that is layer upon layer upon layer (of) reasons why we feel this team pulling together."
The blue and gold will return to Pauley Pavilion to face off against No. 2 Utah on Friday.
Trimbell is currently a contributor on the gymnastics and rowing beats.
Trimbell is currently a contributor on the gymnastics and rowing beats.