Opinion: UCLA must investigate holdings for ties to Uyghur genocide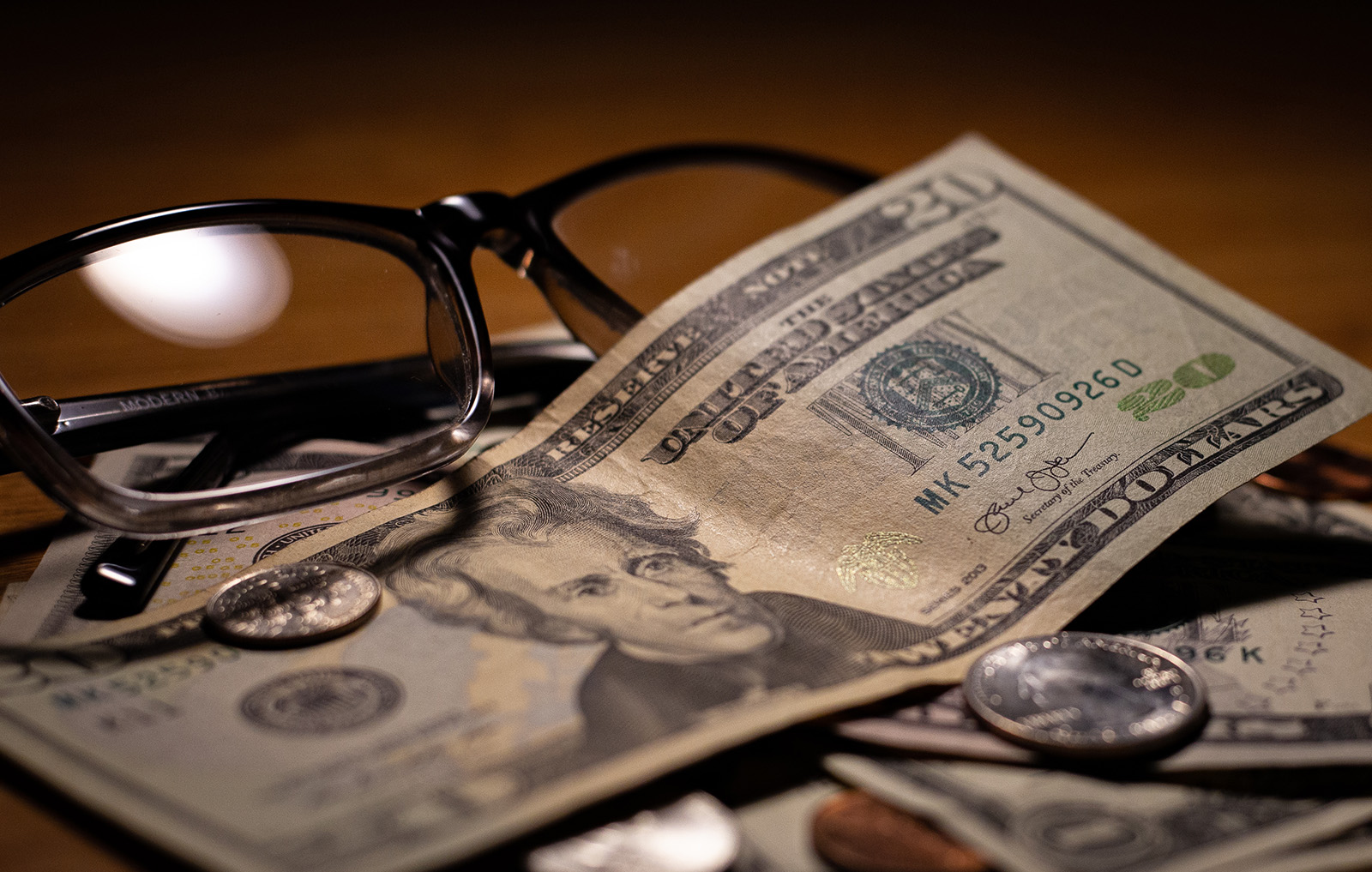 A pile of dollar bills lie next to a pair of glasses. UCLA must investigate its endowment for possible links to the genocide and multiple human rights abuses of China's Uyghur population. If any ties are found, the university must divest. (Joseph Jimenez/Daily Bruin)
As the Uyghur genocide continues to unfold, our institutions don't deserve the benefit of the doubt.
The Uyghurs are a predominantly Muslim ethnic minority that live in the autonomous region of Xinjiang. The Chinese government, under the semblance of counterterrorism, seeks to deprive Uyghurs of their religious and cultural identities.
Many human rights organizations have documented the mass internment, torture and religious persecution of Uyghurs at the hands of the Chinese government. Other allegations include forced labor, sterilization and reeducation – all amounting to the official label of genocide according to the U.S. Department of State.
In response to the Chinese government's exploitation of Uyghurs, President Joe Biden recently signed a bill that limits the importation of goods from Xinjiang. While economic and political maneuvers on a national level are crucial for condemning the Uyghur genocide, there are still key players who haven't kept pace: universities.
UCLA should independently investigate its endowment for potential ties to the Uyghur genocide and divest accordingly. In doing so, the university would act in solidarity with Uyghurs and other oppressed minorities of Xinjiang.
In October 2021, students at The Catholic University of America passed a resolution urging their administration to investigate its endowment for ties to the Uyghur genocide. This includes Catholic University's "direct holdings, externally managed funds, and all financial instruments" as well as its "research collaborations."
In turn, Catholic University's administration agreed to independently examine its endowment for connections to the Uyghur genocide, becoming the first university in the country to do so.
Rory O'Connor, a second-year student at Catholic University, helped draft the resolution alongside members of the student government. O'Connor said if universities wish to continue receiving money from the public, they're obligated to end their involvement in crimes against humanity.
In addition, Yale University's Advisory Committee on Investor Responsibility will investigate Chinese companies for ties to human rights violations, as reported by the Yale Daily News on Wednesday. Earlier this month, an anonymous Yale student urged the administration to divest from Chinese companies given the draconian practices of the Chinese Communist Party.
As one of the top public universities, UCLA should follow this precedent and send a message about financial ethics to other schools in the country.
"Investment managers need to screen (university) holdings against the list of companies at high risk of violating U.S. law," said Louisa Greve, director of global advocacy for the Uyghur Human Rights Project.
This includes a number of Chinese surveillance companies on the U.S. blacklist, Greve added.
Instead, the UCLA Foundation, in an emailed statement from spokesperson Katherine Alvarado, stated its investments are compliant with U.S. law.
"As an institution, we generally do not invest in securities directly, either in the US or abroad, and thus do not engage in security screening for the endowment," the UCLA Foundation said in the emailed statement. "We, and our managers, are aware of the securities on the U.S. Dept of Commerce Entities List, as well as Treasury's (Office of Foreign Assets Control) list. These names are not included in UCLA's investments."
However, being compliant with U.S. law isn't necessarily proof of ethical investment practices. For instance, BlackRock, one of the key backers of weapons manufacturing, manages the University of California's assets. BlackRock-funded companies, such as Lockheed Martin, supplied the means for the Saudi-led war in Yemen.
Still, the UCLA Foundation incorporates environmental, social and governance risks into the investment program. The ESG factors, a common metric assigned to corporations, are designed to uphold certain principles, including human rights.
While this may seem reassuring, there are limitations to ESG risk assessment.
In "The World May Be Better Off Without ESG Investing," Hans Taparia, a clinical associate professor at the New York University Stern School of Business, describes how this process works and highlights that Amazon typically receives a high ESG score because the company's good environmental performance compensates for its exploitation of workers.
Using this same logic, companies can potentially receive high composite ESG ratings despite their connections to human rights violations.
According to Hong Kong Watch, investors often pay less attention to human rights abuses in China because these grievances fall under the "social" factor of ESG, something that's often difficult to calculate. To demonstrate this issue, researchers point out that "more than 34 per cent of the bonds in the ESG version JP Morgan EMBI index" came from countries classified as "not free" according to Freedom House. Likewise, "Goldman Sachs Emerging Markets Equity ESG Portfolio R Acc finds over forty-five percent of equities in emerging Asian countries," with Alibaba and Tencent, two major Chinese technology companies, "accounting for over ten percent of the total fund." Alibaba has developed facial recognition software that can identify Uyghur individuals, while Tencent has allegedly surveilled users of its popular app WeChat.
Since ESG practices fail to uphold human rights, at times, universities should take extra care to examine their financial holdings and divest if necessary.
If somehow UCLA isn't convinced to take steps to ensure that it isn't complicit in genocide, perhaps it will be able to empathize with its peers in academia being targeted in Xinjiang.
In December 2021, the UHRP released a report that highlights the suppression of at least 312 Uyghur intellectuals and cultural elites. The UHRP stated these individuals come from many different professions, such as "medical experts, university professors, editors, poets, and singers."
UCLA has a moral responsibility to support the human rights and freedoms of academics around the world. A thorough investigation into its endowment would ensure there's no breach of UCLA's mission to aid the global community.
Given the loopholes and ambiguity of ESG risk assessment in the corporate world, UCLA should take matters into its own hands.