Weekend preview: Jan. 27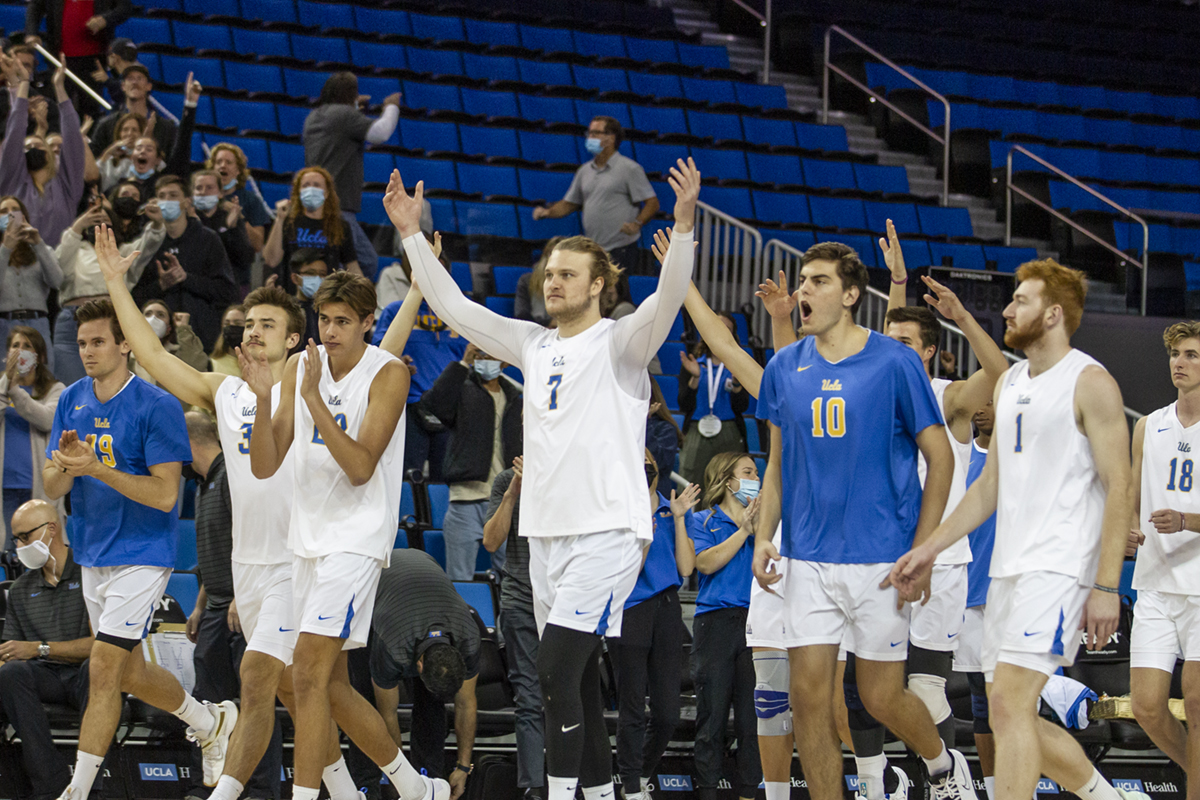 Members of No. 2 UCLA men's volleyball's bench celebrate during the Pac-12/Big Ten Challenge. The blue and gold will take on Cal State Northridge and Lewis this weekend. (Joseph Jimenez/Daily Bruin)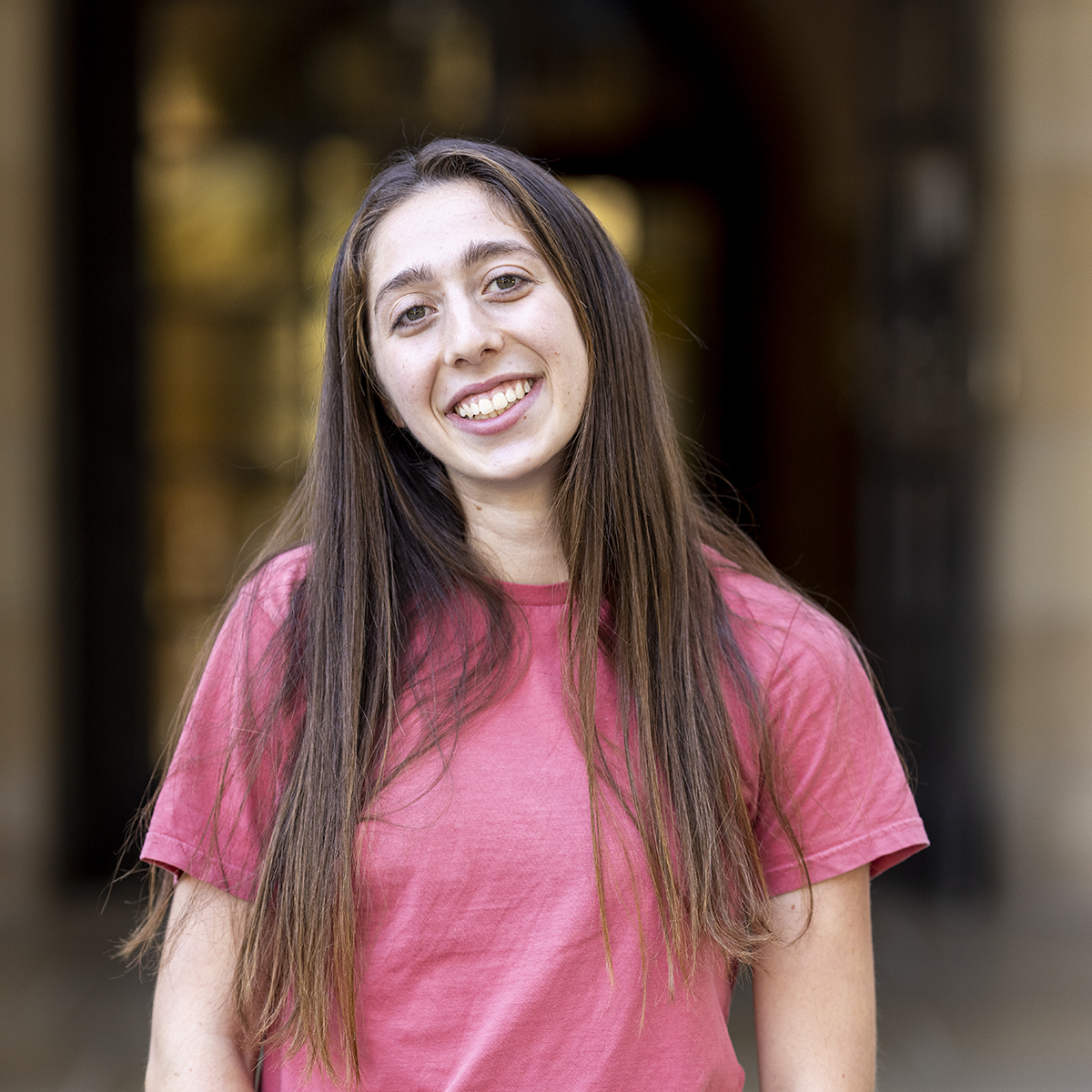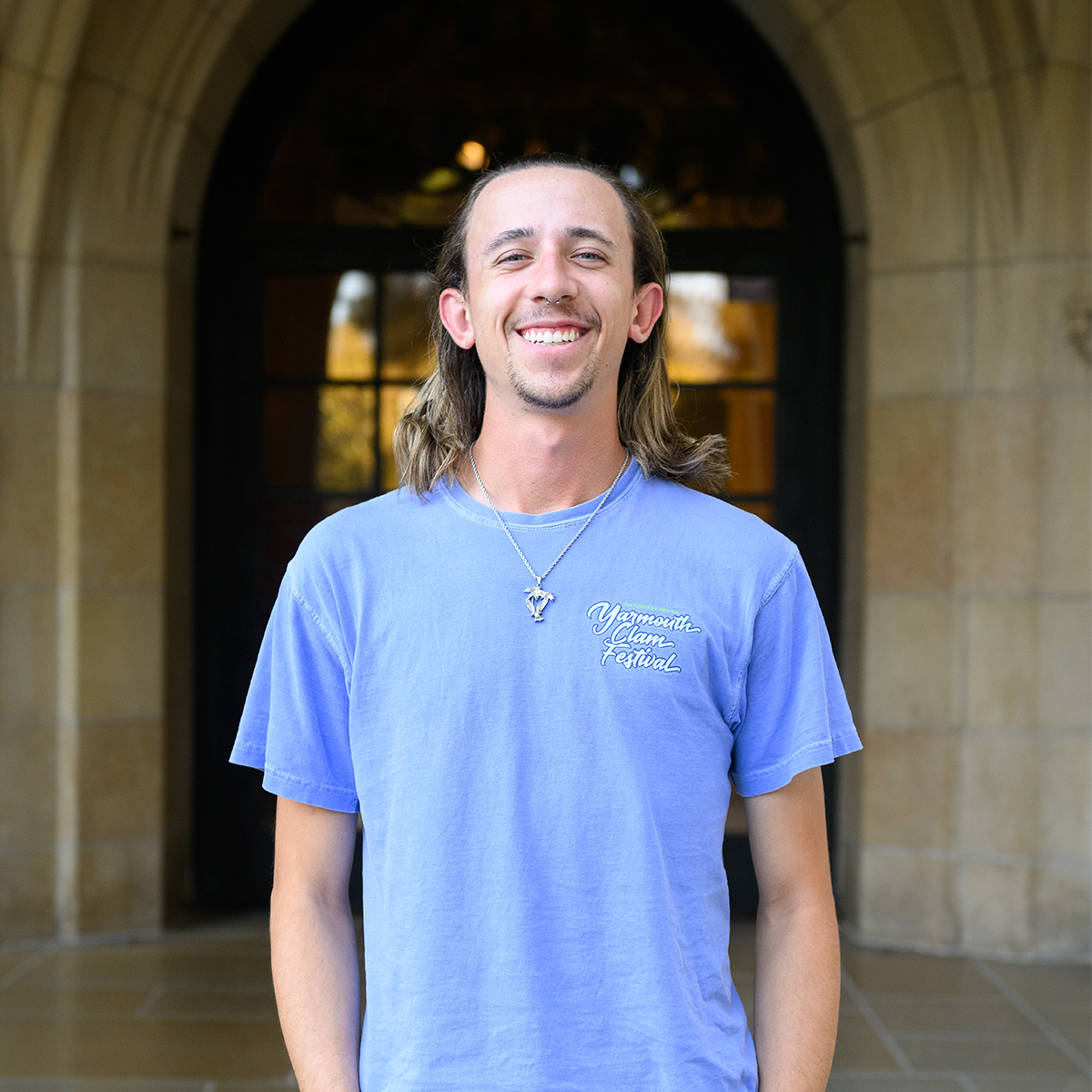 Men's Volleyball
Bryan Palmero, assistant Sports editor
At UCLA, learning isn't limited to the confines of lecture halls.
For coach John Speraw, a Bruin microbiology and molecular genetics graduate, the triumphs on the volleyball court are where class is in session.
"It's still so early in the season," Speraw said. "The opportunity for us to continue to learn while we get wins – that doesn't always happen. Right now, we're 3-0 and learning. And so that's a very good place to be."
Still in its opening quarter of the season, No. 2 UCLA men's volleyball (3-0) will continue its schedule at the John Wooden Center with matches against Cal State Northridge on Thursday and No. 7 Lewis (4-1) on Saturday. In the midst of players studying for midterms, the blue and gold have raced to an undefeated season start with victories over Princeton, Ohio State and Penn State.
Both matchups will present an unfamiliar test for the Bruins, as the team has not faced the Matadors or the Flyers since before the COVID-19 pandemic halted the 2020 campaign. UCLA faced a Mountain Pacific Sports Federation-only schedule in 2021. CSUN and Lewis play in the Big West and Midwest Intercollegiate Volleyball Association, respectively.
The Bruins swept the season series against the Matadors in February and March 2020, while downing the Flyers in the two team's lone contest in 2019.
UCLA will take on CSUN on Thursday at 7 p.m.
Women's tennis
Jack Nelson, Daily Bruin contributor
For the fourth consecutive year, the Bruins will play college tennis' marquee season-opening tournament in Westwood.
No. 4 UCLA women's tennis (0-1) will play host to Washington (3-0), Denver and Cal Poly (1-0) for the ITA Kickoff Weekend at the Los Angeles Tennis Center. The Bruins will take on the Mustangs on Friday, and, should they be victorious, play the winner of Washington vs Denver on Saturday for a ticket to the ITA Team Indoor Championship.
In the three most recent editions of this event, UCLA has posted a 6-0 record with a combined match score of 24-0, earning a trip to the indoor championship each time without dropping a point.
Associate head coach Rance Brown said his players will need to be resilient in their matches in order to maintain that pattern of success this weekend.
"We've had some bumps in the road here, some gut punches, from a team standpoint," Brown said. "We've had some family losses, so the Bruin family here has to bounce back from that, which I think the kids will."
Loyola Marymount has faced UCLA twice in the past three ITA Kickoff Weekends, dropping 4-0 decisions to the blue and gold in 2019 and 2020. Although not given the opportunity to exact revenge in this year's event, the Lions dealt the Bruins a 4-3 upset in their first foray into the dual-match season on Wednesday.
With senior Taylor Johnson and sophomore Vanessa Ong absent from the starting lineup, two freshmen donned the UCLA letters for the first time in a dual match, both enduring defeats at the hands of the Lions on courts four and five.
"They outclassed us in the back with a little more experience against some young people that are going to get a lot better," Brown said.
The Bruins have only faced the Mustangs once before in 2012, with the lone matchup ending in a 7-0 shutout by UCLA. However, Cal Poly will bring experience to the Los Angeles Tennis Center, something Brown said will serve to their advantage. They boast a graduate student transfer and two redshirt juniors, all of whom were regular starters last season.
UCLA will attempt to notch its first win of the campaign against Cal Poly on Friday.
Swim and Dive
Sabrina Baker, Daily Bruin contributor
The Bruins are set to host back-to-back conference meets against last season's top-two placing Pac-12 champions.
UCLA swim and dive (3-2, 1-2 Pac-12) will host No. 4 Stanford (4-0, 3-0) and No. 7 California (3-1, 3-0) at Spieker Aquatics Center this weekend. The Bruins are 3-36 all-time against the Cardinal and 9-30 all-time against the Golden Bears and finished third behind the two teams in the Pac-12 Championships last season.
Coach Jordan Wolfrum said the team has been shifting its training to power, speed and details to best prepare for taking on the conference's best.
"We know going into our meets that these are two of the best teams in the country with a number of the best athletes in the world," Wolfrum said. "What we will do heading into both of these meets is use our underdog status to really clarify what our really specific goals and focus points are."
While the Bruins' last dual meet against UC San Diego on Jan. 8 was its only meet of the weekend, the team will take on Stanford and California on back-to-back days.
Wolfrum said the quick turnaround of these meets can be difficult but will act as good preparation for the upcoming multi-day championship meets.
"You've got to be able to come up and then come back down after the end of the meet and then get that energy back up the next day," Wolfrum said. "This is really the mentality that we are in now. Everything that we've got left is multiple day events, so we will take these (upcoming meets) one day at a time, just like we do in a championship meet."
Men's Tennis
Zoe Moskowitz, Daily Bruin contributor
The Bruins will have their official kickoff this weekend.
No. 23 UCLA men's tennis (1-0) is headed to College Station, Texas, to compete in the ITA Kickoff Weekend where it will play against No. 19 Texas A&M on Saturday and either Texas Tech or No. 12 Arizona on Sunday should it claim victory over the Aggies
The Bruins will be the fourth seed in the four-team bracket playing at the Texas A&M site. Should they win both of their potential matches, they will advance to the ITA Regional Indoor Championships starting Feb. 18.
Coach Billy Martin said although the atmosphere of College Station along with the strength of the UCLA's upcoming opponents will pose a challenge, he is confident in the abilities of his team.
"I know it can be a very vocal crowd down there." Martin said. "They have a great coaching staff and a great facility, so you know they (won't) want a UCLA team to come in and (beat) them at their place. I know it's going to be a battle."
The Bruins played the Aggies two weekends ago at the Sherwood Collegiate Cup, where they won one out of five of the doubles matches and two out of 10 of the singles matches.
As a relatively young group, Martin said his team must be able to adapt quickly, block out the noise and just focus on each point.
"We're going to have to be hungry, have a quick learning curve if we want to be successful," Martin said. "I'm up for the challenge, I think they're up for the challenge."
UCLA will begin its first match against Texas A&M on Saturday at 12 p.m.