UCLA men's tennis claims win over Saint Mary's during first dual match of season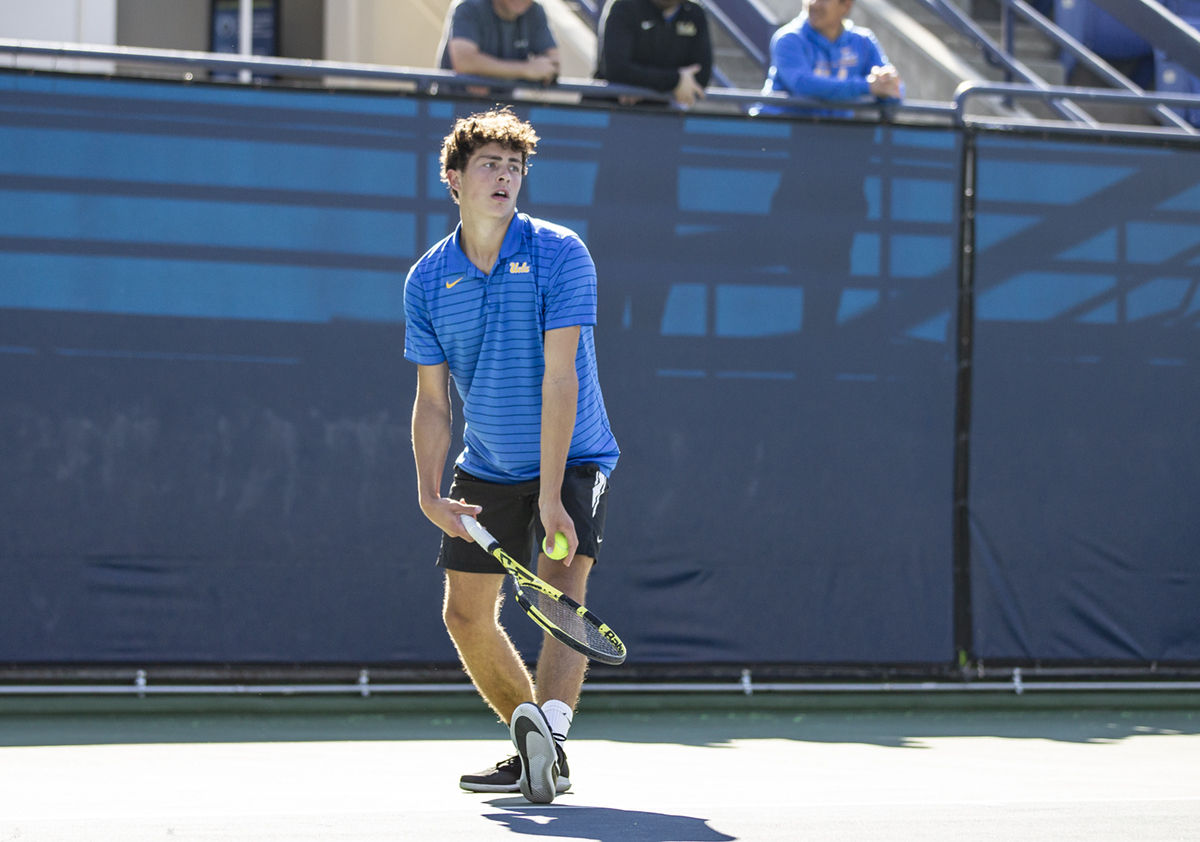 No. 23 UCLA men's tennis freshman Giacomo Revelli prepares to serve the ball. In his first collegiate singles dual match, Revelli claimed a 6-3, 7-6 (3) win against St. Mary's on Tuesday to complete the teams' 7-0 shutout of the Gaels. (Joseph Jimenez/Daily Bruin)
The Bruins started their dual-match season with a shutout win.
No. 23 UCLA men's tennis (1-0) defeated Saint Mary's (0-2) by a score of 7-0 at the Los Angeles Tennis Center on Tuesday in the blue and golds' first dual match of the campaign. The win brings the Bruins to 5-0 all-time against the Gaels and serves as the team's last match before heading to College Station, Texas for the ITA Kickoff Weekend.
"It's important to start this week with a win," said coach Billy Martin. "We're going to have to have a quick learning curve if we want to be successful, but I'm up for the challenge and so is the team."
A pair of ITA Southwest Regional Finalists, senior Patrick Zahraj and freshman Giacomo Revelli, teamed up on court two in doubles and got out to an early 2-0 lead to start the match. Zahraj and Revelli hung on to close out their match 6-3, while the court-one pairing of redshirt senior Bryce Pereira and freshman Alexander Hoogmartens recovered from an early deficit to win their set 6-3 as well.
Although the doubles point had already been decided in favor of the Bruins, the teams played out the final match on court three, in which the UCLA pairing of junior Drew Baird and senior Max Wild fell 6-3.
"It was super exciting going out with the team for the first time," Revelli said. "We've been training super hard, especially in doubles, so I think we handled it well."
Heading into singles play with a 1-0 lead, the Bruins continued their winning ways by securing victories in the first set across all six courts.
Despite Baird's loss in doubles, he rebounded in his court one singles affair, taking the first set in a tiebreaker by a score of 7-6 (5).
"It's really important to show everyone that you're not going to be put down easily. … You're going to come back and fight through adversity," Baird said. "That's what everyone did – we all just came together as a team and fought really hard."
The first singles victory for UCLA came on court six from freshman Karl Lee, who won the first 11 games of the match before closing it out 6-0, 6-2 in his first-ever collegiate dual match.
The next Bruin to secure a win was fellow freshman Hoogmartens, who registered a 6-2, 6-3 victory on court two against the Gaels' Caelan Potts.
Zahraj followed suit on court three, winning his match 7-5, 6-1, and clinching the Bruins' first dual-match win of the season.
"The team was solid from top to bottom," Martin said. "They stayed disciplined and fought through the nerves, which is huge for the first match of the season."
With the rest of the singles matches being played out, sophomore Stefan Leustian began his dual-match campaign with a 6-4, 6-2 victory on court five and Baird closed out his match on court one with a 7-6 (5), 6-4 decision.
Revelli's match on court four was the last to be completed, as the freshman eked out a win despite missing out on several match point opportunities in the second set.
"I was thinking a lot just about staying in the present, forgetting about the missed opportunities and the missed match points," Revelli said. "(I) just focused on the basics, the returns, the serves and the plus one. … Just staying calm and grounded helped me a lot."
Revelli's 6-3, 7-6 (3) victory ensured that the Bruins did not drop a set across all six of their singles matches.
With a couple of days to rest before the team hits the road for ITA Kickoff Weekend beginning Saturday, Martin said he is keeping his expectations tempered for the season.
"We're just going to be pretty young and inexperienced, so (we'll) have to be hungry," Martin said. "My big philosophy for this team this year is we're going to get better and better".
Diamantopoulos is currently a Sports contributor on the men's tennis beat. He was previously a contributor on the beach volleyball beat.
Diamantopoulos is currently a Sports contributor on the men's tennis beat. He was previously a contributor on the beach volleyball beat.