The Quad: Bruins note pros, cons of pen-and-paper vs. digital note taking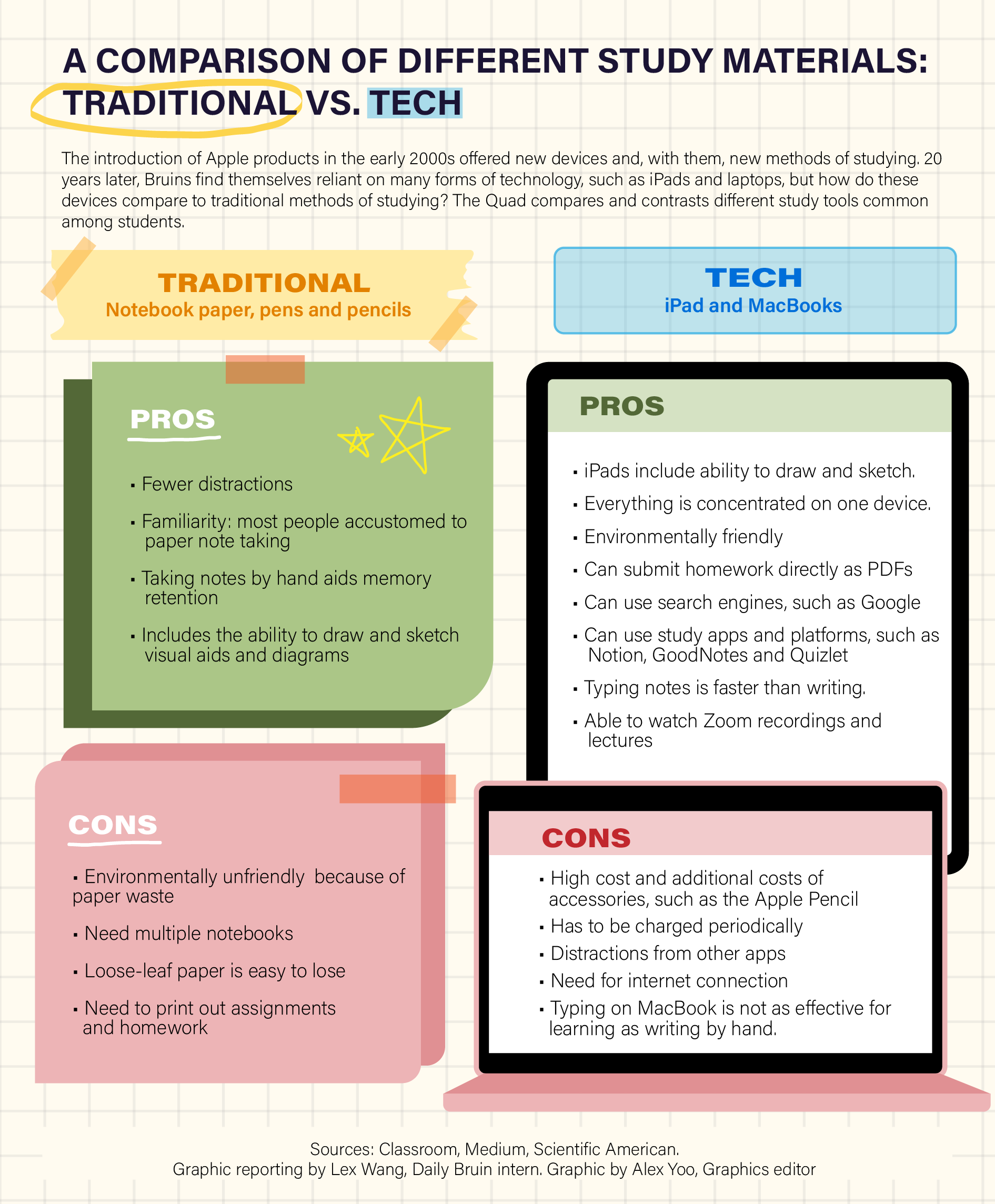 Behind every muted Zoom profile is a student in lecture rapidly – or leisurely – taking notes. Note taking, for many, is done using modern technology. These digital devices have a ubiquitous presence across college classrooms all over the nation, including UCLA.
Umiemah Farrukh, a third-year psychology student, said she recently transitioned from using paper and pen to exclusively using technological tools. Farrukh added that she learned early on to appreciate the benefits that a laptop provided during remote learning, even before the COVID-19 pandemic began.
"I use Google Docs to take notes when I'm watching the lecture," Farrukh said. "I can write faster. So the words that I'm producing on the keyboard per minute are more than what I would be producing if I was using my handwritten notes. So that way, I can write more; I can write what the professor is saying verbatim."
Farrukh also said that as someone involved in research, having access to Google search engines was practical.
"I definitely have a lot more knowledge and a lot more existing and past research at my fingertips," Farrukh said.
Fatima Castro, a third-year political science student, also said her laptop is a helpful asset for studying.
"For the most part, I would definitely use my computer. I would say that's about 95 percent," Castro said. "Ctrl F is like our holy grail."
On the other hand, Ellen Tahmasyan, a second-year biology student, said the iPad is her study tool of choice. After witnessing her friend working on an iPad, Tahmasyan said she eventually bought her own from Amazon and easily adjusted to using the device for all of her classes.
Tahmasyan said she uses a common note-taking app on her iPad, GoodNotes, which has the function to separate assignments by folder, which Tahmasyan divides by quarter and by course.
"The ultimate thing that I love about the app is it's super organized," Tahmasyan said.
Moreover, she said the benefits of organization are not limited to the GoodNotes app but apply to the iPad as a whole, simply because all of her resources are in one place.
However, students like Castro said tech usage can have its downsides.
"Sometimes, I think I'm going to be more productive than I actually am on the computer," Castro said. "What is supposed to be a one-hour lecture will take me 3 1/2 hours just to write down and try to fully grasp, and … I know if it would have been simply in person, no computer allowed, just pen and paper, it would have only been a one-hour lecture."
In addition, both digital devices can be pricey, especially for the average college student. Ignoring the additional costs of covers, Apple Pencils and screen protectors, iPad prices start at $329 and Mac prices start at $999. The Samsung Galaxy Tab, a device similar to the iPad, starts at $299.
"A bad thing about the iPad, in general, is that it is really costly," Tahmasyan said. "And we already have a lot to pay for as college students."
Second-year political science student Maria Rodriguez said she prefers working with the traditional paper notebook because it helps her memorize.
According to a Scientific American article, studies have shown that students who use longhand often have a deeper comprehension of the material they are learning. Although laptops provide the ability to take notes more quickly, those who take notes by hand were able to demonstrate conceptual understanding and apply what they learned more easily.
"I think (writing) helps me memorize it better," Rodriguez said, "I actually have to put some thought into what I'm writing."
Nonetheless, after using paper notebooks, Rodriguez said that she usually does not know what to do with them and recognizes that their use can harm the environment more than paperless tablets or laptops.
"I just keep them stacked up in my room. I put them in a drawer and just forget about them," Rodriguez said. "They're just there after I'm done with the class."
Overall, the familiarity of the traditional paper notebook and the novelty of tablets and laptops appeal to different types of learners and vary between college students. Castro said she prefers to go for some blend of the three.
"Ideally, I would use a mix of laptop, paper and an iPad," Castro said.
While many students are still exploring new methods of studying during the COVID-19 pandemic, Tahmasyan said, in the end, individual students should choose the tools that are right for them.
"I want them to just envision them using it and see if it works with their personal methods," Tahmasyan said.