UCLA men's tennis prepares to open season with matchup against St. Mary's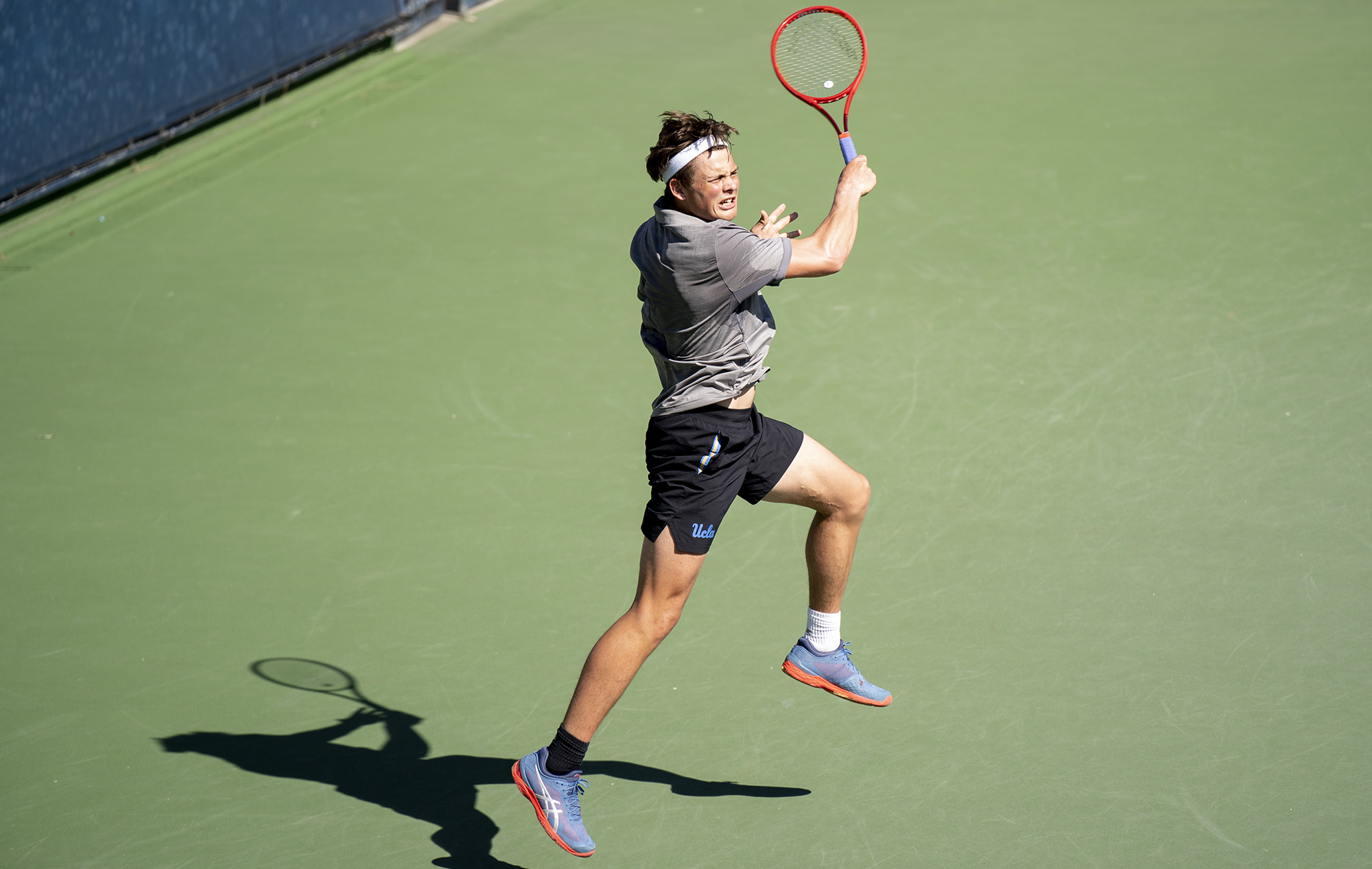 Senior Patrick Zahraj jumps in the air after hitting a ball during a match. Zahraj will enter what could be his last regular season in Westwood when UCLA men's tennis takes on St. Mary's on Tuesday for its first dual match of the year. (Esther Ma/Daily Bruin staff)
Men's tennis
---
St. Mary's
Tuesday, 1 p.m.
Los Angeles Tennis Center
UCLA Live Stream
The Bruins are set to begin the dual-match season at home.
No. 25 UCLA men's tennis will welcome St. Mary's to Westwood for the team's first dual match of the season Tuesday at the Los Angeles Tennis Center. The Bruins are starting their dual-meet season almost two weeks later than expected after their original season opener against Grand Canyon on Jan. 12 was postponed.
In their return to the court, coach Billy Martin said creating good doubles teams will be a key factor in dual matches.
"Solidifying the teams we feel have the best chemistry and are playing well together gives us the best opportunity to win two out of three doubles matches," Martin said. "We've done a lot of figuring out, so now it's time for us to make our decision and throw them out there to see how they react to match situations."
One player who is adjusting to the importance of doubles at the collegiate level is freshman Alexander Hoogmartens, who said he has been working on particular aspects of his doubles game in preparation for dual meets.
"I've improved my doubles skills, especially the serve and volley, and (I'm) trying to be more aggressive," Hoogmartens said. "I came from the juniors, which is more return and come into the net, but now it's more serve and volley to try to win the points."
Hoogmartens, who hails from Beersel, Belgium, added that he has been working on acclimating to playing on a different surface than he did when playing in Europe.
"Here we play on outdoor hard surfaces and the tennis is different, so I've had to adapt – especially my forehand and backhand, playing a flat one and using the important patterns on hardcourts," Hoogmartens said. "Overall, trying to find the right aggressive game is the hardest part."
Irrespective of his European background, Hoogmartens said the biggest adjustment for him has been the no-ad scoring system of college tennis, which differs from junior and professional tennis.
However, the freshman said his experience from tournaments in the fall helped him prepare for the upcoming dual-meet season.
"The tournaments I've played in the fall have given me an opportunity to explore what to do on those points," Hoogmartens said. "I'm more confident on how to play in those points, … (to) not be scared and just go for it."
A teammate of Hoogmartens who has experience undergoing the same transition is senior Patrick Zahraj, who competed on the junior circuit throughout Europe and is originally from Germany.
Zahraj said his time at UCLA caused him to change his preparation for the season by staying in Los Angeles for winter break as opposed to traveling back home.
"It is a very physically draining schedule," Zahraj said. "Being on the run for five months (requires) energy management, so because I've done it for years, I'm more aware of what helps me get through it and play my best."
Martin said having a team with many seniors helps establish a culture within the program for younger players like Hoogmartens.
"It's really important (that older players) lead by example during matches, during practice (and) off the court," Martin said. "The younger players feel a lot more comfortable going to a senior or an older player on the team to ask a question and feel a little more comfortable showing vulnerability to them".
With the Bruins set to begin their season against the Gaels on Tuesday at 1 p.m., Zahraj said he has one goal for his senior campaign.
"Enjoy the ride with the guys and bring home some titles along the way," Zahraj said.
Diamantopoulos is currently a Sports contributor on the men's tennis beat. He was previously a contributor on the beach volleyball beat.
Diamantopoulos is currently a Sports contributor on the men's tennis beat. He was previously a contributor on the beach volleyball beat.