UCLA men's volleyball adapts lineup to triumph against top-5 Penn State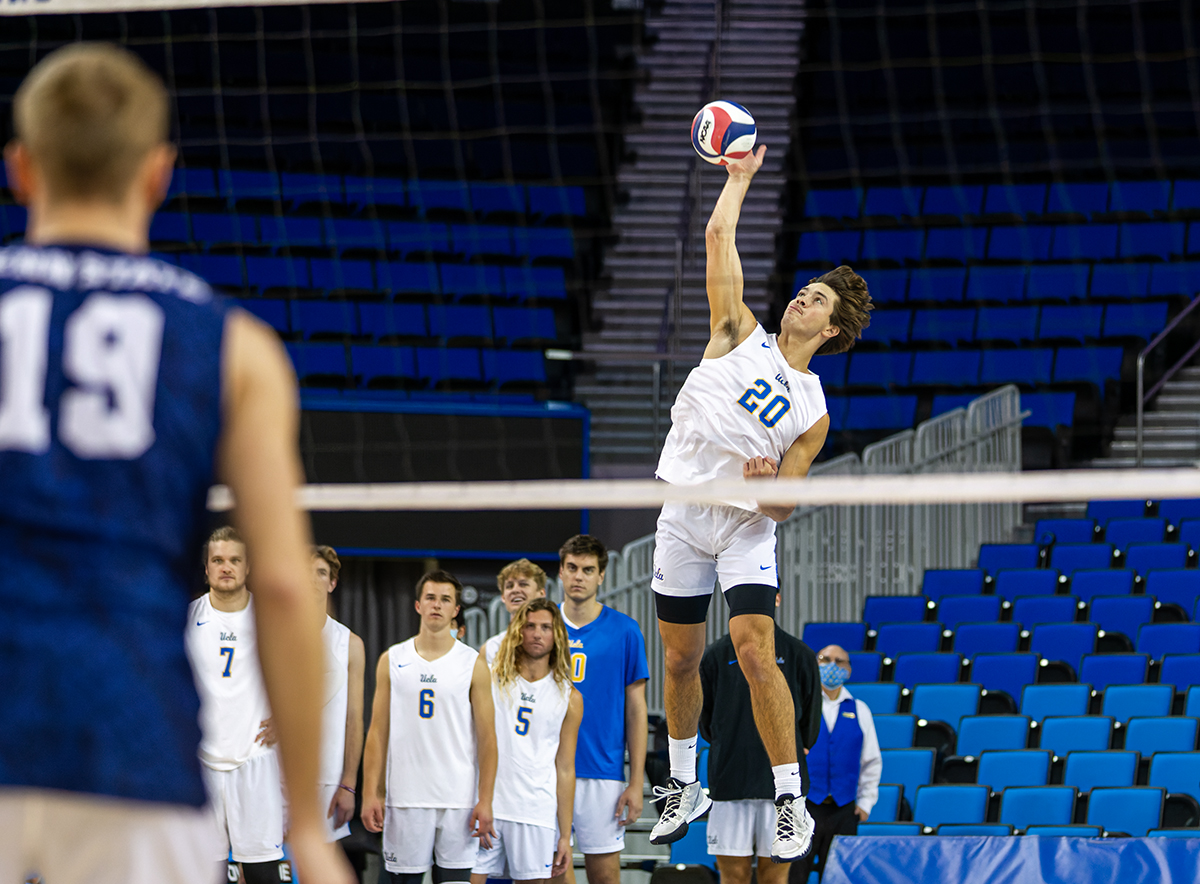 Sophomore outside hitter Ethan Champlin served the ball during No. 2 UCLA men's volleyball's win over No. 3 Penn State on Saturday night. Champlin tallied a team-high 18 kills in the triumph, tying his career high. (Joseph Jimenez/Daily Bruin)
Men's Volleyball
---
| | |
| --- | --- |
| No. 3 Penn State | 1 |
| No. 2 UCLA | 3 |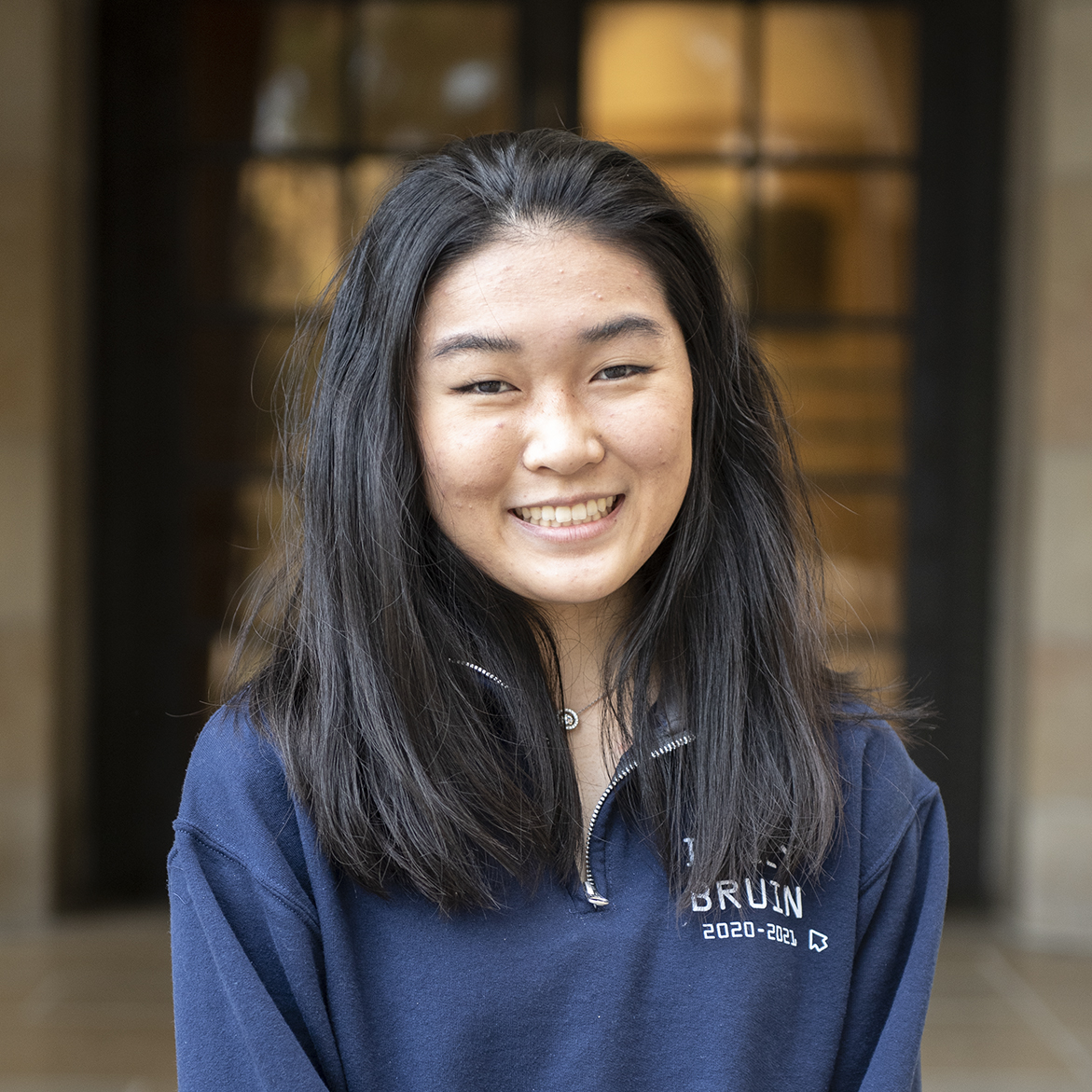 Saturday night's match was all about adapting, according to coach John Speraw.
No. 2 UCLA men's volleyball (3-0) took down a top-five opponent in No. 3 Penn State (4-2) in four sets on Saturday in the final match of the Pac-12/Big Ten Challenge at Pauley Pavilion over the weekend. Overcoming a 25-17 first set defeat, the Bruins took the next three frames with scores of 28-26, 25-22 and 25-19 to seal the victory.
"We were really struggling in a couple of aspects of our offense tonight," Speraw said. "It wasn't perfect all the way through, but we just talked about what we could do. The guys did, in general, a really good job of adapting."
The blue and gold sported a unique starting lineup for the third time this year, with sophomore outside hitter Ethan Champlin and redshirt junior opposite Kevin Kobrine on the pins. Redshirt sophomore setter Marcus Partain and redshirt sophomore opposite Kyle Vom Steeg made their first appearances of the season.
Speraw said the depth of his team compared to other seasons gave him flexibility when making lineup decisions.
"We have a pretty deep team this year," Speraw said. "It's probably the deepest team I've had since I've been at UCLA. If we had a team that was only six, seven deep, I'd be rolling out six or seven right now. But that's not what we have."
Eleven different blue and gold players saw action in Saturday's victory, the most of any UCLA match this season.
After the team's usual setter graduated last year, redshirt sophomore middle blocker Merrick McHenry said sophomore setter/opposite Miles Partain has been a crucial part of the Bruins' revamped lineup.
"Setter-hitter connection is so important in our sport, so it's definitely something that we definitely honed in on a lot in the fall," McHenry said. "This year it's been Miles, and honestly Miles has been doing a superb job."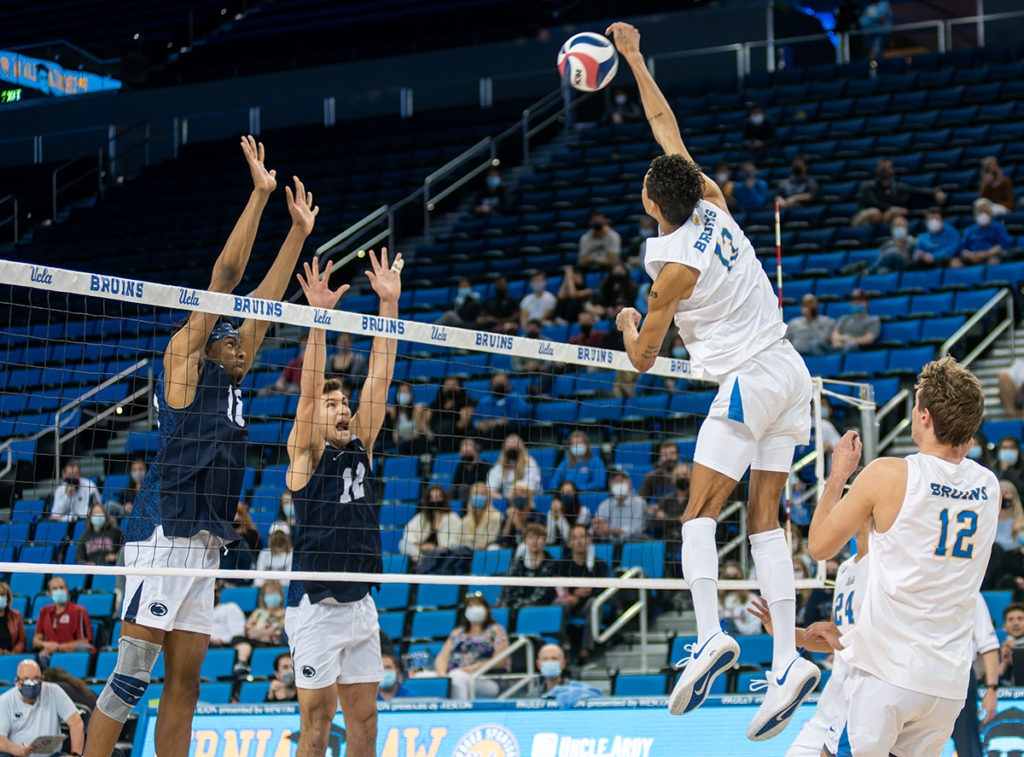 Miles Partain, UCLA's starting setter for the night, tallied 42 assists in Saturday's victory, with five courtesy of McHenry's kills.
Champlin, who is roommates with both Partain brothers, said both setters are talented and help the overall chemistry of the team.
"They work super hard, and it helps the chemistry out a little bit," Champlin said. "When they come in and they flip out, they're great teammates, and they do well."
The first set of the match saw below-average hitting percentages as UCLA hit .188 to Penn State's .280 and added five attack errors to the board.
In the second set, a series of three blocks in a row from the Bruins resulted in a Nittany Lions timeout. After a back-and-forth between the two teams that resulted in 15 ties and six lead changes, UCLA took the period in extra points.
The Bruins would later win the third and fourth sets, doubling Penn State's total number of blocks for the match.
Champlin notched 18 kills, leading the team in the statistic and tying his career high. Redshirt freshman middle blocker Guy Genis and McHenry posted the highest hitting percentages of the night at .667 and .500, respectively.
UCLA will next play CSUN on Thursday evening at the John Wooden Center.
Yu is currently a Sports contributor on the men's volleyball beat. She was previously a contributor on the cross country and track & field beats.
Yu is currently a Sports contributor on the men's volleyball beat. She was previously a contributor on the cross country and track & field beats.