Op-ed: TFT must implement casting reform to better on-stage representation of disability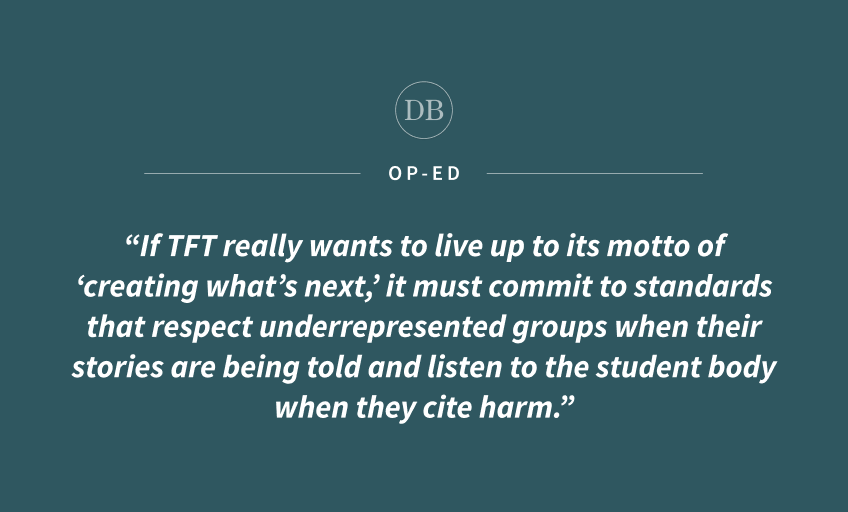 Growing up as a disabled person knowing no other disabled people, I looked to my local children's theater group as a refuge. This was my community – an accepting, inclusive, artistic one that didn't care that I was disabled. In my mind, theater is populated with the misfits and the individuals who don't quite fit the mold of what society pushes upon us. This was my home and how I fell in love with this art practice.
Now, I am at UCLA, pursuing theatrical stage management and producing. I've talked to numerous administrators about the lack of accessibility at our school for years and have always been an advocate for disability issues. As one of only a few stage managers in the department, I have done numerous shows – trading 35 to 40 hours a week each quarter for two to four units. But I did it because I loved theater. I loved my community, and I knew they would always support me.
In the fall of 2021, at the UCLA School of Theater, Film and Television's return to live theater, I was excited to watch a production of "She Kills Monsters." However, I was met with a negative, inaccurate representation of my exact disability, performed by an able-bodied actor. While there were content warnings regarding homophobia and violence, there was nothing regarding cripface. Needless to say, I was shocked. Maybe I was naive to think UCLA would have been more mindful when it comes to the accurate casting of specific groups. I left that performance bawling my eyes out – outraged, shocked, but most of all I felt betrayed. Betrayed that my mentors and friends involved with the show didn't say anything. Where was my community when I needed it?
I didn't want to bring anything up to the department until a non-TFT student in the Disabled Student Union, which I co-founded, brought up the same issues I had with the production. There was also further conversation about an upcoming production and its negative representation of neurodiversity, expanding on how harmful it is when theater continues to perpetuate these stereotypes when they could instead showcase positive representation. I thought that now, more than any of the past times I've brought up issues of disability to the department, they would listen. Because this stemmed from a directly harmful representation I and others had experienced, I met with the chair of the department, professor J.Ed Araiza, with the intention of preventing future harm to the disabled community.
They are continuing to produce the show, and although they are claiming to take some of my recommendations into account, the underlying issues lie within the text of the play – which cannot be changed. I was able to connect with the playwright and have a conversation surrounding disability, and they admitted they did not write the play with disability in mind – thus, perpetuating the negative connotations present.
No matter how much "informing" you put the cast through on topics of disability, what does it mean to have an able-bodied actor perform a disability, saying how much they hate themselves and how much of an "r-slur" they are? What does that perpetuate about disability? That we all hate ourselves because we can't communicate or navigate the world as able-bodied people can?
Despite being involved and working with the department for four years, TFT refused to take the harm of my community into account when producing works with disabled characters, refused to appreciate the time and energy I have given to this department and refused to take the steps to prevent future harm. Further, TFT does not have any contingency plans for providing legally mandated ASL interpretation/captioning accommodations if a patron requests such, which I have been bringing up to staff and administration since my sophomore year.
Thus, to take ownership of my time and energy, I have decided to drop out of the upcoming season musical "Pippin" as the stage manager because of these unaddressed issues regarding equity and representation in our department. I did this in the spirit of protest in order to force the department to pay for a stage manager to take over for me, costing them money in return for not listening to the student body and the underlying issues that are negatively affecting underrepresented groups in our department.
I can only speak on my experience within the department, but there are countless accounts from students of color, queer students and more concerning the imbalance between the emotional labor they give to UCLA versus what they get out of the program. If TFT really wants to live up to its motto of "creating what's next," it must commit to standards that respect underrepresented groups when their stories are being told and listen to the student body when they cite harm. After all, what's better than listening to the communities you are meant to serve?
This is my formal call to the UCLA Department of Theater to address these issues that have existed for years in the department, with numerous students like me engaging in these topics.
The administration can start remedying these issues in our department by:
Hiring a neurodiverse actor to play the neurodiverse character in the upcoming production while hiring a neurodiverse dramaturg to engage in conversations regarding disability in the play. Otherwise, they must cancel the production and choose a different play.
Hold a town hall for the department by the end of spring quarter, addressing the issues in producing plays such as "The Glass Menagerie," which was produced by TFT in 2018, and "She Kills Monsters" with a panel made up of disabled individuals in the industry.
Reform the audition process so that all auditions happen in separate rooms, giving actors the agency to choose which productions they would like to audition for in order to not tokenize actors belonging to underrepresented groups.
Start implementing audience accommodations, such as ASL interpretation, captioning and relaxed performances, into our theatrical season.
It is time to create what's next and actually live up to what creative processes should be, especially when it comes to underrepresented voices.
O'Connor is a fourth-year student majoring in theater and minoring in disability studies. She is involved in campus organizations such as the Disabled Student Union and Act III Theater Ensemble.