Men's golf prepares to tee off winter season, say goodbye to retiring coach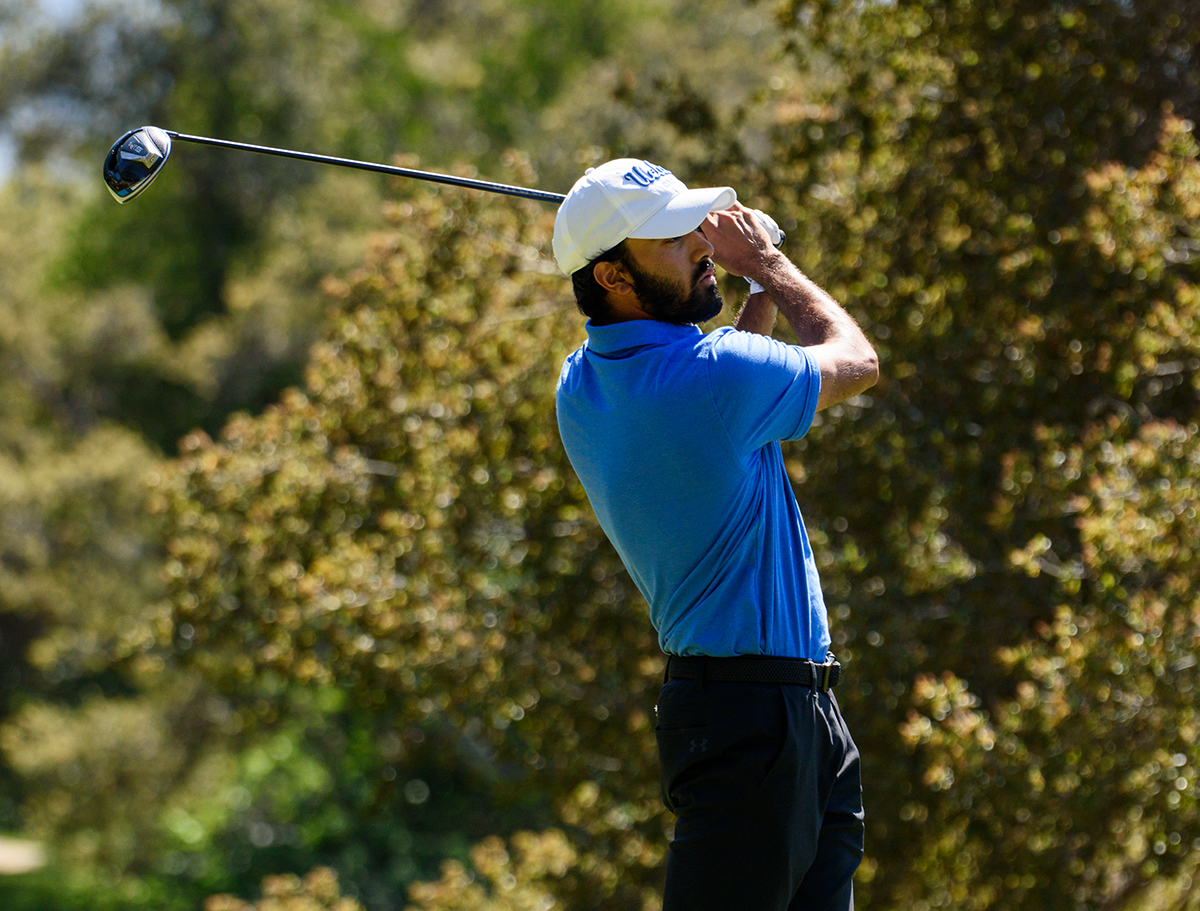 Graduate student Devon Bling tees off at The Goodwin in 2021. Bling, coach Derek Freeman and graduate student Eddy Lai will begin their final winter seasons with UCLA men's golf on Monday. (Jeremy Chen/Daily Bruin staff)
MEN'S GOLF
Southwestern Invitational
Monday to Wednesday
Golf Channel
Derek Freeman and several Bruins are set to begin their farewell season.

UCLA men's golf's 2022 winter campaign will mark the 15-year coach's last, with the roster also holding multiple potential graduating seniors. Just over two months since Freeman announced his impending retirement, the Bruins will return to action at the Southwestern Invitational held from Monday to Wednesday.
UCLA will compete in the 54-hole course located in Westlake Village, California. This week's tournament marks the team's first since October, where it finished 13th in the Golf Club of Georgia Collegiate Invitational.
Heading into the invitational, Freeman said he is optimistic about his team's performance, adding that the three-month break from competition gave his players much-needed time to train and recuperate from injuries.
"We haven't been healthy – back and wrist issues got addressed this offseason," Freeman said. "A quick fall allowed guys to get surgery and fix some things – it has really helped. We've had a good couple of weeks of practice, and I am excited about what's happening, really excited about this spring."
Entering his last season at the helm, Freeman's resume includes a 2008 NCAA championship and six top-five Pac-12 finishes.
Having been under the Freeman's tutelage during his entire collegiate career, graduate student Devon Bling said he is well aware of his coach's track record and looks to give him a proper send-off.
"We want to do as much as we can. We want to make sure he goes out with a bang and on a high note," Bling said. "We all have parts to play, golf teams need to be good for that. … It'll be a bittersweet six months."
Over the course of his collegiate career, Bling has been named an All-American and been selected for multiple All-Pac-12 teams. Now, like Freeman, he is entering his final season with the Bruins.
The graduate student said his competitive mindset has shifted toward taking a more natural approach in his final season of play.
"(I) try to play every tournament with no expectations, just go out there and try to play golf as I did before: no pressure, no expectations and no mental blocks," Bling said. "I'm good enough to win these tournaments, (it's) just a matter of being present and committing to every golf shot."
Like Bling, graduate student Eddy Lai is another Bruin entering the final stretch of their collegiate career. After nearly five years with the blue and gold, Lai holds claim to a tournament victory and several top-10 finishes.
"One thing is making sure you commit to every single shot – you cannot be uncertain," Lai said. "This season is long, and it will have ups and downs, but in the downs, we don't get too hard on ourselves and know if we all work really hard it'll pay off."
Freeman said he has the utmost confidence in the team this year, crediting his mix of veteran and young players for holding the team accountable.
With Bling and Lai competing in their final seasons, Freeman gave high praise regarding their influence on the UCLA program.
"(They) absolutely have been great leaders," Freeman said. "They show characteristics of what a Bruin is and what it means to be upperclassmen. I am very excited to see what they do this year."
Freeman Sacker is currently a Sports contributor on the men's golf and track & field beats.
Freeman Sacker is currently a Sports contributor on the men's golf and track & field beats.