UCLA men's volleyball sports fresh roster, defeats Ohio State at home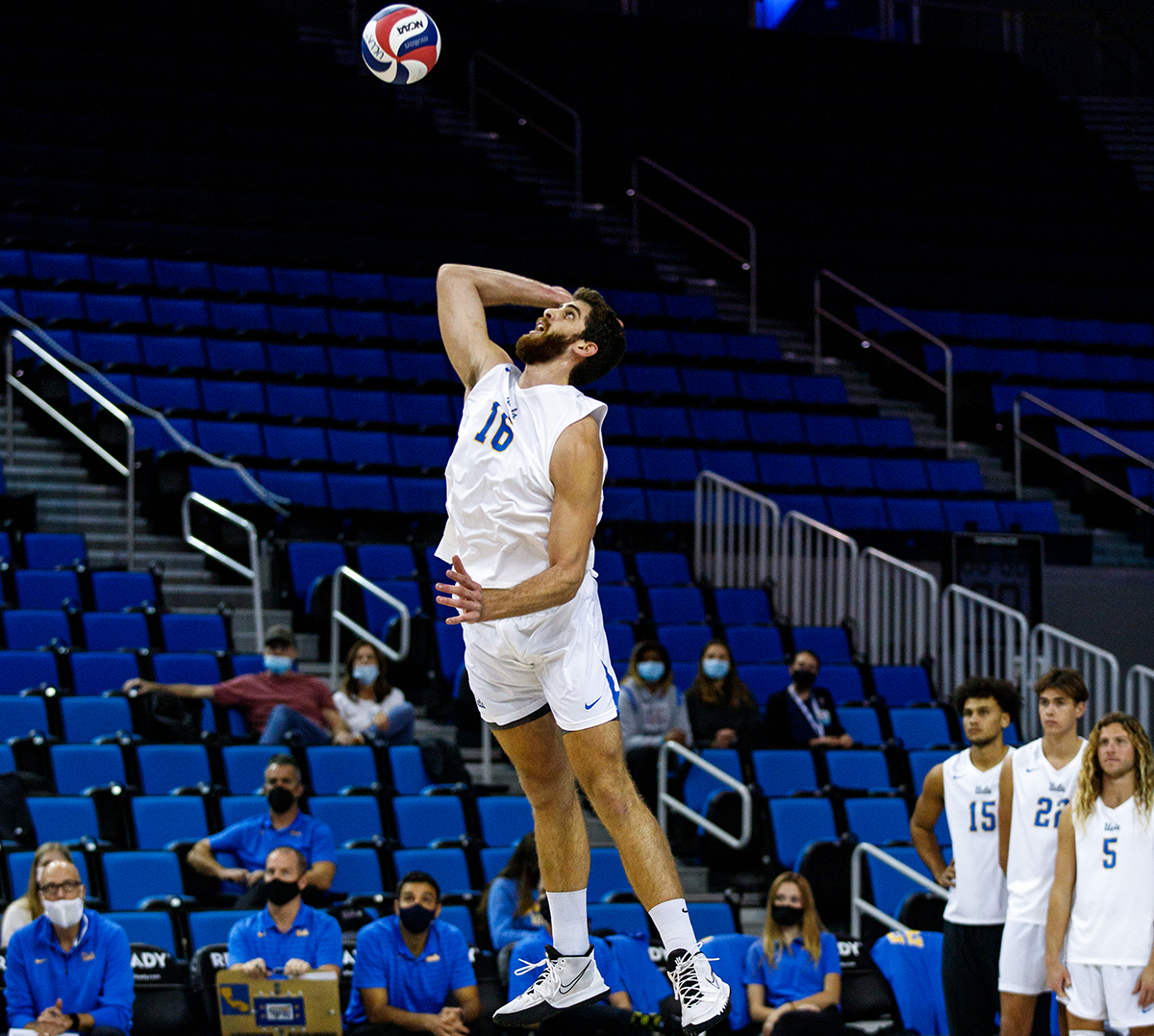 Freshman outside hitter/opposite Ido David goes up for a serve in No. 2 UCLA men's volleyball's victory over No. 11 Ohio State on Friday night. In his first career start and match for the Bruins, David tallied a team-high 14 kills in the win. (Kaiya Pomeroy-Tso/Daily Bruin senior staff)
men's volleyball
---
| | |
| --- | --- |
| No. 11 Ohio State | 2 |
| No. 2 UCLA | 3 |
A year ago, Ido David wasn't listed on UCLA's roster.
On Friday night, the freshman outside hitter/opposite took the court as a Bruin and got to experience a Pauley Pavilion that welcomed back all fans for the first time in 2022.
"Until this game, I just watched YouTube," David said. "I saw the full crowd, the environment. They love volleyball and I just wanted to be part of it and waited a long time for this."
No. 2 UCLA men's volleyball (2-0) preserved its undefeated start to the 2022 season with a 3-2 home victory over No. 11 Ohio State (3-1) on Friday night. In his first collegiate appearance and start with the blue and gold, David recorded a team-high 14 kills on a .233 hitting percentage.
David said he managed to achieve the stat line even while still adjusting to a new environment and style of play.
"The whole system of volleyball here is different. They play a different way than we play in Israel," David said. "For me, the first two months here, I needed to forget everything I knew and adjust myself to the new system."
Alongside David in the starting lineup were sophomore outside hitter Ethan Champlin and redshirt sophomore middle blocker Merrick McHenry. Friday's bout marked the first starts this season for Champlin and McHenry after the former was limited to a serving role primarily last weekend and the latter was unavailable for the season opener.
The Bruins' first match at Pauley Pavilion this season also featured sophomore setter/opposite Miles Partain's second straight outing as the team's starting setter.
As the third primary setter in three seasons for the blue and gold, Partain said he began to settle into his new role Friday night, finishing with 47 assists and six kills – both career highs.
"Once you start playing, the nerves kind of go away," Partain said.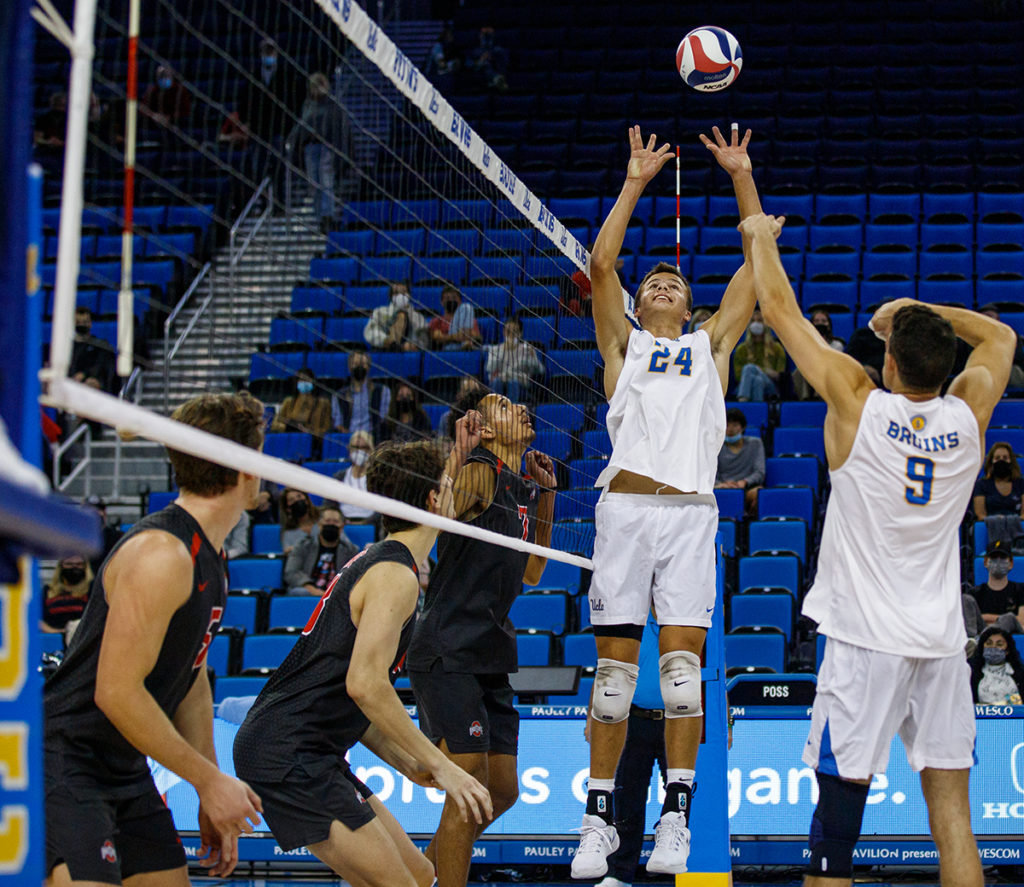 In the first set, UCLA pulled away to a 25-18 opening frame victory. The Bruins followed up that performance by not allowing a Buckeye lead in the second period en route to a 25-15 triumph.
However, after scoring six kills on a .600 hitting percentage, McHenry was subbed out during the third set as coach John Speraw said the middle blocker was not feeling 100%.
Speraw added that his team's depth gave the Bruins a little leeway following McHenry's early exit.
"We have nice depth in the middle," Speraw said. "We'd love to have Merrick out there but if we need to make a change, we can do it and still win."
The third and fourth sets were back-and-forth battles between the two teams, featuring 12 and 19 ties, respectively. Ohio State captured both set points to tie the contest and force a fifth frame.
The Bruins ultimately took the decisive period 15-8, securing a UCLA win.
Speraw said his team's fifth set victory could be attributed to its serving, saying that his players forced the Buckeyes to play out of their system. The Bruins scored two service aces in the final frame, both courtesy of Champlin.
David said his team's energy allowed the Bruins to turn the momentum around.
"When we lost the third set, we kind of became quiet instead of celebrating after every point really loud," David said. "The minute we brought back our energy, all our levels went up and we took the fifth set easily."
David added that this energy will be key for UCLA the rest of the season.
"The minute we are high energy, high-level excitement, celebrating after every point, nobody can beat us," David said.
Chua is currently a Sports contributor on the men's volleyball beat.
Chua is currently a Sports contributor on the men's volleyball beat.